We can undoubtedly say that 2021 is the year of video content. The profound impact of artificial intelligence on digital marketing efforts on data. AI has made a possible impact on online customer experience to be tailored based on individual interests and preferences. Artificial Intelligence impacts the future of video marketing by offering brands the opportunity to advertise their content and shape their entire video marketing strategy through analytics for both brands and consumers. These amazing Artificial Intelligence Video Marketing statistics show the impotence of AI in business.
Artificial Intelligence Video Marketing And Advertising Statistics
60% of the marketers using AI in their content creation.
70% of the business decision-makers say that workers focus on more meaningful work with AI.
Facial recognition powered by AI will increase the revenue by 20% by 2020.
By 2024, AI will recognize the emotions and 50% of the influence on online advertisings.
2020 will see the longer-form video content, which is exceeding 5 min.
Brands using VR will see a 7% high purchase rate, and it's resulting in 12% telling unique stories.
AR filters on Instagram and Tiktok are decided to increase their marketing budget by 25%.
82% of the consumer internet traffic will come from videos from 2022.
AI based visual content on landing pages will improve conversions by 86%.
With the launch of Facebook Harizon personalized video will be demanding.
More than 29% of the consumers are looking for 360-degree videos that might become more necessary for marketing in 2020.
Over 52% of marketing experts stated that video is the one that provides them with the best ROI.

The AI-Powered self-service solution is increasing 83% of the conversions within Google and Facebook Ads.
23% of the businesses incorporated AI for introducing products and survive.
According to research from the Markets, AI market industry will grow by $190 billion by 2025.
Over 75% of the commercial enterprise apps will use by 2020.
Market research firm IDC stated that Global spending on AI systems and cognitive would reach $57.6 billion in 2020.
72% of the businesses media and telecommunication industry expect that AI should have a significant impact on product offerings.
Marketers predict over $8 billion cost savings annually for using chatbots by 2022.
More than 80% of the sales and marketing professionals using chatbot software for the ultimate customer experience.
The top benefits of chatbots are 55% of instant responses to inquiries,64% of 24-hour service, and 55% answers to simple questions.
Over 46% of U.S adults use digital voice assistants in their routine life to interact with smartphones and other devices.
More than 71% of B2B marketers are interested in using AI.
AI Global market expected to reach a worth of $118.6 billion by 2025.

Artificial Intelligence augmentation will surely create a business value of $2.29 trillion by 2020.
More than 80% of the consumer are interactions done without any humans interactions by 2020.
More than 70% of US business leaders believe that AI is a fundamental and necessary tool for the development of future business.
AI-powered technology companies enhance their productivity by 40%.
Over 53% of B2B marketers believe that AI will improve their marketing efficiency.
71% of the marketers are interested in implementing the AI for more personalization experience.
Top performing companies 2X times more likely to use AI for marketing.
Netflix saved over $1 billion annual revenue by improving their AI algorithms.
More than 50% of marketers are using Artificial Intelligence Video Marketing Campaigns.
40% of the consumers switch brands' lack of personalization.

80% of Marketers think that AI is important in their advertising.
AI software market is expected to hold the largest market share.
As per Crunchbase's AI stats, more than 10,000 developers are on the field to build chatbots for Facebook Messenger.
Chatbots could save $8 billion for businesses for implementing AI.
84% of the companies believe that AI will bring more competitive advantage.
Amazon Echo can be found in 60,000 devices.
AI stats show that Amazon Echo will give 93% of the accurate information.

More than 53 million amazon echo devices are across in the homes of America.
64% of the marketing executive believe that AI is an essential factor in marketing strategies.
AI for Identity trends attracts 63% of the B2B marketer's industry.
25% of the fortune 500 companies, use AI as their video marketing strategy.
The Global software market for AI technology will reach $89.85 billion by 2025.
77% of the companies in the UK and the USA are using AI-related technologies.
31% of companies already experienced dynamic business growth.
Chatbots and Machine learning are the two major AI technologies, with 34% value for each.
85% of the consumer's relationship with business executives will be managed without human interactions.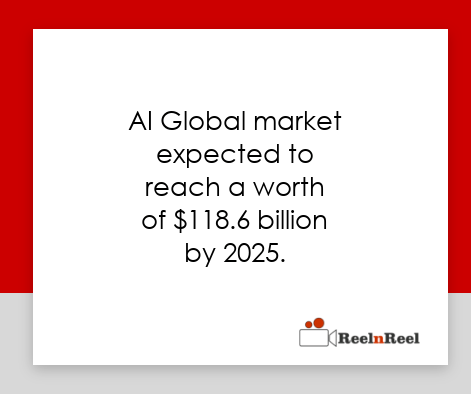 Conclusion:
Artificial intelligence will improve the customer experience of consuming online video content while increasing conversion for businesses. Artificial intelligence analytics shows that brands now know more about their customers than ever before. AI algorithms and tools provided them with increased access to data. These Artificial Intelligence Video Marketing and Advertisingstatistics will blow your mind.