Branded marketing videos are proved to increase purchases by eighty-five percent. It is said that in the coming years, a large percent of the consumer internet traffic is going to be videos. Marketing videos help the brands to stand out. These tips will help to make compelling branded marketing videos.
50 Tips for Shooting and Editing Branded Marketing Videos
1. Branded marketing videos just don't happen. These should be perfect planning and preparation.
2. Create a story board to figure out what is to be shot even before the start of shooting.
3. Keep the shooting script ready. This is like a screenplay.
4. All the people related with the video should know beforehand what is expected from them.
5. This way time waste can be minimized during the shoot.
6. Visualize how the end product should look before starting the filming.
7. Do not ask your presenters of branded video to memorize pages of script. Some of them need not be actors.
8. Use stock B footage if you want difficult shots to film such as aerial shots.
9. Know the goals of your videos.
10. Ensure that the shot is not either too light or too dark.
11. It is possible to correct the brightness and contrast of the film in post-production to some extent.
12. Get the shot right on the day of the shoot.
13. Different kinds of light that are used in the video produced different temperatures measured in Kelvin.
14. Do not mix two light sources with different color temperature to avoid taking uneven lit shots.
15. Since the branded marketing videos are made for the target audience, it is important to define the target audience.
16. Do not just describe the features of the product or the service but show how these can improve the life and solve the problems.
17. Decide on which platform the videos will be uploaded.
18. Study the branded marketing videos made by the competitors and get inspired by them.
19. Shoot lots of close ups as these look good on small screens like mobiles and tablets.
20. Add motion graphics and animations to make the videos more attractive.
21. Before adding graphics or animations, keep the budget in mind as these are expensive to produce.
22. If you are on low budget, tell a story that addresses audience needs
23. The editing process is an important process in branded marketing video.
24. Keep the footage and files you shot in one location on the computer.
25. Ensure that no clip or scene is ending or beginning abruptly.
26. Add transitions when necessary.
27. For professional look to the branded marketing videos, apply text overlays and visual elements.
28. For a branded look use the video templates and components available.
29. Shoot the footage keeping editing in mind.
30. Take close ups, wide shots, zooms etc so that you can cut and use them when necessary.
31. If the video is going to be longer, prepare a storyboard.
32. Give names to the clips in video editing software.
33. Load the footage into the editing software and create a rough edit.
34. Cut unusable shots and trim the beginning and endings of clips.
35. Use the close-ups and shots to enhance dramatic effect.
36. Shots should last longer than one second.
37. Static shots can last up to 10 seconds.
38. Create an intro
39. Add some titles at the end.
40. Go black at the end of the movie for dramatic effect.
41. Adding music and sound effects is an important part of video editing.
42. When music is added, the footage brings the different message across.
43. Try different kinds of music tracks for the video.
44. Use the music that will radiate the emotions you want to bring.
45. Have catchy background music to engage the audience.
46. Check the internet to make use of the royalty free music available online.
47. In the first 15 second of the video use a lower third graphic overlay.
48. Include your name and URL.
49. Intros and outros are important for branded marketing videos.
50. Use the most effective video editing software
The above said filming and video editing tips will help to create videos that stand out from above the crowd. A perfectly made marketing videos will increase brand exposure, drive traffic to the website and also boost sales.
10 Best Practices to Create Branded Video Content
Videos help to get higher engagement online. Most of the marketing professional consider video as the content that gets the best return of investment. Views for the video are important but it is also important to see how people are responding to the video.
Branded video content is the best to get the best response. Branded video is that which tells the story a story and the viewer may not identify the brand related to the video until the end.Branded video creators must offer the viewers the content they are looking for and associate with their product.Branded videos are the combination of storytelling, subtle product placement and these tell the story to the targeted audience.Here are ten best practices for created branded video content.
1. Identify your target customers
2. Create and post content consistently
3. The email list is the quickest, inexpensive and best way to reach fans.
4. Do not expect quick results.Be patient as it takes the time to build up the audience.
5. For the success of any branded content, it is important that it is shared by people organically.
6. Do not always insist on sales instead try attracting the customers the funny way.
7. Use optical illusions to keep the viewer interested in your content
8. Identify what you can do better than the others.Use this quality to keep the customers engaged.
9. Use the perfect keywords, headlines etc so that your videos are findable easily.
10. Behind the scenes, content works well with the audience.
Content marketing, especially the video content attracts consumers and keeps them engaged than any other form of online ads.Creating branded content is important and equally important is to make the people view it. Be the content that the target customers want to see but do not cause an obstacle to the content that the viewers love to watch.
10 Reasons You Need Video Content for Your Brand Right Now
Most businesses use blog posts, social media pages, and other methods to offer the customer to understand their brand. Video is becoming the most popular way to keep people engaged. Videos deliver messages more powerfully than the written content and also other types of content. Here are few reasons why brands need video content.
1. Video content helps to increase the brand recognition. If compared to the value it generates, video content production is cost effective.
2. Most consumers prefer watching videos to find about their brands, their products etc.
3. Videos make people spend more time on the websites and they also make the people remember the brand for longer time.
4. Online videos are being watched more and more by people and most brands are capitalizing on the trend.
5. Online videos are played more and more on smartphones. People are accessing social media which is made up of large video content on their mobile phones. Thus brands are focusing on creating video content to reach large number of people.
6. Video develops a bond between the brand and the consumers. Audiences who see the video content of a brand trust more and connect emotionally with it. This can influence the people to convert into customers.
7. Videos increase the conversions, click through rates and are the most effective tool to increase brand awareness, customer engagement and generating leads.
8. The ultimate goal of any digital marketing is to ensure that people find the brand online and video content plays an important role in this.
9. Including video content in email marketing helps increase conversions. Send videos though email and check the performance of them using online tools.
10. Personalized video marketing proved to be most effective for brands.
Video content helps the business to increase the exposure, increase conversions and gain credibility. Use the right type of video content and show it to right audience to get maximum benefits.
Branded Video Content Trends That Will Dominate
The Branded Video Content Trends success rate is very high.It's proved that the conversion rate from the video is higher than any other form of digital marketing. Marketers have to know now how to invest in video marketing smartly. Here are few trends that are going to dominate in the coming days.
It is not easy to create content that helps the marketer to be unique.Creating new content requires a lot of hard work and research. It is rather important to create one piece of content and distribute it in different ways. Let people who live in their ecosystems such as LinkedIn, Facebook or Twitter find your content without leaving their space.
One of the important brand video content marketing trends is live streaming video. It is a great opportunity to let the people catch the live streaming video of platforms like YouTube, Periscope, etc. and help have intimate relationships with the customers. Behind the scene content, live discussions and talk shows are few forms of live video content that work great for brand awareness.
Suggest a call to actions for branded video content audience within the video. However, remember that the calls to action should not interrupt the user experience. Remember, the longer the video content, the fewer numbers of audiences that are going to watch it. A thirty-second video is good for social sites, and you can have longer videos on the landing pages.
Social media marketing does give fruitful results for branded content marketing for SEO value, host the content on official website also.Combining the two will give a better ROI. Hosting the content on the website helps in conversions. Before deciding on where to host, decide on your branded video content goal. User testimonials are the most effective video content for any business.
Shooting Videos Like The Pros
Streaming and video platforms such as YouTube have been in quite a boom since they first came about in the early 2000s. What was once a simple site that you could upload clips and AMVs to is now a site that hosts partnerships, plenty of advertising revenue, and multiple niches a person can work their way into?
But what about the video quality? Well, cameras have come a long way since 2010 at least, and therefore everything should look good, right?
Wrong. A lot of the time, people don't know how to shoot a video accurately, and as a result, don't take as much pride in their work. Here are a few tips on how you can line up a shoot as precisely as possible when it comes to your cinematography.
Use Tripods
It's all well and good using your phone to record something while it's perched against a computer screen, but what about when you're out and about and need a higher range? Invest in a tripod or two.
These keep cameras stable and secure and can easily manoeuvre while maintaining height and focus the same. No clicking here!
Test Out Your Camera
There's no use in using a camera you don't know. Test out all the little buttons on the front and sides to see their functions and get to grips with how to incorporate its setup into your shoot.
Take it for a spin in a test video, or just try your hand at vlogging while you're on your way to work or back home.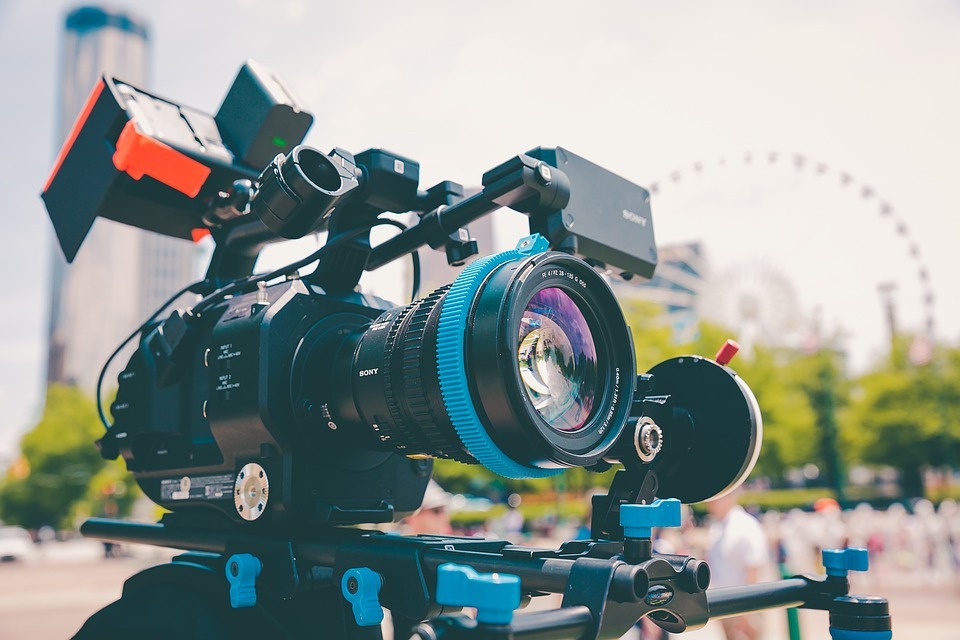 Pixabay
Have Plenty of Lighting
You need lighting to be able to see first of all, but you also need it to highlight and sculpt and expose specific parts of a video while keeping others hidden. It's excellent for symbolism as well if you're so inclined.
Lighting is such a crucial step that a lot of people miss out on. Outdoor shooting always looks good when the sun's out, and usually when it's raining as well due to the more graphic sky elements.
Find Someone Who Can Help
Usually, this is a family member or friend who has a little more experienced, but doesn't worry if you don't have those.
Look online for people willing to jump in on a project. If you need a smaller company that has a professional or two to come in and sort the cables from the cameras, try using a film production company directory and hiring a service. Not all of us have a friend who's nifty with videos, and therefore outside aid is our only way through.
There's a lot of steps in perfecting your video making skills. Of course, the editing section is going to take a lot of practice and is probably the most challenging part, but it's all worth it in the end. You'll have a video project you can be proud of, and something professional to upload to the internet for exposure purposes. It's great for business!
Conclusion
These are the most effective strategies that every vlogger should follow when they had a strong desire to clutch the audience by creating the fine video content. The reason to specify all these is that video content has a specific role in boosting the traffic. Why you are waiting to go on implementing at your channel to find better results.