Reelnreel Exclusive Interview With BRID VIDEO Publisher Acquisitions – Nicholas Bodell.
Tell us something about you and Bird.TV Platform?
We officially launched Brid.tv in 2013, but our team has been working together for many years in the video industry and beyond. We are extremely passionate at what we do and always strive to do better.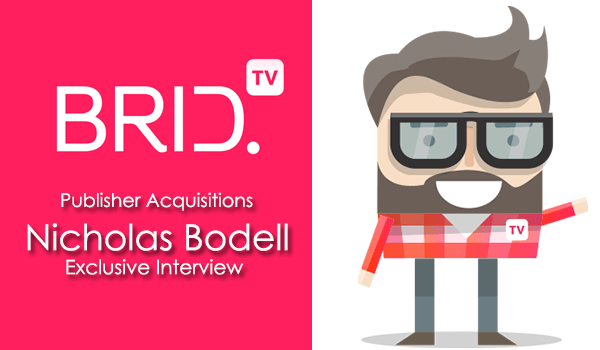 Video on the web is what we know, and we enjoy working with all the new technologies that are constantly evolving around online video and implementing them as soon as possible. Due to rapid development of HTML5 video technologies, we are focusing most of our efforts on this.
During our work experience, we collectively amassed tons of experience in complex back-end development, creating rich interactive media using JavaScript and web standards and much much more. We are committed to using this knowledge in creating the best HTML5 video platform currently on the market.
We consider this to be a project "born from love" and as so, treat it as such.
Brid.tv is an enterprise-grade online video platform and player. It's free for everyone and gives publishers ample opportunities to monetise their video content any way they want to.
What are your Future Plans to expand Bird.TV?
We are looking to explore beyond simple online video delivery. New forms of communication, even some work that looks to reshape how we perceive the ads market. But more on that soon.
What is the Core Feature of Bird.TV ?
The main power of Brid.tv is in its player and robust monetization options. It's the first of its kind where a publisher can just grab an HTML5/FLASH player for FREE and use it to monetise their video content without any hassle.
How Individual YouTube Creators can benefit with Bird.TV – BRID VIDEO Publisher Acquisitions?
Embedding YouTube is always the same. Always the same player looks the same, feels the same on every site. Brid allows publishers to customise their video experience with a plethora of custom made player skins and embed YouTube videos through that player. We feel that branding is the key in this regard and we've worked on delivering that for our clients.
Is there any plan to start SaaS Platform for Bird.TV?
No, not at the moment.
What is the Current usage of Bird.TV?
The platform is still very much growing. We are showing a steady increase in impressions, but, more importantly, in the quality of our clients. Not everything is apparent from the raw numbers (although we are happy with those as well).
Is there any funding opportunity?
We can't comment on that right now.
How Publishers can benefit using Bird.TV?
How can they not? Sing up is free and quick. We are the first platform to offer a full player/CMS combo with full monetisation control to the publisher for free.
What will you suggest for Upcoming YouTube Video Creators?
Thinking beyond your YouTube page is an essential strategy for you. Don't put all your eggs in one basket and instead think about your web properties, which is where Brid.tv comes in.
Thank you "Nicholas Bodell" for your valuable insights sharing about BRID VIDEO Publisher Acquisitions to ReelnReel.com Readers.
All the best to BRID VIDEO LLC..