Chromecast is a simple device and easy to use provides extraordinary features. Chromecast allows seamlessly streaming services like Netflix, Amazon Prime, and Hulu. Simple tips will lead you to enhance your perfect streaming. The users of it can find the Chromecast Tips and Tricks here to use in simple way.
This tiny, straight stick will allow you to stream on Big screens, tablets, Computer screens and mobile phones. Plug this Chromecast stick to TV USB port enjoy straightforward streaming to smart devices.
Chromecast Tips and Tricks
Google Chromecast is very reasonable at a price, and it is equal to handy gadgets. It allows the users to stream video and audio online.
You can simply set up the chrome cast to the USB outlet and download necessary application
You need to make some adjustments and settings in the Chromecast browser after connection because some applications may not be compatible.
You can use the Chromecast as the audio streaming device also.
Pandora, radio are now supporting on the chrome cast
You must purchase the HDMI standard adapter which has audio port to play audio
You required 3D compatible TV if you want to experience the virtual reality
Chrome cast also offers the unlimited music for certain span or unlimited music etc for its users
Make your frequent check on to the official site of chromecast to get your freebies
You can listen to the audio that is played on TV via chromecast with the smart devices by using the Local cast app that is available in Google play store online
Hit CTRL+O command for PC to play local files on the Chrome cast browser
Chromecast will not support all the formats that are generally available
You need third party application to run different formats on the Chromecast device which can be available with very less subscription rates.
Sending or transferring the WebPages through chrome cast is very easy and comfortable by clicking the cast this tab button that is present on the right hand side of the address bar.
Turbocharge your Chromecast with these Tips, Tricks and Secrets
Chromecast is the most famous streaming device which has the capability of streaming hundreds of video platforms across the web. It just costs $35 which is very cheap to make your smart move. Chromecast offers a wide range of features that there are many little-known features to the users which are interesting to know. Here are some tips, tricks, and secrets of Chromecast. Here we go.
The first thing you have to do is to download the Google Cast extension for your Google Chrome browser where you can send the content from your browser to Chromecast.
New to chromecast? Turbocharge your Chromecast
Chrome browser or chrome cast app installed devices with good Wi-Fi accessibility is the primary requirements to setup the things. Make some adjustments to the router if you still can't access the chromecast.
Use it as an audio device
Stream the audio from Chromecast as it supports the Google play music and Pandora. If you already have an A/V receiver, amplifier or powered speakers, then you can easily connect audio to the external speakers by connecting the optical cable from your television. Install an optical to RCA adaptor online and plug in RCA input to the sound system. You can view what is playing on your mobile.
Mirroring
Mirror your android device with the Chromecast to view the content on the big screen. This service is available on Android devices whose operating system is higher than 4.4.2. To start mirroring the devices, the user has to open the Google cast application and can tap on to the navigation in the top left and on the Cast Screen button to select the Chrome Cast. You can end the cast by clicking on the same button.
3D VR without headset
This is one of the wonderful tips which is complicated. All you need is a 3D TV, Android Phone and Google freemium Cardboard application. Activate the SBS mode on your TV and download the cardboard application on the smart device and keep your 3D glasses that are bought with your TV set and enjoy virtual reality comfortably.
Slideshow using Google Slides
Broadcast your slide show with Google slides over Chromecast. The first thing you have to do is click the present button in the upper right corner of the slideshow in order to open the dropdown menu and select the chromecast.
Streaming local videos
Chromecast will not work as an Apple TV but you can still stream the videos that are stored on your PC. Open the chrome browser by hitting CTRL+O for PC. Locate your video to play. You can choose the local video from the hard drive and can play your video.
Play any type of Local media
Chrome can't support all formats of video. So you require a third-party application to play any format of the local video file. "Plex Application" indexes the content and allows it to stream via Chromecast. After downloading the application, organize your content and select the list from your device and stream via Chromecast and it will cast on your TV.
Add Emojis
Emojis are just fun and now you can add it to your chromecast name. The Chromecast app allows the users for Emoji characters. These Emoji characters can be entered in the naming of your chromecast device.
Use chromecast with Amazon Kindle Fire
Chromecast support apps on iOS and Android devices which have the ability to cast by utilizing the kindle Fire for casting. Hulu, Netflix etc works great with the Amazon kindle Fire.
All these above are some of the tips, tricks and setting of Google chromecast. Try these and enjoy your Chromecast in a different way.
How to Stream From VLC to Your Chromecast
The source which is freely available to watch the videos in the form of storable disks and the flash drive is a VLC media player.
Chromecast is the highly qualified device that has been produced by the Google, and this is used to access the online services on a small screen using the internet.
Everyone should know one fantastic thing that we can watch the playing video of VLC on TV by using Chromecast either by using personal computer or android or ios mobile.
Streaming from VLC to Chromecast by using PC:
Just go through the VLC player and click on tools to get the render icon then connect to the available devices like TV by hitting the scan.
Pick the video which you want and play normally on VLC player.
Then click on chrome extension on the top right corner of the Google browser.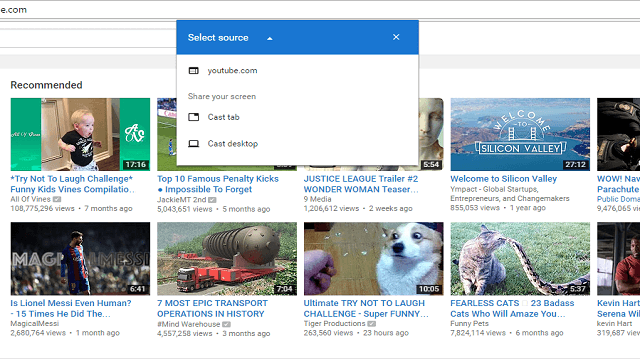 Here you can find the option of the cast just hit on it and this automatically notifies the cast to option.
If you click there you will be visited cast tab or cast desktop.
Then go on choosing desktop as we are running video on PC.
After the successful completion of the connection from chrome cast to TV then play video on VLC which will be available on television.
VLC on Android and iOS
Download the VLC app from Google app store then pair up the chrome cast by using the chrome cast app.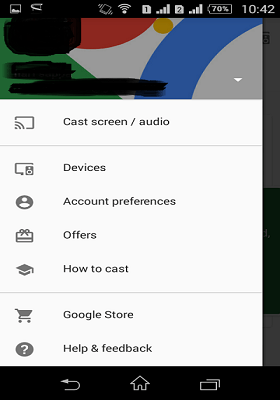 When you sign in for this chrome app and then it displays an icon to notify the nearby devices.
Else go to menu bar then choose casts screen/audio.
Then it shows the mirror your phone or tablet then hit on a phone as you are using it.
As the cast from a phone is connected TV just open the VLC player and start playing the video.
Now you can enjoy that video on the large screen of the television.
Note: Here to play in android we use play store to download the apps whereas in ios we choose app store.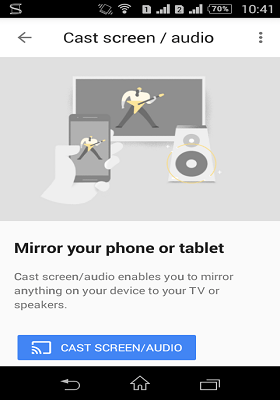 Top 10 Chromecast Apps for Android
The most popular streaming device of today is undoubtedly the Chromecast. Using Chromecast, we can connect TV to other devices and also the Android phone. Let us now check the best apps of Chromecast for Android.
BubbleUpnP App
BubbleUpnP App is compatible with Roku, Chromecast and many others. Streaming movies, music television shows are possible. There is cloud support.
Crunchyroll
Crunchyroll is for those who want to pick up for Xbox One, Roku etc. This android app also supports Chromecast. Free viewing includes lots of ads. Take the official subscription to avoid these ads.
Google Home
Google Home is the app you will require to set up Chromecast. Google Home is also useful to find the apps and content of Chromecast. Phone screen can be cast to the television using Google Home.
Google Play Music app
Google Play Music app can cast locally streamed music to Chromecast. Upload more than fifty thousand songs to the servers of Google Play Music and stream them to your Chromecast.
Hulu
Hulu is the best movie and streaming service for Chromecast. It has a big television shows and movies library. There are also older movies. Limited commercial and no commercial subscription plans are available.
iHeartRadio
iHeartRadio is another streaming service for Chromecast. iHeartRadio is the app to stream random music and is the best option for music lovers.
Localcast
The local cast works with Chromecast to cast locally stored media including movies, music, television shows, etc. there is also cloud storage support.
Netflix
Netflix is very popular app for Chromecast. This popular app can try for free before taking the subscription.
Pandora
Pandora is a popular app for many years for Chromecast. This simple app can be used for on-demand streaming of music also with the premium subscription.
Pocket Casts
Pocket Casts supports Chromecast, and its features include syncing support, playlists,auto-downloading etc.
Chromecast comes for a cheap price and so is universally popular. This small device s is also elementary to use with anything including the Android phones. Try the above Android apps for Chromecast.
Top 10 Chromecast Apps for iPhone
Chromecast streaming device is plugged into the HDMI port on the television. Favorite TV shows, music and much more can stream from the mobile device. This is compatible with both iPhone, iPad and Android phones and other devices. It is also possible to stream the content from Google Chrome browser to the big screen. Here are the best chromecast apps for iPhones.
Google Home
Google Home is the first app to download for chromecast as this also helps in initial setup of the device. This can be downloaded from iTunes.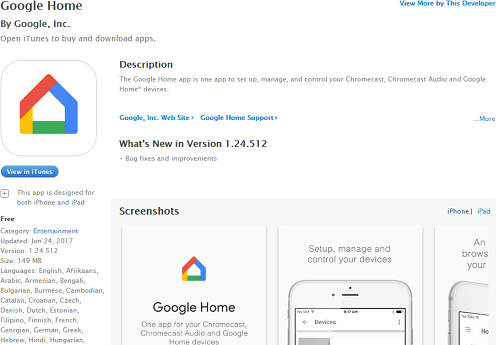 YouTube
YouTube is another app that you should try. Casting content to your TV is very smooth.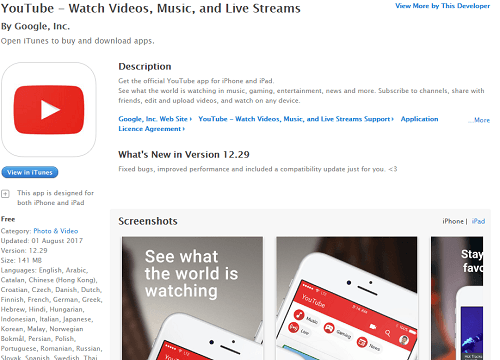 Netflix
Netflix is an essential app for iPhone. Users can control Netflix from iPhone.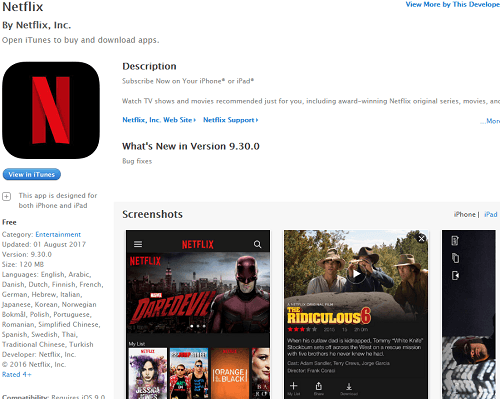 Twitch
Twitch app allows streaming broadcasts to TV from chromecast. Users can enjoy the action on the television and chat with other viewers on iPhone. This can be downloaded free from iTunes.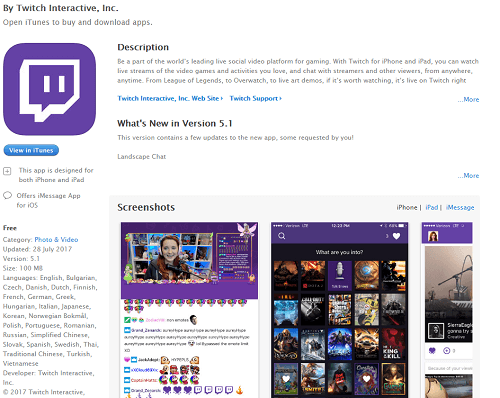 YouTube Gaming
YouTube Gaming is another chromecast app for iPhone whose favorites are the YouTube gamers and the YouTube gaming networks. Steaming to Chromecast is easy with this app.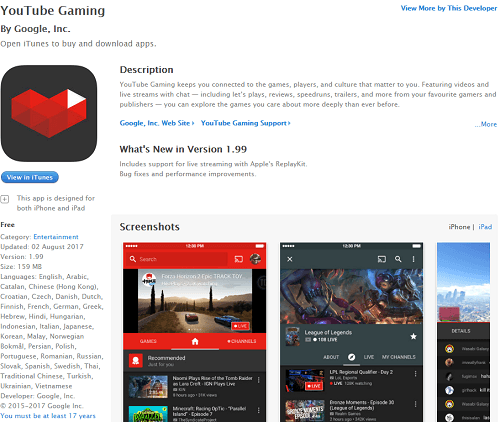 TED
TED is another chromecast apps that allows accessing more than one thousand TED talk videos.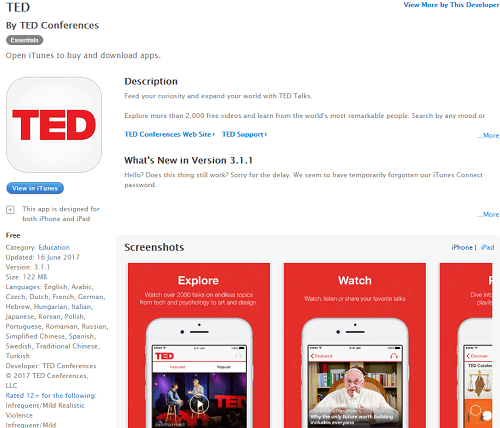 Pocket Casts
Pocket Casts allows casting the favorite episodes to the chromecast and play through the television.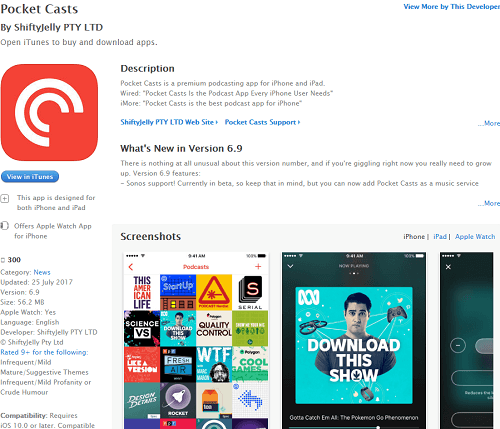 Tricky Titans
Tricky Titans app is for players playing on television and controlling the Titan on the phone. Tricky Titan is one of the app to check out.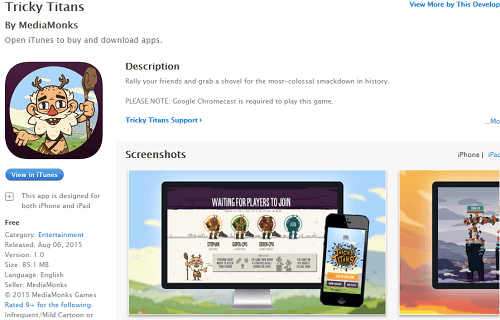 Spotify Music
Spotify Music allows controlling the music via iPhone plying it on the television.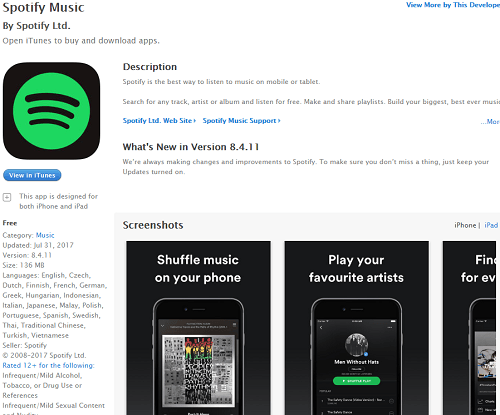 HBO Now
HBO Now is the favorite of many audience and stream this favorite on you television via chromecast.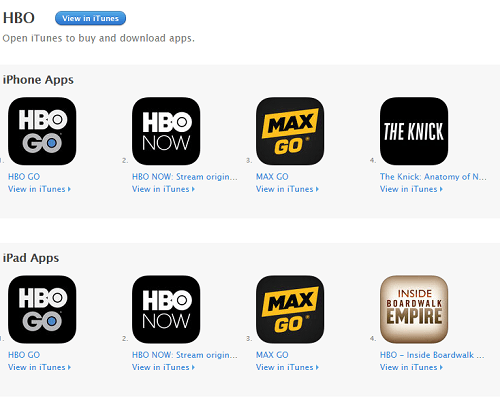 There are many more different iPhone apps which support Chromecast. There is an app for everyone. Whether you want to stream shows or play a game, check all the apps available
How to Watch Live TV on Chromecast
Cable television is facing tough competition from online streaming services as more and more people are now looking for cable alternatives. Streaming devices such as Chromecast are becoming very popular to watch online videos or stream Netflix. Let us now see how to watch live television on Chromecast.
Chromecast is offered by Google and is a streaming device. Chromecast plugged into the television via HDMI port. Content from devices such as computer, tablet or smartphone can be streamed on the television.
But to watch live television, the user has to subscribe to streaming service that offers television channels viewing.
Sling TV is one of the best options to watch live television programs on Chromecast. This is easy to use and affordable.
No cable is required and provides more than thirty channels. Free trial is also available.
This can be watched on mobile devices, streaming devices, smart televisions etc.
Direct Now is another choice and offer more channels to watch live. More than sixty television channels can be watched using this.
Another way to watch live television on Chromecast is to use PlayStation Vue. It is affordable, and the basic package itself offers more than 45 percent channels.
Sports lovers can opt for Sling TV. Fubo TV is another option for those who want to watch sports.
YouTube TV is another option for watching live TV but only available in few markets.
Most of the services mentioned above offer the free trial and allow watching live television on Chromecast. Tray one of the above services and if you do not like it, move to the next service. More and more cable providers and now offering live TV streaming over the internet. With the popularity of Chromecast increasing, these are offering availability of live TV on this device.
Conclusion
By using chrome-cast we can easily play the video from VLC to TV through the connection of the internet. This is the most significant one as everyone is expecting the advanced services that have been offered by Google.
Different Charomecast alternatives are available in the market. These simple tips and tricks can lead your Chromecast streaming wonderful.