Tell us something about you and clipchamp Platform?
We're a team of 7 including our 4 founders. We're lucky to have a diversity of backgrounds in the team that complements each other well sales, executive & general management, development, research, marketing, operations.
Before Clipchamp,we were working together for various employers before joining the startup world.With Clipchamp, we're making it easy & fast to share videos.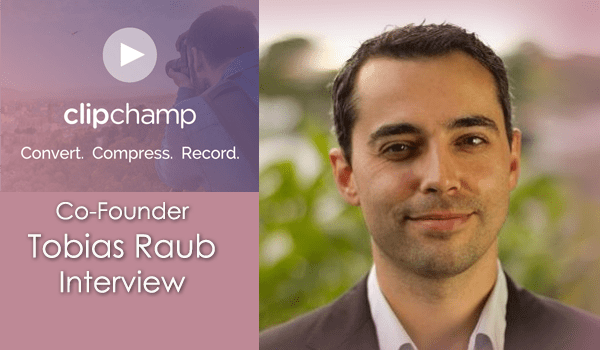 What are your Future Plans to expand clipchamp?
We're currently working on a version of Clipchamp (the Clipchamp Button) that will allow websites and web apps to integrate Clipchamp's functionality on their sites. Their users will be able to upload videos to those sites much faster and will be able to record webcam videos directly on sites or in web apps without requiring the Flash plugin or installing any other software. For more details, see https://clipchamp.com/getthebutton
What is the Core Feature of Clipchamp?
Users can record webcam videos, convert video files and compress videos too much smaller file sizes with no visible quality loss. They can then share those videos on YouTube, Vimeo, Facebook, or Google Drive directly from Clipchamp, or save them to their computer. The fundamental difference to other providers is in the way Clipchamp does all of this behind the scenes – it runs inside the browser but not online. All video files get processed on the user's computer, and they don't get uploaded for processing and don't have to be downloaded again after processing. There's much better privacy, and users don't have to worry about what happens to their video files – the files never leave their computer, unless the user decides to share them somewhere.
How Individual YouTube Creators can benefit with clip clamp?
YouTube creators can use Clipchamp to upload videos much faster into their channels. Uploading the finished video is often a frustrating and arduous experience, especially if the video is large, and the YouTube creator's internet upload bandwidth is limited. Clipchamp makes their video files smaller before they get uploaded and doesn't affect the videos' visible quality in the process. A shorter video upload much faster, even or especially if upload bandwidth is a problem.
Is there any plan to start SaaS Platform for Clipchamp?
With regards to clipchamp.com, we're planning to introduce premium features in a future release in addition to a free version. As for the Clipchamp Button, which will bring Clipchamp's features to websites and web apps, there will be some subscription plans to choose from.
What is the Current usage of Clipchamp?
We're growing daily and have had more than half a million users since we launched the first version of Clipchamp in 2014. We're seeing higher growth rates since we released the latest version last month, with thousands of users on the site every day.
Is there any funding opportunity?
We are happy to discuss any opportunity that might arise.
How Publishers can benefit using Clipchamp?
Web publishers who would like to or are already accepting user-generated video content will know how complex and cumbersome the process currently is, struggling with unrecognized video formats or large file sizes and users complaining about slow or failing uploads. Through the Clipchamp Button, they will have a much easier and faster way to obtain user-generated videos in a format that are easy to store, playback and process. Any publisher who would like to allow their users to record webcam videos directly on their site or in their web app will also be able to do so cost-effectively and efficiently without development efforts or insecure plugins.
What you will suggest for Upcoming YouTube Video Creators?
Creating videos is fun but can also be hard work. Clipchamp takes the pain out of uploading videos to YouTube (and Vimeo and Facebook), so there's one less hurdle on the way to publishing great content for your fans.
Thank you "Tobias Raub" for your valuable insights to ReelnReel.com Readers.
All the best to your clipchamp.
Clipchamp – Share Videos Fast, Record Video Easily
Clipchamp is the only app that has been provided with the advanced services to record the video at high quality. The video uploading is the very time taken the process as it takes some minutes to hours to upload the video content on the platforms. Especially for the content creators who frequently upload the content on the platform requires a lot of patience during the uploading of the content. And sometimes, the video size becomes too large, and there is a need that comes to compress the content. So, to avoid wasting time here comes to a new app called Clipchamp which allows you to record compress and upload the video in a faster way.
Clipchamp is the new app that helps in converting the video formats and also used to compress the video content and enhance the easy recording and uploading of the video content easily. It also records the webcam videos. The users can also upload the content on the YouTube platform very fastly by using this application.
Working and Features
Clipchamp had released the improved version with updated technology that can able to convert the videos in the Chrome browser from your computer offline. The users can record the video through webcams up to five minutes of length. It also allows you to compress the video and convert it into MP4, WMV formats. The user can also allow uploading the content directly on to the YouTube, Vimeo and as well as on to the Facebook platform too.
The content gets integrated into the Google drive. On compression, the video content with the Clipchamp, the quality of the video didn't change. It is compatible with the Mac, Windows, chrome books, Windows PC's, etc. it also supports the video files and supports various formats. The first video upload may be slow, but it gets faster from the second video itself. It is beneficial to everyone and is user-friendly.
Conclusion:
Clipchamp app helps your video making easier in creating the video, editing, recording and uploading sections. The article is an excellent guide to use ClipChamp app in the video production process.