Filmora Wondershare Video Editor is video editing software that helps in making the video look fantastic. It offers all the features that are required to make high-quality videos.
Launch the Filmora video editor, and you can see two options – one is the natural mode, and the other is the full feature mode.
Easy mode helps in getting a finished video within a couple of minutes. Add clips to the video editor and choose a preprogrammed theme and music. A video created automatically. The user will not have much control in this mode but is excellent for making a video in just a few minutes.
In the full feature mode of Filmora, there is much control for the users over their projects. The user can edit the projection storyboard or on a timeline. There are eight editing tracks and one video track which are adequate to complete a primary video project.
Professional may feel the need of more editing tracks for complicated projects. Other video editing software offers more numbers of editing tracks, and so this might be a drawback in Filmora.
Learning to use Filmora Wondershare
Learning to use Filmora Wondershare is very easy. Among many of the video editing programs, this has the most accessible interface, workflow to learn.
The main window has all the essential tools which make it easy to choose the one easily.
Available tools and features in the main windows are adding text, transitions, filters, exporting, etc.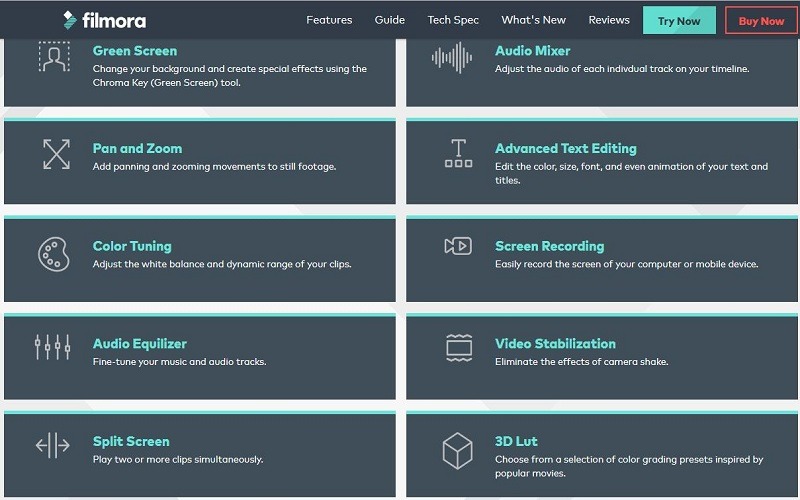 Users can navigate Filmora easily. This video editor is available to be used on both PC and Mac.
The videos created in Filmora Wondershare can export to different video platforms such as YouTube, Facebook or Vimeo.
The video file can be designed to be played back on smartphones, tablets or gaming systems. Created video can burn to a DVD.
There is no feature to create closed captions. There is also no feature to import or edit 360-degree videos.
Filmora Wondershare Video Editor Pricing
Filmora Wondershare video editor can purchase for both Windows and Mac from the official site. Buying the registered version has many benefits.The watermark on videos can remove.
The users can get free technical support. Thirty-day money-back guarantees were also available. There are Personal, Business, Students/schools categories under which the license can purchased.
For Personal use, one year license/1 PC costs $39.99. The users can renew it after one year.
For multi-users, the cost is $179.97. The most popular Lifetime License plan which is for one PC.
Free lifetime updates can enjoy. It costs around $59.99. The prices may vary frequently.
For businesses, lifetime license can purchase by paying the fee only once. It will cost $119.99. For volume submission, a query has to be submitted.
For students and schools, the Wondershare video editor is available for discounted prices.Up to sixty percent off can avail.
Submit a query so that the team will get back to you within 24 hours. Also, check the special offers available at the official site.
Getting Started with Filmora Wondershare
Launch Filmora and choose either the secure mode or the full feature mode.
In the horizontal mode, videos created in the built-in theme.
Import photos or video clips, choose any of the pre-designed themes and music.
Remember that videos created in easy mode cannot interchange with advanced mode.
Full feature mode is fully customizable. The user can arrange scenes, edit clips and so on. In this mode Media Library, Toolbar and Preview window options can found.
Media library has all the media like photos, music and video clips. Transitions, effects are also observed here.
In the preview window the current video player is shown. The toolbar is from where the user can access editing commands.
Media clips to create the video assembled in the timeline/storyboard.
Action cam module is one of the advanced features of Filmora video editor.
Footage from high definition footage can import, edited and exported using this tool. This feature is available in only few video editors.
The steps involved to edit a video in Filmora Wondershare full feature mode are Importing Media, Basic Editing, Advanced Editing, Export and Share and Remove Watermark.
Media can import from digital cameras, camcorder, mobile devices, etc. insignificant standard and HD formats. Media clips can organize in the Media Library.
Basic editing involves changing the sequence of the clips, editing out parts, trimming, splitting, rotating and cropping.

In the next step, filters and overlays added. Background clips or frames can add to the video.
After finishing the editing work, the video saved in any output format that the video editor supports. Output video can export to different devices. It can also upload to video sharing sites. Apart from that, the video can burn to DVD.
The free trial version leaves a watermark on the video. The only way to remove the watermark is to getting upgraded to a paid version.
Conclusion
Filmora Wondershare Video editor can use by anyone. It is straightforward to learn for even those who have not any idea of what video editing is. This video editor is an excellent choice for beginners and casual users. However professional editor may feel that some advanced features are missing.