OTT refers to the delivery film and TV content through the internet without ant satellite or cable connections. EMarketer survey revealed that more than 56 million had cut the cord on cable in America. Because of rising in on-demand video content, more people converted to OTT delivery services. Here we compiled top 50 OTT Video Marketing and Advertising Predictions and Trends for 2022.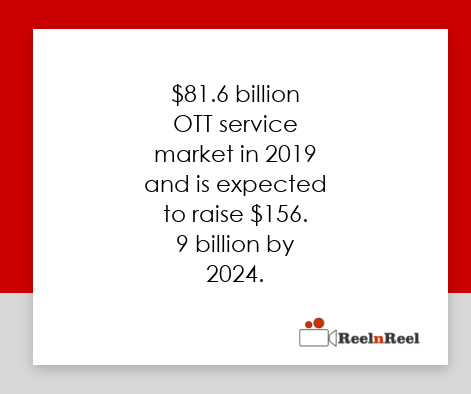 OTT Marketing and Advertising Predictions And Trends For 2022
A rise in the internet penetration and demand for content marketing within the entertainment industry is expected to contagious growth in OTT service market Globally.
$81.6 billion OTT service market in 2019 and is expected to raise $156. 9 billion by 2024.
Transactional based online gaming in the OTT market recorded as the fastest growing compared to subscription-based in the OTT service market.
It's a prediction that OTT TV and Video streaming revenue to reach $18,369 in by 2021.
eMarketer predicts that 73.1 % of the U.S internet users use the OTT market services y 2021.
Ads delivery on the OTT platform is 100% viewable and non-skippable because they run in real-time. So, 90% of the ads entirely viewed on the OTT platform.
According to the survey of U.S marketing professionals, 48% of the videos streaming on TV screens other than Live TV.
The survey by U.S Marketers over OTT services, 50 % of the streaming videos appear on the screen such as TV, Mobiles, and Desktops other than Live TV.
More than76.7 % of the U.S population used OTT services in 2019.
It's a prediction by the OTT Marketers, connected to TV users will rise by 57.2 % to 60.1% in the U.S by the end of 2024.
At the movement Video-on-demand penetration in western Europe is 12.69%, and it expected a 20.24% rise by 2021.
OTT streaming services in the UK have potential growth from 2018- 2021. In 2018 it was 31.86%, and it's raised to 54.23% by 2021.
Online video streaming trends indicated that the use of the internet would rise by 82% by 2022.
More than 182 million subscribers only for OTT streaming services alone in the U.S.

Netflix spent over $12 billion only on digital video content in 2019 and is expected to increase $16 billion by 2022.
Smartphone devices are projected as one of the lucrative segments globally on over the top market.
The entertainment and media industry held a prominent position in 2017, and marketers predict that it will continue its growth until 2025.
By region-wise during the years 2018-2025, Asia-pacific would exhibit the highest CRGA of 20.8%.
By 2025, There is an emergence of new OTT marketers expected over billion by the middle tire consumers.
Over $198 billion users are the estimated number of OTT by 2021.
OTT media services are striving hard to create niche content for further years.
Marketers in the U.S predict that Over the Top content, users will reach $156.9 billion by 2024.
54% of growth noticed in over the top services' previous year Globally.
Hulu is one of the best examples which offers on-demand video streaming services.
According to the ComScore,75% of the people spend their time streaming videos connected to TVs such as Amazon, Netflix, Hulu, and YouTube.
In 2018 OTT advertising hit $2.7 Billion in revenue.
Netflix and Amazon are the major competitors in the global market.
Hulu, one of the top OTT advertising market leaders, reaches the ad revenue of $1.5 Billion in the year 2018, which is the 45% growth over the year.
Roku acquired $ 416 million in 2018 that generated from advertising.
The average length of OTT advertising in the U.S is 3.2 minutes, and it is going to hit 5.1 minutes by 2021.
In 2021 the OTT advertising might reach $5 Billion.
The audience watching ad-supported OTT programs gained a 3.8 times higher rate of retention.
In the United States, households 54 hours per month of OTT streaming on an average.
We can find a 26% increase in the usage of home data over OTT streaming.
81% of people in between 30 to 49 are surfing OTT programs.
68% of hours are being spent by the people aged 30-49 on OTT streaming.
The OTT consumers will quit the video ad at 85% to 95% of the time.
In 2019 the OTT ad spent reached $2.6 Billion.
By 2021 the OTT advertising revenue is the primary source that reaches $8,745 Million.
OTT TV and Video revenue reach $18,396 Million by 2021.
The OTT or CTV viewers complete 98% of video ads compared to other devices.
Subscription video-on-demand service will obtain a global revenue of $69B by 2023.
In the U.S, 14 Million households OTT or CTV streaming services.
The consumers own 8.6% Apple TV, 7.8% of Google Chromecast, 7.1% Roku Streaming Players, 3% of Amazon Fire TV sticks, 2.2% Roku streaming stick, 1.6 % of TiVo Roamio and 1.2% of Boxee TV.
The ad spent on Roku accounts for 67% higher exposure while comparing with cable television or broadcast.
CTV advertising holds 26% of the total video ad spent.
60% of OTT consumers stated that they are using mobile to watch the video content.
By 2021 the time spent by users to watch the video through OTT apps raised to 27%.
We can find 182 Million OTT streaming platform consumers in the U.S.
Cloud processing is the most adopted trend of OTT platforms to stream video content.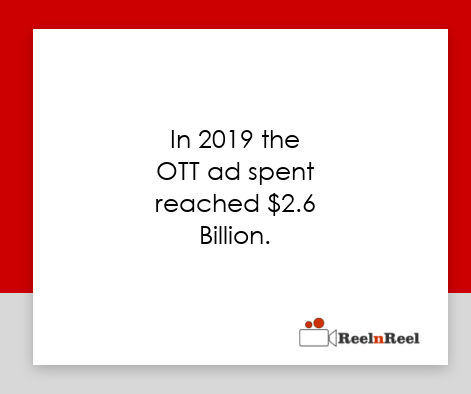 Conclusion
OTT video advertising and Marketing can hit the sales funnel when the content production projects quality over quantity. Most of the business brands are adopting multiple streaming platforms to promote their business at their real-time audience.