Netflix is one of the world's topmost video streaming providers, especially in producing the original content. The subscribers can stream the award-winning premium content like documentaries, TV shows, and events, etc. The viewers can enjoy ad-free video streaming. Establishing any business just not sufficient along with that surviving as the supreme is the most crucial part of any business. Netflix has shown its caliber that one other video streaming platforms can hit. To know the success of Netflix go through the below Netflix Statistics.
Netflix Statistics
Netflix holds a 26.6% share of video streaming traffic globally.
Almost in 190 countries, Netflix video streaming service is available.
In 2018 Netflix released 700+ originals of TV shows and movies.
Netflix gained 130 million members globally.
Each share of Netflix sells at $350, and it reflects the better performance of Netflix in the stock market.
In 2000 Netflix tried to sell Blockbuster for $50 million.
80% of U.S views are arriving for Netflix for the delivery of original content.
Netflix generated about 850 original titles in 2013 and outed from 2014 to 2015.
57% of the Netflix subscribers stated that the original content is the only reason to subscribe.
Netflix video streaming initiated with only 1,000 titles.
Netflix subscribers can save 160 hours of watching advertisements by watching original video content on it.
Netflix won more Emmy Awards than HBO in the year 2018.
23% of Netflix users watch video content daily.
Netflix subscribers almost spend 1 billion hours of watching video per week.
Overall the world's internet bandwidth Netflix consumes 15%.
74% of video-on-demand consumers make subscription on Netflix.
55% of Netflix audiences used to pay for their subscription to streaming videos.
One of the Netflix subscribers watched Madagascar3 for 352 times in 2017.
In the first month of Triple Frontier on Netflix, it is being watched by 52 million households.
The unknow fact of Netflix is that it spends more money on producing the video content than it takes in.
Netflix was founded in 1997, and in 1999 it started offering subscription-based DVDs through Emails.

In 2005 Netflix had more than 5 million subscribers, and in 2007 Netflix started streaming video.
In 2017 Netflix crossed 100 million subscribers, and in 2019 it is counted to below 150 million.
In 2018 Netflix spent $12 billion on delivering the original video content.
$15 per share is the initial offering of Netflix shares to the public.
50.56% is the Netflix breakdown percentage by different countries such as Germany, Brazil, and Mexico in 2020.
2020 Digital TV research analysis says, 24.4 million total number of subscribers for Netflix in Brazil.
Netflix users watch 140 million hours in a day.
50% of Netflix users are the younger generation, and being age 35 and above.
The total number of subscribers for Netflix in the UK recorded at 89.15 million by 2020.

Netflix offers no-ads, no commercial interrupted viewing experience with over 158 million paid subscribers globally.
Among all web traffic video-based, the content growth rate expected to 82% by 2020.
Latin America has the highest demand for video content globally. The US has a massive number of following for Netflix over 6,000 titles provided to Netflix subscribers.
Netflix contains 76,000+ hidden Movies and TV shows categories globally.
7 million Total number of Netflix app installs and downloads only in the US.
As per the eMarketer survey, 64.5% is the highest number of penetration rated recorded in the US and the lowest penetration rate in the UK as 33.8%.
Over 80 million plays for the Movie "Bird Box" on Netflix by 2019.
More than 64 million views are on top of the Television series "Stranger Things" counted on Netflix.
"The Umbrella Academy" is in second place of TV series with 64 million play count.
After completion of 20 years of introducing Netflix streaming services, it reached an overall 190 countries globally.
I in 3 Australian households have Netflix like streaming service by 2017, and it will be reaching 2 in 3 by 2020.
Over 76 million people watched the season 1 of "The Witcher" in the first month after introducing.
83 million views for the movie 6 underground in its first month of launching.
For 5 years, Netflix paid $500 million to Sony for Seinfeld streaming, which is going to start in 2020.
Netflix paid $40 million per episode to Chris rock for 2 standup comedy specials.
Netflix paid $40 million for Dave Chapelle for providing content to Netflix.
Netflix wins 4 Golden Globes by 2019.
Netflix was nominated 128 times for Emmy Nominations.
Netflix spent $60 billion to Beyoncé for Homecoming and the other 2 exclusive shows.
In Q3 of 2019, Netflix has gross profit of $2.147 billion.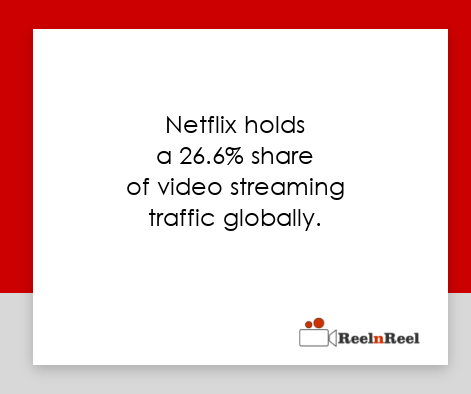 Conclusion
As per the Netflix Global Statistics 2020, we can conclude that No matter how many contenders for Netflix globally, but its place will remain intact and continue for a few years. Netflix has created that kind of impression in users' minds.