YouTube YouTube……… the only word that weaving the social media with the brand model of a video. YouTube has become the universal celebrity that everyone is spending hours of time by surfing videos on YouTube.
Such a crazy demand in the public has made others to launch the YouTube channel individually by excelling their talent.
Now we can find plenty of channels on YouTube but how to be the number one in that crowd that too for a long time even as the trending YouTube channel in the next generation.
Tips To Build A Next-Generation YouTube Channel
Be a Storyteller
You should become an excellent story teller by evaluating the story with all interesting ideas and concepts that no one did before. The narration of story should create excitement in the audience while watching.
Create Engaging Videos
Always create the videos with creative thoughts of generating ideal ones which are playing a crucial role to engage the YouTube channel with audience continuously.
Create Interactive Videos
Use the option of call-to-action to get more information about your videos assign links of other videos . when ever possible especially in other social media sites and include additional pins to your video that directs the audience to other videos of your channels which in return keeps continuous engagement at your channel.
Video should be short and simple
The video must be created in a short and simple format which can give the flavour of sweet to the audience while watching. It should not eat the audience precious time and don't let them get bored.
Become a Global Influencer in your Niche
The creation of quality content and genuineness will launch the greater circle in the social media by sharing your video content. This leads you to be as one of the top most global influencers in your niche. This could be the strong basement that helps to be as the future trending channel.
Produce Consistent Video Content
Make perceptions on user interests and plan proper schedule to upload at the peak time at which the user is online.
Keep Learning and Experimenting
Consult the experts to find more tips and tricks to create extraordinary videos. Consider the audience comments either they are in positive or negative and try to develop videos basing on audience requirement.
Create Video Content Based on Current Trends
The most significant theme in the YouTube channel is trends so be concentrate on this and produce the video content basing on it. This will automatically raise up your channel.
Use Growth Hacking Strategies
Invite guests by taking interviews, produce contests, create a niche of your own, prefer to make cross promotions and enhancing your social media circle will help you to better development of your YouTube channel.
Educate Your Subscribers and Viewers
You should make your subscribers and viewers know what your video content is . Then they should recognise the importance of your upcoming videos. Launch video campaigns about your channel if possible.
Repurpose Your Video Content in Different Short Formats
Pick up the list of evergreen videos and add some makeup that brightens the vision of the video. Reproduce the old ones by adding multilingual option and generate how-to videos those are mostly searchable on a search engine. Add the most effective thumbnails that give the completely fresh look to attract the audience.
Frequently Observe Analytics and Improve your Strategies
Go through your YouTube channel analytics regularly where you can find the performance of particular video. Basing on that you should make strategies that speed up your channel performance.
Improving your Video Making Skills to become a popular contributor
Establish a strong video making skills that bring up your hidden creativity to be in the real world. This can make you be a great competitor to others.
Identify your Audience across Multiple Social Media Platforms
Choose other social media platforms like Facebook, Instagram, Pinterest and Twitter where you can find a vast number of audience to promote your channel.
Create Branded Video Content
You should always give preference to establish the brand by developing the ultimate video content.
Implement Big Data technology that works best for your YouTube Channel Growth
Gather the data from other popular channels and make an analysis on that big data which helps in raising the growth of the channel.
Imagination: What happens if Every Kid in First Grade is Taught to Create a YouTube Channel of his Own
All parents are preferring YouTube to guide their kids either entertainment purpose or educational purpose. The kids have habituated to watch the YouTube Kids channels on their daily routine.
If you are a parent or if you have kids at home then it is the most common thing that happens right.
YouTube is equally popular with the kids. We can see little kids who do not even recognize the alphabetic accessing YouTube and opening videos by choosing them by the thumbnails. Small kids are fascinated by the videos and it is a very interesting way to communicate with them.
To start a YouTube channel, a kid must be over the age of 13. But just imagine what will happen if all the kids in first grade are taught to create YouTube channels of their own and think what will happen.
There will be a lot of fun content on the channel. Children love funny videos and they make the videos and share them with their friends on YouTube channels. Kids love the different stuff. They like the animations, animals, stories and whatnot.
We can expect to have more and more kids content on YouTube platform from these first grade studying YouTubers.
Educational videos such as learning numbers the fun way, learning alphabets while enjoying the videos, etc may be expected on YouTube. Given a chance, kids will develop a lot of creative content that will be appealing to the child audience.
The kids might share the videos they shot with their family members, friends, etc. They can even share the videos of them receiving gifts and unboxing their new toys.
It is good for the children to learn digital video skills and experiment with creatively under the guidance of their parents. We have seen a lot of popular kids becoming YouTube stars.
Kids in olden days used to mimic like newsreaders, teachers, police officer, etc and now kids have a firm grasp of technology. But now the number of parents encouraging their kids to have their own YouTube channels and post their videos is increasing.
Questions to Ask Yourself before Starting a New YouTube Channel
While it is a great idea to have own YouTube channel, it is important that proper groundwork is done beforehand itself. This exercise would give the marketer an edge over the competition by way of his channel on YouTube.
Following are some of the questions that the marketers need to answer before starting a new YouTube channel:
Why own channel:
This is the foremost question that the marketer needs to answer. The possible answers can be either to get recognition for his video to improve traffic to his site or create interest in the minds of the viewers so that they would like and respond to the video.
What is the content:
After deciding to own a channel, the marketer needs to conclude the content that he wants to post on his channel. Consistency on the topics to cover is the main tool that will attract more viewers to the channel.
What is the line of publication:
The channel has to consistently focus on specific topics to ensure that the audience are regularly visiting the channel.
Who are the audience:
Each product has a pre-fixed set of audience and the content need to be suitable for the audience depending on their demographic belonging.
What is the programming:
Programming of the content is of utmost importance to ensure that the channel is a grand success.
What is the scheduling:
Scheduling is another aspect that the marketers can't ignore. It is not possible for the marketer to be available on the channel on a continuous basis. As such it is required that he declares and stick to his schedule on his channel.
What is the format of a video:
Depending on the targeted audience, the video has to be made using the appropriate device – whether webcam, phone or video camera.
What is level of patience:
Success on YouTube channel can't be expected instantly. As such the marketer needs to have ample patience till he gets success on his channel.
How to monitor the success:
Constant monitoring of the success of the channel is required to ensure sustained growth over a period of time.
What is the promotion plan:
The marketer has to plan promotion of his channel on other related social media as well.
How To Protect Your YouTube Channel From Hacking Using Cyber Security
Hacking is the most uttering and listening word whatever the social media platform we are using either personally or professionally. We all know that YouTube is the video treasure of social media. Now each is focusing more on YouTube than any other. Moreover, it has become the leading source to earn money by entertaining the YouTube audience. Ways to Protect Your YouTube Channel can be found here.
How hacking and YouTube is interconnected?
The more popular you are on YouTube, the more prone to hack your YouTube account. The hackers are the shadows that always projects to hide you through hacking. The precise thing that we have to discuss here is that Google supported YouTube is the most secure platform. Google always take measures to block the unusual activity of sign in by the bugs which mean hackers.
How can the hackers hack your account?
E-mail address and Mobile number are the primary weapons for hackers to attack your YouTube account anonymously.
Here are the steps to protect your YouTube Channel from Hacking using Cyber Security.
Step1:
Go to www.google.com/settings/security
Here you can secure the account by bringing any changes.
Step2:
Click on sign in appears top right corner.
Step3:
Using Gmail account details sign in to your Google account.
Step4:
It will be directed to the 'Security' page where you find "continue securing your account."
When you click on it leads to finding the steps like
Important security settings-
Here we can find any changes in our setting if any.
Secure your other accounts-
When you use Google password for other sites, you can change.
Google Ads-
If there is unusual activity, you can request The Google Ads teams to check.
Step5:
You can secure your Google-linked YouTube account by changing the password or using 2-step verification method. You can use your phone to sign in to the Google account.
Step6:
When get started your 2-step verification then each they ask for the password to enter from which device you log in.
Step7:
Enter your mobile number by choosing the country. Click on send code. Then the six-digit OTP code will be sent to the mobile.
Step8:
Verify your phone number by entering the OTP code. Each time you log in to your Google account from any device will send the verification code to your phone.
Step9:
Now click on next by confirming your computer is the trusted one to log in if you lost your phone.
How to Create a YouTube Channel for Business Promotion
Million hours of video content is uploaded and being searched by the audience. It is the only source for most of the businesses that are driving sales through the YouTube business promotion strategy. The intention of business brands is finding new buyers by building brand awareness. YouTube is the only solution to do that.
Do you need a YouTube channel to promote your business?
This is the most common question that bugs in the minds of marketers or companies.
Steps to create a YouTube channel
Either by using the existing or building the new Google account, you can set the YouTube channel.
Click on the 'sign-in' option of YouTube to create the channel.
Then you will be directed to 'Google Sign-In' page.
Enter the account details and log-in.
Hit on creator studio at the top right corner.
Now click on create a channel.
Then it shows 'Use YouTube as' with first name and last name.
You can select the 'use as a business or another name,' or you can mention your name in the box. Many cases, most of the businesses use their business name.
'Brand Account Name' window will be displayed to add name and then click create.
You have successfully created the YouTube channel for business.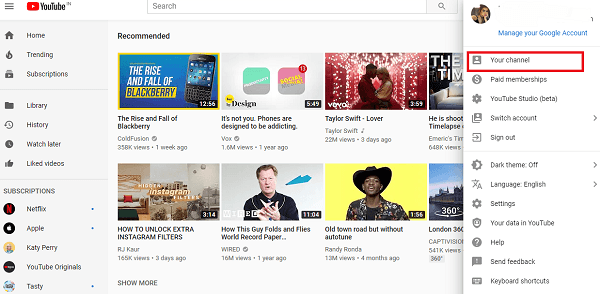 Note: Your active phone number should get verified on YouTube to start channel. This can be done by selecting your account icon.
Now enable the live streaming option in your channel.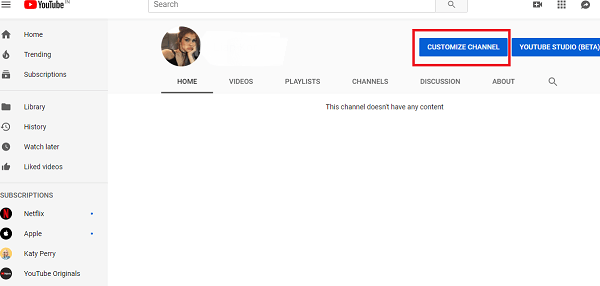 Channel Art
After that, set up the channel art by adding background and logo of your YouTube channel. The image size and file requirements to upload are mentioned below.
On different devices like mobile, desktop, and TVs, channel art looks differently. To hold the best results on all devices, YouTube recommends uploading of one 2560×1440 px images.
Minimum required area for logos and texts is 1546×423 px. On specific devices, the large images will be cropped.
Minimum upload dimension is 2048×1152 px.
6MB or smaller is the required file size.
2560×423 is the maximum width.
Image tips and requirements:
Using saved images is the most recommended one.
Upload the photo or image saved on a mobile or computer or in Google photos.
Make use of YouTube photo library by selecting the Gallery tab.

Adding social media links to the banner
You can add your social media links to the YouTube channel banner.
Click on 'about' by choosing your channel.
Select 'customize channel' if you are in the new YouTube layout.
Click on edit option by hovering over 'links' section.
Now hit the '+Add' button.
Place the URL and title of your site that you want to link. Here you will be enabled to add up to 5 links.
Now click on 'Done.'
About
In this section, you can elaborate on the overview of your business channel. It encourages visitors to become your subscribers and also lets your channel appear in the search results of YouTube. It is named as a description by YouTube.
Now you can upload new business videos to your YouTube channel.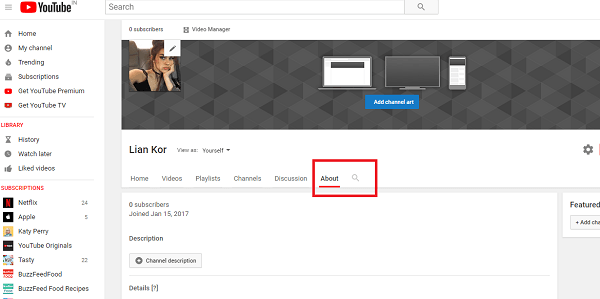 Most of the businesses are gaining brand exposure by setting up a business YouTube channel. Just setting up the YouTube channel is not enough to engage the audience. It requires the ultimate creation of video content that let the audience to become your subscribers where you can find the potential customers.
How To Do YouTube Channel Competition Research
Have you ever think to beat the competitors YouTube channel as a vlogger?
Do you know that we can learn a lot by making research on competitor's channels?
This is the time to explore your caliber of vlogging in expanding your YouTube channel with the help of below mentioned strategies.
Pick your Niche Industry what you are targeting
Initially, choose the niche industry at which you are passionate to deliver the best to the audience. should be selected by estimating the vlogging capabilities that should strike at each viewer.
Collect Top Videos from your Niche
Always try to collect the top most videos that are being as the trend in social media platforms. Make the varied formats of videos depending on the theme of the collection. This concept will elaborate your framing skills in generating different video content.
Use Manual and Third-Party Tools to Collect Top Videos
Focus on the advanced tools that are being trended in the market to collect the top videos either manually or automatically. This type of tactics will save the time that helps in the creation of bulk content for your niche.
Mine Your Competitor's Data by Sorting Top Videos by Views and Date of Upload
Make the analysis of videos which have acquired huge views and date of upload that are being on the list of competition from the opponents. The digging of this data will help to frame future predictions on the coming videos.
For example, if you are from music niche then pick the top YouTuber in music category like Wiz Khalifa then hold the top videos that he made. Depending on that you can take the advanced steps to create videos in your niche.
Learn which Channels uploading best videos in your Niche
Make a research on the list of channels which are giving the best performance by uploading the best video content in your niche. So that you can make tremendous videos by enhancing the video content you have.
Produce the videos by choosing unique conceptual videos that are being different from the competitors.
List out Channels and Mine all their Video Views and Engagement
Make a sheet of competing channels by visiting the videos having massive views that are being engaged by the audience frequently. This can give you a basic idea of how to frame the most engaging videos at your channel.
Learn their best working strategies from the data you collected
After analyzing the competitors just make a sketch on how they are exploring their channel brand through their ultimate vlogging strategies. Pin those keys from that observation and heave at our niche.
When we watch the videos of 'Pew Die Pie' then we can find a different way of styles in each video that are hilarious and interesting to watch at each time he uploads.
Start implementing it
After making research on all the above points just go on implementing at your YouTube channel. The real-time experience will give the better results of understanding of three 'D's like "what you have done, what you need to do and what you are doing" to build the brand of your channel.
Always individual vlogging strategies will not make a channel successful all the time. Even the vlogger either start up or expert will always keep eye on other competitors of the same niche to make a step ahead.
How To Promote Your YouTube Channel For A Global Audience
As a Vlogger, you might have an idea of how to run a YouTube channel within local boundaries. Though, your channel is much famous in your surrounds of the local area that must acquire the fans through globally. It might be helpful to launch the banner of your name along with the channel as the first brands in the worldwide and also to raise the financial growth of the channel. In that case, there are certain promoting strategies to gain the Global Audience for your YouTube channel.
Create Videos in Views of Global Audience Perspective
This is the initial step that you need to consider as a vlogger, i.e., always try to analyze the needs of the global audience and create the videos according to give the complete satisfaction and enthusiasm to watch your videos.
To do that just go on revising the well-reputed channels in the worldwide. Then you can get an idea to think creatively.
One YouTube Channel Multiple Language Content
You must not forget to use the multiple languages for the content of the videos you make. This truly useful to clutch the audience from all directions with no bother about the other language areas.
The users usually give prior preference to the video content that is in their mother language.
Subtitles and Captions for Videos
When the video plays on your channel those must be wrapped with subtitles and captions. When users from different countries are watching that video they can easily understand though it is in any other language.
Sections and Playlists
It's very easy for everyone to watch the bulk of videos automatically at one place without surfing all time. If you create sections and playlists with exciting videos then the user might spend some more time on your channel.
This increases the YouTube watch time and leads to get a higher ranking.
Featured Channels
Mention the featured and favored channels so that the audience will be clubbed from all the sources you have. That means the audience from those channels will visit your channel and vice versa.
Add Multi-language translated titles and metadata
Multilanguage translated titles should be used and metadata as well which has appeared along with the title in the search results of search engine.
This type of equipped video will give the brief description that what you had mentioned in the video with their own verbal communication.
Video Thumbnails
The video thumbnails are the brand ambassadors of the channel. As you use the most effective and unique thumbnails for a particular video then you can find abnormal traffic for that video on regular basis.
Cross-Promote and Collaborate with International YouTubers
When you decided to fire your video bullet at the global audience then it's better to cope up with the international YouTubers. Inform them to promote about your channel by giving your video links at their popular videos and follow the same for others.
All this happens when you collaborate with them by better understandings.
Influencer marketing with International Social Media Stars
Give preference to influencer marketing that means use the most popular video marketers as the medium to enlarge your channel internationally. They could easily disclose about your brand as they are already familiar with their branding.
These are undiscoverable and the most helpful promotions strategies that could be responsible for grabbing the attention of the global audience at your YouTube channel. If you are at the initial moment just check this article which can build the strong confidence level to go ahead.
How to Make a Facebook Page for Your YouTube Channel
If you are planning to run your own YouTube channel, you have many other sources to connect as many audiences as you can. Facebook pages are leading the world with Facebook Live videos, so connect your YouTube account to the Facebook page.
Already started a YouTube channel you want to connect it to the Facebook page where you have a huge fan following. Once if you connected YouTube channel to a Facebook page each new upload appear in your personal timeline.
Whenever your friends visit your page they will see all uploads and latest videos from your YouTube channel. Your views on a Facebook page and YouTube account are counted from a Facebook page.
How To Connect Facebook Page To YouTube Channel
If you are creating a Facebook Page first think once about the type of category your YouTube channel belongs to. Select that category to create a page for your brand, make sure that you can promote your brand or category whenever you would like to move.
First Log into Your Facebook Account.
In the Facebook account on search box type "YouTube" and click on it.
In the search results, you will find "YouTube for Pages", "YouTube tab for pages " in apps column.
Click on "YouTube app" on the search results for YouTube own application, it may have some competing fan pages in search results.
Allow "YouTube app for pages" and install it to add Your Facebook page.
After that, you will a window to add your Business page to add the channel. If you are the administrator of one page you will see the name to add.
Else if you are an administrator to many pages it will show you a drop-down list to select the right page to add YouTube channel.
Click on "add YouTube URL" to add YouTube channel to a Facebook page. Save the setting for YouTube link on a Facebook page. If you have more than one YouTube channels it will show you the list select any of them.
Type the YouTube Channel Name on a text box and save settings.
Navigate the YouTube channel, click on "YouTube" logo on the top section your Facebook page.
Enter some name or give a name to the YouTube channel videos text box, and click on "Save" option.
You can add additional information you would like to give specific changes to your page.
Reason Behind Connect YouTube Channel To Facebook Page
YouTube can boost your online sales through video advertisements. If you would like to drag all your potential customers and fans to engage on YouTube channel, this is the easy trick.
This trick will lead more engagement with an audience, stay longer period on your page, encourage them to share on other social media sites with the friends and boost the number of user and viewers to YouTube channel.
Creation of this process is not that hard as like writing designing coding pages, it's simple, user-friendly environment 100% free to use.
The things you need is Facebook page creation, YouTube channel username to give a name to your account and it takes less than a minute.
The easiest way to boost more viewers and users to YouTube channel is creating the Facebook page for your brands. You would like to view latest uploads from your YouTube channel on Facebook profile this is the best option to grab more audience. Try it it's simple and user-friendly.
Conclusion
All the steps mentioned above will help you to protect your YouTube account in all possible ways that hacker tries. Google is always stepping ahead of providing full packed security to Google users.
After reading this article when you step out to implement these strategies then you can find an unexpected demand for your channel in the public.