Philo Live TV Streaming, first ever a new television streaming service launched nationwide under $20. Philo online TV platform offers 35 cable TV channel under $16 per month. Philo uniquely approached young consumers with services such as Live TV, On-demand streaming, lifestyle programs, Entertainment and DVR.
Philo launched a new multi-channel Live TV streaming and just said NO to Fox News, ESPN and Some Sports channels. Philo carries content from the top programming Groups A+E Networks, AMC Networks, Discovery groups except for Sports channels.
The content involved in Philo has lifestyle channels like A&E, Discovery, Comedy Central, AMC, DIY, Lifetime, HGTV, MTV, Spike TV BBC America, TLC, VH1, OWN, Nickelodeon, and IFC.
Philo Live TV Streaming Service Review
Coming to technology features of Philo Live TV it can give the ability to watch up to three different devices at same time.
The key features are the ability to pause live channel to watch the program from the beginning, 30 days DVR service and On-demand library services.
Philo offers On-Demand videos from each network, and you can watch anything that aired from past three days.
The 30 days DVR services allow you to get 30-day trial original data and there are no storage space limitations.
One of the best features from Philo is you can work on Roku TV, Web Browsers, an Android and iOS apps through Google Chrome.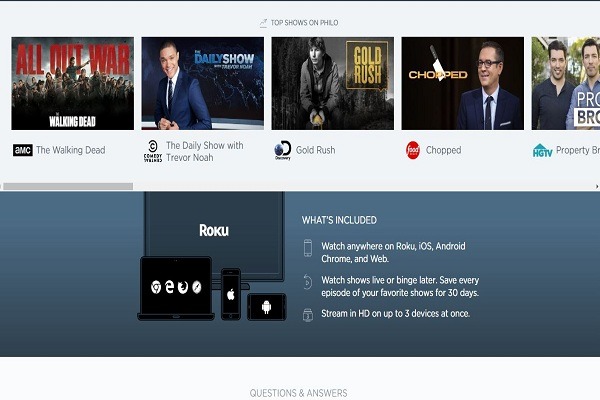 Philo CEO Andrew McCollum, he is one of the founders of Facebook, paling to introduce and integrate Social media platforms on Philo Live TV.
The primary goal of introducing Philo TV services are people should love Television more than love shows and continuously updating the Philo TV services to make Philo number one on Live TV Streaming said by Andrew Mc Collum.
Philo offers more than 35 channel charge $16 per month if you pay additional $4 per month it offers American Heroes Channel, Destination America, Discovery Family, Logo, Cooking Channel, BET Her, MTV Live and Nicktoons channels.
Philo has 35 channel like A&E, Animal Planet, AMC, AXS TV, BBC WorldNews, BBC America, Cheddar, CMT, History, Food Network, GSN, Investigation Discovery(ID), Comedy Central, DIY, IFC, Discovery Channel, Science, Sundance Channel, Travel Channel, Velocity, Iceland, We TV, TeenNike, Lifetime, Spike TV, Nickelodeon, Nick Jr., MTC2, Lifetime Movies, MTV and OWN.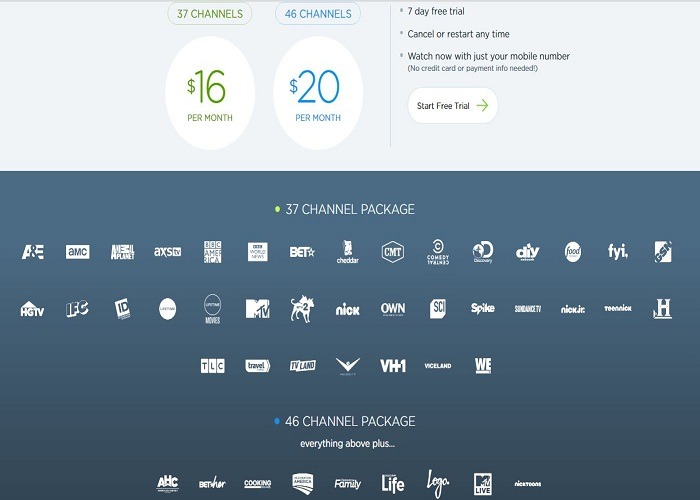 The new customers can have a seven-day free trial just registering with the phone number. They can get above 35 channel open for one week.
It gives streamlined interface, smooth and powerful functionality to save your favorite shows and gives you intelligent search options.
Philo Live TV Streaming Service Features
Watch live TV on your phone, tablet, or computer
Get access to 40+ channels for $16 a month (no-contract)
No expensive equipment needed- watch with just an internet connection and smartphone
Stream thousands of shows, movies, events, and more on-demand
Access full episodes of popular series like The Walking Dead, This is Us, and American Horror Story
No contract or commitment
Ability to watch on up to 3 devices at once
Live TV and recorded shows from 45 channels, including AMC, A&E, Animal Planet, BBC America, Discovery Channel, HGTV, and more
Unlimited DVR storage
No contracts or cancellation fees
Live TV and On-Demand content
A variety of on-demand channels, including HGTV, Food Network, Comedy Central, Discovery Channel, National Geographic, and more
Watch live TV from your phone with the Philo app
No cable box required
Stream up to 40 hours of recorded content on-demand for free (no time limits)
Unlimited DVR storage space (record as much as you want)
Get one month free when you sign up for a yearly subscription
DVR and pause your favorite shows so you can watch them later
Watch on multiple devices- including TVs, tablets, and mobile phones
Watch live TV on your computer or mobile device
Stream over 40 channels, including A&E, Animal Planet, Bravo, Cartoon Network, and CNN
DVR functionality- watch shows you missed at any time
No contract or commitment- cancel anytime without penalty
You can also add premium networks like HBO for an additional cost
35+ channels, including A&E, AMC, Animal Planet, BBC America
Offers a 7-day free trial
Watch on your phone or tablet with the Philo app
No contracts or hidden fees
You can cancel at anytime
No cable or satellite is required
A la carte channels from $16 per month
Philo offers a library of up to 40 channels for $16 per month
Philo does not have any sports channels, so you can watch games without paying extra fees
You can add HBO, Cinemax, and Showtime on top of your base package for an additional fee
Philo has no limitations on simultaneous streams or recording limits- the only limit is how much bandwidth you have available
No contract- cancel anytime with no hidden fees
Watch on up to 3 devices at the same time
Conclusion
Philo offers multi-channel Live TV up to 35 channels for $16 per month. The people who are not interested in Sports should buy this Philo Live TV Streaming without any doubt. It's best for on-demand TV services.
Image Source: Philo