`Red Raven' is a complete camera system released by RED. Unlike Brain Alone which only has a sensor and processor, Raven does not need any other accessories as it is a complete camera system. This is priced below $ 10,000.
Features of RED Raven include the 4.5k Red Dragon sensor which has the ability to shoot up to 120 fps in 4.5K or 240 fps in 2K. It weighs 3.5 lbs. This camera is capable of capturing motion as well and stills in high resolution.
Like all the other RED cameras designed committed for great image quality and modularity, Red Raven is also one of the full fledged professional cameras which are small, light weight and can be used for gimbal and drone applications also.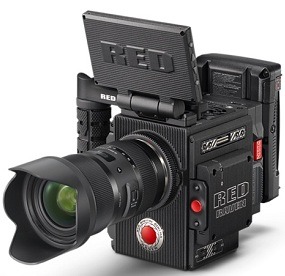 All controls of the Red Raven can be done via the touch screen. While most of the cameras require a lot of settling on exposure which is imperfect, there is a great dynamic range for Red Raven. Let us the specifications of Red Raven now.
RED dragon 9.9 CMOS sensor
4608 x 2160 pixels
RED Raven is able to record in REDCODE Raw. REDCODE Raw file format is also known as R3D.
The camera offers flexibility and freedom to record simultaneously in different formats such as R3D, Apple ProRes and also Avid DNxHD.
It weighs 3.5 lbs.
In 2K it shoots up to 300 fps
150fps in 4K
120fps in 4.5K
Shooting while on the move
Detachable handles and lenses
A variety of shooting modes
Great for travel photography
6 million pixel sensor or lower
pixels per inch (PPI) >10 Megapixels
1/2.3" High-quality Sensor
Wide angle lens lets more light in
The smaller sensor means more images per second
30+ megapixels of resolution
Rechargeable battery pack for portability
Large, high-resolution LCD screen to review images and make adjustments
Usability options such as Live View to allow the photographer to see the exact frame before shooting
Time lapse feature with the ability for a photographer to capture an interval between shots – 10 seconds to 23 hours
Perfect mirrorless camera for students
Affordable beginners camera
Complete Range with a Wide Lens Support
Intuitive and Simple to Use Cameras
Top-of-the-Line Lenses for Sharp Shots
RED Raven can capture high-resolution motion. Since its weight is very low, it can be used with drones, gimbals and videos can be shot by catching with the hand. Though the camera is small, it produces cinema quality footage. The dynamic range allows the user to shoot HDR content out of the box.