Anyone would like to shoot an adventure trip or want to share your memories with your friends. You should have a good camera which can shoot 4K video footage and necessary equipment like stabilizers, cables, Battery setup, etc. The assembling / disassembling processes takes minimum time and sometimes it's hard to set up. To come across all these issues a new product introduced in the Market. It's none other than REMOVU K1 self-stabilising 4K camera. REMOVU K1 including a 4K Camera with 3 Axis gimbal lightweight stabiliser stays maximum 4 hours of recording.
Specifications Of REMOVU K1
K1 has specification like 4K Camera, 1.5″ LED Screen, Video record button, front photo button, joystick and battery show front of the K1. 3.5 mm Mic jack, Micro SD Card is shown at left side of the handle. Power Button and 3-axis Gimbal at the right side of the K1. Finally, Trigger at the back side of the Handle and micro USB port for charging at the bottom of the handle.
Features of REMOVU K1 Self-Stabilizing 4K Camera
REMOVU K1 comes with a 3-axis gimbal with 1.5" LED screen for recording the video footage. It is portable, lightweight, affordable and user-friendly Camera with a long-lasting battery.
Stunning Ultra HD Video:
It can capture ultra HD 12MP photos and 30FPS video footage and also takes slow motion full HD at 120 FPS. K1 has designed with F2.8 wide angle lens, and 4-way joystick allows multi-angle camera positions.
3-Axis Motorized Stabilizer:
The stabilizer manufactured with brushless DC motors that capture stable, smooth footage and gives you super sharp clear image. This 3-axis gimbal stabilizer is different from the other electronic stabilizers, and you can experience the big screen video clarity.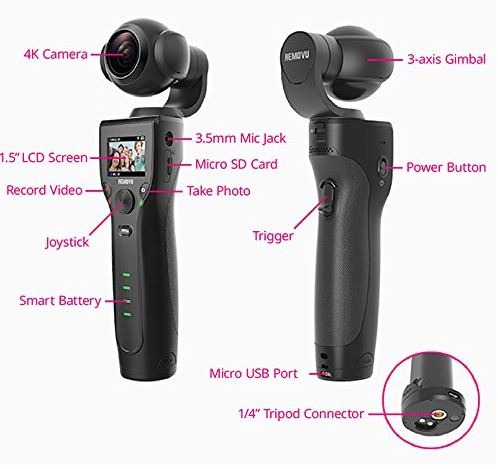 K1 comes with four types of shooting modes like Selfie mode, Pan mode, motion time-lapse mode and follow mode. With these modes, you can turn your videos into a movie.
Portable and Lightweight:
K1 is lightweight with only 340g and including the compact lens. It is user-friendly compact. The lightweight camera feels you carry anywhere like the smartphone. It does not tie up with any cables. So, easy to handle and operate with a single hand.
Selfie Mode:
The K1 comes with built-in 1.5" LED screen which allows you to preview your selfie easily. K1 packed with 50" lens to zoom your selfie to shoot perfect portraits and trigger at the back of the handle to quickly switch the trigger to selfie mode. Perfect for Selfies and stabilized footage.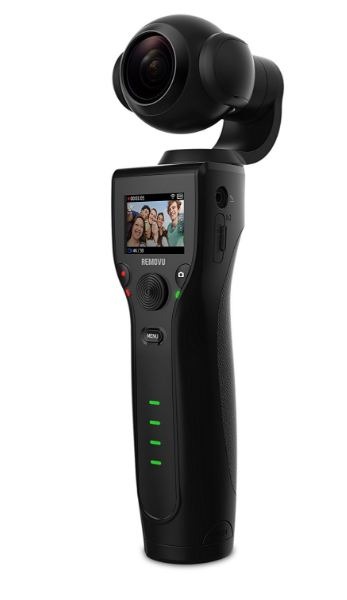 Smart Battery:
K1 equipped with a rechargeable interchanged smart battery which can offer long lasting battery backup of 4 hours on a single charge. You can recharge with a separate power cable and also shoot videos or take photos while charging the battery.
Microphone and Mic Port:
K1 has a built-in high-quality microphone and Mic port for accessing external mics. K1 records clear audio which you are recording Video footage. You want to use other brands microphone, insert in the Mic Port which is on the left side of the handle.
K1 Package:
The K1 package comes with K1, a USB Cable, changeable Battery and a pouch.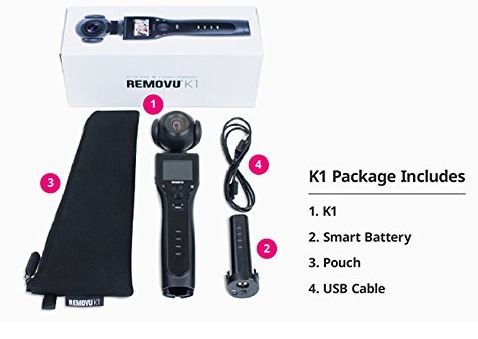 External Accessory Kit:
A Docking Station for quickly charging your K1.
Lens Cleaner for cleaning the lens to capture explicit photos.
An external omnidirectional microphone grasps high sensitivity.
Lens Cover protects the lens from the dust and scratches.
Protect film keeps your screen scratch free comes with an anti-scratch shield.
Wrist Strap for protecting your K1 from accidental dropping.
REMOVU K1 APP
K1 has also launched a new REMOVU K1 app for Android and iOS Smartphones users. Use this app for controlling the K1 remotely. You can control camera setting, to view the preview of the footage, take a photo, video record on/off buttons, to control the Camera position and to apply modes.
Conclusion
Those who are searching for cable free, lightweight Camera cum stabilizer we strongly recommend this REMOVU K1 Stabilizer 4K Camera. Just go through this review before going to buy, that gives you a clear image of the product.
Image Source