Rewarded Video is a way used by the developers to integrate ads into the apps. The users are offered in-app coins or currency for watching these ads. Users do not mind watching these videos as they are provided immediate gratification and are integrated into an app.
Not all the apps are same, and so the possibility of placing these video ads are endless. We must consider the discoverability, opportunity and frequency areas to decide the placement.
What is Rewarded Video
A Rewarded video must ensure that the ad is interesting to the user, and the user stays engaged with the parent app. When done perfectly, this can be a rewarding ad format for capturing user attention and for monetization.
It also generate direct revenue. Advertisers show the video ads in the apps on cost per install or cost per mille basis. The publisher can earn money every time the user watches the in-app video. The developer can earn good revenue as the number of their app users increases. Some may fear that the rewarded video ads in the app may disrupt the user experience. But in reality, these increase engagement. It is also likely that in-app purchases will increase.
Rewarded Video Ads
These ads are unskippable videos of around 30 seconds. Users watch them get something valuable like an extra life etc. These are meant to extend the time the user spends with the app.
To maximize the video ad success, the publishers need to find the right time and place to put the video. Do not give away too large of a reward. To have a winning strategy always presents the video ad perfectly. Ensure that the reward, as well as the placement, is perfect. Place the rewarded as in a place where there can be optimum engagement and monetization. After the placement, the reward is also important. Popular rewards include virtual currency, gameplay elements, or new lives. The ad must not interrupt the user.
The best practices to follow for rewarded video ads success is to let users sample premium experience and showing the rewarded video ads at the right time. Timing is crucial when it comes to placing the rewarded video ads. Let the users access to reward video ads is good to increase engagement with the app but at the same time setting appropriate daily view limit is also important.
Rewarded Video Mediation
Different platforms are used for here. Some of these are Upright Ad Mediation, AdTapsy Mediation, Inside AdMob, Firebase, and so on. These mediation platforms take the hassle out of mediating rewarded video ad networks and ensure maximum revenue for the publishers. There is some reason why mediation platforms are used for this video. The major ones include showing rewarded videos from different ad providers and ad network prioritization.
Rewarded video ads if implemented thoughtfully can be a great monetization strategy for publishers. These offer a great experience for the advertisers and the user. There is no rule that only some type of apps can implement the rewarded videos. The game app performs the best with rewarded videos as well as the utility apps if they have something to reward their users with. Look at the features of the app and decided how to leverage rewarded video ads.
When implementing this videos, some metric to which attention needs to be paid. Daily active users, sessions, views or impressions, fill rate, eCPM are some of them.
these videos differ in iOS and Android devices. Android devices are easily available and popular as well in lower-income countries. iOS, however, is favored by ad networks for the quality of traffic.
How to Start a Rewarded Video Ad?
Rewarded Video Ad is the most preferable and watchable video ad while playing games or using an app. Most of the rewarded video ads will find in the gaming category. Because everyone from kids to adults is addicted to online games, especially on mobile. But what does rewarded video ad means and how to create it?
Rewarded Video Ad
The video ads which are merged into the apps that have been created by one's own and these ads in the middle of the activity will stimulate the users or audience to watch the full ad by offering some in-app paybacks or currency which are beneficial for the user are termed as rewarded video ads.
These are frequently injected into the mobile online video games on which the games are frequently played.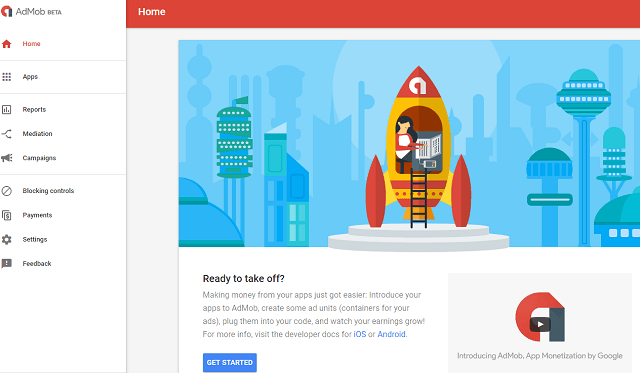 Steps to Create Rewarded Video Ads?
When you have your app that has been running successfully then you can easily inject the rewarded video ad which gives simultaneous benefits to the user and the app inventor.
Initially, you should have the Gmail ID from the Google.
By using https://apps.admob.com you should login to the account of AdMob.
Then you can find the 'get started' just click on it which directs to select the 'app information'.
You need to pick up the ad format as "rewarded" which is the current topic.
Now put the mouse on 'new ad unit' by filling all the details 'ad type, ad unit name, reward settings' etc.
Then you will be guided to 'view implementation instructions' containing app Id and ad unit Id to merge with SDK.
Hit 'send an e-mail with these instructions'.
The click on the notification sends to your mail id then follow those to insert your ad into an app which has been produced in the Android or iOS to play in your app.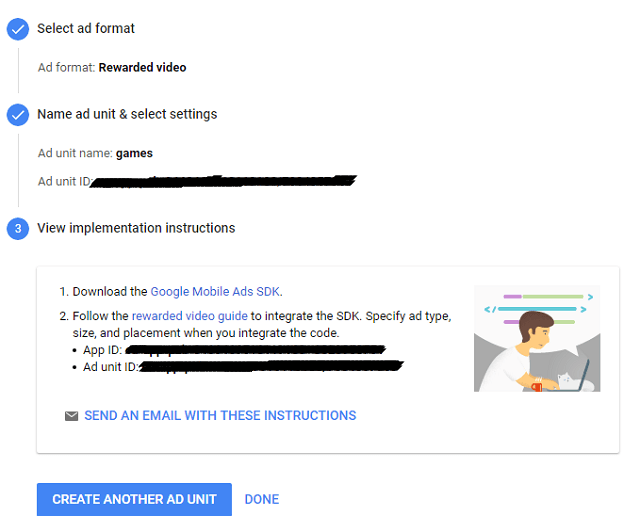 Rewarded Video Ads are the best part of Snapchat
They make you appealing to a new market
It makes you able to reach a specific niche audience
You get a chance to be creative with your video content
There are no tools or skills required
Why do marketers always recommend video ads?
Video Ads work well for eCommerce businesses
They're relatively less expensive than Snap Ads
Instagram doesn't yet have an option to choose between TrueView and skippable ads
Rewarded video ads are still in beta, and not many people know about them!
The new Instagram video ads are the best thing since sliced bread
They reward your content with cash. Literally
People don't skip Rewarded video ads like normal cuts
Show multiple pieces of content in a single ad
Your followers can't skip an Insta Ad
You have more flexibility to create different styled videos for your ad
Rewarded video mobile advertising on Instagram is the next big thing for small businesses. Learn how you can do it in this article, including how to measure your results.
Rewarded video advertising works. And the rewards are in a new study by InMobi and Adobe, which found rewarded video ads to be six times more likely to get people to clip coupons and visit a brand's site than banner ads.
Rewarded video mobile ad results are trending up
Conversions up 20%
More sales conversions
Average click-through rate (CTR) on smartphones decreases, but most ad formats earn a higher CTR than on desktops.
Millennial Marketing Strategist, here's why rewarded video is so important in today's mobile advertising
Rewarded video ads are forcing users to watch videos
Rewarded video ads are designed for business to reach their target audience
The biggest mobile advertisers use rewarded video ads
Rewarded video ads drive more engagement on Instagram Stories than normal Ads
You didn't know this about Rewarded Videos
You can edit and adjust the advert length
It's compatible with video campaigns
You can measure conversion
Impression share isn't converting to view rate share
60% of consumers are more likely to purchase from a brand if they have a positive experience with mobile video ads.
Get more clients with Rewarded Video Mobile Advertising
Get a better response to your Video ads by rewarding a simple task
You won't know if you don't try, which is why we made it simple for you
Don't just pay per click – Make them pay after they watch a video
Rewarded Video Mobile Advertising is king to raise brand awareness
Understand the micro-moment
Engage directly with customers
Offer a surprising or useful service
Give them a shot at an experience and ROI immediately
why you need rewarded mobile video ads
You can quickly scale up your account
It works on both iOS and Android
It's like pop-ups for video content
There are a ton of options of kinds of rewards
The best mobile advertising is rewarded video
$1.5 Billion in annual revenues by 2020 (BrightRoll)
Rewarded ads have grown from less than 1% to >30% in 2018 (Forbes)
100,000 advertisers are using rewarded video (4% of portals)
Advertisers found rewarded video 'easier than Adwords' (Vungle)
78% of users like paying for content
Experience the best in video advertising
Reward your customers to unlock your content
Choose audiences that would find your messaging relatable
Use a simple product to keep it easy for them
Never underestimate the power of mobile video
Rewarded Video is the fastest-growing ad format out there
Don't do poor targeting
Offer your users an incentive for watching ads
Incentivize viewing with great content
Have a great CTA in your ad (i.e. 'download now')
Get people to watch the entire video in 20 seconds or less.
Conclusion
These types of ads are non-skipping ads, but they can be easily closed if we don't, and this has the facility of putting in the mute format while watching. These are quite interesting and more profitable while inserting in the apps. These can elaborate the brand at the audience. Just go on applying it immediately and then find the result.