Royalty Free Music can be defined as a type of stock music whose application is witnessed in productions and composition of music. This type of music is often translated as copyright free royalty-free music, which is free of any additional fee for license levied on the publishers and composers at the time of use.
Furthermore, it happens to be royalty-free, but the user is still supposed to pay for it. And this fee is not always; the user is required to pay only once. Once paid, you can use the background music for videos as many times as you deem to.
YouTube Audio Libray
Often people tend to get obscure between royalty-free music and YouTube royalty-free music. However, both happen to be quite different from one another. While in the case of Free Music,
you can download any song for free, yet you may be required to pay a fee to use it. In case you fail to pay for the use, you will be levied with copyright charges.
On the other hand, copyright-free music is free in an overall manner, i.e., once you have paid the royal free, you can use it free lifelong. After you have brought the track for commercial use royalty-free music can be used in any video without being charged for music based on the views.
Top 10 Royalty-Free Music Sites for Your YouTube Videos
Are you asking yourself – which are the best sites I can find royalty-free music from? Herein, we present your top 10 websites; wherein, you can download royalty-free music for YouTube videos playlist.
YouTube Audio Library
This video streaming giant, YouTube has a lot of free stuff in its kitty to offer the public. You can find a plethora of choices to pick sound effects and tracks which are suitable for you.
YouTube Audio Library happens to be the best stop for you to pick in some fantastic freebies and can particularly turn into a bonanza deal if you are fixated on a tight budget.
The songs are categorized based on duration, instruments, mood, genre, taking into consideration other attributes. Hence for finding the appropriate one, you may have to dig a little deeper. However, it is a bet worth falling for. It's best for:
A popular stop for landing on best audio files from YouTube's music library
Options to either download offline or add directly to your videos
The tracks and sound effects that can be filtered based on individual requirements.
Ensure to view if attribution is needed. If yes, make sure to credit the artist on the description.
Epidemic Sound
Established in the year 2009, Epidemic Sound is one of the best sites to download amazing royalty free music which marvelously tackles with the complexities with licensing of music. While other music libraries too claim to offer royalty-free music but often require users to report usage and pay fees, epidemic sound offers a complete package.
It is packaged with legal rights that come in one license. It includes easy navigation of libraries through tunes thus claiming to be one of the best sites to download it for YouTube. The charges for single track licensing are $79 while for YouTube it starts at $10 per month.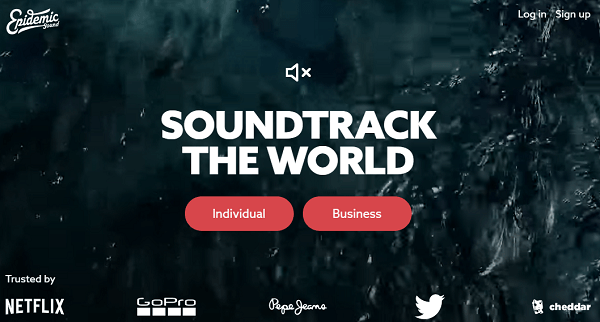 HookSounds
Well-curated, enticing and one of the best royalty free production music sites, HookSounds presents to users a wide range of original tracks picked from across the globe. The website provides users unique and contemporary music which is distinct and can keep the audience hooked to the videos.
It is a royalty-free music company which includes over 1, 00,000 people in its community using its exclusive collection of royalty free music. The music is produced by Creative Commons which is free of copyright and can be downloaded for free through amazing genres like 'Ukulele' and 'Enthusiastic', etc. Licensing charges for basic pro is $24 and $580 for Premier Broadcast License.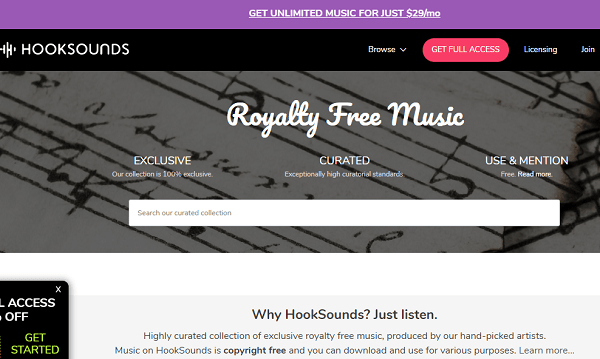 Free Stock Music
Stock Music Site presents to royalty free music and song hunters the best platform presenting over 8,36,000 tracks from well-known musicians including Warner Bros., Universal Pictures, and other top names. You can either purchase full-length music starting from $44.95 or opt for MusicPack starting at $99.95 rendering users a great package of tracks at discounted rates.
Pros:
MP3, WAV, AIFF formats available
Attribution free music
Easy and Free Sign-up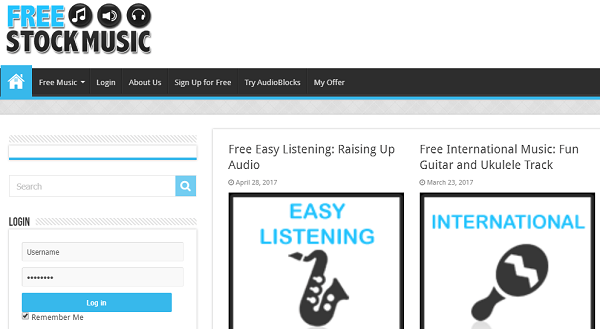 Incomptech
This is one of the 10 best royalty free music sites for YouTube videos offering easy search and filter to browse through hundreds of enticing tracks. It comprises of a well-curated library consisting of songs from top musicians. However, this website does ask for attribution in a specific format.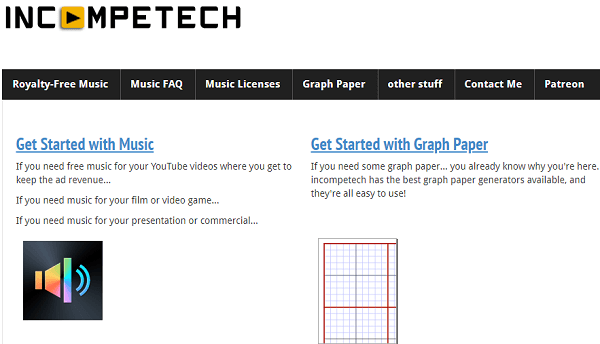 TeknoAxe
All the tracks presented by TeknoAxe are curated by the Creative Commons License. This implies that if you can give appropriate credit then you can easily share and use the tracks for commercial purposes too. TeknoAxe presents a huge variety of playlist from dance songs, breakbeat, metal as well as rock.
Advantages:
Over a thousand tracks from varied genres
MP3 format available
Attribution required (C.C. 3.0 license).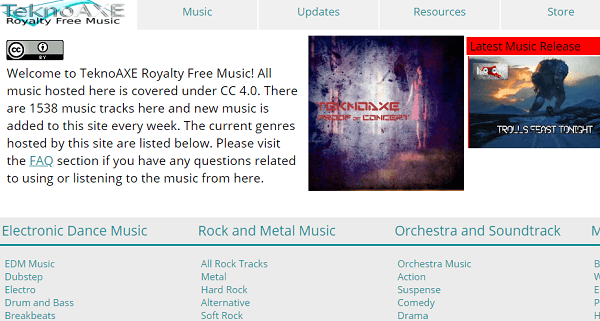 Machinima Sound
Machinima Sound presents a wide arena of tracks and genres to pick from making it one of the best royalty free production music sites. They are available in MP3 format and make the best websites to add in some wonderful music to your videos. However, attribution is required for all the music under specific licensed formats.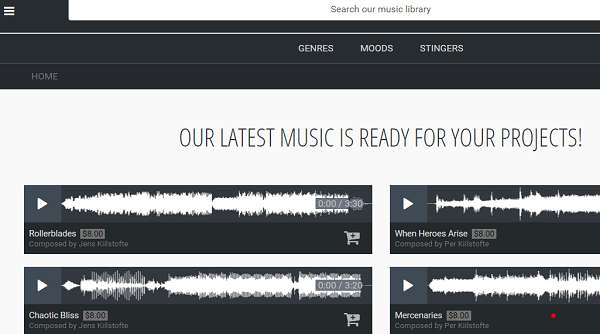 Josh Woodward
This is noted as one of the top musicians presenting a wide range of music and vocals. With over 10 albums and 200 songs, making it the one-stop destination for getting the best free royalty music for YouTube videos. However, do not forget to give him credits and you can download a range of tracks free of royalty fee.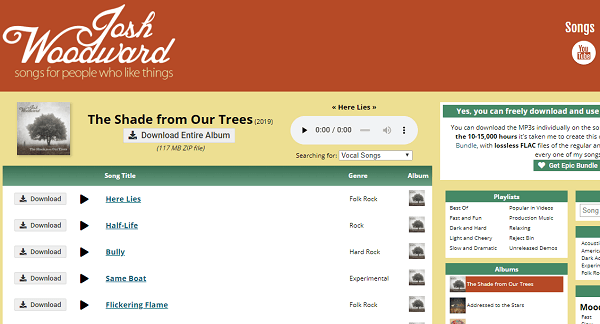 CCMixter
Users can select commercial use royalty free music using the licensing option for getting music free of copyright. You can also find free music for making quality videos for your website.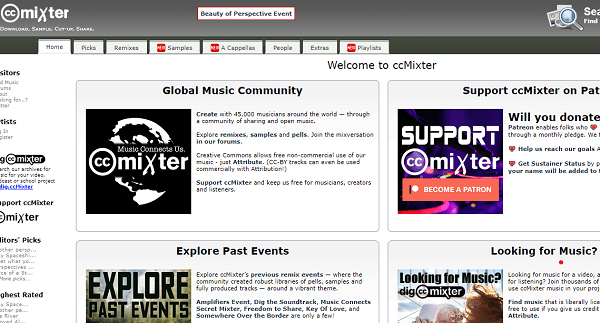 Amazon
A renowned and popular platform, Amazon offers a spectacular range of tracks ranging in the price of 79p to 99p. Although the navigation is slow, there is an enticing list of tracks and albums categorized into genres and themes. It has the biggest music libraries offering music at cheap prices.
Best Ways to Get Royalty-Free Music and Sounds for Your YouTube Videos
Music plays an important role in the success of the video. Good music can direct better traffic towards your YouTube videos. But, the YouTube algorithm removes the copyright violated videos, and it becomes a big problem for the creators to test the music if it has any rights.
Royalty free music is not available for free of cost. The creator should pay the payment to use that music in heir video for a long time. It is not copyrighted free music that means the owner of the music might permit to use it for any purpose. But it might lead to copyright infringement.
Without considering the quality of the music, the license of Royalty-free music can be granted. But the quality of the music library will consider the management policies.
There is no fixed to royalty-free music. The price always depends on the buyer and seller. This music is available to broadcast the different lengths of 5 seconds, 15 seconds, 30 seconds, and 60 seconds. Sometimes the longer length can be broadcasted.
What is Royalty free music and sounds?
The Royalty free music is the music that can utilize with the copyright license where the creator will not face any issues as the music will be the licensed one from the royalty-free music and sounds. The users can pay for the best music or sounds for their YouTube videos. So that they will not encounter any further risk of copyrighting issues.
Ways to get Royalty free music and sound for YouTube videos
YouTube audio library is the best place to get the royalty-free music and sound for your YouTube videos. Just go to the creator studio from your account, and you will find the option create, and in that menu, you will find the audio library. Utilize the tabs and choose the 'free music' and sound options at the top corner of the page. If you like the tracks in the library, click on the download arrow to download the tracks you like in that library.
Royalty music and sounds from the third party sites
Users can utilize the royalty-free music and sounds from the external music library across the web. Filmora, audio jungle, and Music bed are some of the third party royalty-free music sites across the web. The pricing and the cost of the license are completely dependent upon the song and the sound in the particular site. The conditions are also differentiating from one site to one site. The only thing that you should focus is to search for the right song that can be perfectly apt for your videos.
Therefore choose the best royalty-free music to become copyright free on YouTube platform.
How to use YouTube new analytical tool called Music Insights
YouTube is the most popular platform in the world on the web, which is connecting the audience and the new talented artists at one platform. YouTube is the biggest network of channels where artists have a great chance to grab opportunities and unlock their future. Very soon, YouTube is going to announce a brand new analytical tool for the artists to know their popularity in different regions with "YouTube music Insights."
Music insight tool
The Insight tool is very much advantageous to the independent artists who are going with the original self videos on the YouTube platform as well as for all other musicians and artists across the Globe. The YouTube tools for artists analyze and produce a clear statement on several views in total up to 10,000 from various regions. So that the artists can know about their present status and they're performing and fans according to the region.
It is available in 22 different languages and is very helpful to improve the performance and as well as to drive the right and better views from the targeted places. The data can be claimed from the website content via content ID. It is very beneficial for the artists to know about their fan base at a particular region across the globe. They can also know about their performance graph by using the YouTube analytical tool online.
Conclusion
In the present day techno era, the music or track that you choose for your endeavors can either pique the interest of the audience or break them apart. The crux is picking the appropriate track that matches your film, app, or game. Finding royalty-free tracks can aid you in meeting your goal unless, of course, if you don't wish to spend thousands of bucks to the publishing agent. And this is the very reason we have brought you the best royalty-free production music sites.