Have you ever imagined that just a 'lipsync app' creates miracles in a short span? But this truth happened in the 'TikTok,' which is the world-famous favorite mobile app for the teens, especially. This is the main reason to attract brands to promote their business TikTok.
Is TikTok endearing app for users?
Of course, it is, and also TikTok is the most exciting app for both the influencers and businesses as it is the direct marketing source to reach the million hearts. To know the reality behind it, go through the below stats.
TikTok Global Statistics for 2022
TikTok has above 500 million monthly active users.
The TikTok audience spends on this app for 52 minutes on an average.
TikTok is available in 75 languages in 150 markets.
90% of TikTok users use this app at least once per day.
Above 1.5 billion times, the TikTok app download has occurred.
In the starting 3 months of 2019, TikTok found 188 million new app users.
India is the top market for TikTok, which adds 43% of new users.
The top 50 TikTok users have more than 500 million followers.
'#inmydenim' business challenge video acquired 39.3 million views, and it gained huge audience attention.
4% of video marketing firms are using this platform to market their products or services.
The hashtag challenges, native infeed content, branded lenses, and brand takeovers are the only four advertising categories served by TikTok.
'#'Hashtag challenge is the most trending advertising type on TikTok.
$50,000 to $100,000 is the cost charged for brand takeover advertising.
TikTok influencers having 2.5 million followers charge $800 for each post.
The U.S only generates 42% of revenue to the TikTok.
TikTok statistics revealed that the business brands are posting only 3.7% posts.
Universal Pictures gained 11,000+ followers in 6 days and 1.3 million likes through influencer promotion of their upcoming movie.
Guess found the brand engagement with a 14.3% rate and 16.5% CTR of the brand takeover.
83% of TikTok app users post the video.

60% of the TikTok audience is Gen Zers, who are the future consumers of business brands.
TikTok is currently paying $500 for the influencers to join and create the content.
TikTok ads enable the audience to visit your website.
While comparing with other social media platforms, TikTok allows its users to share content on all other channels.
Influencer marketing is going to be a viral category on TikTok as of now.
Influencer collaborations are going to take off as a trend on TikTok.
Among 2 million users for TikTok, 8.2 million are women, and 6.1 million are men. It will reach 14.9 %; it's highest for Women aged between 18- 24.
Brands trying to insert their branded Filters, lens, and stickers use into their TokTok Videos.
Downloads for TikTok has more than 1.5 billion times.
India recorded as the primary user for TikTok. Over 43% of the new user for TikTok in India, including daily active users.
Totally 155 countries adopted TikTok application in 75 languages.
Almost 50 most popular TikTok influencers have more than 500 million followers worldwide.
Marketers are not utilizing the Tiktok for Business. Only 45 of the Business people using Tiktok for marketing.
70% of the daily active users spent their time watching videos.

30% of the daily active users open the app multiple times in a day, and 50% of users upload their videos in TikTok.
150 million active users in China use their version of TikTok, such as " Douyin." The growth rate was increasing drastically.
The parent company of Tiktok Byte Dance generated $7-8.4 billion in revenue during the first 6 months period after launching the Tiktok App.
TikTok influencers who have followers over 2.5 million charges up to $800 per a single post.
TikTok App is the 6 most downloaded app among all social media apps by 2019.
80% of Tiktok app downloads from Android devices.
Marketers analytics estimated that $1.4 million monthly earning for TokTok.
An average $50 million spent on TikTok learnings of TikTok ads and for TikTok app purchase.
As we know, Facebook generates 96% of engagement, 95% for Instagram, YouTube, and Snapchat. Similarly, TikTok makes over 29% of user engagement.
TikTok has reached 45.8 million downloads only in Apple stores, which recorded as the topmost downloads from the Apple stores by 2019.
According to the 2019 financial report, 465 million monthly active users and 203 million daily active users for Tiktok after intruding 10 years back.
Many marketers in china believe that TikTok is a fantastic tool for brands to reach the youngest generation.
To introduce their brands, over 12000 big organizations applied for the verified Organization accounts in China.
By 2019 Overseas reports, 46% of the TikTok app downloads come from India and the next most significant contribution with 10% to U.S.
Similar to YouTube, marketers can also create TkTok branded channel, more than 1 million video views recorded for TikTok per day in a year.
An average scrolling time for TikTok is 60 minutes consumed by a single user.
One in seven people downloads TikTok in Thailand and approximately 9.6 million monthly active users for TikTok in japan.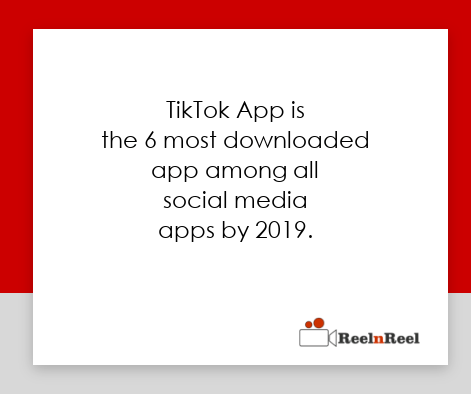 TikTok Global Predictions For 2022
TikTok is a social media app that has grown exponentially in the past few years
In 2020, it became the most downloaded free app from App Store.
It's been reported to have over 150 million active monthly users
The average user spends 30 minutes per session on TikTok
As of this year, there are more than 40 billion videos uploaded every month
TikTok has over 500 million users
Users watch an average of 40 minutes per day on the app, which is about 2x more than YouTube
TikTok is the most popular social media platform for Gen Zers- they spend about 7 hours a week on the app
The number of TikTok users is expected to grow from 500 million in 2018 to 1 billion by 2021
TikTok will continue to be the most popular social media app for teens and young adults
People aged 18-24 are expected to spend 3 hours a day on the app, while people aged 25-34 are expected to spend 2 hours a day using it
In 2021, the app will be downloaded at least 2 billion times
At least 1.5 billion of those downloads will be by users under 18 years old
The app is expected to generate $2 billion in revenue in 2021 alone
TikTok is the new Vine
It's a social media app that lets users create and share short videos with others in their network
The app has more than 300 million monthly active users, which is about twice as many as Snapchat does
There are 41 million posts on Instagram every day while there are 150 million daily posts on TikTok
In 2021, TikTok will have more than 1 billion monthly active users
In 2021, the average user of TikTok will be between 12 and 17 years old
The most popular hashtag used on TikTok in 2021 is predicted to be #love
By 2021, there are expected to be at least 10 million people who make a living off of their TikTok account
The app has over 500 million monthly active users, with 1 billion video uploads every day
There are more than 400 million followers on the app, and it is growing at a rate of 10% per month
In 2020, there were over 500 million monthly active users on TikTok
The average user is aged between 13 and 24 years old
women make 50% of all videos
The app has over 500 million monthly active users, with a growth rate of 10% month-over-month
It is estimated that by 2021 the number of monthly active users will reach 1 billion, and their daily video views will be up to 8 trillion
In 2020, you can expect to see a lot more live video content on TikTok and an increase in influencer marketing strategies from brands
Conclusion
Tiktok in early years considered as the lip synchronization platform with pre-loaded audio. Surprisingly it has become one of the most trending and most entertaining social media platforms by 2022. The statistics itself stated that we could predict Tiktok is going to be on Top One by 2025.