Desktop screen recording is needed for different purposes. Some of them include gaming session streaming, video tutorials etc. Let us now see some Free Screen-Recording Apps for Linux. Screen recorders can record as a video and also as a gif. Here are the free and open-source screen recorders for Linux.
Top 10 Free Screen-Recording Apps for Linux
Kazam
Kazam is a screen recording app for Linux and can be used by beginners. There is screenshot support also. This supports multiple video formats and allows recording from microphone or speaker.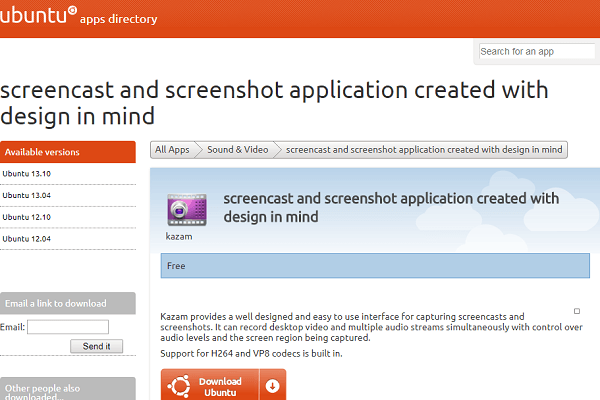 Open Broadcaster Software Studio
Open Broadcaster Software Studio is a feature rich screen recording application for Linux. This also supports live streaming.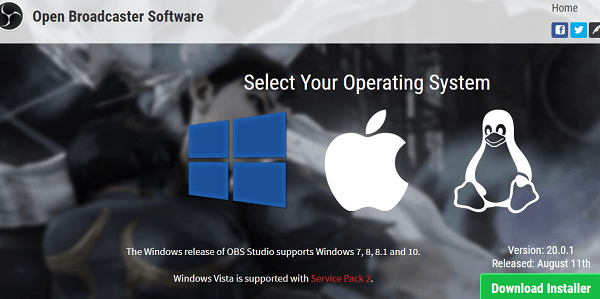 Krut
Krut is a Java application. It records video on the screen and also supports audio recording. Its features include live preview, timer etc.

SimpleScreenRecorder
SimpleScreenRecorder is a Qt based screen recording application for Linux. This supports multiple video format and also audio recording from different sources. Live preview while recording can be watched. It also supports Hotkey.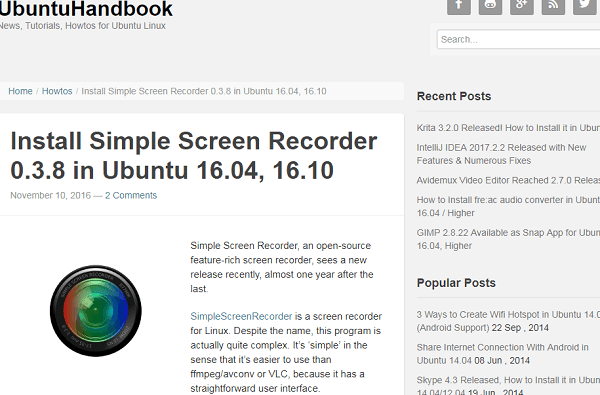 recordMyDesktop
recordMyDesktop is a lightweight tool for Linux screen recording. This can be used from command line.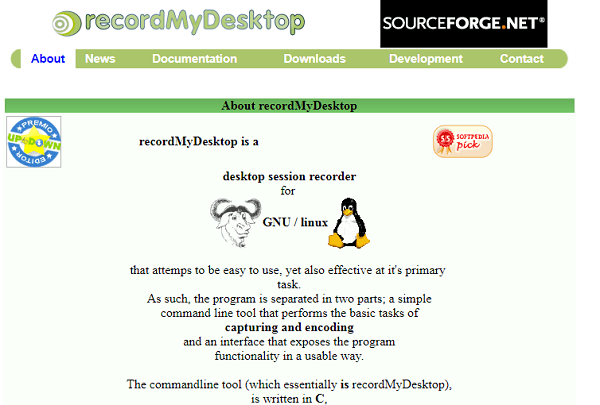 VokoScreen
VokoScreen is a simple screen recording application for Linux. Its features include hotkey support, delay timer support, webcam preview support etc.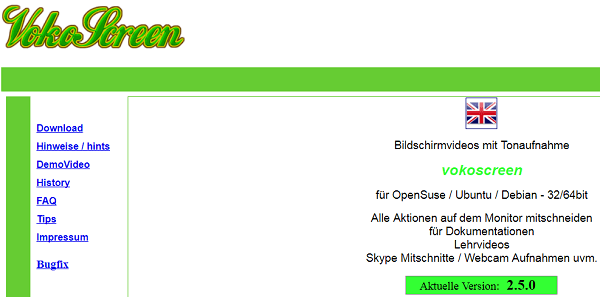 Bynanz
Bynanz records screen in OGC and FLV formats. This also can be used to record animated GIFs.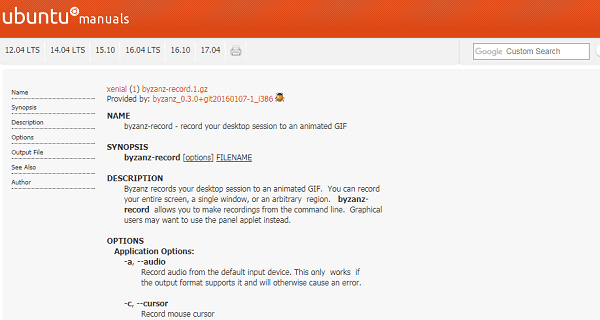 ScreenStudio
ScreenStudio is written in Java and is cross platform screen recording app for Linux. This also supports image and text overlays.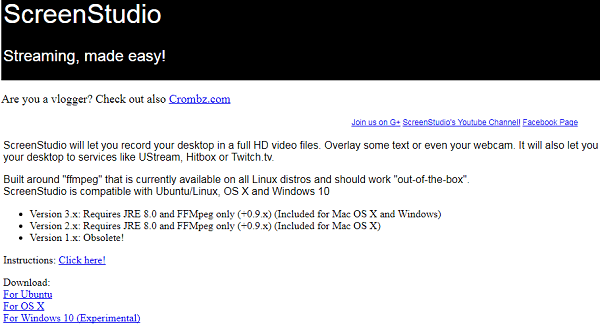 Gnome and Cinnamon Applets
Gnome and Cinnamon Applets is a screen recording app suitable for beginners. There is no need to install additional software and this app offers a simple solution for Linux users.

VLC multimedia player
A VLC multimedia player is also one of the best tools for desktop recording. To record screen, the user has to select the 'capture mode'.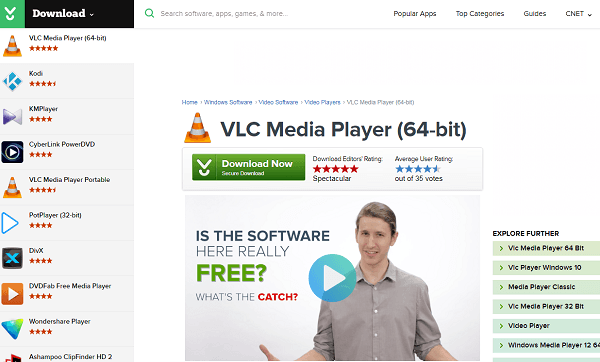 The above mentioned are few of the many screen recording applications for Linux. Use the above to record screens, audios and some of them even are useful for streaming.
Bandicam Screen Recorder [Review]
Video Screen Capture has become most popular in these days, Bandicam is the best video recording, screen capturing and Game screen recorder. Bandicam is a lightweight video recording tool designed especially for capturing the screen activity as video files.
Bandicam provides mirror images of what is happening on your PC. All tutorial makers, PC recording user's, computer programmers are indeed in screen recordings. Bandicam is a powerful screen recorder that can capture screen videos, screenshots, and images on your PC's.
Key Features of Bandicam Screen Recorder:
Bandicam can capture your screen movements that it may be a game, videos, music files, webcam, skype, streaming clips, and all other files. It is equipped with advanced hardware accelerators and encoders.
The default screen size will be changed to 1280X720 and recording time for autocomplete recording is changed from 10 minutes to 60 minutes.
You can also record Microsoft, YouTube, Skype, power-point, video chatting and streaming videos, record everything and save it as in the system.AVI or.MP3 file formats.
It works for both DirectX and OpenGL, server as a game overlay and you can use to monitor frames per seconds. Bandicam compresses video while recording, take much low CPU/RAM usage.
It supports hardware accelerators like Intel Quick Sync Video, AMD App, which allows recording video in high speed, excellent quality with high compression ratio. So this process can save your RAM gives you less lag.
It displays FPS number in the corner of the screen when it is in an active status, and it supports real-time drawing feature which allows drawing lines, highlights the video with some external effects.
There is a built-in YouTube uploader for sharing files quickly, convenient video sharing, as it is a lightweight program it does not affect the other programs like video streaming or gameplay running at the same time.
Bandicam is the free download of an unlimited video if you don't mind about the watermark, it has a limit of 10 minutes it does not have the watermark. The watermark goes wherever you saved or allocated space on hard disk.
Bandicam can captures video with the 4K high resolution of 3340X2160 and you can upload your recorded videos to YouTube with 720p or 1080p without making any other conversions.
Bandicam is free to use without any registration but some limitations in some features. If you buy the Bandicam software, you should register with this, and you can use unlimited features, but one limitation called watermark on all videos and screenshots.
Bandicam allows to take snaps and save it as JPG, BMP and PNG files. It provides hotkeys for better control over the process and gives FPS display position of the display and specify the FPS limit.
Bandicam provides an intuitive environment for helping all types of user in screen recording, gameplay videos, working process and regardless of experience levels. Bandicam is one of the best alternatives for screen recording software with high-quality videos without any errors in the entire process.
Image Source : Visualhunt
Mobizen Screen Recorder for Android Video Recording [Review]
While you are recording video with your mobile phone everyone worries about two things one is smoothness and other is the quality of the video. There is one amazing app that can fulfil all your requirements look your video crisp and complete. Mobizen Screen Recorder has built-in functions and tweaks.
Mobizen is an impressive app with the wealth of stunning features and innovative technologies specially designed for Android and iOS users. The premise this app is easily monitored with Android phones, PCs, and Tablets. Mobizen Screen recorder app is easy to download, setup, user-friendly interface, easy to create and edit video recordings.
Amazing Features of Mobizen Screen Recorder:
Simple things you need to do to work with the Mobizen environment, first download Mobizen Android app for your mobile phones, PCs and Tablets. Easy to connect with PC app and engagement with Mobizen website.
Mobizen screen recorder has built-in Video recorder, several functions and tweaks. Its presence is an important thing. You can easily create, edit, merge the video clips, Add music, photos and the video editing process.
It is a 100% free app and anyone can use Mobizen Video recording features. Only required OS for downloading is Android 4.4 and up. You can download this app from the Google Play Store.
You can connect with over WIFI, USB and 3G. While using with 3G there is a small lag in recording, but with other WiFi and USB you can use extraordinary features of Mobizen.
Mobizen screen recorder has very powerful features they are,
Air Circle – recording button
FaceCam – add a camera on recording screen
Clean mode – removes all objects separate from recording
Watermark – add watermark to your video
Specific time – to record or shoot some videos.
Drag and drop – function for moves files PC to other mobile devices and transfer photos from other media to PC and mobile phones.
You can easily record screen in mobile and share gameplays. It works effectively on mobile phones on-screen drawing can enhance your presentation.
Get notifications to mobile and PC's, and you can select any of them quickly with one mouse click.
High in Online streaming capacity, immediately transfer your files from mobile to PC, streaming on big-screen devices and file sharing with friends.
Mobizen can use for cross-platform, that is you can use this app from some LG and Samsung with Mobizen 4.4 KitKat without root. But google play stores have restricted for some policies and guidelines for those companies.
When you consider all reviews about Mobizon, this is the best for free Screen-Recording Apps and streaming. And it's free for Android users. It can easily pull content from Android devices from PC, Mac and share google plays.