Social Media Platforms played a prominent role in sharing news and for video communications during the coronavirus pandemic. YouTube has switched to Video playback by standard definition networks all around the world. YouTube is a reputable resource that shares significant video content. A survey on 1000 YouTube consumers in the US resulted the below statistics on impact of coronavirus. Here are the 50 video consumption statistics during coronavirus Pandemic.
50 Video Consumption Statistics during Coronvirus Pandemic
63.7% of YouTube Usage increased during the coronavirus pandemic.
9.3% of the US adults used the YouTube premium services for Entertainment.
US spending on digital video advertising increased to 7.8% during the lockdown period.
As per eMarketer's survey, digital video growth increased from $3 to $5 billion.
87% of Social media usage increased during the lockdown, and half of the content consumed is video content.
YouTube sees a 20.5% growth in subscriber count during 45 days of lockdown.
52% viewership noticed for Food and Recipes on YouTube.
Over 23% significant increase in gaming on YouTube.
29% of the participants expecting YouTube ads should be relevant to what they are watching.

Over 70% of the represents wants YouTube ads to boost and align the mood.
Marketers analyzed that 17% increase in TV viewing, which is approximately 1.2 million viewers.
Nielson estimated that load on bandwidth increased to 60% due to an increase in video content consumed by the people in the future.
It's a prediction that Netflix traffic is reduced to 25% due to lower bandwidth.
US advertisers their Q1 ad spending is between 10.5% to 17%. There is high growth for digital advertising for years. The expenditure was up by January and February.
Video ad spending in the US stays in-between 1.3% to 21.0% annually in Q2.
There were 26. 2% increase in digital video advertising by March 2020.
The NPD Group reported that the sales of Video games increased by 34% in North America.
There is a significant increase in the Information videos on YouTube raised to 42% during the lockdown.
YouTube has generated over 300 billion views in the first quarter of 2020.
70% of the YouTube viewership in India coming from the ages of 13 to 43 years.

In India, 70% of viewing on YouTube happened on 3 genres based on Entertainment, music, and news.
Over 90% of the YouTube viewing coming from the mobile devices by Q1 of 2020.
YouTube has seen 98% of viewing in terms of COVID related content.
YouTube has seen 199% of views increased inters of engagement.
YouTube gained millions of mileages in spreading the Govt of India's efforts on CPOVID 19.
The reports indicate that there may be a 120% spike in the uploading Education category videos post lockdown.
In YouTube, a Music genre that has short-form content has seen a 9% decline during the lockdown period, and it seems people are looking for long-form content.

33% of the YouTube consumers among 1000, watch more videos related to COVID 19 and mood-boosting videos.
Survey on more than 1000 YouTube viewers people, 48% of the YouTube viewers watching entertainment videos.
Survey on 1000 YouTube viewers, 33% of the youtube video consumption reported for comedy videos.
Survey on 1000 YouTube viewers 29% of the video consumption on YouTube occurred for the fastest cooking-related content.
The survey on YouTube during lockdown stated 31% are looking for DIY videos.
Over 48% of people consumed music-related content on YouTube during Coronavirus Pandemic.
YouTube has surged 15.3% in the United States, according to the New York Times article.
73% of the US adults used YouTube as per the survey on more than 1000 YouTube viewers people.
90% of the YouTube consumption in the US notified are aged between 18 to 24 years.
Social Media platforms such as YouTube and Facebook consumption reached 69% by US adults.
70% of US adults aged 18 to 28 are seeking entertainment content compared to general people who are equal to 48%.
YouTube's Stay Home #WithMe video seeking millions of viewers around the world.
The popular YouTube channels offered 48,486 hours of content and received more than 14.2 billion individual views in a week by Q1 of 2020.

Long-form videos of 12 minutes long have received 60,000 + views during the first week after publishing.
Channel factory survey noticed that 35% of people expecting YouTube ads should be well targeted based on their interests.
A survey in the UK stated that 89% of the represents go to YouTube to improve their mood.
81% find that platform content is more uplifting than the channel content in the UK.
In the UK, 50% of content consumption occurs for entertainment and music videos.
During COVID 19 lockdown, YouTube takedown that COVID19 links to 5G technology say it will mislead the harmful ways.
Google Tribute to the Healthcare Community is one of the best example videos for uplifting content on YouTube during COVID19.
Instagram stated that 60% rise in video consumption during one week of March 2020.
Comedy video on lockdown and News on COVID19 videos are trending and going viral on YouTube.
YouTube reduced its quality streaming HD to SD, a few European countries.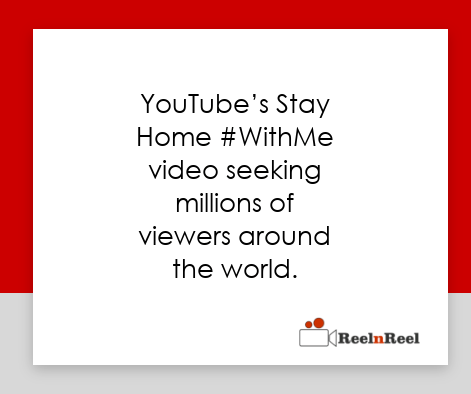 Conclusion:
Each platform is taking significant responsibility for their communities; millions of people exist globally. The video consumption over Facebook, YouTube, and Instagram highlighted its video trends to entertain the people and connected with families and friends.