Wibbitz is a video creation platform specially designed for the video publishers. Wibbitz creates automatic videos using AI and machine learning technologies. It enables publishers to develop more efficient, and top quality licensed videos. Wibbitz provides support for the creation of some videos every day to increase audience engagement and the revenue.
Wibbitz is a platform that creates video from a text in just a few seconds. As it proved, the video is essential for the success of online marketing. Publishers can utilize the most useful features of Wibbitz to create automatic videos from their texts and achieve success in their video marketing strategy.
Features Of Wibbitz Video Platform
All that publishers need to do is to select a published story from their blog and paste the URL in Wibbitz platform. A video will automatically create. The platform also offers user-friendly video editing tools which help in making the created video a perfect one.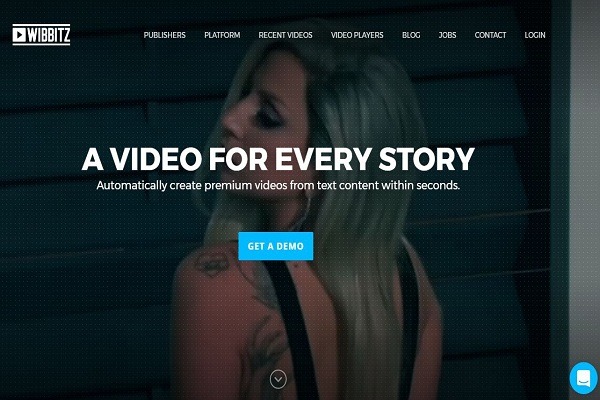 Not only this, the publishers can get insights and analytics of their videos with the help of analytic tools of Wibbitz and check the performance of the videos.
Video advertising is the key to successful digital advertising. Publishers can quickly build up video inventory with the help of Wibbitz.
It is now possible to make changes to the content within no time with the help of this advanced platform. The videos created are of high quality, and the images and photos used in them are licensed.
The automatically created videos can alter or changed with the simple editing tools. Live human narration can also receive for the videos which will take less than ten minutes time.
Wibbitz supports publishers with the technology to create videos from text automatically, brand customization, flexible monetization options, and cross-device optimization.
Wibbitz Growth in Video Marketing
Wibbitz company is expecting to see 400% of growth by the end of 2017. It partnered with multinational corporations like Cox Media group, REVOLT Media & TV, Bloomberg, Smarter Travel, Evolve media, Ten Disney communication company, and Weather Channel TV network.
Prisma Media has chosen Wibbitz as it's vital video partner to the publisher's new app. Prisma uses Wibbitz to create over 80% videos using unique text to video technology which can produce automatic video content within seconds.
The social media platforms allow users to upload created videos to engage with the audience. Video creation needs significant investment and time for creating excellent videos.
80% of world traffic leads to only videos by the end of 2019. All companies have a dedicated team for video creations, so many publishers use Wibbitz software for creating high-quality videos within seconds.
Wibbitz Pricing
The pricing of Wibbitz based on the number of videos the publisher hosts and the only way to find out pricing is to contact them.
Removing the watermark may require an additional payment. The fee has to pay for a month for a limited number of videos. If you want to create more videos, you had to pay up for the remaining.
Conclusion
Wibbitz offers AI based service that can automatically create short videos for existing text. Many publishers implemented this platform to convert their text post into videos to increase their audience engagement. Let us start using the Wibbitz for your blogs and websites to create short videos.