YouTube is a treasure of long-term content especially stand up for full-length movies, short videos, and documentaries around the world. Short videos include educational, late-night TV shows, comedy skits, etc. YouTube TV Works has arrived in the entertainment television networks offers 40 plus Channels.
Many people spend a lot of extra money on the channels in which they don't watch. Just use the new Google YouTube TV television service at $35 per month. YouTube is currently working in five metropolitan areas of the United States. It is offering free 30 days trial before going to the subscription process. Let us go through more deeply about YouTube TV services and How it works.
Supported Platforms And Devices:
Right, YouTube TV is running on small screens like iPhones, Tablets, Android Phones, and Computers.
YouTube TV supports big screen devices like Chromecast devices, Airplay for Apple TV and Chromecast built-in TV's Live Android TVs.
YouTube TV is planning to expand their services on more platforms but, currently, it supports only some platforms.
Google media box Roku TV, gaming platforms, smart TVs and streaming media box services are not supposed to stream YouTube TV. It doesn't have permissions to these platforms.
First generation Chromecast devices may take some time to stream and buffer. It gives some errors while streaming. Better don't go for first generation chrome cast devices.
YouTube TV Configuration Requirements:
Apple TV works Android L devices and above versions. If your devices support YouTube TV you can download directly from App store.
In case if you get an alert msg like "This item is not compatible with your device", that shows your device is not compatible to download the YouTube TV app for your Android device.
If you like to view high-quality videos just update your Android software for free from your app store. To get the new updated version please follow the procedure.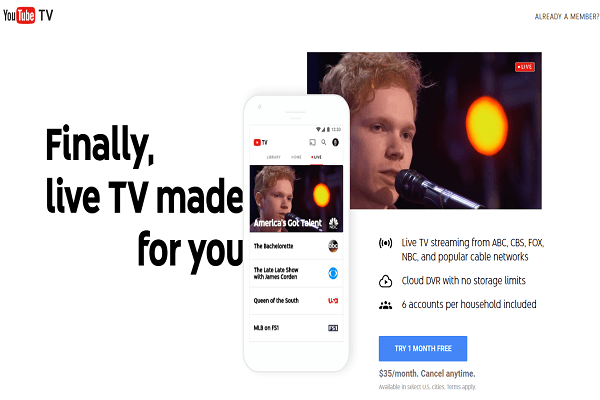 Go to Device Settings → About → System Updates → if there is any update tap Download and Install it to your device.
If you are an iPhone or iPad user, your device must have iOS 9.1 and later versions of the iOS software.
If you are a computer user download the latest Google Chrome version to enjoy HD YouTube TV television network.
Channels Included In YouTube TV:
YouTube TV is Live in five metro cities in the United States, people who are living in Chicago, Philadelphia, New York, Los Angeles and San Francisco these cities can access the YouTube TV. These Five cities can access YouTube TV with more than 40 plus international channels.
A single subscription can access 6 accounts in a household, that means in a house six people able to get YouTube TV from any six devices from any platform.
YouTube TV mainstreams the local channel like ABC, NBC, FOX, and CBS. NFL is a game channel which you can a show on every Sunday.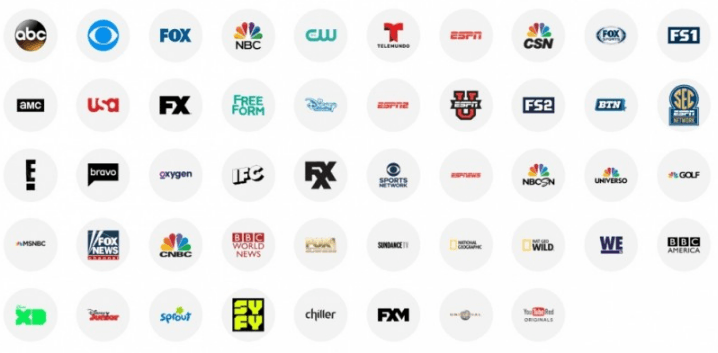 These are the local channel, other than local channel the remaining active channel on Youtube Tv are ESPN, Fox Sports, USA, Disney, FX, Bravo, SyFy, CSN, National Geographic, CNBC, Fox News, FXX, BIN, FS2 and more channels.
Other than those channel YouTube get their own network YouTube red shows. The original show from YouTube red is scared Pie di pie, the content on YouTube TV is near similar to NetFlix levels.
You have a chance of adding some premium channels like add-ons channel with the extra fare of $10 per month. The premium channels currently available on youTube TV are Amazon videos, Showtime and FOX Soccer Plus channels.
There is one disadvantage on YouTube TV is it doesn't offer many channels for kids and HBO so it is a big problem to parents to subscribe YouTube TV.
How YouTube TV Works
Google promising to give cable services to YouTube Tv, now it supports only phone affairs. Experiencing YouTube Tv services is quite confusing and complicated
Google doesn't make a good interface for YouTube TV, but if you like to get YouTube Tv services first go to Website of YouTube Tv or download an app from the play store.
To add some channels to the channel list on the main site and click on "subscribe " the channel you like. For more channels click on the "box on the top right corner " that will show featured channels.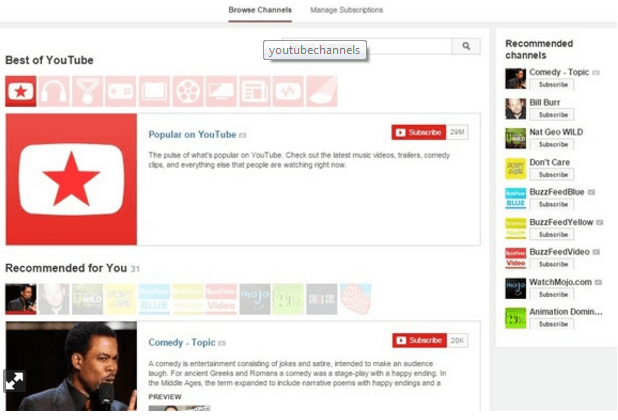 Once if you finished the channel selection, move to the "My Subscription " Channel on YouTube TV app. You have a chance to subscribe individual channel to select from the main menu.
YouTube TV stand up for long-term videos, short videos, comedy skits, and many television late-night shows. If you are searching for any videos on your browser the mouse over shows thumbnails to identify a little clock easily on bottom right corner.
You can arrange the video to "watch later" in a queue, you can see this on a sidebar of the menu of YouTube TV app. The same button is also available in bottom right corner to currently playing video.
Plus button from cursor movement can also work same, you can create a list of favorite TV shows, full-length movies, and short videos as your own playlist.
Benefits of Moving To YouTube TV:
You can turn your Phone or a tab as a remote control to operate.
YouTube TV is quite different from the YouTube Red.
YouTube TV is obviously better than the other cable TV services.
Can create a specific account for Television services.
Use advanced searched for Television friendly videos and full-length movies.
Create your own organized list of watch later movies, episodes as a curated list.
YouTube TV is potential for both Targeting micro and macro targeting users.
How to SignUp for YouTube TV Subscription
Finally YouTube Introduced YouTube TV services with the one-month free trial. YouTube gives a way to go for Live broadcast without YouTube TV Subscription of cable networks and satellites. Live TV on-demand-services available from 4th April 2017 and subscriptions started in Unites States.
Live TV is the YouTube's new subscription service $35 per month for six accounts. These six accounts can access live Broadcasting and Cable TV networks. You can cancel it anytime.
YouTube TV delivers up to 40 channels including your favorite Disney, NBC Sports, ESPN, FOX, ABC and CBS channels.
If you paid for one month, then you will get Chromecast device to stream Live on Big Screen. It allows cloud DVR services with no storage limits.
Follow the Steps To Subscribe YouTube TV Service:
If you like to start a trial version of YouTubeTV, Just visit tv. Youtube.com website.
It will ask you to sign into with Gmail Account, please enter the Username and password for getting access to YouTube TV. YouTube is one of the Google service to get YouTube TV services you must sign into Google.
After sign into Google Accounts, trace your location if YouTube TV services available in your location.
At the present YouTube TV service delivers only in the Unites States metro areas like Los Angeles, New York, Philadelphia, Chicago and San Francisco. There is no sufficient information regarding YouTube TV Live Services in outstations.
Once you get connected to the YouTubeTV , select an on-demand streaming channel package to subscribe. Go to next for further process.
You can add extra channels cost varies from channel to channel, but it's an optional to add additional TV shows.
Finally, confirm your purchase of YouTube TV subscription. You can pay it with Credit card, Debit card, PayPal etc.
You can cancel your YouTube TV membership within 30 days , that means before the next bill generated. You have a better option for free one month trial to test the YouTube TV streaming services.
Live TV could be the next big challenge in streaming world. Now YouTube TV enters in the market to give Live TV services.
Conclusion:
YouTube TV change the entire concept of Television Networks. Unfortunately, YouTube TV is available only in the USA we hope for the future we can expect for All other countries. People who are using YouTube TV get benefit from the above guide those who are not yet experiencing the environment of YouTube TV can use this guide as a reference.