The launch of your efforts successfully on multiple marketing platforms can elevate the victory of the marketing campaign ever. YouTube video advertising is a great competitor in the present digital marketing arena that takes your business to the next level by comparing other social media platforms.
Why has YouTube advertising become a great influencer? The below stats can define this question.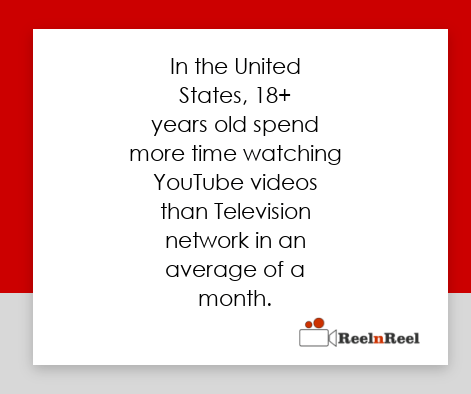 50 YouTube Video Marketing And Advertising Predictions
There are 2 Billion monthly active and logged in audience on YouTube.

In the United States, 18+ years old spend more time watching YouTube videos than Television network in an average of a month.

75% of adults stated that YouTube videos are watching from their mobile.

80% of YouTube views are from outside of the U.S.

60% of the audience prefers to watch YouTube video content on live TV.

The first-ever 1 Million views reached video ad is

Nike

YouTube Video ad featuring Soccer top player

Ronaldinho

.

LEGO

is the most trending branded YouTube channel with more than 6 Billion views.

9% of all start-up businesses in the U.S use YouTube for advertising.

The business brands using TrueView ads can find a 500% increase in the video views of uploaded YouTube video content.

The top 100 business brands used to upload YouTube videos for every 18 minutes.

The small and mid-sized business brand video advertising on YouTube has doubled in the last two years.

50,000+ product review videos can be found on YouTube.

84% more likely to watch YouTube mobile ads that hold more audience attention than Television.

The most known fact is that Google bought YouTube for $1.65 Billion on 9th October 2006.

More than 50% of YouTube audiences are female who is most excited about shopping, and it leads the brands to feature video ads on YouTube.

90% of consumers stated that after watching the product video on YouTube, they make a purchase decision.

The businesses find 22% of audience engagement by the video having full-page ads.

80% of increment in the conversion rate has been seen by adding one video on the landing page.

Every year more than 40% of advertisers are launching YouTube video ads.

The YouTube ads cost an average of $0.010 to $0.030 for cost per view.

The cost of YouTube ads to reach 100,000 on an average is about $2000.

Leaderboard Ads on YouTube are the most trending and best-performing ad units.

20% of the audience quit watching the video after 10 seconds of watching this is where a great introduction required.

20% of six-second YouTube ads are declined year by year to 16.5%.

Demographics, Interests, Video Remarketing, Placements, Topics and Keywords are the targeting YouTube advertising options for the publishers.

More than 15% of YouTube platform traffic comes from the U.S.
It's a prediction that more than half of the Viewers under 32 did not buy the pay-TV services by 2025.
By 2021, 93% of the most-watched videos on YouTube reflect on YouTube Music Videos. Video marketers predict that it will grow the percentage to 96 by 2022.
Once brands introduced its true-view ads on its platform view for the newly introduced ads will increase to 500% and more.
70% growth rate for the search for "How to videos" on YouTube every year.
On average, the top 100 brands uploading their brand videos for every 18.5 minutes.
Over 1.9 billion active users for YouTube and has become the third most platform on the Internet.
More than 91+ countries have their versions of the YouTube platform worldwide.
86% of the people use YouTube to learn something in 2017, and now the number increased to 92% and continues its trends in the future.
72% of the customers watch product services and their usage through YouTube product videos. It will increase by up to 82% by 2021.
Among millions of users for YouTube, only two-third of people watch online premium videos across the devices.
In the U.S, only 9% of the small business owners use YouTube for their brand marketing.
The most popular channels, such as 'T-Series' and 'WWE', have over 53 million subscribers officially.
According to Pew research analysis, 51% of the U.S adults use YouTube vital in knowing new things. At the same time, 28% for time pass, and 19% use to decide between buying a new product.
As per the Google survey, 41% of the people who watch videos on YouTube feel smarter than others.
YouTube research stated that approximately 20% of the views on YouTube close the videos after 10 sec because of the weak video intro.
An average, 40 minutes is the average YouTube watch time for each person, as we can predict that it will rise to 50 minutes by 2022.
An average of 2.4 channels recorded the brands that maintain multiple youtube channels.
Content marketing institute analysis says 82% of the B2C businesses running on brand videos and the most trending content on YouTube.
Videos up to 2 minutes long got more engagement, and it will rise if the brands maintain the same video quality and length.
YouTube remained as most widely used video marketing platform for 2021. Over 86% of the Video marketers used YouTube for B2B business.
83% of the Video marketers revealed they get successes, and roaming small businesses started implementing it for their Brands.
100% of the video consumption on the internet increasing every year. Among over 82% from YouTube videos.
More than 1 billion video views every day on YouTube. It will steadily increase every year.
YouTube receives over 1,148+ mobiles view every day compared to other video streaming devices.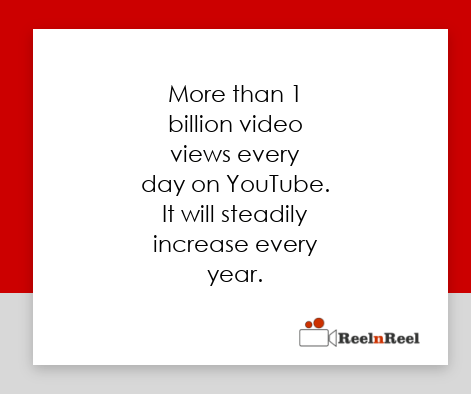 Conclusion
Videos effectiveness proven that its the right time to introduce the product video on YouTube for brand marketing and advertising. For the small businesses who are adding video content for business, the above YouTube Marketing, and Advertising predictions, trends will help you to choose the right choice.