Facebook has launched the new feature in its app called Facebook Stories which allows you to share multiple video and photos share on Newsfeed. Facebook Stories are short user-generated photos and videos collection that can view up to two times by a user and it will disappear after 24 hours.
This feature originated from the popular Snapchat app. Facebook Stories are the collection of photos and videos updated for the past day. These are different from general Photos and Videos that you upload on Newsfeed. Each story or a segment disappears after 24 hours.
Facebook Stories Key Features
These are designed to shoot little funny things happen during the day. It offers masks, interactive filters, and Picasso style filters in real time.
It has Facebook app camera which can overlay some filters, lens how they work on Snapchat to add visuals geographic tags to the videos and photos.
Facebook introduced cutting-edge effects such as a Glittery Gold trophy to celebrate your accomplishments, Animated slice of Pizza that fly on the mouth and spells on mustards.
These are primarily Visual only there are no sound effects introduced. If you would like to say something to your friends write some text, make sure that should be short enough to read in few seconds.
Stories are available only on smartphones, and we hold our phone vertically so, always shoot video vertically.
You have an option of adding comments and chat with them while viewing the Story.
How To Use Facebook Stories
FB stories are just like Snapchat Stories which will appear on the top of the Newsfeed. To view, the Story just give a Single Tap on it, the whole story play on the full screen on smartphone.
First Sign in the updated version of Facebook App. Once an app opened, you will find a Stories Bar at the Top of Newsfeed.
To start creating the Facebook Stories either you can choose camera icon or the Stories Icon which located on top left corner of the app.
Once the Camera opens, you can record the video or a quick snap through Camera. In another way, you can get on the big Camera icon and shoot a short video.
If you are satisfied with your recording the story next, you need to upload to the Story Bar. Tap on the arrow icon in the centre of the screen to share a story.
At the same time, you can send a direct message of video to your friend by selecting the friend name and to send.
Suppose you like to post already shooted video or photos you can do it by selecting the centre that will display the recent camera rolls select and publish stories.
The posted Stories will automatically disappear after 24 hours from user's timeline and Newsfeed as per the Facebook Stories guidelines.
It is up to the users choice if they like to post or not to post created stories, entirely depends on users choice.
Facebook Stories For Pages
Facebook launches facebook stories open on all pages. If we want to share stories from the Facebook pages, we should follow the similar step with a small difference.
Open the Facebook mobile app for iOS or Android devices.
Go to any page from your facebook app if you're an Admin to any page.
Just Tap on Create a story, follow the same instruction how you posted by general users.
After creating the stories, you can apply some Camera effects before posting it on the Facebook page. You can use effects and save it to your gallery.
You can add frames and masks effects which shown at the bottom of the screen. The next icon here allows you to Downward facing pencil and choose the colors.
Everything done to your Facebook Stories, Save it and share on a Facebook page.
Facebook Stories for Brand Marketing
Facebook stories are not only useful for connecting people who and see who has seen your Facebook stories.
Facebook pages not meant for business pages, for your page timelines. The people who follow you and friends can only view user stories.
Make use of people who regularly check and share your posts on Facebook, connect with them and introduce your business services on Facebook.
Business owners can make use of Facebook stories for optimising their posts according to their business themes like colors, Emojis, filters, and hashtags with the company name.
Add celebrations of business milestones, quick clips on previous projects, share signature business tips and your team snaps.
Add behind the scenes footage, share your memories of your business pages. Take audience with you to participate in your business events.
Introduce your business tips and trick in short for the audience who don't know about your business. Provide exclusive offer videos or short clips from your company.
How to Create a Facebook Stories for Marketing : A Step-by-Step Guide
Like Instagram and Snapchat stories, Facebook also launched their own Facebook stories in its app. The Facebook new feature is available from March 28th onwards. Facebook has given 20 Sec of time limit for Facebook Video stories, and can save in camera roll directly.
What Are Facebook Stories?
The Facebook stories is coming for Android and iOS mobiles, where you can share photos and videos as a slideshow format which can exist within 24 hours afterwards it disappears.
You can't miss the Facebook stories because the circle appears on top of the news feed and nobody can miss the Stories. It has the same features as Snapchat stories.
Why Facebook has implemented the same feature means, nowadays sharings in Facebook became one of the popular trends, the way of sharing friends and family also changed and not upgraded visual format.
The videos consist of high quality photos and videos can attract the audience. So, Facebook wants to make fun of the Facebook lovers with Facebook stories. Facebook stories having creative photos and experimental videos in a faster way of sharing.
More than Billion people are using the Facebook everyday. Snapchat implemented, it was Stories era in 2013. Now also started continuing the era of the Facebook story of creative photos and videos which are more communicative.
How to Create a Facebook Stories?
Many people use Facebook from desktop computers. But the thing is, Facebook Stories are created from mobile app only, not in desktop. Facebook implemented, Facebook Stories with updated Facebook app for iOS and Android users.
Facebook App Updated Features
1. Facebook app camera to create Facebook Stories.
2. Facebook Stories are located top of the newsfeed with a circle. So, no one can't miss this.
3. Private messaging option called "Direct" which is also located top of the news feed with a circle inside upward arrow mark, to send individual persons.
If you would like to start creating Facebook Stories just tap right side of News Feed or tap on camera top right side Corner of the Facebook mobile app.
Tap on app camera to create a video or tap get started option available in app camera.Once you have finished with creating your video, you can directly save on the camera roll.
It's your choice to send it as a direct messaging, means like you will send messages to individual persons. Or if you post it in the profile you can give permissions as private or public.
Once you have posted your story, it will appear on horizontal scrolling of news feeds. You can add some filters like graphics to the photos like emoji, stickering and rainbow.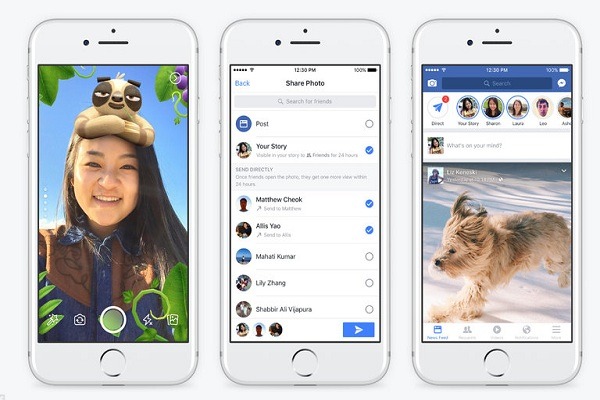 How to Create a Facebook Stories in iOS:
People changed their sending messages like text to photos and videos it is the biggest revolution to the Facebook to create Facebook video Stories.
Facebook app can be applicable to iOS and Android devices , now we can see step by step procedure how to create Facebook Video stories in iOS .
As we all know that Facebook new updated app is available from March 28 th onwards. People those who are using older version does not get these Facebook stories features .
First, go to the App Store and download the Facebook updated app .
After downloading you can see a new feature on top of the app with bubble icon.
One is a Direct bubble inside arrow mark this will lead you to share your stories individually.
Fist taps on the camera symbol on the top right corner of mobile app or else tap the right side of the news feed.
If you are ready to create tap on getting started option to start creating a video. You can create or shoot some video or you can take photos after that create a video slideshow format.
Once if you are finished with creating video, you can share it immediately with friends or send individually with Direct option.
After sharing it will appear up to 24 hours in News feed and you can tap replay the video twice if you share it to individually.
There is no chance to specify who seen or doesn't see your post, but you have an option called view bottom of your story there you can find the people who had already seen your video.
You can directly comment while watching the video, or communicate through messaging.
How to Create a Facebook Stories in Android
Initially you need to login to the Facebook account with your ID.
On the homepage itself, we can notice the icons of Direct and your story.
Just tap on direct then you can find send photo / video just hit on it and this can be used to send the videos to selected individuals.
Then automatically directs to the get started option through which the video can be recorded.
Then you can send the video of 20 second story to different people.
This will be visible for 24 hours of upload.
The others video can be viewed which appears beside that icon.
Just tap on it, then it plays automatically and you can directly reply to their video post which is on the bottom of the video.
If you don't wish to view them, click on 'x' on the top right corner of the video.
We have one more option to share your video by choosing 'your story' through which we can publicly share our video.
The no. of views for videos can be identified through view icon.
How Brands Can Use Facebook Stories for Marketing
Facebook is the most common Social Media App to communicate from any place at any time. The newly introduced feature of Facebook Stories will be much interesting part of the marketers to explore their brand with billions of users.
The marketers can make use Facebook for branding by generating brief video content in limited time.
They must be able to create the unique video stories with ultimate and creative thoughts.
Always go on choosing the users intended video type selected by the viewers but not similar.
Go ahead by adding the benefits, favorable returns and helpful vouchers as a part of the promotion.
Try to do research on new and innovative topics by following the expert advice to explore in video stories of Facebook.
Compose the featured stories of exciting areas.
Focus on trending themes to deliver video stories.
Stories will build the intimacy of your brand with the vast number of users through Facebook stories. This feature is advantageous for the startup and already growing marketers to stimulate views about their brand.
How to use Facebook Video Stories for Breaking News
It is the time to make publishing about ourselves in the public by using Facebook video stories.
We can upload the breaking news, videos which can grab the attention of the viewers in a short period of time.
Gather the videos of trending issues related to celebrities like politicians, sports person and actors.
Capture the moments of rare incidents happening in our surroundings.
Just make the stories by yourself as the breaking news that is enthusiastic to watch.
Don't annoy the users by over uploading the videos.
This can be much helpful to launch the step for promoting your business and leads the huge engagement of audience to hunt about your channel.
The concept of Facebook Stories will ruin the stress of the marketers to do promotion. They can easily establish the strong reputation for their business in the global market. Everyone will be much awaited to watch the trendy video stories so don't waste your time, go ahead.
Conclusion
Would you like to share your day on Facebook? Just follow the above procedure and feature to create an excellent Facebook Stories and share it on your timeline or share to you're Friends.