The audiences of limited countries have the accessibility to enjoy YouTube Premium. It is not yet disclosed that it is going to launch all over the world at a time. Most of the world YouTube users are waiting to get the YouTube Premium as it provides many offers.
YouTube Premium
It is the subscription-based service of YouTube which offers many features that are advanced to the basic YouTube experience. It is not only dedicated to music like Apple Music and Spotify. The users can get unlimited fun through YouTube Premium offers.
How much YouTube Premium costs per month?
While on YouTube Premium subscription the users should pay $11.99 per month which can be afforded by all the users.
Moreover, a three-month free trial is also offered in this pack.
The audience can also subscribe to plan like 'Family' for which we should pay $17.99 per month. When this plan is activated, then we can get the offer that 6 members of the family can log in to the YouTube Premium.
The users signing up to YouTube from iPad or iPhone should pay more to access those services. It is better to use other devices to subscribe the YouTube Premium to free from overcharging.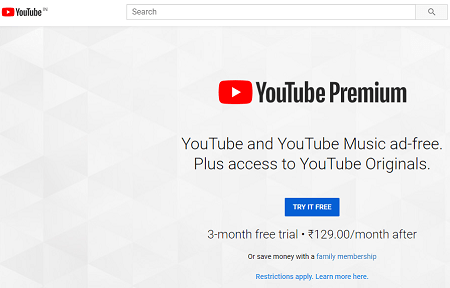 How to sign up for YouTube Premium?
Go to this link https://www.youtube.com/premium
Then click on 'Try it Free' or You can also choose 'family membership.'
Then you will be directed to 'Complete Your Purchase' details page.
Fill the details as required.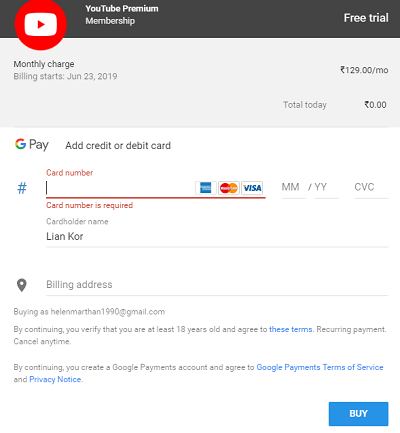 Customizing or Disabling Background Playback
Go to your YouTube profile that appears on the top right corner.
Then go to settings.
Now choose the background play appears under 'Background & Offline".
Then make a selection like:
Always ON – Where YouTube videos play in the background as default.
OFF – In this mode, YouTube videos never play in the background.
Headsets or External speakers – When the device connected to headphones or other external audio output then the video starts playing in the background.
What does it mean for advertisers?
Most of the advertisers completely rely on marketers. The plus point of marketers is that they reach the customer's attention.
Here YouTube is the most significant video platform in attracting millions of audiences.
The third of internet consumers consume video, especially on this platform.
We can take an example of many companies who are spending much to launch the audience intended video ads on YouTube.
It helps them to create the hype towards products and services of their brand. We can say it's a performance by observing just our daily activity on YouTube. In such a way millions of users are enjoying YouTube videos all the time.
The videos which feed the extreme pool of ads then it is making the internet users to install the 'Ad-block' software.
The business brands focus on who are their aimed audience. The ad-free feature may completely change the role of ads.
With a small amount of subscription charge, many from high-income families may show interest to get the subscription of a family pack.
It is a win for Google where the advertisers can pinpoint the customers who will be able to purchase their products and services.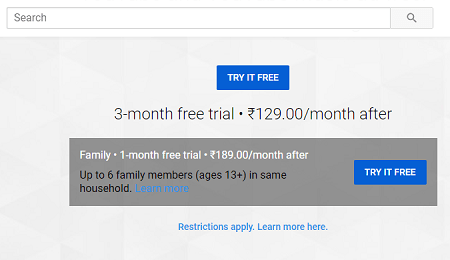 Benefits of using YouTube Premium
Ad-free video viewing:
As we get YouTube Premium subscription, YouTube serves the ad-free video content. It gives much more entertainment to the users.
Both the video ads and banners ads are included in it either you stream on mobile or desktop, and it applies to the YouTube Music app.
Background play:
While using YouTube app the sound from the video continuous to play on the background when you run other apps on your mobile.
It will be a great feature for the YouTube Music lovers as they can enjoy listening to the music simultaneously doing another task.
Video downloading:
If you want to watch any YouTube video offline, then YouTube Premium enables you to download. The options of video quality downloading are limited.
Here you can download the YouTube videos from both the YouTube app on mobiles and web on desktops. These downloaded videos will be kept for 30 days.
YouTube Originals:
The YouTube Premium members can enjoy the YouTube originals where they can surf the YouTube produced original programs like Cobra Kai.
Google Play music:
By subscribing to YouTube Premium, the users can get the pack of YouTube Music Premium and Google Play Music.
How To Use YouTube Premiere
Today's generation watching YouTube as a daily activity from small kids to aged persons watch videos on YouTube. We can find all stuff from YouTube after Google since YouTube is the second largest search engine after Google. If you are a YouTuber or using it for business purposes, you should keep yourself updated. Now let's discuss detail about YouTube's New Update "YouTube Premiere."
Recently, YouTube launched a new feature called YouTube Premieres that will allow you to engage with your audience to the next level. YouTube will enable creators to create an event for the newly released video. This feature not only for offering great engagement with the audience it also enhances your revenue.
What is YouTube Premiere?
Have you ever done YouTube Live streaming?
If you say Yes, then it will be easier for you to work on YouTube Premiere.
YouTube Premiere is similar to the Live Streaming on YouTube, but here we first upload the video and then start live streaming enjoy together with the audience. Whenever you are doing live streaming on YouTube, we should concentrate on both things like live streaming and interaction with the audience. In YouTube premiere you should only focus on audience engagement on live, YouTube will take care of live streaming your video.
How To Work with YouTube Premiere?
YouTube premiere is now open to all the users all over the world. Every YouTube user and the content creator can make use of this extraordinary premiere feature for business and personal use.
First, open the YouTube account from a desktop computer or a laptop and log in to the YouTube Account.
Go to the Video Manager in your Account start uploading the video from your device.
When you are uploading the video just below the "Select File to Upload" you can find Public button.
Click on that a drop-down menu of four options displayed.
Select the "scheduled " from the menu.
Select and Upload the video to the Premiere.
You can see "Premiere" option at the right side of the window.
Toggle on the "Premiere" button.
Just below the Premiere click on the Public button, a drop-down menu with scheduled option appears.
Set the date and time for your Premiere.
In the next step start filling the necessary details like Title, description, keywords and finally with eye catchy thumbnail to your video.
Once the processing is done click on the "Premiere" located at the top right corner of the window.
Now you have successfully configured your premier video.
If you selected premiere as a video upload method, it would automatically generate a landing page for your video with a tag of the announcement as the anticipated premiere.
During this gap of premiere period people can interact and chat through Super Chat. It is similar to the interacting people through Live chat when streaming is going on.
You will get a front page sharing link to share with others through various social media apps.
The exciting thing in YouTube premieres is the video stays as a standard video on your YouTube Video list for further promotions. You can watch it at any time.
Tips to Promote YouTube Premiere Video
Make sure to use a desktop computer to work on YouTube Premiere.
Currently, YouTube Premier working only for desktop computers and laptops, it does not work on mobile versions of YouTube. You can promote Your YouTube premier video using YouTube Live. YouTube Live works on mobile versions also.
Make sure to upload and Schedule YouTube Premiere Video at different times and different dates.
If you upload your premiere video on regular schedules, it does not make any sense. Make sure to schedule on different times and different dates other than regularly scheduled times.
Be a part to promote premiere video through public Video Watch page. Start sharing your YouTube Premiere video through public watch pages like social media apps.
After scheduling the premiere video, you can share the link through free watch pages.
Once the Premiere starts, be on Live to communicate with the audience through Live Chat. Encourage more audience to watch your premiere video by introducing extraordinary thumbnails for your YouTube Premiere video.
Inform your subscribers and followers to turn on notification to get more updates on your YouTube schedules and premiere videos.
Tell your audience and subscribers you will be on Live at the time Premiere video was running to interact with them. Ask them to stay on Live Chat.
Every content creator must try this YouTube Premiere for business promotions. It is a complete guide for How to upload a YouTube Premiere video and tips to promote.
Conclusion
To enjoy the benefits of YouTube Premium all the audience should get the subscription. YouTube Premium is designed to serve the audience with full pack of non stop entertainment that never experienced before.