Recently Google has rolled out an Incognito Mode on YouTube Android app which offers a bit more privacy to the users. Incognito Mode for YouTube seems to be a part of version 13.25.56. New Android OS version 13.25.56 released on 28th June.
This New feature will disable the History tracking on your YouTube app, and it provides some privacy to the people who are using Video platforms like YouTube.
It works similarly like Google Chrome Incognito Mode which disables users search and watch history and allows safe, private browsing experience.
Once if you activated the Incognito Mode on your YouTube App it shows a pop-up which clearly shows a sign that you are in Incognito Mode where your activity will not save on History.
To enable Incognito mode on your YouTube App follow the below procedure. It's quite easy to enable/disable incognito in your new YouTube Android App.
Procedure To Enable Incognito Mode on YouTube Android App
Download the latest version of YouTube App from the Google Play Store. Make sure that you should download 13.25.56 versions on Play store.
Go to the YouTube and Sign In to the Google Accounts.
Tap on the User Icon on the top right corner of the Screen.
On User Account, you will see "Turn on Incognito" above the "Settings" option.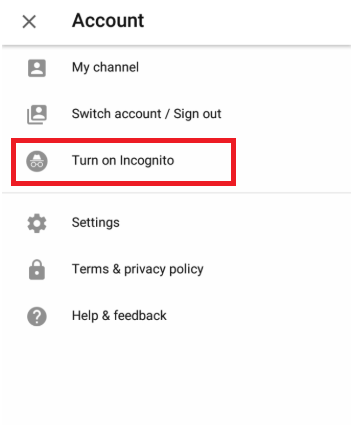 Once you enable the Incognito mode, you will get a pop-up regarding Incognito information.
If you are using for the first time, click on "Got it" on the pop-up to continue the process.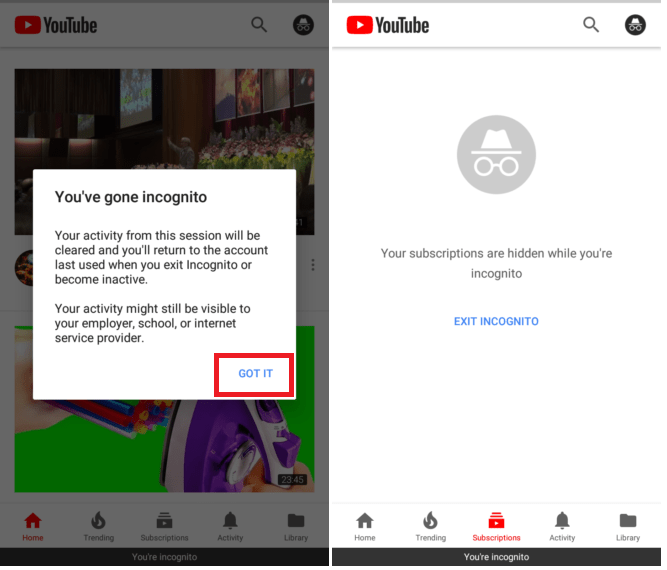 The user icon changed to a familiar hat and glasses which indicate you have gone Incognito mode.
Check the message "You're Incognito," this means you are currently active in incognito mode on your YouTube App.
You can Turnoff the Incognito once you're done with your YouTube videos. Else it will automatically turn off if you are inactive for a longer period.
To turn off it manually, Go to the Incognito icon at the top right corner of the Screen.
Click on the "Turn Off Incognito" from the menu.
Now you are successfully done with Enable/Disable of Incognito Mode on your YouTube Android App.
How To Use Incognito Mode In YouTube
The Incognito mode of Google's YouTube finally out on both Android and iOS. Now the users of YouTube are successfully using the YouTube Incognito mode. Most of the audiences are not intended to reveal their search history. By considering that reason, YouTube has taken a step ahead of launching the most advanced user required feature like Incognito mode. It helps the audience hide their search history.
It is too simple to switch to YouTube Incognito and simultaneously so simple to use this feature on the YouTube app.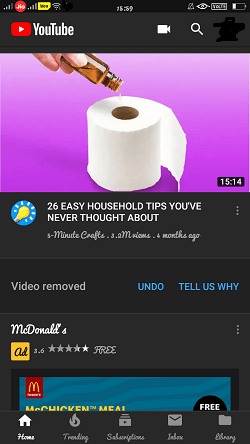 What happens when switching to YouTube Incognito mode?
While turning to Incognito on YouTube the users are unable to access the menus like subscription, library, search and inbox which are hidden.
In Incognito mode the YouTube users can watch and search for videos on Home.
They can also watch the trending video while on Incognito.
As a user, if you need privacy to watch YouTube videos without revealing the search history and not intended to use the features mentioned above, then you can choose Incognito on YouTube.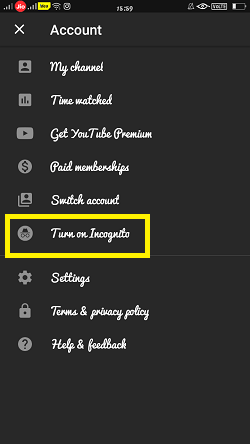 Steps to enable YouTube Incognito mode
Go to the YouTube app your mobile.
Then select your YouTube profile that appears on the top right corner.
Now click on 'Turn on Incognito.'
After that, you'll be notified with an alert while choosing the Incognito.
Then choose 'Got It.'
You can freely use YouTube Incognito for searching the video privately.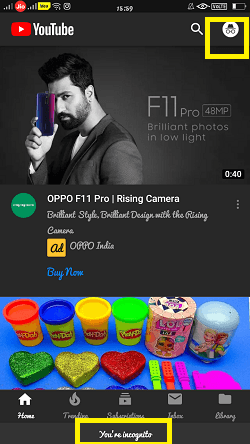 Steps to get back your Google account
Click on Incognito icon appears on the right corner of the YouTube home.
Then select 'Turn Off Incognito.'
Now it directs you to your YouTube account where you can access 'subscription, library, Inbox, and search.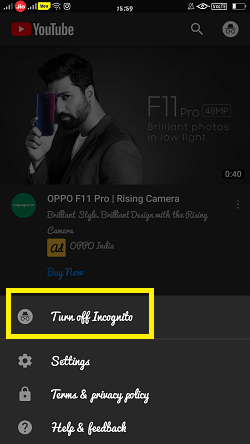 To get the latest version of YouTube having Incognito mode, it is necessary to update the YouTube app. By using this feature, the users can make safe browsing where others can't find their search items in the YouTube search results. Though it is hiding the other features, the YouTube audience is preferring it to watch the YouTube videos.
Conclusion
Many people like to work on privacy environment for some security reasons. YouTube Incognito mode is the best alternative to users those who want safe, private browsing for their Videos platforms. YouTube Incognito mode works just like Google Chrome Incognito doesn't maintain the Search and Browsing history.