Video advertising is the best tool for driving awareness and conversion in digital advertising. Many are aware of this fact. For those who have not much experience in video advertising, the Native Video ads may be new. Let us here is what is native video advertising and why it is good especially for social media marketing.
There is the difference between native video ads and pre-roll ads. Pre-roll ads are those that are forced on internet users. These appear before the users enjoy the web page content are before the beginning of YouTube videos. These ads help to concentrate on generation leads.
Native video ads are different from pre-roll ads. These appear blended in the social media feed while the user scrolls down on Twitter or Facebook. These have to be clicked by the users to play and watch. These are also longer than the pre-roll ads.
Which one is more effective? The pre-roll ad?
Well, both are effective in promoting the brand and driving engagement. Native video advertisements, however, proved to be more effective. These genera higher brand lift than the pre-roll ads. It may be because users will have a choice to click to learn more or not to click.
Users may feel that the pre-roll ads are interruptive. There is no length restriction for native ads. Thus the video creator can provide more information to the audience.
Native video advertising is more effective, especially for social media marketing. Both encourage user engagement. Social media users will not find native videos as advertisements. If the video designed right and the right message is delivered, then the audience will not feel that you are trying to sell something to them.
Characteristics of Native Video Advertising
Native ads can be in many forms. These can be ads found on the Facebook news feed. Native video ads clicked to play, and the length of these ads is usually more than half a minute.
Native video ads can provide entertainment to the audience, and they also provide them with additional information. Native video ads are highly shareable and are different from the product-centric or push marketing type of ads. These are not usually optimized for conversion.
Facebook Native Video Advertising
To use native video advertising on Facebook, focus on the length of it. It is true that there is no length limitation for native video advertising on Facebook but making a longer video will make keeping the viewer's interest harder.
Make the first ten seconds of your video very interesting. The ad should be able to hook the audience in the first few seconds. Pay attention to the title so that it grabs the attention and the audience will want to check it out.
Organize the video by topic into playlists on your Facebook page. This allows the audience to search for videos on the particular topic.
Twitter Native Video Advertising
Native video advertising is equally effective on Twitter also. The best practices are also similar for both the platforms. Some additional tips can be followed to get success with Native Video Advertising.
Test and choose the thumbnails for the video. Twitter allows choosing the thumbnail. If the thumbnail is appealing, there will be more video views. Check which thumbnail drives the most engagement. The Tweet that alongside the video must have suitable hashtags. Hashtags are proved to boost the engagement.
Native video ads are not generally ignored. If the ad is interesting and entertaining, it is shared. If a great video ad is created and reached the target audience, it is going to generate free views. This grows brand presence and will be an added investment for the amount spent.
What is Native Video Advertising
Native video advertising is an effective way to increase brand awareness and customer engagement. Native videos that combine smoothly with the social media feed give customers the choice to click them or not.These do not cause any interruption to the user experience.Pre-roll ads are short and native video ads can be of any length and the advertiser can provide all the information that the customer may be looking for.
Mobile Native Video Advertising
Mobile native video advertising is growing year by year.It is thus necessary for every marketer to know how to take advantage of this. These are the advertisements that play automatically and silently until the user wants to see it and interacts with it. The users are not disturbed by these advertisements within a selected app. Native video ads perform better than the other format of mobile advertisements. This might be because native videos engage the customers more.
To create engaging mobile native video ads, one has to follow some tips. The attention span is less on smaller devices such as mobiles and things like placing an over-sized call to action button can help to attract several viewers.
Native Video Advertising Trends
Native video ads are viral, and in the future also the popularity is likely to continue to rise. The trends in native video advertising might include concentrating more on the headline to gain the attention of the viewers. The value in headlines will influence the viewers to know more about it. Brands will work more with media to create content that can be used on external and internal platforms. Users play a key role in making a video advertising success or failure as they want high-quality content. Native video advertising is going to become a more popular trend for its benefits.
Native Video Advertising ROI
There is no doubt the video is more effective in engaging customers than any other content. Native videos, however, cost much to the brands compared to pre-roll ads. This is because native videos are longer than the pre-roll ads, of high quality and are original. The success rate of native video advertising is higher than the traditional strategies. Thus, these should get double the ROI than pre-roll ads. But native ads are proved to generate a much higher brand lift than pre-roll ads. Native video advertising witnesses rise in sites such as Facebook and LinkedIn etc. Marketers thus must make investments to make quality content and be sure that it is going to get cash in several times over.
Native Video ads Market Statistics
Most of the marketers have native video advertising on their sites, and few are planning to offer them, and only ten percent of them do not have plans to introduce it. According to studies in the US, fifty-seven percent of publishers take customer engagement and time spent on ads to measure success. Eighty-one percent of marketers have faith in native video advertisers to increase viewer engagement. Native ads are proved to influence the consumer to purchase the products by eighteen percent more. Engagement rates with native ads are more by around thirty-nine percent and the rate by which the viewers completely watch the ad is also higher.
Branded Video Content Distribution Through Native Video Advertising
Do you know why you want people to watch your brand video?
Who is your main audience?
How does your audience access your content?
Yes, the first thing you have to do is to answer the above questions yourself to start your video content distribution.
Brands are promoting their content with a definitive strategy to reach the consumers across different platforms. Brands are using the video content in different ways of advertising to get good leads across the web. Some brands are showing their interest in remarketing and retargeting content.
Native video Advertising
Native video advertising is the buzzing term you may always come across the web on different marketing places and especially in digital marketing space.
Native advertising follows the form and functionality of the content and delivers it to the audience with native content forms.
Native advertising had a huge impact in present video advertising practices.
Branded video distribution
The distribution strategies vary from one brand to another brand. The main thing you must know is to plan a great strategy for your video content distribution.
Today, we have several valuable places and sources to distribute the content. But the thing is your content must be distributed where your people are.
If you distribute the content where your targeted audiences are not active definitely will not work to your expectations.
This must be in your plan to reach your goal in content distribution.
The content distribution impact on the sales conversions as distribution plays a key role in reaching the potential audience to your brand.
Impact of native video in branding
More than 26 percent consumers are watching the native video ads in feed and are spending a good time in watching the native video content from the brands.
It is also revealed that more than 86 percent mobile media buyers are showing their interest in purchasing after watching the native video branded content.
The native video ads are 20 percent high lift compared to normal ads.
Killer Branded video content distribution strategy.
The majority of successful brands got good outcome by building an effective relationship with the consumers. The competition was increased in the present ecosystem and brands need an immersive strategy for their content distribution.
Social media
The social media platforms are the main source to catch the consumers online as the majority of people almost connected with the social network all the time. It helps brands to boost their services and image across the web.
On-site distribution
Content on the own website can drive good results but need a long time to catch the results comparatively with the content that is distributed on social media platforms.
Native ads
Content definitely lives in native ads which can easily connect with the audience comparing to other ad formats. So it is better to go with the native ads for your branded content strategy.
Combining native video advertising for branded video content distribution
Let's go native for branded video content distribution
The native ads are in six formats and the popular formats are In-Feed native, search promoted listing, content recommendations, and custom content units are some of them.
Branded video content distribution can utilize these native video ad formats to distribute the content with ease with good reach.
Search engine distribution
Native search engine type of ads are one of the best ways to distribute your content by advertising the page with URL in search engine results page as native ads in organic search results. It helps the brands to reach their potential audience with ease.
Social ads
Social platforms allow the marketers to target the specific audience by running good ads with paid campaigns. You have to define your goals and timeframe along with definitive objective to reach the audience.
While distributing your content on social media platforms the visuals and campaign optimization plays a great role. So check and analyze the analytics and optimize the performance.
Native advertising distribution needs a long time. Your distribution campaign must run up to 12 months to increase the impact of the distribution.
Try to go for right publishers that are relevant to what you are going with. So that it can reach to right audience.
Don't neglect organic distribution
You can leverage your audience across different channels and free content distribution platforms. Know about the bets posting timings and how to be social with your audience in order to stay connected with the audience during the content distribution.
Try lead nurturing with native
The lead nurturing is all about building the better relationships with the buyers and building the good database to track the potential leads and capture the best information for better distribution. Use the personalized content to make your content distribution more effective.
Finally, native video advertising had the great impact on the distribution of the content across the web and different sources. So try these suggestions and ideas to distribute your branded video content natively.
The New York Times Native Video Advertising
New York Times (NYT) has been continuously published since 18th September 1851.It was found by The New York Times Company and started its functioning in the US. The number of prizes that NYT received is a matter of price for the channel and matter of envy for competition.
The magazine aims to deliver valuation information to readers along with news. Following the requirements of consumers, NYT developed multiple platforms and properties to provide its readers with quality experiences including the virtual reality app for Android with Google Cardboard.
To keep pace with the changing times and also to continue its supremacy in its field, NYT has experimented with different ad models. The main objective was to find a solution that finds and satisfies readers' experiences and also keep an eye on its bottle line. It is in this direction that the NYT team developed "Flex Frames' in September 2015. As a natural extension to Flex Frames, NYT team associated with other teams to explain their flex frame offering.
The New York Times' Native Video Advertising on DoubleClick
DoubleClick is a development over Flex Frames offering.Flex Frames was taking a huge amount of time (because each layout required handholding) for compiling the right creative from components – image, headline, copy, etc. – and DoubleClick automatically does this process, thereby saving the huge amount of time. With the latest technology of DoubleClick, the NYT team created a library of native styles.NYT strongly believed that serving the audience a piece of video advertising rather than a photo story will serve the purpose of a reader is he is more likely to watch video content than view photos in a carousel.NYT team saw a six-fold increase in CTR with 4X more viewable impressions with its scaled approach to delivering native ads relevant to a user's interest and context, and the contribution of DoubleClick can't ignore.NYT is planning to make Flex Frames available to programmatic buyers (in association with DoubleClick).
The New York Times Native Video Advertising Success
The success of the native video advertising can't be understated, and it proved with the fact the native video advertising is the most popular format on social media and 83% of ads are native.
However, native video advertising comes at a cost which is a barrier. Video advertising gave the fact that the up-front costs of native video are very high (almost more than double than the cost of typical cost per view). Here the good news is that a study conducted by Nielsen indicated that brands are going to benefit from native content because pre-roll ads typically generate a 2.1% brand lift for advertisers. In contrast, native ads generate an 82% brand lift. This phenomenal difference in brand lifting will ensure that the high cost of a native video Ad automatically compensated.
Coming to NYT, it observed that its readers are spending roughly as much time on paid posts as editorial content. It is a clear indication of the success of native advertising. For example, NYT has been able to get 200,000 clicks for a United Airlines interactive graphic, which showed how far athletes traveled to compete at Sohi. clicks rate was well above the average editorial article.
Another interesting point to note here is another report that stated that just 24% of people scrolled down the page on the sponsored content in comparison to 71% for traditional content.
How native video advertising is going to impact social media is a big question.The New York Times' success is a win for proponents of branded content transparency as native video advertising depends on content transparency. So far, it appears that native video advertising is paying off.
New York Times is the only one which has the reputation of branding on Native Video Advertising, and it has shown it's the capability of unbreakable success.
Top 10 Native Video Advertising Platforms for Advertisers and Publishers
Native advertising is the best form of an ad as it does not obtrusive and syncs with web content. With the usage of ad blockers increasing, publishers and advertisers are now opting for native ads on their blogs and websites. Here are the top native ad platforms for publishers and advertisers.
Redirect.com
Redirect.com allows selling and buying of ads in a real time bid system. Displays, email addresses, pops and domains can be purchased.
Outbrain
Since its establishment in 2006, Outbrain is the best native ad network. It promotes native ads by teaming up with leading publishers and marketers.
Nativo
Nativo makes the entire process of native advertising very simple. It offers high-quality advertisements and has some reputable publishers.
Gravity
Gravity is another best native advertising platform for publishers. Only those publishers who have a minimum of one million page views can join this ad network.
Triplelift
Triplelift is convenient and transparent native advertising platform for publishers. It is possible to gain insights of the performance of native ad network.
NativeAds
NativeAds is another best native advertising platform for publishers. The per click rate, however, is slightly lower.
Taboola
Taboola helps the advertisers and publishers to monetize the content. It has more than one billion visitors on its publishing websites.
Adsnative
Adsnative is another best native advertising platform which has its offices in India also.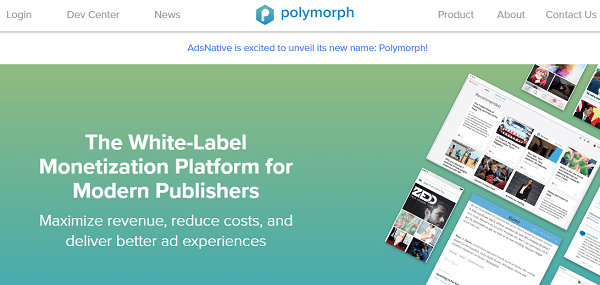 Bidtellect
Bidtellect is a native advertising platform for marketers to execute native campaigns across devices including text, video and imagery.
Pubnative
Pubnative is a mobile native advertising platform for application publishers. It has a wide range of tools for managing the native ads.
The native advertisement is of different types. These include in-feed advertising which is the common native advertising type. These fit into the rest of the content flow. Native advertising platforms help to optimise the content fit to different media.