Currently most of the people using smartphones with online basic multimedia features. Users prefer to listen to MP3 songs and YouTube videos instead of MP4 songs. Many people would like to convert YouTube video to MP3 format. Most of the video converters require users to upload files, select the output settings how would you like to convert your video to MP3 files. The best option for this query is a YouTube converter, which can convert YouTube videos into MP3 songs. Here we have compiled top 10 best YouTube to MP3 Online Video Converters.
Top 10 Online Video Converters
Convert2 MP3:
Convert to MP3 is an online video converter which does not need any SignUp to use. Just open the website and enter the YouTube link which you need to convert, as you enter the link you will get a drop down menu options choose MP3 click on Convert option. As soon as click on convert option you are ready with MP3 song ready to download. It is free of cost to download and use it.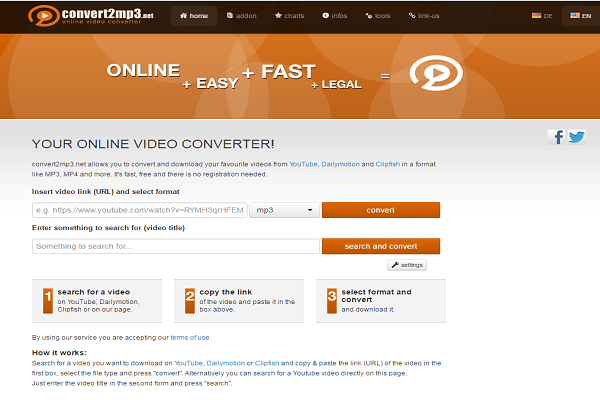 FLY2 MP3:
It is easy online video converter and is available as an app to install in mobiles. If you are using a website you don't need to download in your system. It is two step process like enter the YouTube video URL on the website and next click on "Convert To Mp3" option. Next process you can download the link of the MP3 file to your devices.
A Powersoft Video to MP3:
It is great to use other than YouTube, supports many other websites like Dailymotion, Vimeo, Veoh, Metacafe, Break and many other sites. It allows to download a song from YouTube and convert it to Mp3 format. Just add a video link to the box and press enter. You will get a popup window with a text message you are now ready to download the Mp3 song.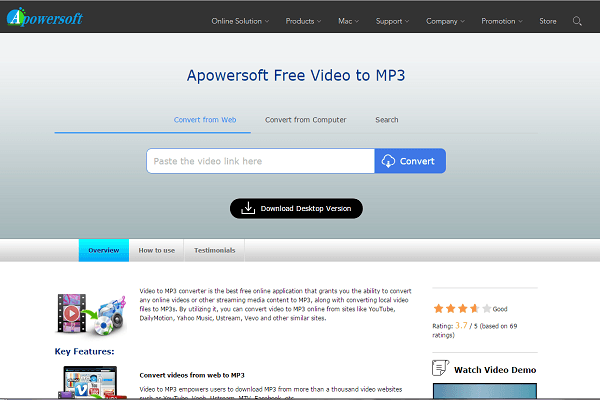 YT To MP3:
YT ToMP3 allows you convert into many other formats like MP4, MP3 and more. It doesn't need to install any kind of software to your devices. Only thing needs to do is insert URL of the file you would like to on conversion box and click on Convert button. Download the MP3 file from your homepage the file will reach you shortly. Add it to playlist and enjoy anywhere anytime no need to worry about an internet connection.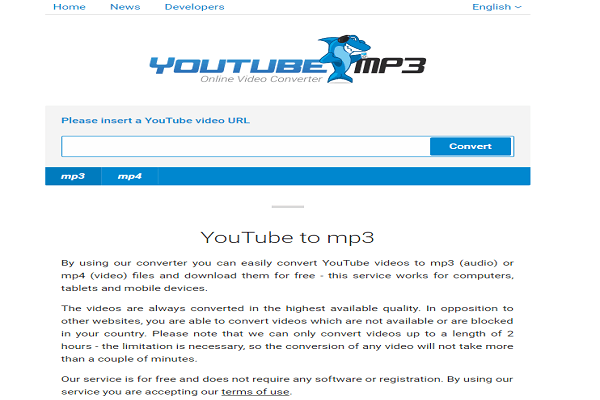 IXconverter.com:
This tool is very good choice for the people those who would like to download the MP3, Mp4, AVI, FLV and 3GP files. It can convert the YouTube video to MP3, AAC, MP4 and online video streaming websites. Go to the official website of IXconverter.com and paste the YouTube video URL, select the desired file format to click on "Convert" option. The converted file will increase the volume of the file, can do editing to the video file and save it on your screen to enjoy.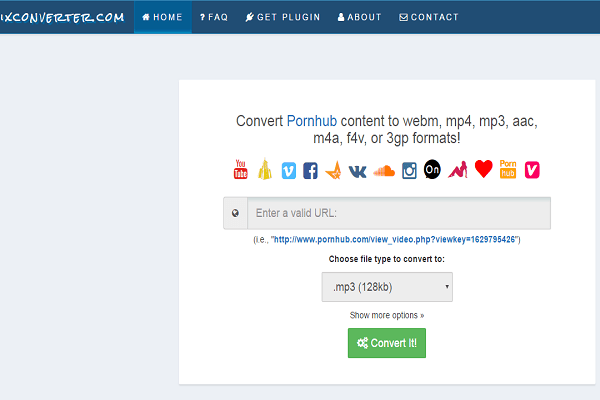 YouTube MP3:
YouTube MP3 is the easiest and best online video converter for MP3 files. As the design of the website is the simple and user-friendly environment. Enter the URL of the file to convert and click on "Convert video" option. It will convert the audio file to 128 Kbit format and immediately show the download link to download the converted file. You have add-ons for firefox and chrome to add directly to a browser. That will show download button next to your video playing.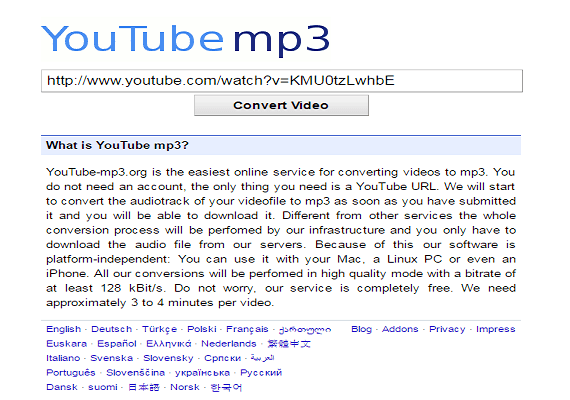 FLVTO:
FLVTO is quite different from the other video converter software. The web design itself looks pretty attractive and different. It can convert YouTube videos to MP3 files, gives you options for saving the video in the desired location, sends email attachment through mail, download and saves in desired cloud storage locations. Unique features in this are "Most Converted Videos", "Convert it for me" to convert those to your device.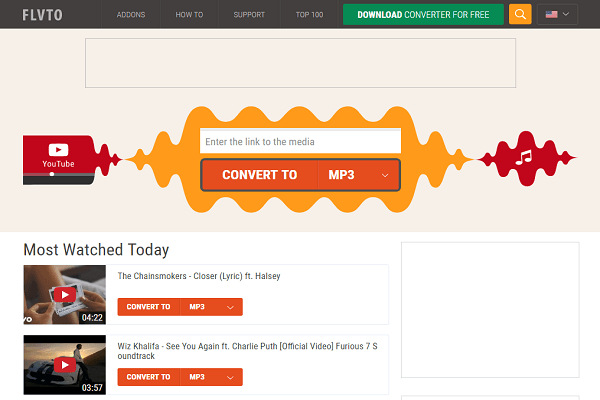 Clip Converter:
Clip Converter is rich to use, a little bit tricky and allows tons of options to use. You can upload the video to convert or paste URL and select the format which you would like to convert click on "Continue" option. You can select a volume of a video file, bit rates of maximum 320 Kbit, video quality. You will see an option to download the MP3 file within minutes.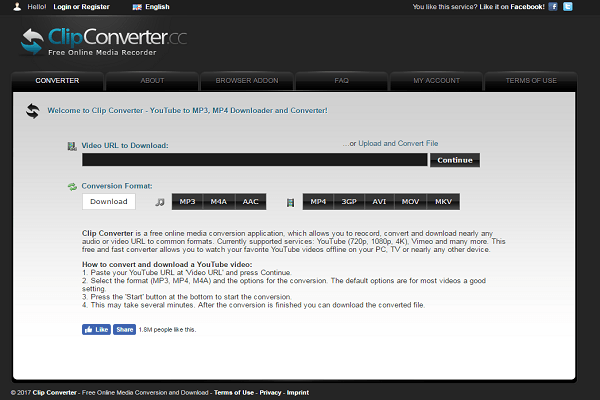 Listen To YouTube:
Listen to YouTube is popular YouTube Online Video Converters which gives reliable and fast result.No signup is needed, as same like copy the YouTube video Url and paste into the box and click on "Go " option. It will give you the result option for downloading button to download converted file.It gives a preview option before downloading to check the quality of the audio file and download the MP3 file.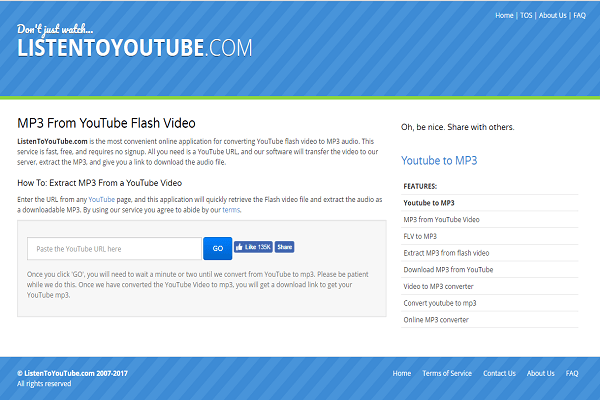 Make it MP3:
Make it MP3 is advanced video converter and an easy safe way to download the files. It allows a user to copy and paste the URL of the file to convert.It is free service no registration is required. It can convert as well as download FLV video from Yahoo videos, Metacafe and Photobucket to MP3.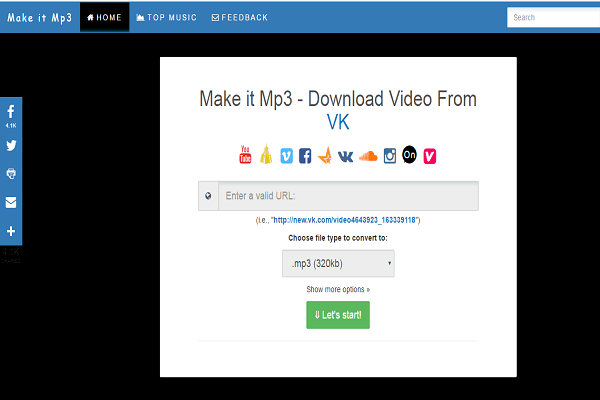 If anyone tired of so many websites to convert YouTube video file to MP3 online. Check the above top 10 websites that easy to access. The above are the top 10 best YouTube to MP3 Online Video Converters.
FLVTO Converter – Convert YouTube to MP3
YouTube is the place to look for thousands of music videos. You can enjoy the videos as long as you have a good internet connection.
But if you are offline but still want to listen to the music, you could convert the YouTube videos and MP3 and save it on your devices. Everything about FLVTO Converter has explained here.
There are many sites that convert YouTube videos to audio files.
There are also free tools that do not ask you for any personal information such as email to send the audio file for downloading, desktop software are faster and simpler.
One of the easiest ways to convert YouTube videos into mp3 files is to use FLVTO. This can be worked with windows, Mac and Linux devices.
Steps to be followed while converting YouTube to MP3 using FLVTO Converter
The users have to copy the YouTube video URL, paste it and choose to convert it to mp3.
FLVTO YouTube video converter can be downloaded for free. The users can also use it to convert YouTube videos into mp3 online.
paste the UR of the YouTube video. The formats into which the file can convert include MP4, MP4 HD, AVI and AVI HD.
FLVTO allow converting up to 99 files with the YouTube mp3 downloader. The converter can install in the PC.
Flvto.biz can be used on mobile devices that run on Mac also. The online YouTube downloader can be used for free of cost.
There is even no need to do any registration to use the service. It also allows the users to give feedback on their services.
Though there are many similar service websites, Flvto.biz is better because of its simplicity and easy to use.
This is free of charge, which makes it a unique service to use. The users can also find the topmost converted and downloaded MP3s list on the site.
How to Convert MKV Files to MP4 Format
Most of us might have come across MKV files and these are multimedia container formats. But not all media players support these files. These can be played only on MLV compatible media players, or appropriate codec needs to download. But to watch them on devices other than computers, these need to be converted to a more standard format such as MP4. There are several ways this can do.
There is free software such as Handbrake to convert the MKV files to MP4 format. PLEX is another solution for conversion of files with Windows and Mac.
There is some online converter to convert the files to MP4 format easily. The Vlc media player also can be used for the conversion.
To use VLC media player for conversion of MKV files into MP4 files first run the VLC media player and choose Media > to convert/save option.
Click on the file tab and add the file then choose the convert/save button.
Select the format and then click on the video codec. Select the audio and choose to keep original video track and audio track.
Then click the save button. Select the destination and then click the start button.
A progress bar will display the progression of conversion.
There are also many online sites that allow conversion of MKV files into MP4 files.
Cloud convert is one such site. This is very simple to use. Go to the homepage and upload the file.
Choose the audio MP4 format. Preferences can be customized. Then click the Start Conversion button.
After the conversion, click on the download icon.
There are also many online converters which are free to use.
The files need to be uploaded and then can be downloaded to the computer.
Convert these files to MP4 and then play them on all the devices on various media players.