Using YouTube to promote and generate revenue from music? It is important to monetize to generate revenue from music. Revenue on music can be generated even if the music is used as a background score by some other music creators. Another way to earn money using music on YouTube is through video streaming.
YouTube Music Monetization
YouTube is one of the important tools for musicians to generate revenue and to engage the audience. Ads running on the music videos do get revenue, but instead, creating a sales funnel strategy may be more beneficial. Focusing on how your videos are discovered, monetizing the music, and concentrating on retaining the traffic will increase revenue opportunities. Take some steps so that your music is easily discovered and searched by people. Enable channel recommendations, use the YouTube tags that work as keywords. The video title must be appealing and catchy. Give your YouTube channel link on social networking sites and other places.
Traffic to the YouTube music channel contributes to sales. Allow ads to display in the music video. You can keep the visitors engaged by creating your playlist so that they watch the other videos also. Finding new fans is difficult than retaining the existing fans. To help retain the fans, keep them engaged by asking questions, running content, etc. video content can be leveraged through 3rd party platforms to help retain fans.
YouTube Music Monetization Best Practices
Here are the best practices for monetizing music on YouTube.
• Monetize the YouTube channel
• Simply monetizing the channel or videos will not help generate revenue. Make more videos.
• Make a playlist of your music videos so that the visitors watch other videos also.
• Enable annotations and link to Google Play or iTunes to make more money.
• User YouTube ID Fingerprinting system or any other system such as Audiam or INDmusic so that YouTube identifies your music and ensures you get a share of the revenue when your music is used by some others.
• Create a trailer and place it on YouTube music channel page.
• Allow other video creators to use your music. Sign up for some licensing programs which add the music to some websites from where video creators can purchase a license to you're the music.
• Offer to buy the music to the visitors.
• Give the link to the website in the music video from where the visitors can buy the song.
How to Make Money From Your Music on YouTube
YouTube is the largest search engine for music. YouTube is also a great channel to introduce music to listeners. More and more musicians are using this platform to promote their music. Apart from promoting music, YouTube also helps in generating revenue. Here are a few ways to generate revenue from music on YouTube. Use the content ID system of YouTube to ID'd your music so that YouTube identifies your music monetizes the videos containing the music to generated ad revenue. If the channel subscribers exceed five hundred numbers, joining illustrated sound networks to monetize your music further. It helps drive engagements, increase the subscribers, and so on.
Become YouTube partner to earn more money.To generate more revenue, musicians can use YouTube cards – merchandise cards, fundraising cards, associate Website cards, or fan-funding cards. The crowdfunding platform is another popular method to earn money from music on YouTube.Kickstarter, Indiegogo, GoFundMe, and Patreon are some popular crowdfunding platforms. Another way to earn money from music on YouTube is to give performance lessons. Use digital platforms to find students for your classes.
Stream Background YouTube Music on Android and IOS Devices
Everyone is eagerly looking for the solution of playing YouTube music in the background while we turned off the Icon or we want to open another tab in both Android and IOS mobiles, Tabs, Notepads, and iPads.
This is the standard aggravating thing that each person has, and we have the best solving techniques in a simple way that all people can understand.
Resolving Problem in Android Device:
If we want to enjoy the YouTube music in the background of Android device while doing other works then the only simple thing we can do is that we should have the Mozilla Firefox app on our device.
First of all, we just need to open the YouTube app and then start playing the music album.
Just go to share the option on the top right of the streaming music. Then, we can find the URL link copying icon after that click on it.
Now open the Mozilla Firefox option on our device and past that link on it. You can sort it to open as a desktop form to maximize the streaming speed.
Now it starts playing without any break and we can continue with our YouTube account to get the pleasure of unlimited songs.
This can be a very effortless way to stream the music by using Firefox, which is available for free of cost and everlasting method.
Stream Background YouTube Music on IOS Device:
The option of playing YouTube on the background of IOS can also be made possible through the built- in an app like Safari.
Just visit the YouTube and click the share option then copy the URL link from then paste it on the Safari.
Then the search engine will show that video and notifies to open in YouTube then click cancel.
Again go to search option of the same page and type YouTube.com. After that, copy the video URL and start playing.
This is only somewhat critical part to enable this option.
Now, if we turn off the present tab and if you open other app then, it stops playing. To avoid that just swipe up the centre of the screen and press the start button.
When the screen turned off it plays continuously.
Note: In some IOS devices we can directly stop playing and swipe the main centre control to play the music directly.
For this, we need not to pay for anything and we can have the flash of entertainment from the next moment.
Paid Tool YouTube Red:
The YouTube Red has the option of background playing of music but, it is a little bit expensive to subscribe.
This paid subscription will lead us to have benefits blocking ads and we can access Google play music.
Through this feature of making background streaming of YouTube
There is a problem with YouTube Music, when we turn off the icon the background music stops. This problem was resolved for Android and iOS users. Here is the guide for streaming background YouTube music on Android and iOS devices.
How to get YouTube Premium or YouTube Music Premium
YouTube Red is now YouTube Premium. YouTube is the only app where we can find a real-time audience. It has become the most seeking social media channel from entertainment to learning. After the arrival of YouTube, most of the common people who are most talented at entertaining YouTube audiences are building their careers on it. If you want to find everything about YouTube Premium or YouTube Music, Premium go through this description.
YouTube Premium benefits
Watch as many YouTube videos you can without ads.
Offline YouTube Video and Playlists download on a mobile device.
Continue YouTube Video Playing on your Mobile Device while using other apps and even when your screen id off.
Complete access of YouTube Original Series.
Free YouTube Music Premium
Enjoy YouTube Music on your Google Home or Chromecast Audio.
YouTube Kids, and YouTube Music, YouTube Originals, YouTube Kids, YouTube Gaming, Google Play Music if they're available in your location.
YouTube Original Official Channel: https://www.youtube.com/channel/UCqVDpXKLmKeBU_yyt_QkItQ
How to become a Paid YouTube Member?
When you become a YouTube Premium member, you ill get access to YouTube, YouTube Music, and YouTube Kids.
Visit youtube.com/premiumon
Sign in to the Google account
Start your free trial (if you're eligible).
Select the payment method
Add a new payment method.
Click Buy to do the transaction.
Visit youtube.com/paid_memberships
View details about your membership
YouTube Music Premium
Visit https://www.youtube.com/premium.
Start your free trial (if you're eligible).
How can I cancel my membership?
To cancel your membership
Visit the Paid Membership page.
This will revert your account to free YouTube.
You can rejoin anytime again on YouTube Premium.
You can watch the original and premium video content on YouTube by getting access to YouTube Premium. It offers three months of free trial for all users.
YouTube Music And Premium Services Launched In India
Finally, YouTube has created another sensation by launching its music streaming services like YouTube Premium and YouTube Music app in India. Moreover, it came up with the most exciting offers to use the YouTube Music app.
Where the audience can enjoy the 3-month free trial pack, along with that, it wants the users to have a more personalized experience and explore than ever before.
It supports online streaming ads where YouTube premium is the paid streaming service that enables us to lock phone and place in pocket and texting while enjoying the music.
While streaming YouTube Music, we can access the other applications. The audience can download and listen to music offline. It is the most exciting app that all music lovers are looking for.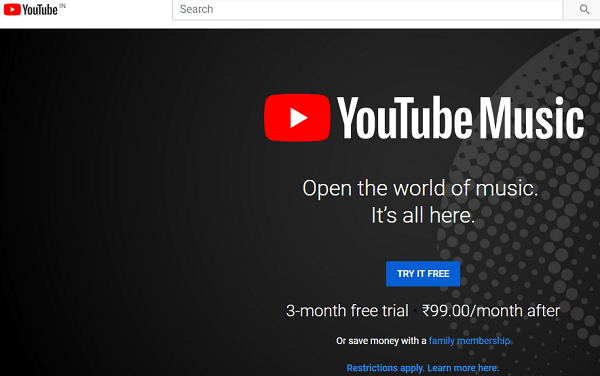 YouTube Music Premium
This app is available on both the Google Paly store and the Apple App store. Also, it can be accessed free of cost.
But the YouTube Music Premium paid streaming service as we already discussed.
The monthly payment for this service is ₹ 99 per month.
Another added option is that a family of six members can use this streaming subscription by paying ₹ 149 per month.
The subscribers of Google Play Music can enjoy both Google play music and YouTube music premium simultaneously.
The users who are subscribing for YouTube Music Premium are enabled to get the Google Play Music membership. Here they can stream both music services.
The YouTube premium is available for ₹ 129 per month in India which is launched by YouTube.
In this, along with YouTube music premium membership, the users can access the YouTube originals like BTS and Cobra Kai.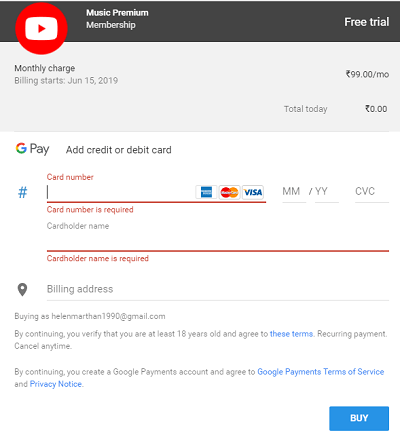 YouTube is putting efforts to serve the library of original shows to the audience just like Amazon Prime Video and Netflix.
The smart search feature of YouTube Music offers search through lyrics and predictive search where the user can get more flexibility using one app.
After downloading the YouTube Music app, you can find the live performances, recommended music and more.
When you on your location sharing then it enables to access the location-based search. Here it provides playlists basing on your location.
YouTube one of the most trending video streaming service provider in India. Moreover, the advertisers can also use this opportunity to engage their brand at the YouTube Music audience. It is going to be another hit of YouTube where the audience can get full packed entertainment at an affordable price.