Videos are the excellent tools for the marketing and to showcase your products to the Audience. Videos reveal your every moment of your lifestyle to your friends and family. Screencasting the videos gives your abilities to the users in playing games, record it and share it on media sources.
Screen Recorders are handy tools used to record the screen of a computer. By taking screenshots on your computer quickly, you can record the screen or record life's best moments with a camera. These tools can provide live-capture enhancements, post-capture video editing options and more.
Here are the few Video Recording Tool and Best Screen Recording Softwares
Best Video Recording Tools
Icecream Screen Recording
Icecream Screen can record the entire screen of the computer and the particular part of the screen Recording. You can shoot webinar, record video call or conferences by using this software. It allows audio recording along with the video.
Ezvid Video Maker
Ezvid Video makers are best screen recording software mostly used for desktops or PC. You can add keywords, metadata, titles, and Descriptions of the recorded videos. With the capturing, it will enable creating slideshows.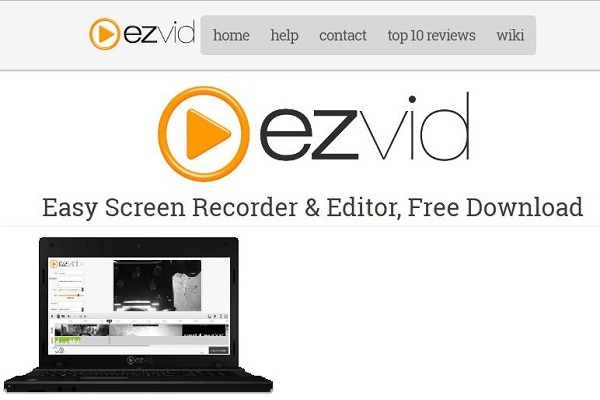 Atomic ActivePresenter
Atomic ActivePresenter is a powerful software with superb video quality that can capture all or part of your computer screen. Atomic Active Presenter allows users to add annotations and transitions effects to the videos. The transition effects used including photo slides and more effects. It provides a vast collection of post-recording video editing options.
Screenpresso
Screenpresso captures your desktop and records to create HD videos. It's one of the best premium screen recorders which can offer quick access to the previously recorded screenshots and recordings.
Bandicam Screen Recorder
Bandicam Screen Recorded is best for the gaming, screen recording and video recording software. It provides various modes for each type of records like for gaming game recording mode, device recording modes, screen recording mode and video recording modes for different devices.
Also offers live drawing while recording. It allows adding mouse clicks effects or animations while recording screen.
TinyTake
Tiny Take software is one of the screen recording software which captures your screen activity, does annotations or editing work and shares on social media platforms.
TinyTake advertises free, and feature-rich, though many features are only available with the paid options. It can add graphics from your local drive for annotating files.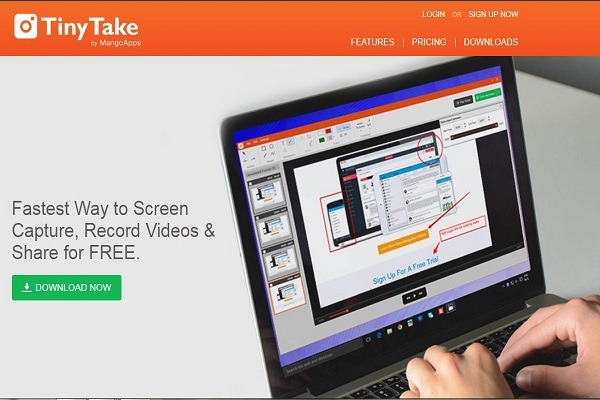 SmartPixel
SmartPixel is to design for use with games, to create high-quality videos using the advanced Video Compression Technologies. Video Compression Technologies can improve the space utilization on disks. It has post-editing functions include clipping, merging, dubbing, and adding subtitles.
Screenflow by Telestream
Screenflow software can capture your computer screen, webcam, audio from the microphone and everything included in your monitor at a time. Editings can do, once the recording is finished and can export in a wide variety of file types for publishing.
Screencast-O-Matic
Screencast-O-Matic have the option to upload your videos to Screencast-O-Matic.com's free server host. It makes a recording of both screen and webcam. It has limited options for publication with a free version.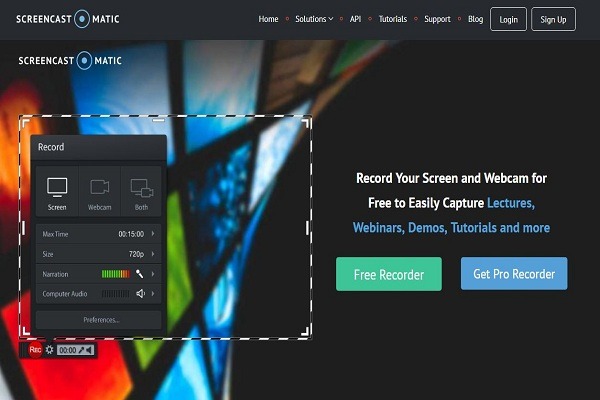 iSpring Free Cam
iSpring Free Cam comes with some necessary video editing tools and functions including features like adding some audio effects, deleting the background noise and delete fragments of video. The recorded videos saved in WMV format, and you can directly upload to YouTube using WMV file format. We should record voice using mouse, microphone or system and keep on your system to synchronize with the videos recording.
Camtasia
Camtasia suit can captures or records your activity on your computer as a professional videos formats with minimal effort in the form of multiple audio and video records. It has Google drive integration. Camtasia has free video editing app for mobile devices.
CamStudio
CamStudio is to create AVI videos of all audio and video activity on your screen. It can add screen captions to your video. Also records picture-in-picture webcam simultaneously with screen recording.
Copernicus
Copernicus focuses heavily on making quick and speedy films by recording the video to your RAM for faster access.
JingProject.com
Jing is one type of screen capturing tool, with gives the user-friendly interface to capture the images, drag and drop and records your monitor activity. Once the recording or capturing the image finished, you can directly upload on hosting sites or edit and share.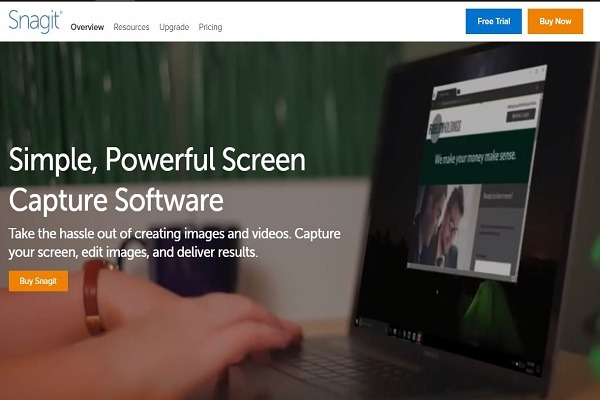 10 Webcams for Video Recording
The webcam can be used to record the video easily. Using the webcam is the easiest way to start vlogging. Different types of webcams are available and some of them lose recording quality when the light is very low and also show grain. Here are best webcams that give you a good quality picture but a good microphone need to be purchased.
1. Technet C018 comes with the compact body and flexible stand. There is a little blur when recording videos. It offers great value for the price it is offered and the sound quality is average.
2. Logitech HD Pro C920 this comes with built-in dual steroid mics, automatic low light correction, and tripod ready universal clip. This webcam is compatible with Windows 7, 8, 10 and later.
3. HP HD 4310 can be used to record video with 1080p resolution.
4. Logitech HD Webcam C270 is another webcam for video recording and its specifications include Full HD 1080 p recording, carl Zeiss optics etc.
5. Logitech C930e is an HD video webcam that allows recording video with full 1080p HD. The camera is said to be far superior to other cameras available in the market in audio quality and field of vision.
6. Logitech C310 HD Webcam specifications include 5-megapixel snapshots, built-in mic with noise reduction and automatic light correction. It works with Windows Vista, Windows 7 and Windows 8.
7. Genius Widecam F100 is another webcam that can be used for video recording. It comes with a built-in high sensitive stereo microphone, 1080p full HD recording up to 30fps and 120-degree ultra wide angle lens.
8. Defender HD can be attached to most desktops and laptops easily. It comes at a price less than $25. It offers echo cancellation feature.
9. IPEVO Point 2 allows recording to smooth motion videos.
10. Microsoft LifeCam comes with the widescreen sensor. It comes along with high fidelity microphone and high-precision glass element lens.
Most laptops do come in front facing cameras but video recording required cameras that are sharper, more capable and versatile.
Top 10 Video Recording Apps for iOS
iPhone is the top edge brand that every tech-savvy can accept. It has the best camera of all other smartphone devices. There are many comfortable features in the native application, as the size and recording. But, there is a need for a good quality app for video recording on the iPhone and other iOS phones. Here are some top 10 Video Recording Apps for iOS.
Video Recording Apps
Videon
It is one of the professional applications that can provide the basic functions with extra features like switching from back to front without any disturbance. The cost of this app is $4.99.
Fish Eye
If you want to go for a wide angle like 180 degrees that Fish Eye is the best one that can provide various effects to increase the professional quality of the video. It is available for free of cost.
VizzyWig8
VizzyWig8 HD is best for 4K recording and no need to buy a professional camera. Of course, the app is expensive and promises you the best 4K with a music video in high quality.
Camera Awesome
Camera Awesome the perfect app which can replace the iPhone camera as it has great manual settings which can deliver high quality. it is available for free of cost.
Movie pro
One of the top video recording app which allows changes in resolution, frame rate and the video quality along with the good mic. It is available for $5.99.
Magisto
Best app for small video clips recording which can be joined later within this app for perfect video. It is also equipped with the best video editor. This Video Recording Tools is available for free of cost.
Videoshop
Videoshop has good video recording feature along with the video editing. Best for slow motion and time lapsing videos. Video Recording Tools costs $1.99.
Viva video pro
All in one video recording app, it can save and upload the videos to the social networking platforms too. It costs $2.99.
Top camera
Video Recording Tools is perfect for high-quality video recording which can also stabilize the video footage. It costs $2.99.
Pro Cam 3
Best app for high-quality video recording and date stamping on videos. It can deliver professional quality video recording. It costs $2.99.
Finally, utilize this top 10 video recording apps which can fit better with your requirements and enjoy your videos.
Conclusion
These all are the useful tools that used for video recording in making screenshots. By adding professional- Looking video to your blog post is used to help the growth of the viewer's engagement. These are the free version and very affordable of Video Recording Tools and free screen recording.