The Advertising Video on Demand model is free for users, log in to stream videos in return for spending time watching ads. One of the best examples of AVOD is YouTube. Online Streaming services like Netflix, Amazon Prime Video, YouTube, and Hulu have fundamentally changed the way of viewing sporting events, Films, TV shows, and videos. OTT streaming is now mainstream in the United States, with the VOD households growing by more than 25% in the past two years.
Video on Demand entertainment and media has changed the world of streaming. When launching your VOD platforms, providers must make the most critical decisions determining the right monetization model. Mainly three main monetization models used by VOD businesses. They are AVOD, SVOD, TVOD. Ad-based video on demand is the most used online streaming service.
What is Advertising-supported Video on Demand (AVOD)?
Consumers can easily access the advertising-based video-on-demand for free. AVOD is much like traditional television services, and content is interspersed with relevant advertisements. Many of you experienced ad-supported video in action on Hulu, YouTube, Tubi, and The Roku Channels. The subscription-based content provider often overlooks it, and then consumers will pay for their content without disruptions. Top media companies prefer and successfully implementing the technique of the AVOD model.
For example, Popular OTT streaming provider Roku is generating a significant portion of its revenue from AVOD on their Roku Channel. Marketers estimated that Roku Channel's profit would be close to $1 billion with the combination of third-party apps ad sales and their own AVOD app. AVOD itself generates the bulk of the sales speculated to come from AVOD.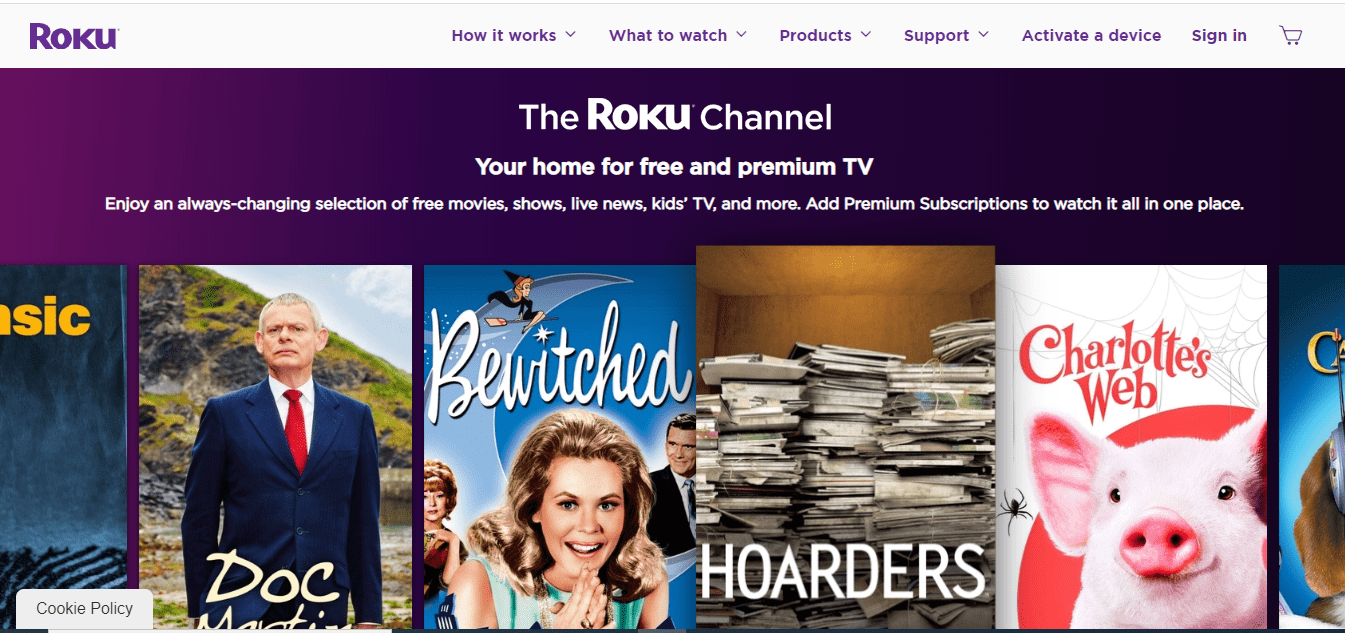 Who Uses the Top AVOD Services?
The Audience Project survey mentioned that AVOD is solely based in the US, UK, Nordic and German markets. AVOD generally generates a lower revenue than TVOD and SVOD. There are various generational differences to consider.
As per the IAB research, the US is the largest AVOD audience segment with age groups of 18-34 category, including households with children. AVOD represents the way of additional piping content into their home.
Netflix was introducing ads surfacing skippable recommendations between episodes.
Amazon also runs pre-roll promos in similar to the other streaming content circumstances.
While concentrating on the US market forecast, Roku's ad-supported streaming strengthen the Roku Channel.
Sony's Crackle ad-based VOD is undoubtedly making inroads and well-established minority services.
YouTube shifted its ad-supported strategy for YouTube Originals from the premium subscription.
Tubi TV and Vudu are the Top two platforms that are using ad-based void on-demand services that generated a high revenue from these models.
Amazon-owned company IMDb.com website offers services to the viewers, ad-supported movies, and TV shows.
Comcast also has plans to launch an ad-supported service together with 52 million NBCUniversal and Sky customers in the UK and US.
Pluto TV has introduced and added over 20 channels and is expanding globally.
AVOD is impacting APAC, and also the Worldwide digital market as per Asia reports.
Top Advertising-supported Video on Demand Platforms:
Muvi:
Muvi seamlessly integrates with third-party Video Ad servers like Spot change, YuMe, and DoubleClick. It provides you with higher control over your ad campaigns and inventory.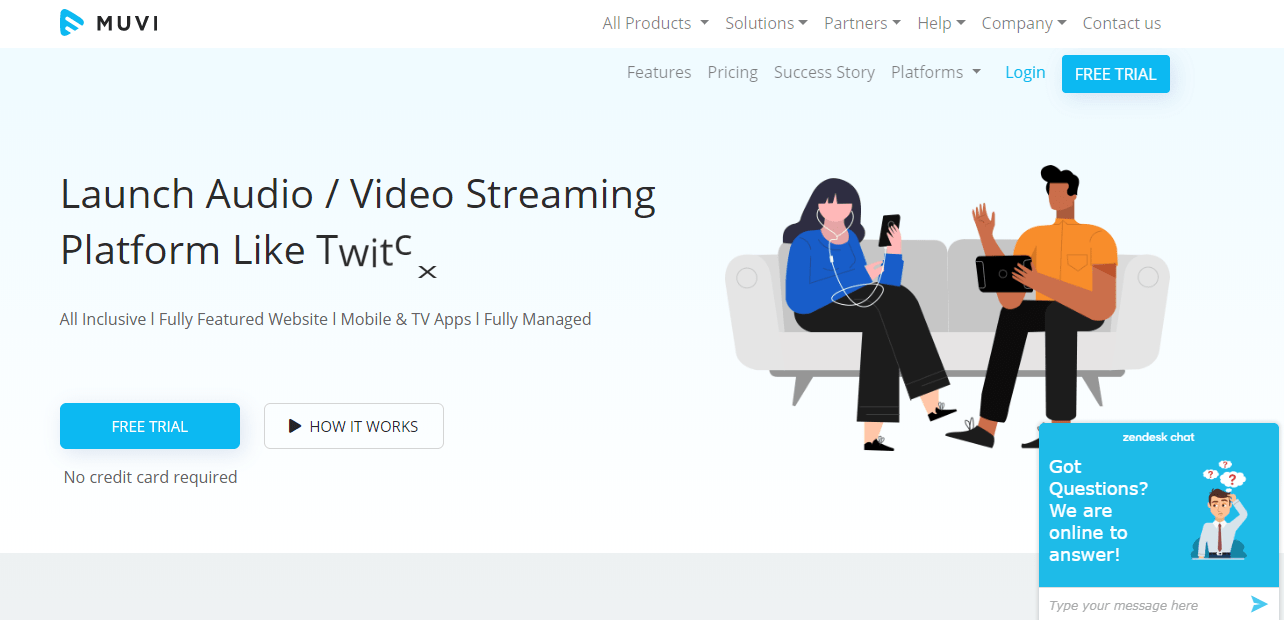 The Roku Channel:
Roku creates the Roku channel, and it offers free ad-supported offerings. It does not need subscriptions, fees, or logins. It features hundreds of TV Shows, movies available for video on demand along with 24/7 live news.
YouTube:
One popular video hosting and sharing website with more than a billion daily active users. YouTube offers original content around the world. It hosts nearly hundreds of free movies of varying genres and well as several free television shows, serial episodes.
VUDU:
VUDU Movies On Us has a free movie collection that offers thousands of films to the users easily choose from, with limited commercials. Here you can find the latest releases and Premium titles available to buy and rent through VUDU.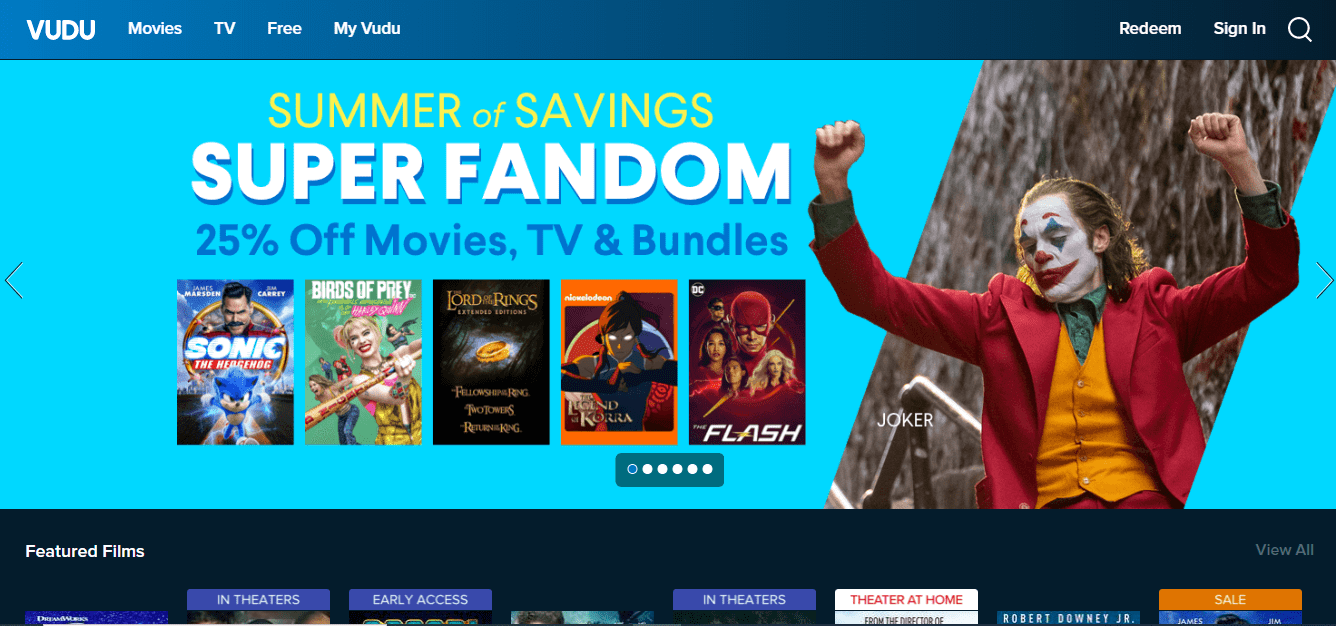 Tubi TV:
Tubi TV has content from over 200 partners and studios like MGM, Paramount, and Lionsgate. It enables users to stream thousands of hours of TV shows, Movies for free cost on any device.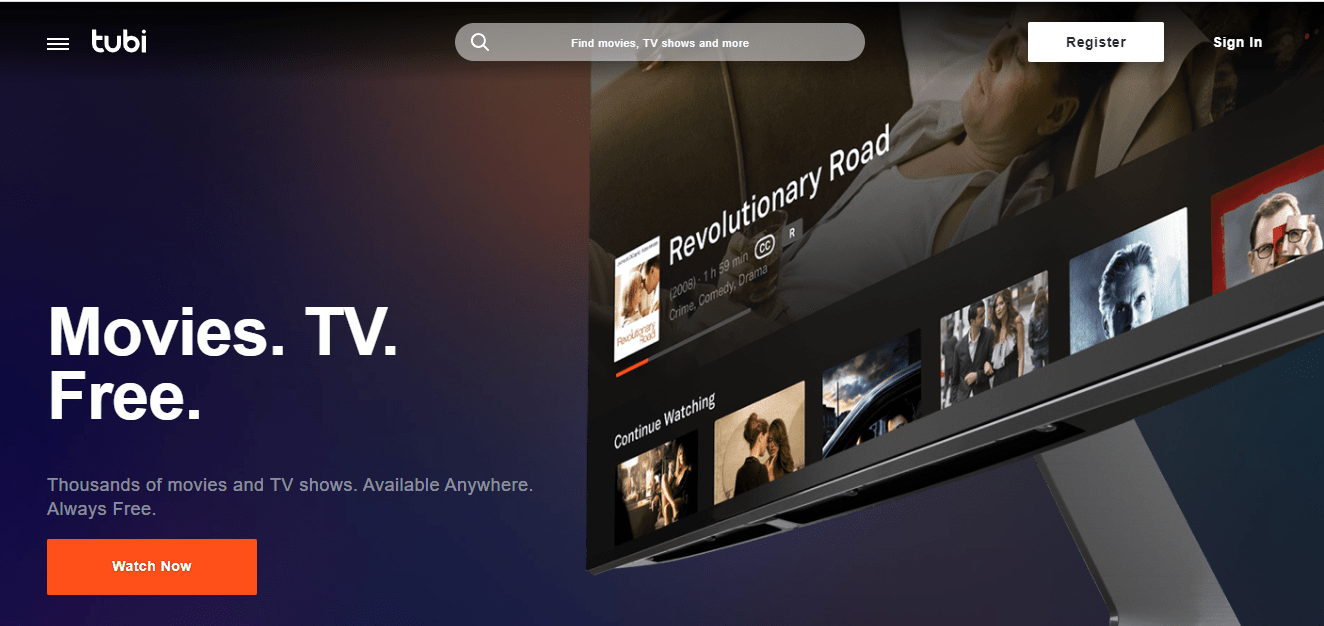 Crackle:
Crackle is a subsidiary of Sony Pictures Entertainment. Sony Crackle is the company website that allows users to stream 100% free TV shows and movies from any device. Sony Crackle hosts around 150 full-length Films, and 75 different TV shows series.
Pluto TV:
Pluto TV offers a Live TV streaming service that provides access to thousands of free films and TV shows. PlutoTv is unique in that it streams content from both channels like CNBC and Bloomberg.
SnagFilms:
SnagFilms provides more than 2,000 free movies, documentaries, TV show episodes, and exclusive original comedy clips. With the help of Snag Films, users can stream from any type of device, including Smart TV, Desktops, Tablets, and mobile phone.
Xumo:
Xumo offers more than 150 different channels for free, Video-on-demand. This video streaming platform gives access to a variety of programming music, including sports, news, and comedy.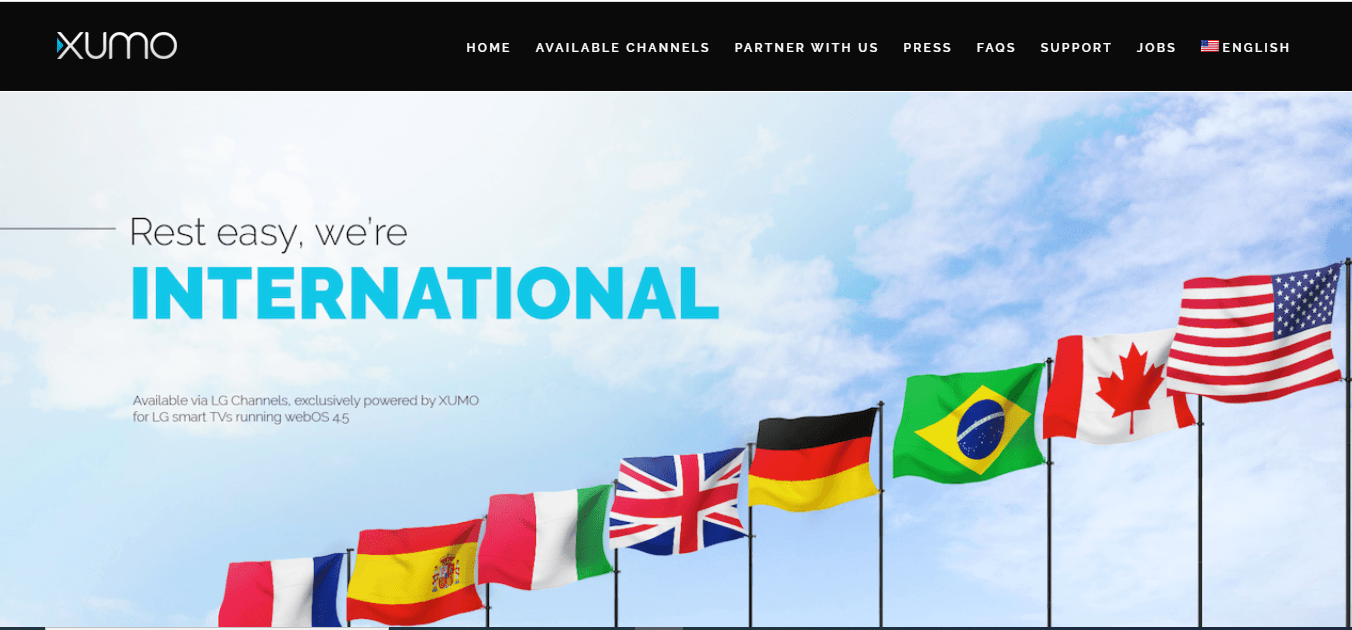 PopcornFlix:
PopcornFlix app hosts over 700 full-length films of different genres with free content added daily. This app is a subsidiary of Screen Media Ventures that is the largest independent distributor of motion pictures to the worldwide television market.
Advertising Video on Demand (AVOD) Trends:
Several important things have happened concurrently in the AVOD market that has led to the emergence of AVOD.
Telcos coming with AVOD:
Telcos will start experimenting with how to add extra value to pay-TV—the usually secure revenues from two sources by combining AVOD and subscription.
Adtech comes to improve AVOD monetization:
The key will be only implementing the diverse, original content, and it also improvements in ad tech data strategies. The best example, Hulu, is innovating with targeted advertising that binge rewards for watching its programs.
User Friendly:
The main reason behind watching on-demand video content is that it allows multiple users at a time and the same place to watch various programs on different devices. This has increases the popularity of AVOD and binge-watching enhanced customer viewing experience.
Mobile-Friendly:
The wide use of mobile devices and increasing access to high-speed internet access has helped the customers to stay up-to-date with the digital world. It also reduces the need to wait. As must as the VOD increases and viewing experience of ad-based VOD is also increasing.
Making the new out of the old:
Roku, Tubi, Pluto TV pose an existential threat and these AVOD companies are the future of traditional broadcasters. It has over 65,000 hours in the back catalog so that AVOD has become a significant consumer base, and AVOD will grow at the expense of linear broadcasters.
Complimentary service:
AVOD means that more ad spending will shift all the consumers to online video. Ad based video platforms are already widely spreading Globally and have implications across multiple markets. Some of the AVOD studio direct models, including NBCUniversal's Peacock, Disney's Hulu, are adopting a hybrid AVOD model.
Winning eyeballs:
The online video streaming world will be watching closely how Pluto TV, Tubi, and other AVOD platforms fare as they look to expand in the coming months. But at the end of the year, we have a much clearer idea about whether 2020 is really will be AVODs decade.
Advertising Video on Demand (AVOD) Statistics:
VOD market was valued at $56.55 billion in 2019 and is expected to reach $120.91 billion by 2025.
Nearly 80% of the AVOD players' catalog is over five years old.
Global AVOD market generated $22 billion as per the Digital TV Research.
Marketers predict that AVOD global revenue will have more than doubled to reach over $56 billion by 2024.
The consumer's penetration will be 11.9% in 2020 and is expected to reach 25.5% by 2025 globally.
The average revenue per user is expected to reach by $58.52.
The United States had notified as to the global leader when it came to AVoD expenditure, with $7.99 billion.
It's a prediction that AVoD spending in the U.S will reach $24.2 billion by 2025.
AVOD revenues in Europe will increase from $643 million to $6.3 billion U.S in 2020.
The Global AVOD expected revenue would reach $56 billion by 2024.
Amazon and Roku take a 30% cut of ad sales from the partner apps.
Global AVOD revenue will reach $26.7 billion by 2020.
Asia-Pacific region AVOD has the highest concentration at $13.2 billion.
In North American AVOD, revenue increase from $6.1 billion to nearly $7.7 billion within two years.
Overall North American AVOD platforms are generating $20.3 billion revenue.
China will be generating 29% of the global total by $16.60 billion.
Conclusion:
AVOD is a fantastic model to monetize your videos without pay from the audiences. They need to charge a few seconds of viewers' time in exchange. If your content works well, you will see an excellent revenue form AVOD. AVOD is the best method to monetize and offering ads based on on-demand content.