Now the most exciting thing that has blown the video platform is 360-degree videos. Everyone wants to use this concept of 360-degree videos to share on social media. As Facebook is the number one on the social media sites to make communication by sharing posts or videos. So by considering the people requirements, it's encouraging the public to create 360-degree videos to post on their profiles.
360 Video Cameras For Facebook
Are you waiting to create 360-degree videos for Facebook then the below are the best 360-degree video cameras that give the extraordinary results. This video seems that has been taken by the professional photographer.
Samsung Gear 360
Samsung Gear 360 has the 4k resolution of video and it well-suited for all smartphones of S8, S8 plus and iPhone.
It can be used to capture 60 fps with an HD resolution of 1920×1080.
By using this we can make live streaming, looping video, landscape HRD and time-lapse video to stream in Facebook directly.
It has the facility of Wi-Fi to access directly to the Facebook . Click here know more about Samsung Gear 360 .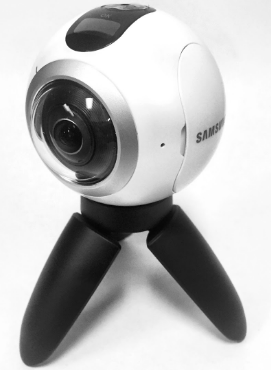 RICOH THETA S
The attested lens in RICOH THETA S will give the highly qualified quality which suits for the dignified videos.
The 8GB memory in it might be helpful to capture the 65minutes 360-degree video continuously.
When the temperature from outside exceeds the certain limit then it shutdown itself without any physical involvement.
This can be best suitable of for live streaming on Facebook at 360 degrees.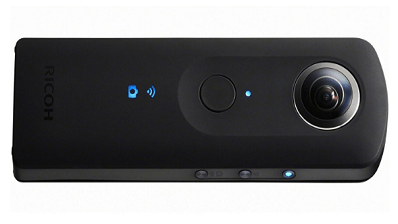 360Fly
360 fly is the topmost virtual reality 360-degree video with 4k resolution with 64GB memory storage.
It has the facility of GPS to find the location to get 360-degree video of time lapse.
Through the app of a 360fly director, the live streaming can be done on Facebook.
The editing of videos can be done in a simple way.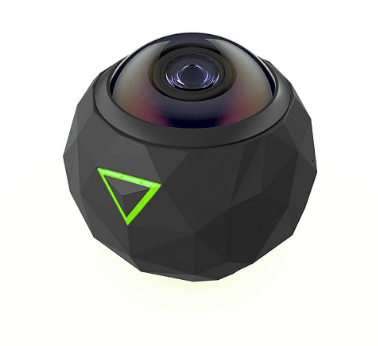 Giroptic 360 Cam
It is built with here varied microphones by giving a resolution of 2k at 30fps equipped with three diverse angles and supports a 4k resolution to capture the images.
360cam gyroscopes give the images at superior quality.
The application of 360cam will be used for live streaming onFacebook.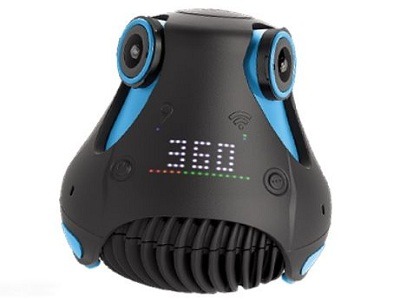 Allie Camera
This Allie 360 degree camera is user-friendly for mobile consumers. It has a microphone and 8 MP camera with 4.7 GB supporting memory.
The services of WI-FI and Bluetooth will helpful to access the streaming on Facebook directly.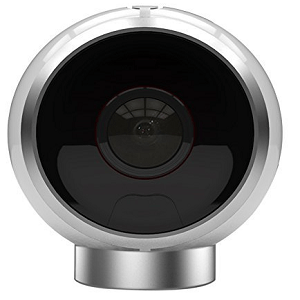 360 Audio Recordings for Facebook:
You have perfectly captured the 360-degree videos by using ultimate cameras then, what about audio for those videos.
A good video with the composition of extraordinary audio will give the flawless frame for either live streaming or any playing video.
Zoom H2n:
It is very easy to carry anywhere as it is compatible with hand.
It has multiple modes for recording the voice with four varied microphones those results in the high-quality audio.
It supports filtering of low cut and to compress the audio that suits for any device.
Simply it is flexible to record all types of audios, especially for live recording.
Spatial Audio well matched for 360-degree videos.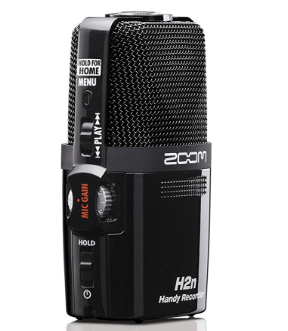 Core Sound Tetramic:
Core Sound Tetramic is a 'sound field' microphone.
It is 3D audio of amba Sonics binaural audio with a head related transfer function.
The size of the core sound tetramic is very small and compatible with any type of rig to make recordings.
This can be used to record the audio for VR videos to upload to Facebook.
360 Video Specifications for Facebook:
While uploading the 360 degree video on facebook, we must follow some specifications to upload the file like size, dimensions and pixel format. The file length should be less than 45 minutes long and the file size should be less than 1.75GB.
File type: MP4 container: MP4 is a media file container that storage of mp4 video, an audio file and subtitles completely wrapped into one file format saved in .mp4 file format.
File size: 1.75 GB: The video file size will be less than 1.75 GB , if the file length is long and larger the file size it effects on the quality of the video file and clarity may decrease.
File length: 30 minutes maximum: If the video file length is up to 20 minutes long then it is ok to proceed at a time. But it is more than 30 minutes ( i.e longer file), that may be divided into small video clips to process.
Video Codec: H.264 Video: H.264 is a new video codec advanced format introduced to display high quality videos with low bitrates.
Resolution: Facebook allows as high resolution as possible with max 4K video input with the dimensions of (4096 x 2048).
Dimensions: Aspect ratio is calculated as the proportion of images width and height dimensions separated by colons. The facebook 360 degree video should be 2:1 Aspect Ratio display.
Frame Rate: most of the digital cameras are allowed 45fps to the videos. To upload a 360 degree video onto Facebook it allows Up to 60 FPS.
Pixel Format: Facebook 360 degree video contains yuv420p pixel format. So it displays high quality video.
Depth: Generally VR camera works for two depth views. Monoscopic view focuses on a single point of view, whereas a stereoscopic view focus on multiple point views. Facebook 360 degree video with depth as Monoscopic.
Audio Codec: Advanced audio Codec offers loosely audio compression, AAC allows clarity better than MP3 players.
Projection Format: Equirectangular projection commonly used for VR cinematic view format, it shows like an inside view of the rectangle like world maps.
How to Upload 360 Video onto Facebook:
Facebook had pushed a procedure for how to upload 360 videos onto Facebook pages as well as own timeline.
It the video file is recorded with 360 degree video cameras it adds 360 metatags to the video file, then you can directly upload onto facebook page
If the video file is recorded with nor cameras, it does not have 360 meta tags, Facebook asks you to add 360 metatags to your video file to upload.
Then follow the steps below to upload as normal video or photo onto Facebook page.
First Click on the " Photo/Video" icon at the top of your News Feed or Timeline.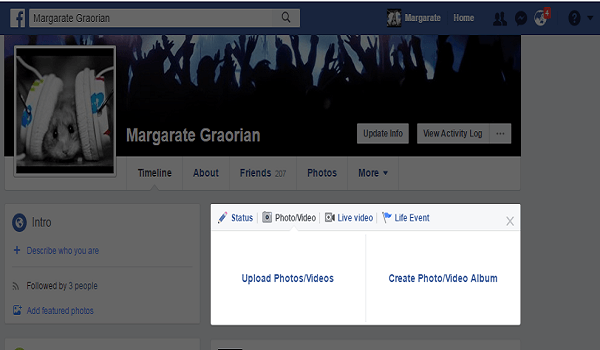 Select "Click Upload Photos/Video" option to choose a 360 video/photo.
Then, Select a" video" from your computer, where you saved the video file in drives or desktop.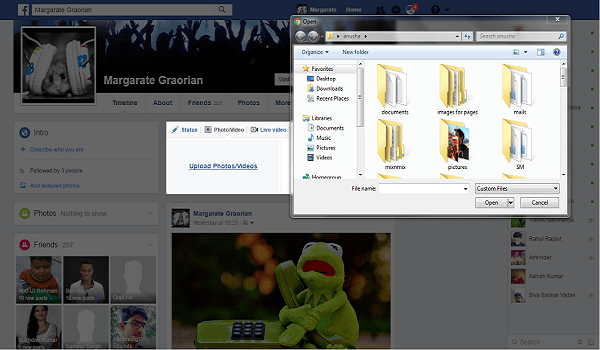 Enter an optional update, then enter "Video Title" or give a name for the video and select a "Video Category" or the type of the video.
Thumbnail for the video describe video content or image to display video file.
To select a "thumbnail", click the arrows on the preview of your video or Add Custom Thumbnail to upload a photo.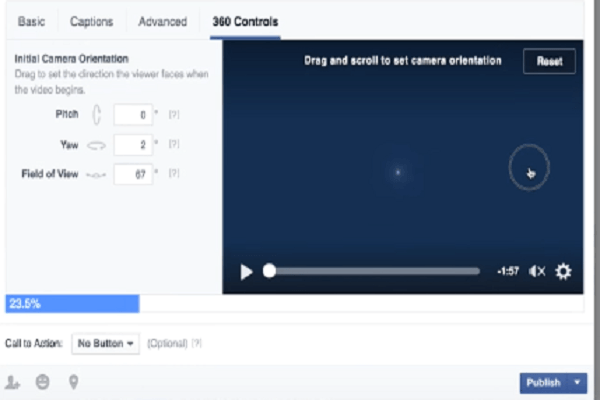 Click on the "Advanced tab" to check if the checkbox marked for choosing a video file recorded in 360 formats.
Select the "checkbox marked"This was recorded in 360 formats.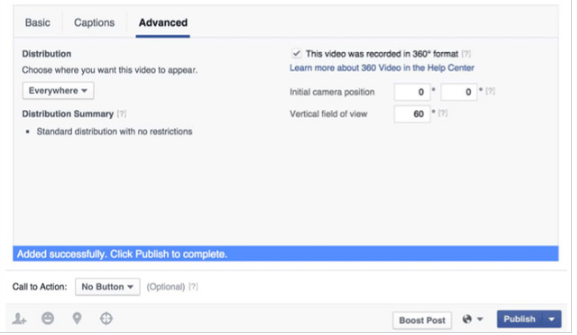 Then Click on "Publish" button to publish the 360 videos on your timeline.
Embedding 360 videos onto your website:
Embedding 360 degree video is not much easy task, sometimes it shows some errors while playing the video.Embedding and sharing the video urls in social media websites like Facebook, YouTube, twitter and Snapchat.
Follow the steps to embed the Facebook 360 degree video.
Once You finished with uploading the 360 degree video onto Facebook, you can directly share that video to your friends on websites.
Go to the "Facebook page" or Facebook Profile where you have uploaded the 360 degree Video.
Select the "360 Video" on the profile page, right click on the "Video" it shows three options.
The three options are Pause, Unmute and "Show Video URL", select "show video url" option.
Then it displays "video url" on top of the video displaying.
Next "copy " the URL, and then "share" it on websites.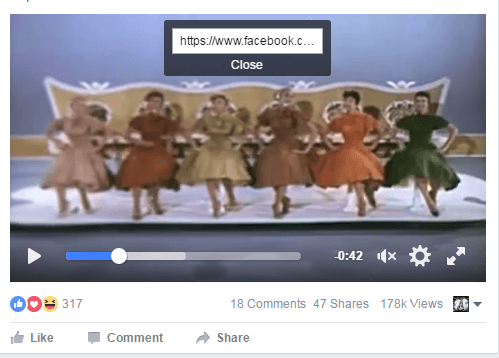 Insights and Measurement for 360 videos:
The Insights of 360 Degree video, provides greater engagements with the audience compared to images. 360 degree video and photos get highest engagement with the audience and had great flow.
The 360 degree video is straightforward and encourages and engages more compared to normal posts.
It's a common task for every marketer to promote brands through social media and they are counted by number of view and shares to that video.
The insight of the Online Publishers Association, they measures, 46% users take action after viewing the videos. The remaining 54% is from consumables call to action videos.
According to Rhythm One Insights the completion rate of mobile video ads is 88.3%. This was considered interrupting the audio decreased and video viewing capacity increased.
How to Promote 360 video on Facebook:
Brands should not have limits to promote their brands through video content on free social media platforms.
After investing more time, money on creating a successful 360 video campaign just focus on how to promote your 360 videos on Facebook.
Once if you have uploaded the 360 degree video on your Facebook profile page, go to the "Facebook profile" page .
On the Advanced tab , check the box "this video was recorded in 360 degree format".
Then "publish" it or "schedule" for later. Once your post was published you get a notifications like "Boost Post" .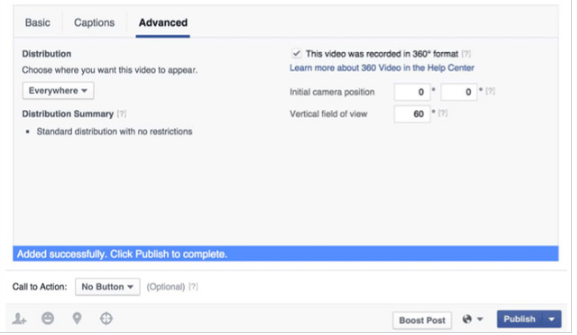 Then you can boost your post to promote it on Facebook.
You have another option like "Copy Video URL " and share it on different social media websites to promote your 360 degree video.
Conclusion:
Here you can find the complete details to make 360-degree videos to Facebook, and you can make an amazing video with the helan amazing cameras and audio equipment. Amazing guide for how to upload the 360-degree video onto Facebook, How to Embedding Facebook 360 Videos and how to promote Facebook 360 degree Video.