Over the Top Consumers completely changed the way of video consumption. Video viewing on Traditional televisions has replaced anywhere any time on-demand video streaming on apps. According to the 2019 Survey, When it comes to Indian Viewers, they love to watch the regional content on OTT platforms. Here are the 50 significant Indian OTT statistics shows how Video Consumption in India get bigger over the years.
Indian OTT Statistics
The OTT video platforms subscriptions in India added 12 Billion Indian Rupees in the year 2019, and it may reach to Rs 74 Billion in 2024.
By 2022 the media and entertainment of the digital market are the second-largest sectors.
English and Hindi are the most preferred languages of Indian OTT content consumption, and along with Telugu was the most popular regional language.
In the country, 55% of OTT users are from metro cities, and 36% from tier 1 cities.
Hotstar is the leading OTT video platform in India, and 56% of its consumers are from metro cities.
Hotstar has massive subscriptions are followed by SonyLIV, Amazon, Netflix, Eros Now, ALTBalaji, Voot and ZEE5.
89% of OTT video consumers in India are youngster aged 16 to 35 years.
68% of the Eros Now video content is being watched by the Indians.
Amazon and Netflix are the highly popular subscription-based platforms of Indian metro cities.
We can find 79% of male consumers of OTT video platforms in India.
4,000 OTT consumers participated in the survey conducted over the top 25 cities.
The Indian OTT video platforms are focussing on the ad-based model, where revenues from advertisements.
India OTT video content platforms are having huge demand in the market and having high competition.
The revolution of the low cost of mobile data and inexpensive smartphones have done to consume the videos.
The Indian OTT video viewers spend 70 minutes per day watching the video content.
The viewers in India are accessing approximately 2.5OTT platforms per day.
In India, 30% of consumers prefer to watch movies on OTT video platforms.
Original video content is the most preferred category, and 10% of respondents choose the same.
87% of the audience consumes the OTT content from their mobile phones itself, and 27% of consumers are consuming the content during office hours like 10 AM to 6 PM.
30% of viewers watch the OTT video content in languages other than English and Hindi.

As entertainment meets online, 38% of consumers might prefer the cord-cutting.
The Indian OTT video market overcomes South Korea by becoming the 8th biggest market by 2023 in the world.
Hotstar wins 40% of Indian OTT platforms.
By 2023 the Indian OTT video content market may reach $5 Billion and Reliance Jio offering the mobile data at low cost, which is directly responsible for lifting the Indian OTT market revenue.
16% of the Indian media consumption goes on digital media.
Indian Video streaming industry predicts the Growth rate at a CRGA of 12.82% by 2023, and the estimated revenue will be Rs. 11,977 crores.
In the next four years, the overall Entertainment industry will rise 11.28%, and it will reach to 4.51.405 Crore.
In India, people spent 70 min on OTT video streaming platforms in a day.
30% of Indian OTT Consumers love to watch movies on online platforms.
By Google survey, 97% of the video consumption on YouTube belongs to regional languages.
60% of the watch time on YouTube is from outside of the Indian Metropolitan areas.
Traditional Tv and Home video services growth rate will be raised to 11.83% by 2023, and the revenue generated will reach Rs. 1,23,047 crore.
87% of the OTT content consumes through Mobile devices.
30% of the people in India prefer to watch content other than English and Hindi.
Internet access in India will rise by 16.02%, and it will reach its revenue Rs. 1,16,843 Crore by 2023.
The online video market India will cross 300 million by 2019.
24% of the rural internet penetration discovered in India by 2018.
Indian Online Video consumers survey says that 1,458 users of OTT discovered in 16 metropolitan cities of India.
72% of the unique visitors in Netflix are men aged between 15-24 and older female group 35+.
74% of the individual visitor for Airtel TV is Female aged between 15-24.
In India, 71.68 million Male and 33 million females use YouTubefor video streaming.
In India, 8. 54% growth rate discovered on Cinema worth of Rs.17,789 crore.

Among all OTT platforms, Amazon Prime is on Top for OTT consumption. 7.35 million male and 2.35 million female consumers for Amazon Prime in India.
India is the tenth-largest OTT consumers in the World with Rs.4462 Crore standing revenue.
Hotstar comes under the second-largest OTT service in India of 36.13million male and 16.65 million Male consumers.
Indian Video OTT revenue expected to reach Rs.13,800 crore by 2023.
More than 30+ OTT players used in India.
80% of the market contribution goes to advertisements and the remaining 20% for the subscriptions.
Cricket streaming on Hotstar kept the second-largest OTT platform in India.
45.88% is the highest share market for Hotstar discovered in India.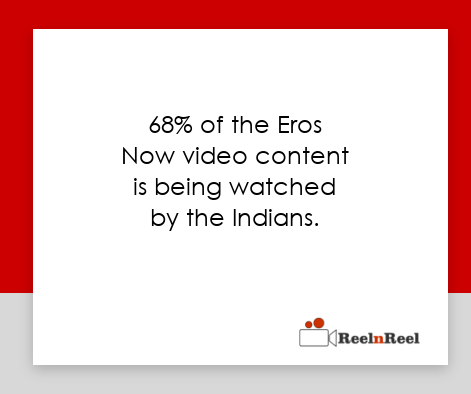 Conclusion
Mobile and low cost of mobile data are most responsible for the rapid growth of the Indian OTT market. Moreover, people are spending a specific time entertaining themselves by watching original content where Amazon and Netflix are vital players. The advertisers are most responsible for getting into the world of OTT platforms.