People can access content from anywhere, anytime now thanks to the mobile devices. So much of the material is available that marketers have to put more effort to stand out from the crowd and engage the audience. The current trend followed by marketers in advertising is the Personalized Video Advertising.
"Future is evolving your video advertising to take advantage of one-to-one communication using "Personalized Video Advertising."
Many times, video proved to improve the effectiveness of the advertising campaign. It enhances the click-through rates, conversion rates, lead generation, etc.
The personalized video is the new thing being used by marketers to connect with prospective buyers. There are many ways in which the customized video through marketing campaigns.
"Personalized Video Advertising has already a proven method to implement it by driving online sales."
Personalized video advertising is a great way to show the customers that the company cares for them. Wish them on special days with the video or send them video thank you note which will be appreciated by the customer.
Personalized videos are one of the most significant ways to grab and keep the attention of prospective buyers and customers.From the top of the sales funnel to closing the deal, it is beneficial to address the customer with their names via the videos.
Personalized Facebook Video Ads:
Personalized video ads have many benefits when you compared with other traditional images, video ads. We have a better chance of engaging audience through Facebook video ads.
One of the favorite devices that people always browse on the internet is Facebook. Video advertising on Facebook has become trending on mobile devices.
We can offer more personalized video ads on Facebook to enhance audience engagement because customized video ads can fit any screen of and optimised for Mobile devices.
Advertise a video with describing your product or services you offer that it can convert Video Viewers into customers.
"Personalized Video Ads and real-time pre-roll video ads – perform with a click-through rate (CTR) of 2.76% in the telecom industry. "
Different Ways To use Personalized Video Campaigns:
Use the personalized video in the email marketing to promote the content. The video can apply to the landing pages. This type of video can be used even for announcing a new product or service.
Start the video by addressing the prospective buyer with the personal name. Tell them about the new product or service and make the customer feel that you are listening to their requests.
To Enhance Your Event Promotion:
Whenever if you are arranging an executive event that time you invite the entire list of users to conference. Here personalized video prioritized first.
Create a personalized video which included the whole list of recipients invite them with a ticket Name on it, a badge with a custom logo and reserve a seat with a personalized tagline.
To Announce a Services or feature Products:
Your audience always waits for the new updated from their subscribers or a brand, tell them about your new portfolio with a new personalized video.
Start with customer name, write about their requested product is launching with a huge difference in their outcome and show the features of a new product in videos.
To Customize your Content Marketing:
Prepare an excellent presentation video with customized fields on it, send emails with a personalized video along with registration form.
The video could describe the product details and mention the proprietary information for whom you designed this content.
"A True Personalized Video Ads drives the most value and highest return on investment."
Personalized Video Advertising Platforms:
Here we have different Personalized video advertising platforms. Let us have a quick look on each one.
Treepedia:
Treepedia is leading in providing personalized video ads for the significant number of audience. Treepedia is specialized company for designing personalized videos, personalized ad trailer over hundreds of online customers, and it addresses every customer personally.
Idomoo:
Idomoo is famous for designing personalized video all over the world. It creates personalizes which describes the visual storytelling of the brands. It always engages with customers every touch point of their customer journey.
Sightly:
Sightly is a personalized video advertising platform which enables to convert Viewers to Customers. It slightly creates individualized, and people center targeting and design premium product videos.
Mixpo:
Mixpo helps you in creative art studio ads, premium product ads, centralized workflow and it improves how to sell, produce, manage and analysis for digital media campaigns.
VID:
VID is the only platform-based video advertising platform, effective video marketing and rich in original personalized data. VID engage with the customers throughout the journey and increase the campaign ROI.
"Personalized Video Advertising contains a direct sales message or promotion related to each customer journey, and the content is then personalized to each customer individually."
Jivox:
Jivox provides real-time personalization for the marketers, increase the conversions. It gives best customer experience with relevant content.
Vehicle:
The vehicle is mobile marketing and personalized video advertising platform which offers high customer engagement and increase the sales through social media.
Eyeview:
Eyeview is an Outcome-based videos marketing platform which generated one-to-one personalized video advertising for your business. The guaranteed outcome shows in sales results.
Three Ways Personalized Video Advertising will benefits:
We can render the right content, at the right time to the consumer.
We can provide compelling products and offers.
We can Target old and current customers throughout the buying Lifecycle.
"220% increase in conversion if you use Personalized Video Ads"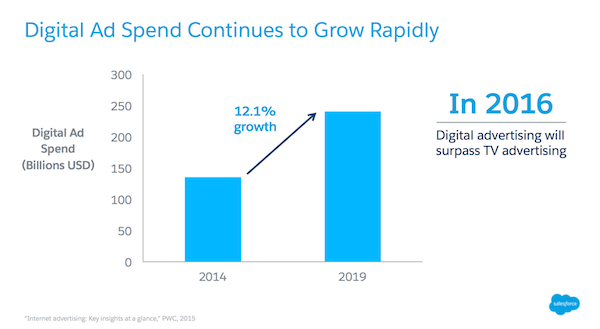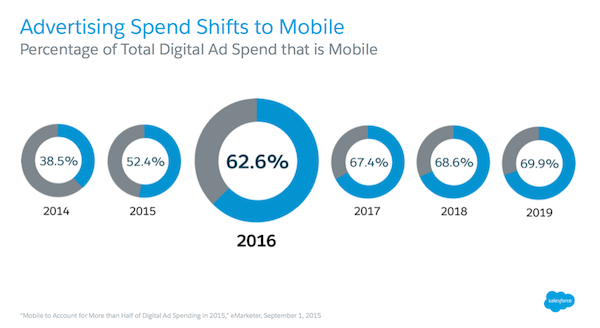 Image Source : Salesforce.com
Examples of personalized Video Advertising:
The video is a more comfortable means to explain, and when it is a personalized video, the customer will feel that the marketer is directly talking to them. Customized video advertising is here to stay.
Creating and producing personalized videos is the best way to be fast and personal. Customers will appreciate the fact that the content is tailored for them specially.
Based on Timezone:
You can identify a vast difference when you send advertising emails as a bulk recipients and with a personalized recipient's name with a personal invitation.
Advertisers send personalized emails according to the personalized time zone that leads more customer engagement.
Indiaviduliging the Customer Needs:
As of content marketers design, personalized ads created customer point of view. A brand or a company must know the needs of the customer to develop products.
Some ads are specifically designed for the needs of the customer to specify their requirements and allow them to drop their ideas as comments.
Conclusion:
More than 80% of marketers reveals that fulfilling the personalized needs of a customer is a significant challenge to them. Do you want to know is this true? Just have a glance on above guide how customized video advertising was changing the world of Business.