TikTok shines as the most downloaded app across the globe. It just started as a video sharing app, and later it ruled the world. Well, everyone knows about TikTok, which is trending all over the world. We are here to give a few points about the successive marketing guide on TikTok, which is useful for many businesses, and the platform's young audience.
Most Downloaded App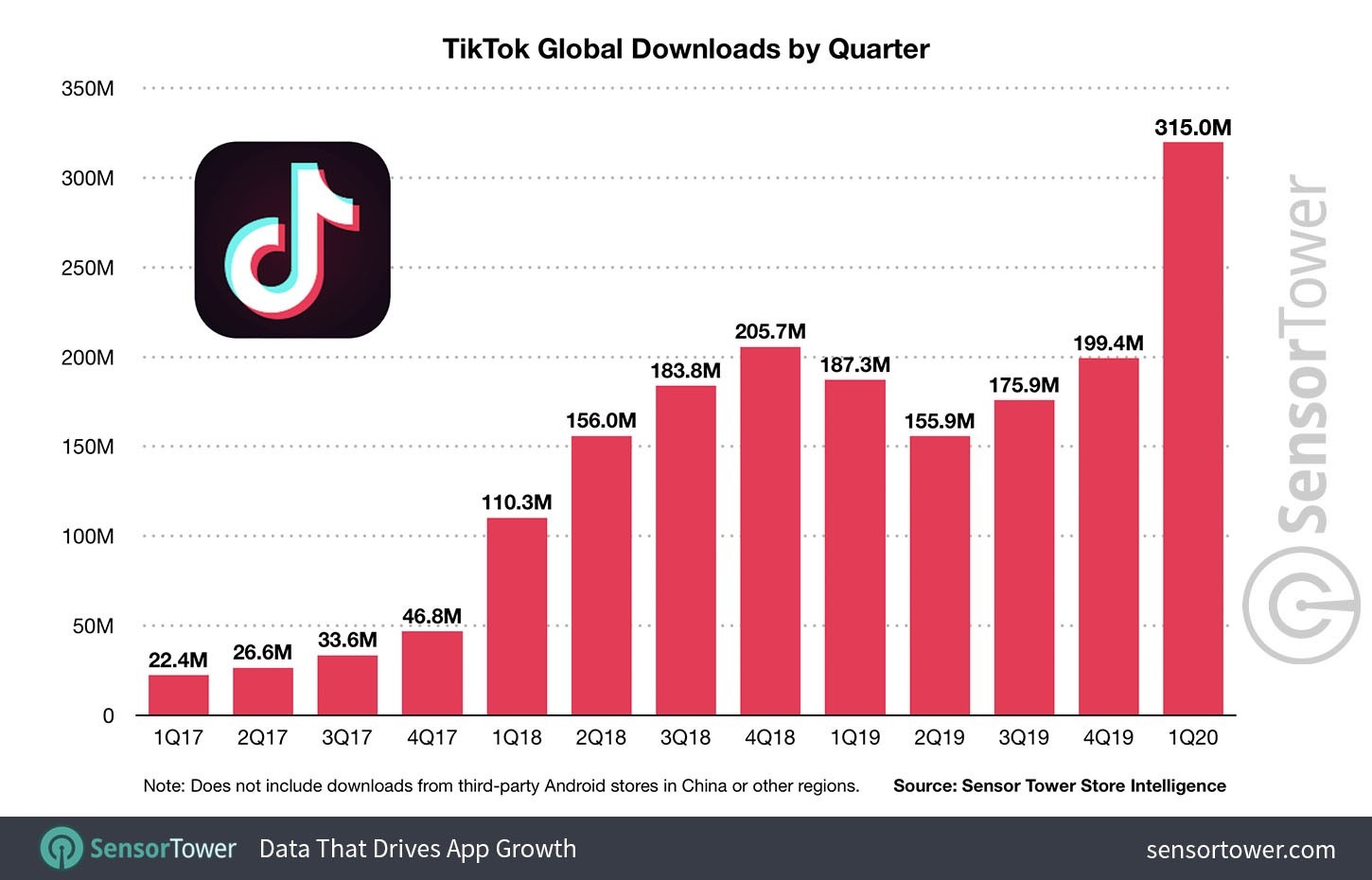 The most substantial impediment to TikTok advertising success is that many marketers aged over 30 have never heard about the platform.
Last year, TikTok had tremendous growth. TikTok was the most downloaded app on iOS in the first half of 2018. It also ranked top on Google plays in later 2018. The TikTok app ranked third in the year 2018.
TikTok crossed over the 1.1 billion downloads in early 2019. In 2018, people used to download the TikTok app above 650 million times. Also 190 million times during the first quarter of 2019. Over 550 million people are using the TikTok platform every month all over the globe.
TikTok
TikTok refers to the short-term videos app. Many former Musical.ly users post videos of lip-syncing music. The proficient members post the original content videos, and these people became the Influencers on the network.
All the videos on TikTok are about 15seconds in duration. You can also create 60-second stories based videos. Both the app, Musical.ly, and TikTok, targeted the same level of audience – teens. The platform has been turned into to showcase their talents, dance covers, singing lyrics, doing make-ups, exploring their skills, etc. Now, people also use the platform to reach their products or services.
The primary reason to use the app is no need to follow someone to watch the videos. Go to the discover page on the app, and play the entertaining videos. You can search for the videos by using the hashtags.
Users Of TikTok
Musical.ly app targeted the Z-generation. It is too soon to find out if there is undoubtedly any true alter with TikTok. Teens still cover it, and also the 68% of TikTok users are aged under 28. Female users are found maximum in the platform.
It contains enormous users in India, the USA, and China in the form of Douyin. Since 2017, Douyin has been regulated in China. 50% of users on the platform are aged under 24 at the start. Only 32% of users are under 24, 24% of users are aged under 25-30, and 24% of users are aged under 31-36. It will be exciting to see if we see the same pattern with TikTok in the remainder of the entire world after a while.
Steps To Advertise On TikTok
There are three simple steps where brands can advertise on TikTok.
They can post the relevant videos through their own channel.
They can join with Influencers to spread their
Create content for a broader audience.
They pay to market on TikTok. However, TikTok becomes more famous in a short duration across the world.
Most of the brand works using the Influencers and running their own channels to share their glorious contents to a vast audience. You can try different tricks stated below on your own channels.
Stunning videos created and posted to TikTok are capable of attracting numerous TikTok likes and driving more engagement. Also, you can suggest your Influencers to make and share these types of content.
TikTok Hashtag Challenge
An essential component of TikTok's platform is challenging. Users on TikTok love to participate in challenges and shooting and posting videos.
Every challenge on TikTok is given with a #tag name for easy to search and unique purpose. The known challenge was a #tumbleweedchallenge by Jimmy Fallon, a famous US tv celebrity.
He asked the viewers to drop down on the ground and roll like a tumbleweed, with the music playing in the video background. It leads to nearly 9000 submissions and over 10.5 million engagements. Then Jimmy Fallon continued to give many stunning challenges to his viewers through the related hashtag.
Brands also use the hashtag trick on TikTok. If you need to build up your TikTok channel well, you want to join hands with the Influencers on TikTok to bring your hashtag challenge. People can participate in your hashtag challenges on TikTok with few clicks.
UGC (User-Generated Content)
It is a marketing strategy that every brand can start from its own channel on TikTok, or they move with Influencers on TikTok to get their followers to create UGC, variably encouraging the brand.
If you can inspire your audience to film and post videos with your products, you will easily reach a high reach.
Influencer Marketing On TikTok
Influencer Marketing on video-based networks like TikTok has the same strategy as YouTube. Your Influencer campaign on TikTok will succeed if your products match the audience of the Influencer.
Your Influencer knows what their followers like, so leave it entirely to your Influencers to make the content. They are experts who have huge potential to lay the right content plan for your brand.
The primary step for Influencer marketing's success will be setting up the exact goals, targeting the clear-cut region of the purchase funnel. And every brand needs to do regularly is motivate their Influencers on TikTok to shoot the videos with your products.
And also, it only comes to work if your Influencer uses your products. There is very little importance in seeking to inspire an influencer to market the wrong item. You are not likely to promote retirement life residences or seeing and hearing tools on TikTok efficiently.
They are less interested in the high production values and the camera work, it's the major drawback for young clientele on TikTok. You want to believe in your Influencers on TikTok to create the video contents in their way – even if they appear amateurish to a marketer's vision. TikTokers are more interested in fun and originality than your video quality.
Types Of TikTok Ads
TikTok started advertising on the platform last year. It did not draw any profitable system yet on advertising; they are also getting the spot where many people are advertising on the platform. TikTok showed their first ad in early 2019.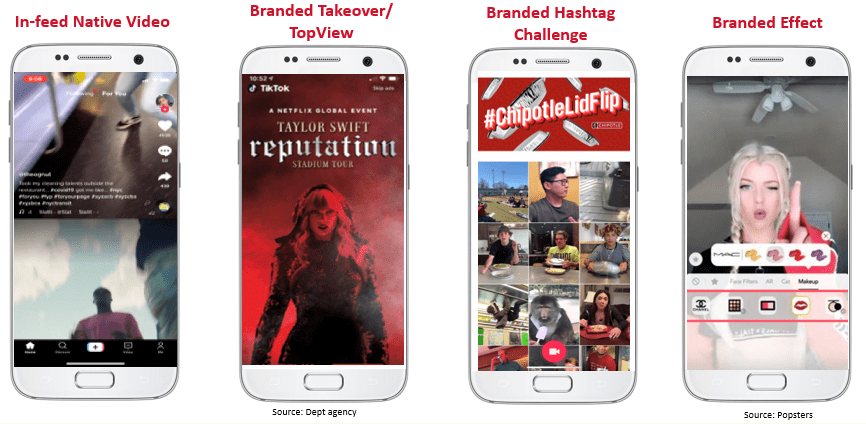 The ad types on TikTok are:
In-feed native video
Brand Takeover
Hashtag challenge
2D, 3D photo lens filters