The demand for the best TikTok alternatives has gone spike as a skyrocketing rate after banned TikTok in India along with other popular Chinese apps. TikTok has dominated the social-networking market and video-sharing apps Globally. This app was being used by millions of users to create emotional, funny videos. Here are the best TikTok alternative apps in India for short videos.
Top TikTok Alternatives In India For Short Video Apps
YoPlay:
YoPlay app allows theusers to instantly create 15 sec short mobile videos from your Android phone. Let Download & Install YoPlay – Short Video App to create more fun.
VSkit:
Record your beautiful life as 15-sec video formats. Vskit is a short funny video and social sharing platform.
Roposo:
It is a free popular video making app and works well on both iOS and Android devices. Make incredible and stunning videos with Roposo and share them as your Whatsapp status.
Rizzle:
Rizzle offers a 60-second video, and it's accessible to collabs and interactions. The easiest way to create fun videos, share with friends and people from all over the world, a mini-series, or a talk show.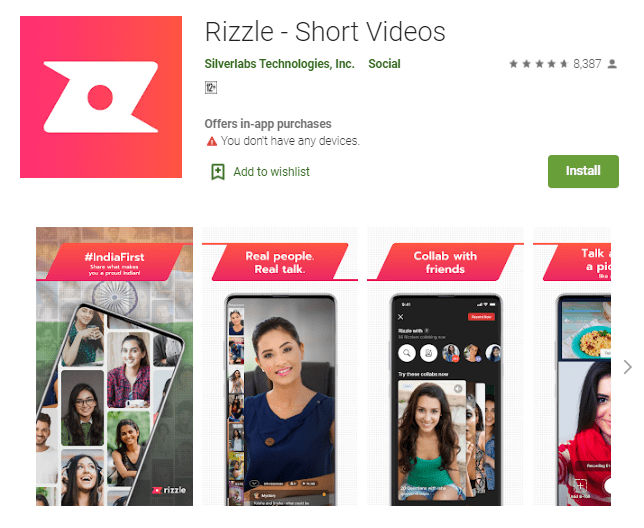 Shabaam:
Make amazing videos and GIF files to celebrate an event with your family and friends. Use this app to make videos, record audio, and dub your voice and share those with your friends.
Firework:
Firework is relatively the best alternative to the TikTok and newly entrant in the market. You can easily use and record videos and share them on Social Media.
Chingari:
Chingari is one of the best Indian short video apps that comes with multiple languages. Create stunning short videos and share them on social media.
Cheez:
One of the best funny video apps and use it to trim and cut your long videos to shorts videos. Also can add various filters, stickers, and visual effects to make your lively videos.
ShareChat:
The share chat app has an array of bright features to offer also include animated different Emojis, video filters, dynamic face stickers, and more to make your Short video more visible.
Bolo Indya:
Bolo Indya is a popular Short video share Indian app with multiple regional languages of India. You can create excellent short videos and share them with friends on social media.
Triller:
Triller social video platform that allows users to create stunning and creative short videos. Using Triller, you can create professional-looking videos and share them with your friends on social media.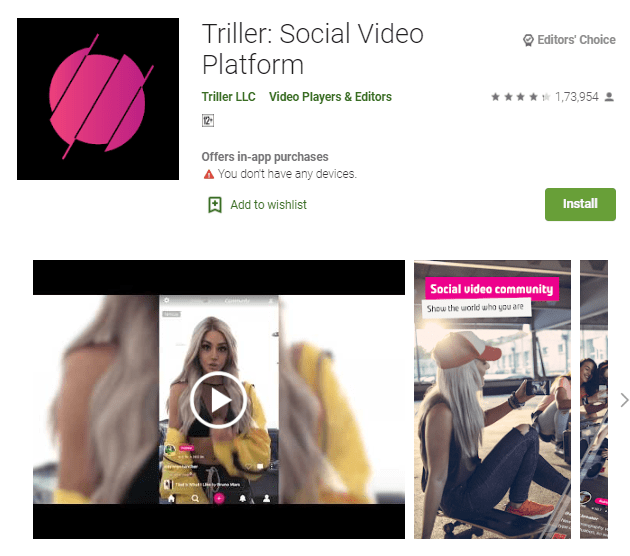 Brilla:
Brilla is a popular short video app to make your day brighter videos for you every day. Upload short videos on Brilla to get more likes and followers.
Funimate:
Funimate comes with densely packed functionality. You can easily use it to create video loops, video clips, and slow-motion videos.
Flixup:
The best social media app that is used to create the stories from their footage and other clips on the internet.
Lomotif:
The best alternative to the TikTok app and You can use it to create, trim, and zoom in-out your short videos. It also allows you to add custom video clips, photos, and music.
GIFSOM:
Create up to 30 seconds videos from sources like Facebook, YouTube, TikTok, Twitter, and other more. Best free alternative to the TikTok app.
SnapMusical:
Snapmusical is a tool specially designed made to express yourself in the simplest way and shortest videos possible! It lets the users snap awesome short video stories that are perfectly synced to music.
Model Unity:
Most commonly used by the beauty and fashion influencers, agencies, and brands.
Sigil Video:
short video Social Network Video app that makes you as a global destination for short-form mobile video.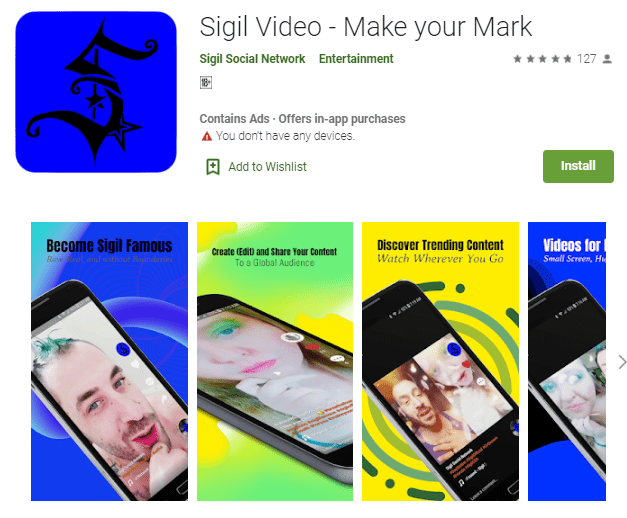 MadLipz:
MadLipz lets the users make instant voiceover and subtitle parodies to share. You can now select thousands of ready-to-go clips from this app for you to watch and share!
Flipagram:
Flipagram is another alternative to TikTok and video making an app. It works beautifully on all iOS devices, and it has a massive collection of predefined song, filters, and editing tools to create stunning videos.
MuStar:
Create a sensational music video with MuStar indulging in lip-sync musical battles, and MuStar has the luxury of a huge database of songs to choose from.
byte:
byte allows users to record videos only up to 6 seconds long, and it has limitations for video length. As it is relatively new to the market.
Instagram IGTV:
Instagram IGTV allows users to create stunning mobile-friendly short videos. Free to use from iOS and Android users.
Zili:
Zili has a pack of a powerful set of background music, stickers, special effects, text editing tools, and filters that will allow users to take the quality of your videos to a new horizon.
Snapchat:
It allows the fastest way to share a moment with friends and family. Snapchat is an instantly fun and insanely playful app to show your friends and best social media platform to gather the huge community.
Jalwa:
Jalwa is a New short video sharing app to use social networking services. You can easily create short dance, lip- concert, comedy, and talented video that offer feature music in the background.
Trell:
The Best alternate to the TikTok and Short Video App Made in India. Download & Watch millions of interesting short videos and be a part of the growing & thriving community.
Lasso:
It makes it easy for anyone to create and share short videos with multiple fun filters and effects. If you found the trending videos, download it.
Zoomerang:
Simplest short video creator app with ONE-BUTTON step by step tutorials. Download the Zoomerang app and start capturing it immediately. You can also save your short video to your camera gallery and to share it with friends.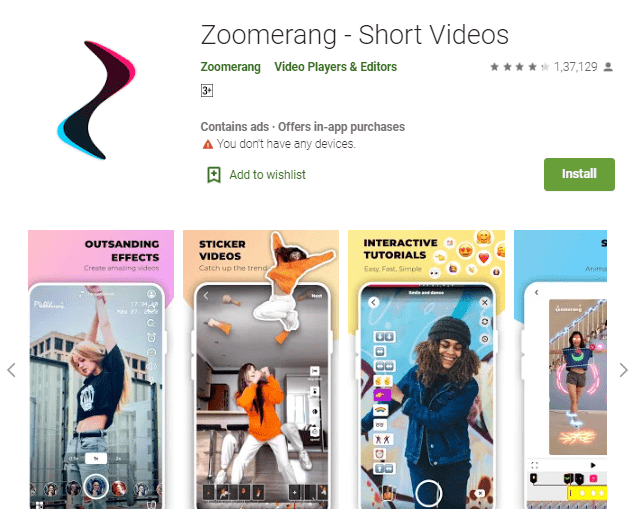 Efectum:
Create awesome funny short videos with Fast and Slow Motion and Reverse Video edits! It allows you to edit videos from your gallery and capture them from the app and publish them on Android devices.
StoryCut:
Story cut is a new video editor and video maker to create short videos. Lets Download and StoryCut to create short videos to edit and share on social media.
VivaVideo:
VivaVideos is to create excellent short video clips that include a variety of features, including filters, music, and other option like add subtitles.
Video Merger:
Video Merger is a powerful short video application that allows you to create and merge your most likely videos into a single large video. Make your video more interesting and fun with simple clicks.
Video Star:
Video Star is a wonderful Video sharing application that makes you the star of awesome music videos in the most effortless way. This app has hundreds of backward clips, built-in effects, exclusive music, and a pack of stickers that make your video more interesting.
VideoFX:
Best Music Video Maker and is a sleeky designed short video editor with the lip-syncing and hundreds of fun features. It has lots of editing tools such as emoji, sticker, filters, and lots of other features.
VideoShow:
VideoShow is a free to use all-in-one video creation and editor app that developed and published by EnjoyMobi Video Player and Editors. It offers an excellent video creating and editing features through this app.
Follywood:
Follywood is a Global dubbing application that allows you to create and instantly record audio over your favorite clips and viral videos. It is a fun app specially made for those who want to make their fun short videos.
LIPP:
LIPP is an exceptional short video application that allows you to remix your favorite videos with dub voice and filters, and make decorated with the best stuff. It consists of multiple categories you can find inspiring and refreshing videos.
KWAI:
KWAI rose to popularity because this app allows its users to earn rewards by advertising this app. It helped influencers broaden their follower's community. 4D motion stickers, animated filters, text fonts, and numerous in-built video editing are the best features of KWAI.
Conclusion:
The Indian government has banned the TikTok app by considering it as a threat to the sovereignty and privacy of the country. These are some of the best Alternatives to the TikTok app. Choose the most suitable one to unleash your creativity and to create stunning videos.