YouTube, a successful online marketing platform, has been useful for educational purposes on various topics. This article tries to bring to light how YouTube has been used In the current times of COVID-19 crisis, with different kinds of awareness videos published by World Health Organization, CDC (Center for disease control), Mayo Clinic, National Institute of Health (NIH), Medical animations, awareness and safety tips from experts, digital live shows uploaded on the hot topic "COVID-19".
Even the videos with best of viewership of more than 25 million views are yet to reach a lot of people across the globe, especially >99% of the population in nations badly affected by COVID-19, which is ~ 80% of the total COVID-19 affected population. So, who can make these videos and the relevant information pass on to the last possible YouTube viewer.
YouTube with over 2 billion active users is still a large unreached community with the best of these awareness videos yet to reach more than 98% of the YouTube community itself. Is it because even the most successful video doesn't reach to all that 98% or is it that most of them are not interested in those awareness communications/videos. If it is a problem of reach then the particular YouTube video which could organically gain maximum viewership could be further promoted by YouTube SEO or on all relevant blogs in the interest of reaching to maximum population.
A video maker (who is professional in the field of medicine) might gain a live audience and might not have had much interest in further promoting the content for maximum reach. Some of such useful YouTube campaigns made during "COVID-19|Coronavirus" crisis times, which might require the promotion in addition to organic reach are as follows ….
WHO / CDC videos on Awareness on protecting from COVID-19.
WHO daily news video
Medical animations on COVID-19, COVID-19 details of infection and diagnosis videos
How coronavirus test kit works?
Videos from Doctors / Dietitians about grocery shopping and food handling tips at home.
Celebrity campaigns on awareness about COVID-19 and importance of Stay-at-home shutdown
Celebrities activities/lifestyle during stay-at-home shutdown.
Videos that highlight to engage and utilise lockdown time to learn some skill online.
Detailed videos on effect of COVID-19 in people with other existing illnesses
Incidence, mortality forecast videos relevant to COVID-19 infection
Detailed videos on various prophylactic approaches to COVID-19 infection
YouTube as platform used by governments (Kerala government to propagate "BREAK THE CHAIN" campaign and Karnataka's Youtube channel Makkala Vaani to engage students).
To understand how useful information could reach maximum YouTube community, let's look at a campaign made on theme "GROCERY SHOPPING TIPS" which had four videos made on the same topic made by different experts.
Observations On Videos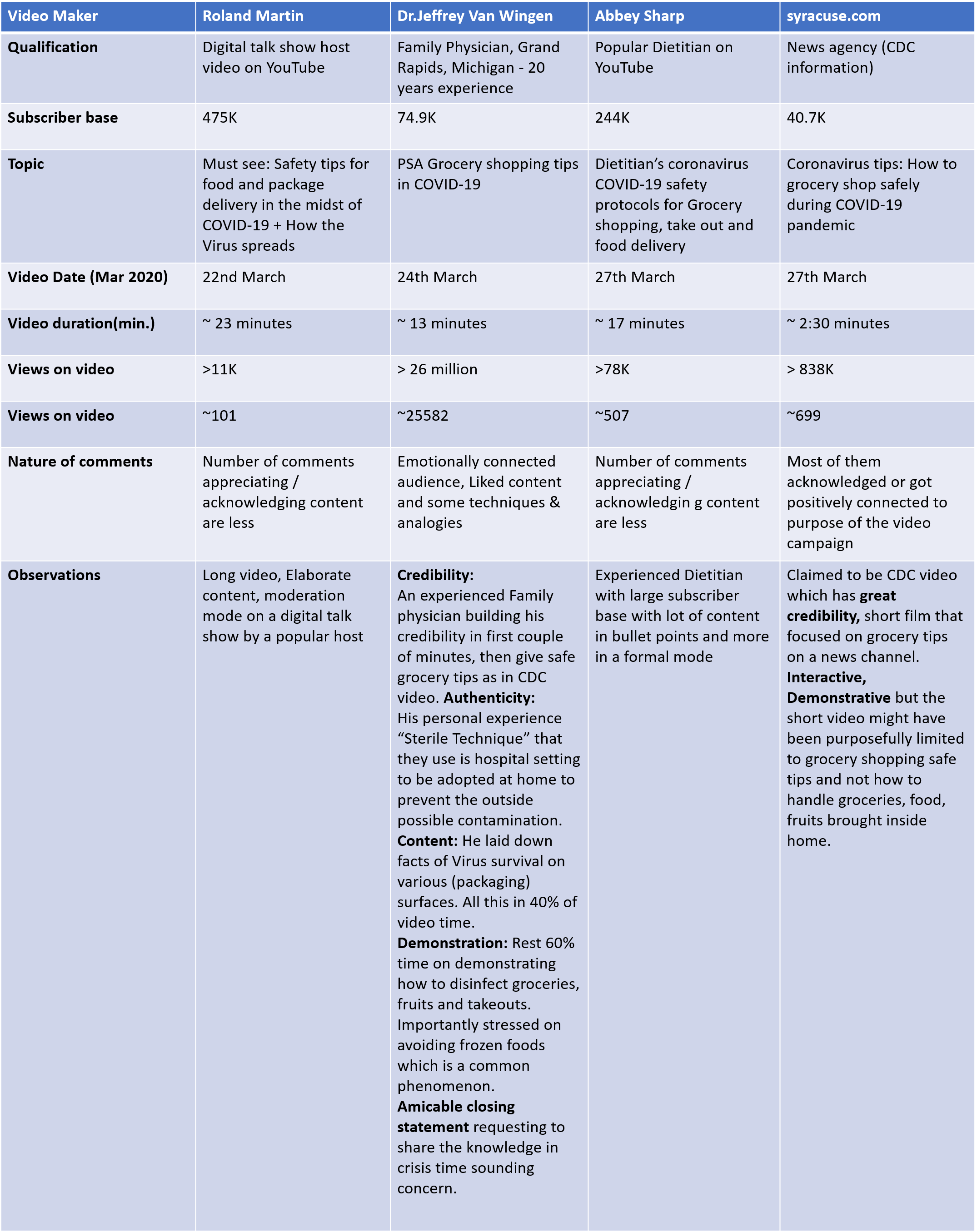 What makes YouTube video popular and Engaging?
Subscriber base of channel
Video duration
Popularity of the host
Content and relevance to topic of current interest
Presentability of Content
Comments
After analyzing different video campaigns on a similar topic, my observations are that …. the length of the video is not a constraint as long as the time and content are mutually optimized. A short video (two and half minute video from CDC) garnered more views than 17 min video from Abbey Sharp as the former is more precise, interactive, demonstrative rather than being formal as in the latter case with more content.
However, a longer video (by Dr.Jeffrey Van Wingen) can also garner better viewership than a pertinent shorter video, provided it is also emotionally connected to viewers and has better engagement. Like in Dr.Van Wingen's campaign, additional detailed demonstration like … "safety tips after bringing into home", backed up by "facts of COVID-19|coronavirus survival times on various surfaces" and analogies like fruits' porous surface being similar to skin porous surface, glitter analogy to COVID-19 on anything brought from outside and that the same require sanitation before consumption and precautions and warning for consuming frozen foods. In addition to these analogies (which have impressed and engaged the viewers), the content, language, the humility with which the content was promoted and expression of genuine interest in propagating that knowledge by requesting to share makes it a video with highest viewership.
Apart from these there are educational interactive videos such as 50 min. video time) on "COVID-19|Coronavirus: epidemiology, pathophysiology and diagnosis" which has garnered 4.2 million viewership with 7900 comments, only to prove that despite exhaustive content, was more engaging to garner high viewership.
In short, a YouTube video irrespective of its duration, to garner high viewership must have relevant content on the topic of current interest, presented by pleasing personality and conversation, with informal interaction, demonstration and easy to understand the approach of facts.
Maybe the reasons why Dr.Van Wingen's video had wide viewership with a claim to have added subtitles in 10 languages other than English (Hindi, Italian, German, French, Spanish, Portuguese, Japanese, Korean, Arabic, Turkish). Sometimes comments might be less but if there is a high proportion of positive comments, then irrespective of the total number of comments sometimes one might consider it a successful content presented as in case of CDC precise video.
YouTube campaigns to resolve misconceptions and misinterpretations
For instance…
World Health Organization gives the following guidelines on WHEN & HOW to wear masks:

Apparently, there seems a gap between a guideline from a holistic Organization like WHO and real-time scenario, which could have been effectively bridged by driving the uniform guidelines down the line with the help of celebrity influencers on popular YouTube platform.
To drive the uniform guidelines to a two billion Youtube community to start with and also to SEO popular YouTube educational videos such as "Shopping & safety tips" Youtube experts could be hired by governing authorities of respective countries or states so that maximum online community could have exposure on the popular videos.
Once a video becomes popular, it is a good reason for most of the new viewers to click through and increase viewership, also expand propagation of useful knowledge.
With 79% of internet users having YouTube account (Datareportal, 2019) and with more than 70% of YouTube watch time coming from mobile devices, navigating in 80 different languages covering 95% of internet population and accounting for more than 37% of all mobile internet traffic (highest by any online channel as per Statista 2019), YouTube has been a very helpful communication platform for health organizations and experts to teach and guide people towards healthy living, lifestyle in COVID-19 crisis times.
YouTube during COVID-19 crisis in India
An initiative to promote such useful content by hiring YouTube experts, to propagate the effective communications reach a broader base of the internet community, could be helpful in a densely populated country like India which has a YouTube user base of 265 million. (Google announcement April 2019) to reach so wider base with the helpful communications.
In India, Youtube alone has garnered over 300 billion views during January to March 2020, with a growth of 13% over Oct-Dec 2019 and 11% growth over 2019 for January to March. 70% of viewership is from the age group 18-34 on topics ENTERTAINMENT, MUSIC & NEWS. While YouTube's subscriber base was estimated to grow by 20.5% during 45 days of stay at home shut down, COVID-19 content has seen a 98% growth in viewership and 199% surge in engagement.
Government of India conducted Youtube campaigns from the Department of Health and also driven by a renowned celebrity to reach maximum viewers. The government of Kerala launched the "BREAK THE CHAIN" campaign (setting handwashing kiosks in public places) propagated on YouTube, the drive to promote it, implement it even if it is with refinements, might have been a useful national initiative or program. YouTube marketers and experts could play a more constructive role to propagate the importance of such initiatives in times of COVID-19|Coronavirus crisis times.
Disclaimer: The above document, a collection of observations on "how YouTube was used in the context of COVID-19 crisis", is an author's perspective based on the available data published in the public domain. The observations are solely the interpretations of the author.