Live streaming is one of the hot Event technology nowadays, If anyone not attending any event or a business conference or marriages, Live streaming is the easy way to stream the event people can watch it from anywhere in the world. Many people think Streaming an Event is expensive, difficult to process but it is simple when you use the right technologies. Anyone can stream Events through Facebook Live, YouTube Live streaming, Ustream, iPhone Facetime, HangWith and etc. Here is the definitive guide to YouTube Stream now Vs Events.
Now we are discussing live streaming on YouTube. YouTube introduced a new version of YouTube streaming is called "Stream Now". YouTube Stream Now BETA version is an advanced version of YouTube Events. Led us to go in deep to know the differences between YouTube Events and YouTube Stream Now.
YouTube Stream Now:
YouTube Stream Now allows you to start streaming an Event immediately without setting any features. YouTube introduced new feature Stream Now BETA version to live to stream an event.
This is a simplified version of YouTube Live Streaming Events. It needs to setup features in the process not mandatory to start Stream live. There is a change in the stream place, first, it starts shows offline.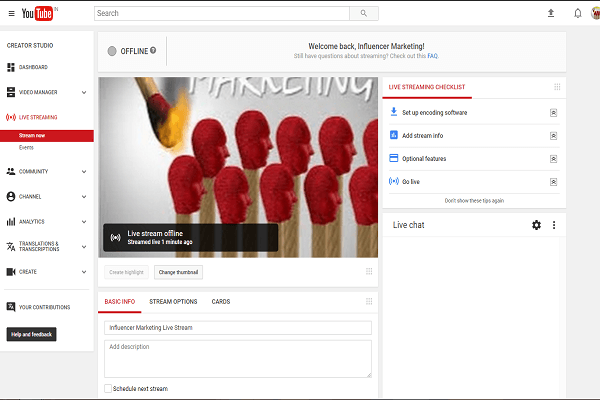 Advantages of YouTube Stream Now:
The New Stream Now has one new button just below the live video, if you click on that "Play ad",It plays ad during the live streaming after the ad finished continue the live streaming event.
While the streaming an event you can add basic info like Event title, description, privacy policies and so on. You can create unlisted and private events in the stream now.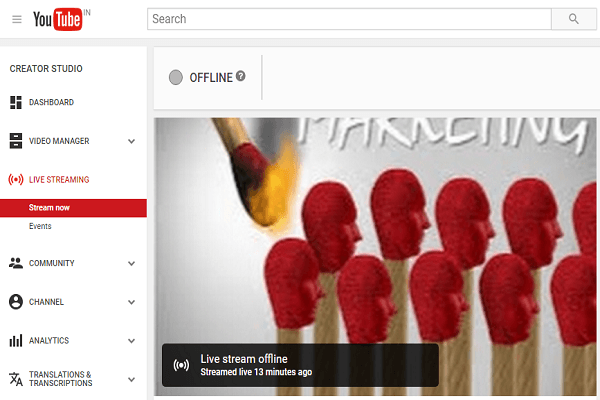 The brand new feature in Stream Now is streaming favorite game streaming option. Before you didn't see this option.
On the Category type as gaming and below box search for a game a drop-down box appears with related games. You can stream any of your favorite game to stream for the users.
One more new feature included in the Stream now shares the persistent link to friends and bookmark it to watch it later. Link can be shareable to anyone through social media links.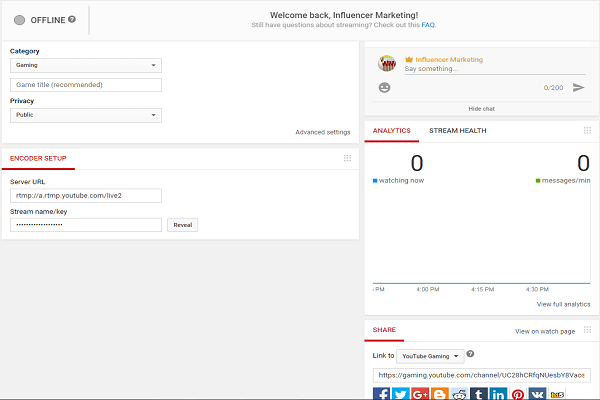 On the same window, you can watch how many people are watching your event through Analytics option and stream health progress.
It has an option for less buffering, that means people will get perfect picture quality with high-resolution video. You can add branded watermark on video.
YouTube Events:
YouTube live streaming is called as YouTube Events. In YouTube Events, we should schedule an Event, set many features and before going starting a live event we can Preview the Event.
YouTube channel announced that any YouTube channel with hundred subscribers can start using live streaming. All other international companies using YouTube Events for live streaming conferences, organizing events, employee engagement.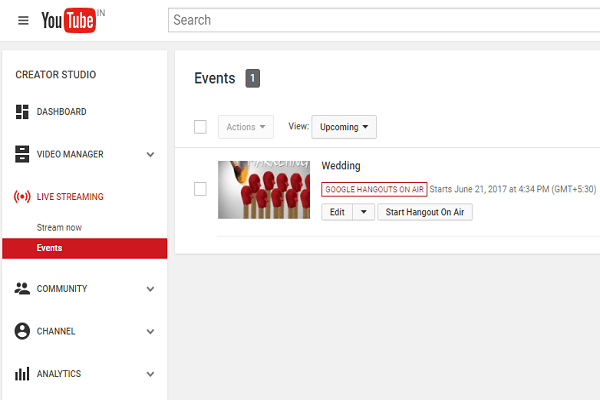 Advantages of YouTube Events:
YouTube Events has a preview option before going to live because you can check the quality of the video in live streaming and Enable Encoder to start live.
Here you can add intro music to the live event, as soon as the music starts at the same time start streaming the Event.
It depends on what encoding software we using like OBS. when enabling the live streaming feature you can use thumbnails for uploaded videos to enhance the video presentation.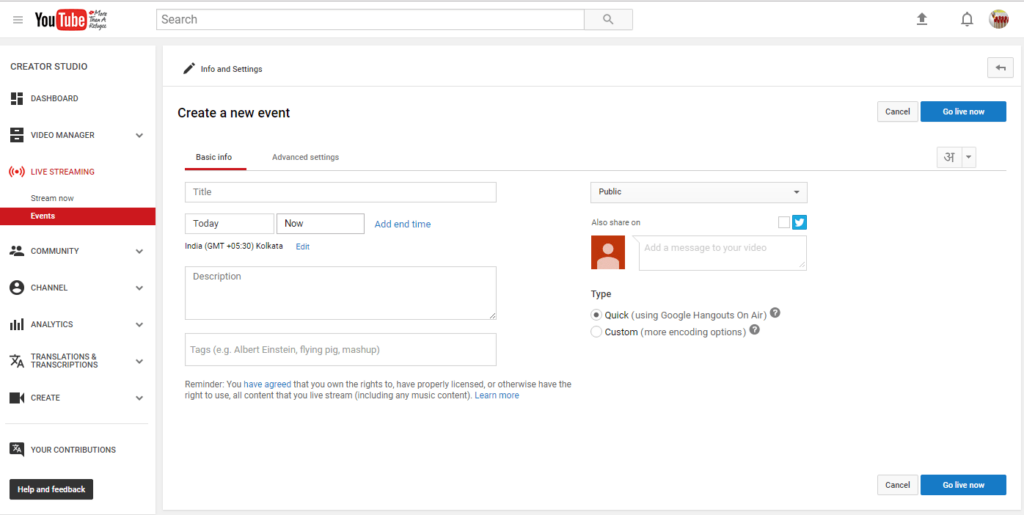 YouTube Events can save the time cost. Because YouTube events are not scheduled for continuous streaming. You should schedule it every day at one time. Designed for individual scheduling.
You should have some qualifications in Live streaming an Event, that means you should maintain 100 subscribers, verified the account by phone number and proper setup for live streaming.
In YouTube Events, you can monetize the live streaming in between ads. It supports all type of ad formats.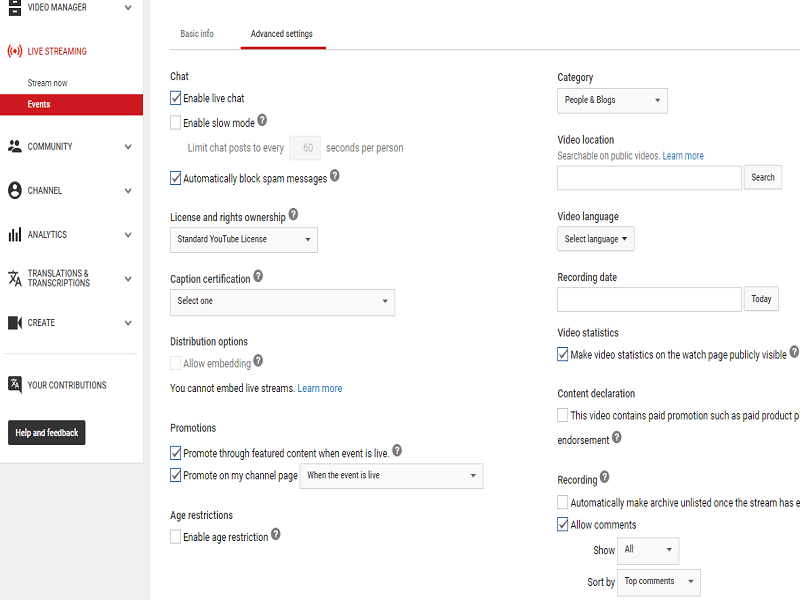 One of the main advantages of Events is you can insert broadcast alerts, highlights from live control room while live running. You can create multi-cam event also.
Also read ..
How To Use YouTube To Promote Your Online Streams
How To Live Stream Android Screen To YouTube
Conclusion:
Live Streaming through YouTube has been modified in two ways. YouTube events and YouTube Stream Now, these two are leading in Live Streaming technologies. The above is an Extraordinary guide to what are YouTube Events, Stream now, advantages and YouTube Stream now Vs Events. Make use of this guide while streaming events.