Video is a powerful video marketing tool for small to large scale businesses. By featuring the videos on your business websites, companies can display the latest products and services, showcase your brand culture. Get the scoop to embed the product videos on your WordPress website with the help of your YouTube plugin. Check out the following YouTube WordPress plugins to generate better engagement in 2022.
Best YouTube WordPress Plugins for User Engagement in 2022
Essential Grid:
Essential Grid is the best WordPress all in one plugin that connects to social media networks such as Facebook, Instagram, and YouTube. It displays mega custom fields. This plugin supports other video platforms such as Vimeo, iFrames, YouTube, self-hosted video, WooCommerce, and galleries. You can get the built-in animation support and is mobile optimized.
Visual Composer YouTube Channel with Carousel:
Visual composer YouTube plugin easy to add to your YouTube channel. WPBakery Visual Page Builder Extension,7 Pre-defined styles, Grid or carousel layouts, Masonry & fit row settings are the unique features of this plugin.
YouTube Showcase – Video Gallery:
YouTube Showcase WP plugin enables users to build responsive gallery pages with YouTube videos You can also make a video grid gallery, Sidebar widgets to showcase recent and featured videos. This plugin is excellent for displaying multiple videos related to one keyword. It allows the ability to separate the two video galleries, such as video grid galleries and basic video galleries.
Flow Flow Social Stream:
Flow Flow is a social video premium plugin that supports multiple video files from various sources like YouTube and Vimeo. This plugin allows an easy way to add recent videos. This plugin is compatible with visual composer builder, lightbox galleries and also offers responsive designs.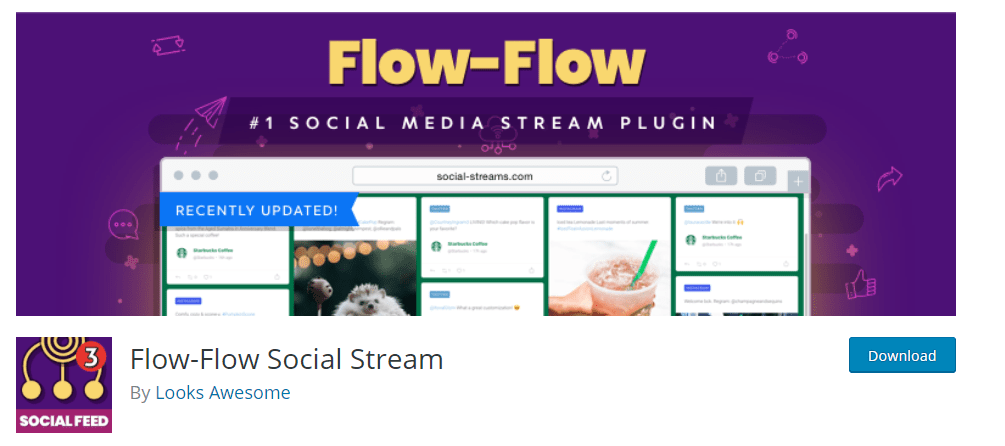 YouTube Video Gallery for Visual Composer:
YouTube Video Gallery for Visual Composer offers to build in advertising options. With this plugin, you can easily and quickly insert the channel feeds and individual videos. It provides built-in options like grid style, pagination, lists, image cropping and carousels, and much more.
Hide YouTube Related Videos:
Most of the cases, businesses want consumers first to watch the product videos on the landing page. YouTube videos are embedded using YouTube WordPress plugins. This Hide YouTube related videos plugin stops displaying the associated videos once after the Original video is played.
YouTube Embed Freemium:
This Plugin offers tons of customization options and enhancements whenever embedding YouTube videos to WordPress. YouTube Embed Freemium displays videos in pages, posts, widgetized areas, and custom post types. You can easily configure default options such as Fullscreen, player dimensions, annotation, and caption options.
YouTube Widget Responsive:
YouTube Widget Responsive plugin is free to use, and it adds the custom YouTube widget to your website. You can easily insert your videos into your footer and sidebars with just a couple of clicks. This YouTube Widget Responsive plugin provides the simple shortcode to insert your videos into pages, posts.
YouTube Videos To WordPress Posts:
It is a premium YouTube video WordPress plugin used to prompt your videos on Blogs. It will automatically import the latest YouTube videos, YouTube video embeds, Bulk Import, or schedules support rich video snippets.
Yourchannel:
Your Channel YouTube WordPress plugin is free to use the plugin. The Ability to display multiple elements selectively includes subscriber/video count, channel info, playlists, channel banner image, etc. Visual builder works with the shortcode, presents the video thumbnails in various styles.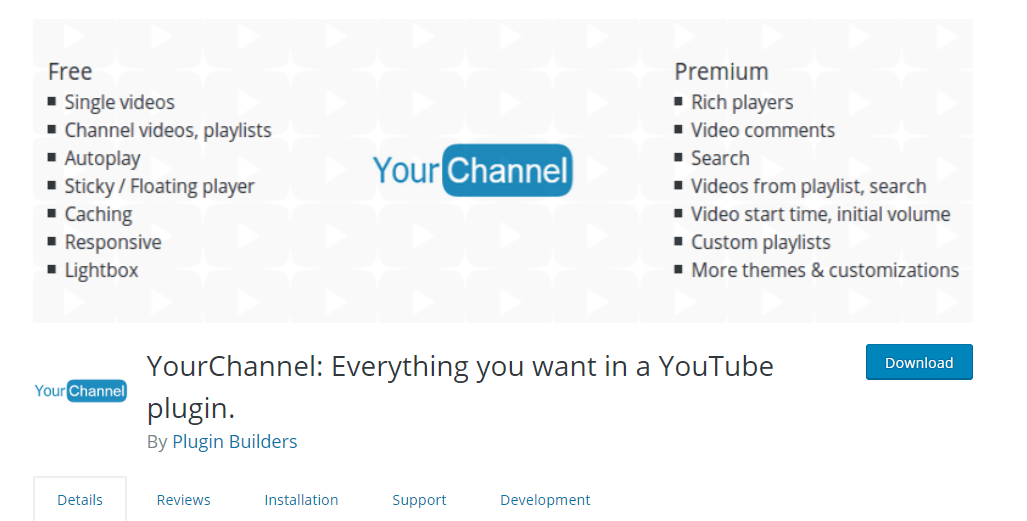 WP YouTube Lyte:
The WP YouTube Lyte plugin lets the users to lazy load your embedded YouTube videos aim towards speed up your video loading. For the users, everything will look the same, but back-end the scenes the HTML5-player or Flash that will actually when clicked in the video.
Video Gallery by YotuWP:
YotuWp is an excellent YouTube WordPress plugin used for page building, and it also helps you generate the shortcodes for promoting your services. This plugin supports the embedding videos from various sources and easy to integrate into your YouTube channel.
WP YouTube Hub:
WP YouTube Hub is one of the best WordPress plugins for YouTube. It is an easy video importer that allows you to create video posts using the WordPress plugin. It enhances your channel engagement and also creates video tutorials for user engagement.
Essential Grid Gallery:
Essential Grid Gallery YouTube plugin is best for creating beautiful images, videos, audio galleries from various video hosting sources. It lets the users create an impressive media grid gallery from the social media sources as Instagram, YouTube, and more.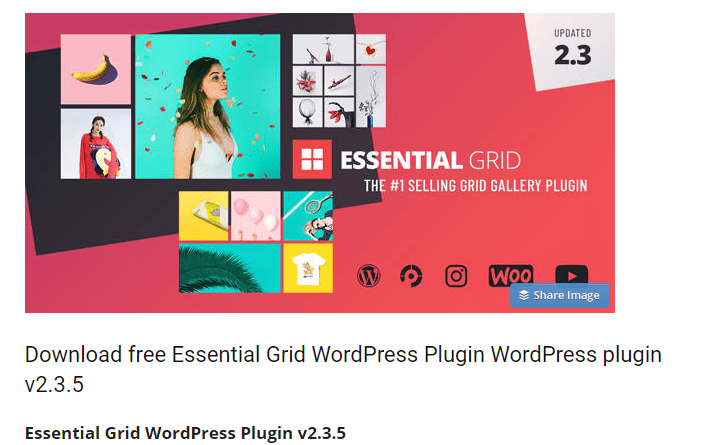 YouTube Playlist Video Player:
YouTube Playlist video plugin a dynamic plugin to create playlists to your channel. You can easily embed it into your WordPress websites. It lets you generate the shortcodes for YouTube videos, and also you can integrate the YouTube playlist into video players, which supports multiple video formats.
ELEX Optimize YouTube Videos Embed Plugin:
ELEX lets the users create the shortcodes for images with the play button, avoids the video loading time for each player whenever it is loading on the web. Best plugin to optimize the YouTube channel videos to the WP websites.
Yottie YouTube:
Yottie WordPress plugin displays the YouTube channel, videos on websites. It also creates the custom playlists, creates a mobile-friendly video gallery for those, especially those who would like to view the channel videos on the Website.
Tubelab:
Tubelab YouTube WordPress plugin shows the playlists, YouTube channel, and videos from major video websites from you're on your business websites. It will offer various customization options to design WordPress templates.
EmbedPlus Team:
EmbedPlus Team is the best WordPress plugin to embed and customize the videos to your website. It offers customization features such as the live stream, live chat integration, channel Gallery, fully customized wizard, and advanced video gallery customization.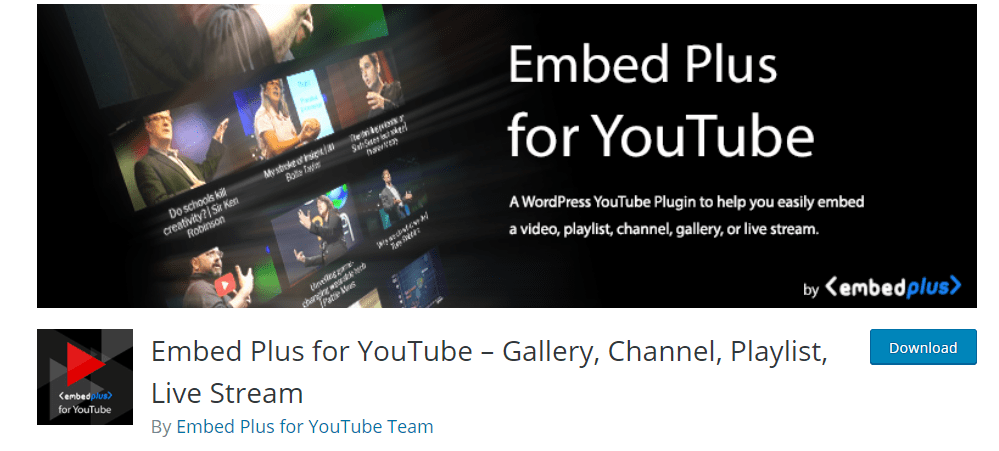 ARVE Video Player:
ARVE is the perfect drop-in replacement for the default embedding option. This has plugin also released the ARVE pro version and is budget-friendly. You can seamlessly integrate these plugins into your YouTube channels for embedding unlimited videos to your sites.
WordPress Responsive Youtube Playlist Video Player:
WordPress Responsive Youtube Playlist Video Player is used to play the YouTube video playlist by entering the channel id, video id, and playlist source. This plugin lets the users integrate the video playlist.
Feed Them Social:
Feed Them Social plugin create and display the amazing social network feeds on your websites. With the simple shortcode, you can integrate the set up within minutes. Having the best social media in your sites can improve your social media following and audience engagement.
YouTube Pro for WordPress:
YouTube Pro is a premium version of YouTube WordPress plugin that allows you to put channel videos, playlists to display on your website. You can easily customize and embed the videos.
YouTubeR:
It is a unique YouTube video feed and video gallery plugin designed for businesses that can easily embed it into your websites. With this plugin, you can create outstanding videos.
Conclusion:
Different people have different requirements for a particular type of product or service. There are various YouTube WordPress plugins actively developed YouTubers. We have listed a few best YouTube WordPress plugins, which can help you to add YouTube videos to the WordPress website with ease. These WordPress plugins will help marketers to improve their customer interaction.