How the digital media shows the impact on overall Indian market?
How the digital advertising plying role in the consumption of digital media?
What will be the major factors affecting the India digital media?
To find each of the above questions just goes through the below-given phrases.
Key trends responsible for digital media consumption in India
Mobile:
Mobile is playing a vital role in the consumption of digital media as it is the user-friendly device for all the individuals.
It has become the brand ambassador especially for advertising, and most of the advertisers are choosing it as the primary source to expand the business branding through various marketing strategies.
The reach of consumers through the different ad formats that are flexible on mobile is the main target for the advertising companies.
The projection of smartphones has risen from 2.34 billion with the combination of tablets in 2014 to 5.30 billion.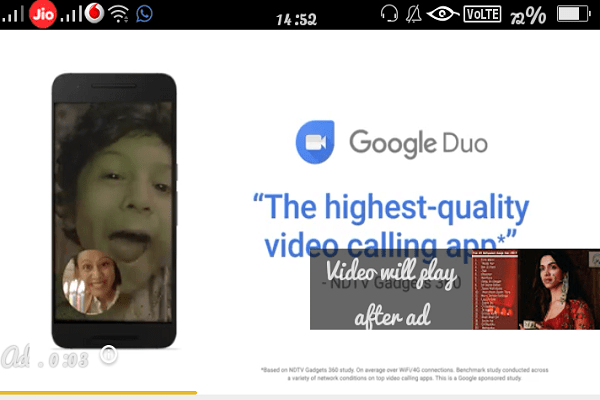 With the addition of Google's offerings to the advertisers and marketers in the stream of consumer search, mobile apps and continue to buy on the go will show more impact on holding mobile marketing.
Social media:
The trending social media sites like YouTube, Whatsapp, Facebook, Twitter, and Instagram are the major sources in the digital media consumption.
The sharing and viewing of the video content through these platforms is the most sequential for spending hours of time to watch internet content.
62% snackable video content through YouTube is being watched. The advertising channels are approaching the customers through social media marketing strategies.
100 million Indian active users can be found on social media and in that 84 million are only from mobile.
OTT and Multi-Channel Networks:
97.2% of global revenue is obtained through TV advertising in the stream of multi-channel networking and OTT. The video and music consumption through OTT services is the main cause to raise the growth of digital media in India.
Video on demand platforms:
The video on demand service providers like Netflix, Amazon, Sun Nxt and Hooq are providing the video content as requested by the consumers and allows to charge the amount for the watched content.
This most exciting service through these platforms directs to lift digital media in India.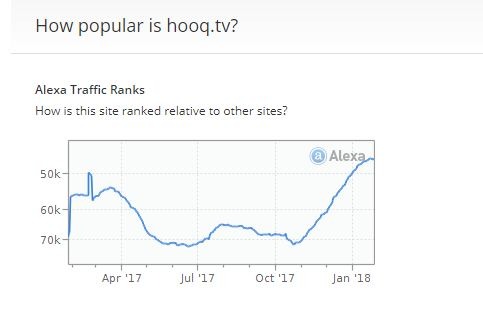 Image Source: alexa.com
Content creation:
Through the video content platform YouTube most of the channels like AIB, TVF, Arre and Scoop Whoop, etc. are proving themselves in draining the audience attention with millions of subscribers by delivering the amazing video content.
Millennials:
21% of the time is being spent by the youths only for consuming the video or audio content while watching the games, emails and general search in the category of entertainment.
6.2 hours will be consumed by the India mobile users to watch the video content. Video watch spending of millennials through digital media may expand to 2.5 times by 2020.
Online video gaming:
The use of portable devices like smartphones and tablets are heading to increase the online video gaming consumption in India.
All the mobile users are playing online games frequently, and there may be a prediction of generating 54% of share for the total Indian gaming market in 2020.
Regional language:
The video content surfing basing on the regional languages like Hindi, Telugu, Tamil, and Kannada, etc. has become the trending one to consume the video content, especially on YouTube.
Role of digital marketing
The digital media has become the leading source for all the marketers and advertisers in the expansion of business brand at the customers.
The digital marketing through the major social media sites like Facebook, Instagram, Twitter, and YouTube, etc. are focusing channels on reaching the customers directly.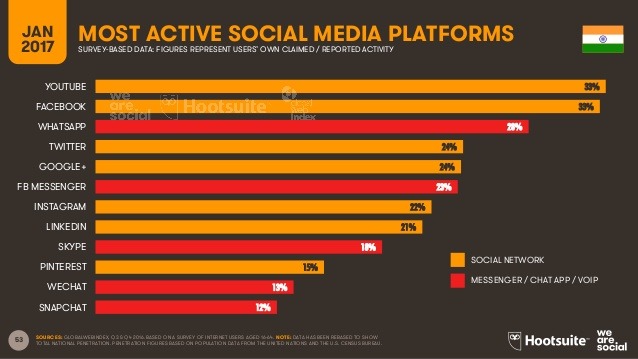 Image Source: SlideShare
The personalized level of delivering the content to the audiences helps in getting the potential customers. Basing on those the Indian marketers and brands are using various analytical tools of Google Analytics, Radian6, and Quantcast, etc. in making smarter content that reaches the targeted audiences.
66% of the advertisers and marketers are expending more on content marketing that highly influences the consumers instantly.
Device Type Indian Internet Users
Digital media provides a brand and best opportunities to engage with the audience. India has been focusing on Technological forefronts in development. India placed in the third place by highest consumption of internet users and internet penetration by 8.5% in India.
If we consider the population India population is three times more than the US population. Digital marketing is practical to carry in two ways like it reaches throughout the World and is a valuable measurement tool.
The landscape is 1.21 billion population with over 200,780,998 internet users in India. There are different types are devices support the Internet other than the Internet cables. Smartphones Internet traffic has already surpassed the desktop internet traffic In India.
Let us go in depth by summarising the Current internet users split based on device type and usage of application performance. Such as Feature phones, Smartphones, Tablet cellulars, and Dongle.
Feature Phones:
700 million internet users are consuming 2G speed Internet for sending Emails, browsing the social media applications like Facebook, Whatsapp and Web browsers through Feature phones.
Altogether 43% Internet data consumption occurring per month through feature phones.
The Data used by the mobile users 40% on audio and video services, 20% on social media browsing and 18% on communication apps.
Smartphones:
164 million smartphone user using 2G/3G speed internet data for sending emails, Social Media connecting apps, Web Browsing, Social media audio/video streaming and Shopping apps.
43% of Internet data used by 164 million users every month.
13-30 age group people using 2.2 hours of data, 30-50 age people use 1.8 hours of data and finally 1.5 hours of data consumed by 50+ years old people by daily smartphone usage basis.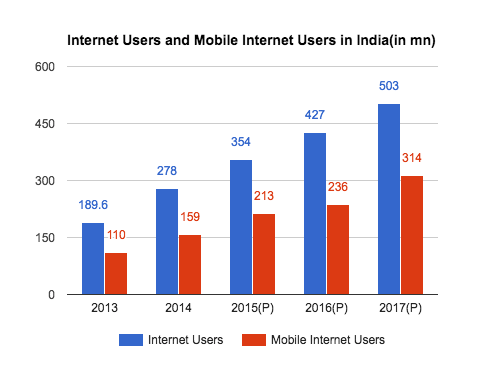 Image Source : liveonkar.wordpress.com
Tablets:
Over 2 million active users are using 3G speed internet for browsing apps, shopping online, game playing and for social media app browning.
Only 2% internet data consumption is happening every month when compared to other devices.
14% people using wireless networks every month for Internet rather than all using all these devices.
Dongle:
10 million active users are using the Internet with EVDO/3G/4G speed for sending Emails, audio/ Video Streaming and lifestyle and social media websites browsing.
Only 8% users are using Dongles when compared to monthly internet consumption.
18.7 million active users are using WiFi wired connection for Internet usage for streaming, Emails, Social media apps and online shopping.
The Internet users and Digital Media consumption vary for every place and every state. As the smartphone consumption raises the smartphones penetration also increasing by population.
Digital Media Consumption Statistics In India
People spend The first 5 hours on Facebook and 75% of post engagement done on Facebook.
40% of YouTube traffic comes from the mobile devices.
70% Indian citizens are on the Facebook and 3rd highest Facebook user in the World.India ranked 3rd place for high Internet Consumption after China and USA.
Evey 3/40 people use the Internet in India as compared to 21/25 in the USA.
From past 12 months, 25% growth in India Internet user and 59% people use internet via mobile phones.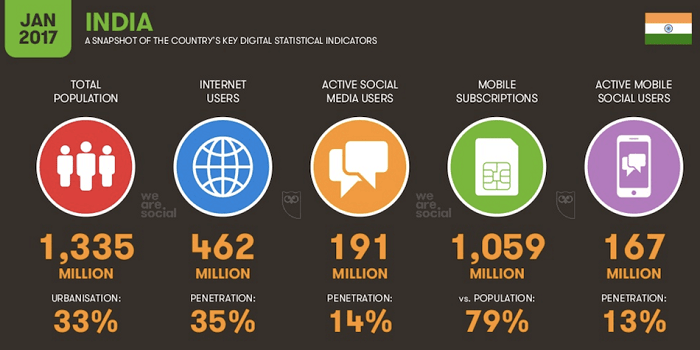 Image Source :Tech in Asia
70% of Indian Internet users watch Online Videos through various devices.
364 million active users subscribe data packages for Internet via mobile devices.
Men love to spend 505 more than the Women for Browsing and install 16 apps per month on their mobile phones.
15 Million Indian Users used Twitter and placed on the 4th most significant position in the World.
Out of 1.16 billion Internet users 540 million monthly active users on Google.
Nearly 42% Internet users prefer their local Languages to access the Internet in India.
An average of 3 Hours time spends by an Indian for Social Media Browsing.
Digital Media Growth Opportunities in India [Study]
India is the largest country in the sub-continent and only second to China in terms of population. India has been witnessing all growth in almost all sectors including digital media.
Given below are some of the statistics that highlight market potentiality in relation to India
• The Internet-related contribution to GDP: 3.2%
• Internet subscribers (2015): 254.5 million.
• Broadband subscribers (2015): 104.9 million.
• Mobile internet users (2014): 185 million.
• Wireless users (2015): 89.4 million
• 3G users (2015) as % of wireless users : 36%
• Digital video viewers (2014): 72 million.
• Smartphone users (2014): 140 million.
• Above all, India has a growing middle class, rising per capita income & rise in the working population that can further fuel growth and demand for goods and services.
The above few details about the country clearly indicate that there is a huge potential existing for digital media growth in India. Digital marketing is booming in India. With the tech-savvy new government aiming at Digital India and Make In India, digital marketing in India is further poised for faster growth.
It is interesting to note that digital media industry is booming with an astonishing growth rate of 40% (and this growth will further improve in the years to come) and the industry is worth $ 68 billion. Advertising via mobile phones & tablets went up to $6 billion and this 200% growth over previous year.
Growth of this industry in India can be attributed to the following
• People are interested in creating value and hence marketing strategies will move towards this end. The natural source for this interesting and informative thing (marketing strategy) is the internet.
• People are interested in creating network of people to promote own business.
• 'Selling' is getting replaced with 'content' and this is directly contributing to the growth of digital media.
• Automation in marketing is emerging more effectively and will continue to do so in future as well.
The above clearly indicate that India is 'second to none' in providing good marketing opportunities for growth of digital media industry.
Conclusion
The above mentioned statistics will deliver over usage and growth of digital media in India. Most of the Indian rural areas are being as a part of leading the digital media as the consumption of online mobile data is spreading.