Mukesh Ambani's Reliance Jio has recently launched the JioMeet video conferencing app with unlimited video calling features. JioMeet Video Conferencing app is available for both the iOS and Android users as well as for Windows and web users. Reliance launched JioMeet video conferencing plans to compete with Google Meet, Zoom, Skype, Microsoft Teams, and others.
Video calling has emerged as a necessary tool for companies, businesses to function from remote work. Reliance Jio has decided to enter the market of Video conferencing world with its own app JioMeet. Here we are compiling the best 50 JioMeet Tips and Tricks for secure Video Meeting.
JioMeet Video Conferencing Tips and Tricks:
Dealing with Microphone issues:
JioMeet ensures easy access to your microphone. iOS users need to go into privacy in the settings, toggle the switch for the microphone option. Android users need to go to App permissions under App notifications, then toggle the microphone option.
Secure your Meetings:
You have an option for showing your meeting Personal ID and disable the PMI as anyone can join a meeting.
Lock your Meeting:
JioMeet allows you to lock your meeting. You can also prevent unwanted users from joins or latecomers joining in.
Always mute Microphone:
While going to the settings, choose "mute my microphone" once you enter the conference to avoid background noise.
Hide Your Video:
If you are not participating in your video conference, it better to hide your video. So, you can see only visible only when you join the meeting.
Record your Meeting:
make sure that JioMeet can record anything that appears on your screen, including the passwords and photos.

More controls for Host:
JioMeet offers the best controls to the video conference organizing host. They can mute/unmute the video and audio. The host can also enable the meeting room.
Remove/Add perticipents:
JioMeet offers all permissions to the host who is organizing the meeting. Host can add or remove the participants as per your need. Host can also disable the participants for joining the meeting before they join the conference.
Careful with Autostart Recording:
Host can able to arrange or turn on the options for Autostart video confrence recording feature. When you turn on the AutoStart recording option, make sure that to start recording once the meeting started.
Turn on Participant name once Join:
Host has permission to turn on the Participant name only once if they join the meeting. Make sure that to verify the participant's personal id and name.
Check your Connected time:
JioMeet video conferencing app allows the users to check the time, how long they are connected to the conference. Check the feature called "Show My Connected Time" from the settings.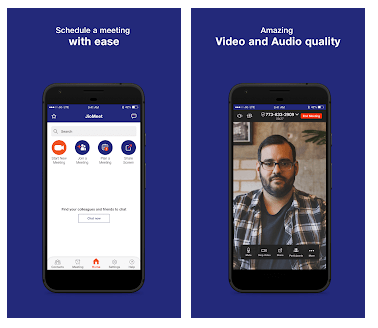 Make use of Safe Driving Mode:
When you are driving, make sure to use the safe driving mode. Here you just need to tap to speak, and your video will be turned off when using the Safe Driving mode.
Device Compatability:
Reliance Jiomeet app is portable and compatible with any device. It works on any device and any operating system, and it has the ability to complete the collaboration.
No Limits for Collaboration:
This app does not have any limits for collaboration to the typical video conferencing app.
Make use of Cross-platform features:
As per the reports Jio Meet video conferencing app works across various platforms and available for the Windows, iOS, Android, Web, and macOS.
Make use of Plugin:
You can also use the third-party plugin for Microsoft's Outlook email services for most of the enterprise business customers. This plugin is available on browsers.
Join the Meeting via dedicated Website:
JioMeet conferencing app has a dedicated website that allows the participants to join a meeting, irrespective of various platforms they are using.
Offers Virtual Classrooms:
If offers easy features, and it does not have complexities using the app. Make use of Virtual classroom with this app. Be careful while using the app for virtual classrooms.
Organize unlimited meetings per Day:
JioMeet allows unlimited meetings in a day, and meetings can be scheduled in advance details share with invitees.
Use Screen Share by double tap:
JioMeet participants users can easily expand any participant's video by just shared a screen video by a double-tap.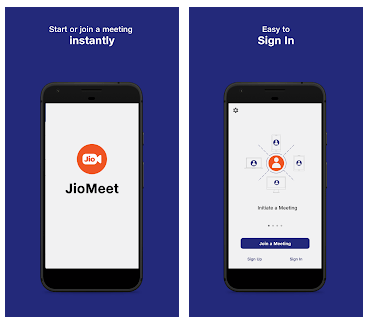 Easy Signup with Email ID:
Anyone can join the video conference just with a personal Email ID. It offers secure conferencing with HD quality video features.
Password Protected:
Each and every meeting Organized with JioMeet app is password protected.
Schedule Meetings in Advance:
JioMeet app allows the companies to schedule their meeting in advance so that you can easily organize another conference in your free time.
Make sure to send Meeting Ids only through Emails:
Once after creating the participant's id's make sure to send the Id's only through Emails to avoid the unauthorized persons join the meetings.
Login with Mobile Number:
In some cases, if you are not in front of the system, you can just sign up with the mobile number.
Only Host can Enable Meeting Rooms:
The host has permissions to enable the waiting rooms to ensure without any permission, and no one can join the meeting.
Create Groups:
Make sure to create the groups with a single click to enable the group chatting with more than two members.
Use High-Speed Internet:
Make sure to use the high-speed internet connection for HD quality video and audio.
Use for Family Gatherings:
JioMeet app is just similar to the Skype, WhatsApp video conferencing app. Friends, family members can easily arrange video calls with outstanding features.
Up to 100 Participants Join in a Group:
JioMeet app is best for the small to big organizations; it allows up to 100 participants can join in the group.
More than 200 Users in one screen:
We can see that the in-app store one screenshot shows that more than 200 participants. That means it will increase their limit.
Adjust the Video quality According to Network:
JioMeet video conferencing app gives options to the users to adjust their video quality as per their network speed, which is ensuring the Zero lag.
Integrated with eHealth Platform:
JioMeets platform is integrated with the Healthcare platform called eHealth platform that allows you to consult doctors virtually.
No Limits for video conferencing:
JioMeet app allows you to arrange the meeting with up to 100 participants that lets up to 24 hours without any restrictions.
Make use of Multi-device login support:
JioMeet app allows the users to switch between the multiple devices you can seamlessly switch from one device to another device during the conference.
Allows Third-party Camera App:
Users can easily use third-party camera apps for HD video quality.
No Paid Plans Yet:
JioMeet does not announce the paid plans for the larger enterprise companies so that any organization or company can use it for free now.
Encrypted Video Meetings:
JioMeet claimed that all meetings conducted on this platform are encrypted to ensure more security and privacy.
Smartway to collaborate anywhere anytime:
JioMeet is a smart video calling app anyone can easily access at any time and anywhere.
Make use of WebRTC support:
You can also use the WebRTC support from this quick video conferencing app.
Secured Indian Own App:
JioMeet app is secure and Indian own video conferencing app that meets all the video meeting needs.
Use Active Speaker Layout:
It provides an active speaker layout similar to the other video conferencing apps.
Works on Android 5.0 :
Make sure that your android version is updated with 5.0 and above.
Works for iOS 9 :
All the iOS users who are would like to use this app must update their devices with the iOS 9 version and above.
Mac devices run with 10.13:
Mac users must update their system with a 10.13 version and above.
Utilize for One to One Assembly:
Anyone can use this app for one to one video calling.
Must have an Assembly ID:
While joining the meeting, the JioMeet asks you to enter the Assembly ID that is sent by the host.
Simply click on New Assembly:
If you like to create a new conference, you just need to click on a new assembly and an identical interface.
Invite member by clicking on participants:
Invite members by clicking simply clicking on the participant choice after which on the invite.
Share ID through Different Platforms:
You can easily share the Id through various messenger platforms Twitter, Facebook, and WhatsApp.
Use secure OTP based Login:
Once if you login with the mobile number, it will verify with the OTP for security reasons.
Conclusion:
JioMeet is a secure and free video conferencing app that allows hosting up to 100 participants along with the video calling. Make use of this Free video conferencing app for your businesses and friends, family video callings. These are the 50 best tips and tips to use the JioMeet Video Conferencing application.