NBCUniversal's parent company, Comcast, launched Peacock video streaming service with excellent Stuff, and Peacock is debuting with far less fanfare was planned. Peacock TV is the Perfect Streaming Service that offers good stuff in your Pantry. NBC's Peacock will have an excellent growth rate comparison in 2020 and is placing its service as a long-term one. Here are the best things that everyone should know about the NBCUniversal streaming video service.
Things you should know about Peacock TV
Free Streaming Services:
Peacock TV offers to start free services to consumers.
Stream 7,500 hours of content:
viewers can watch more than 7,500 hours of programming that includes TV classics, hit movies, and a sample of Peacock originals without going for any subscription.
Launched with Nine Originals:
Peacock video streaming services began a total of nine Originals when they started the streaming service.

Free Ad-Supported Tier:
Peacock TV has had both ad-supported and ad-free options. It offers an ad-supported option for any consumer regardless of cable provider.
Peacock Premium:
Peacock has two price tiers. They are Costs $4.99, which has ads, and the second one costs $9.99, without ads. Premium pack provides the 20,000 hours' worth content.
NBCUniversal Muted Debut:
NBCUniversal's New Streaming Service Peacock's muted debut could be a plus in the long run.
Stream on Smart Devices:
Just Download the Peacock app to your smart TVs, smartphones, tablets and can also access through streaming devices such as Apple TV 4K.
Watch on Web:
Anyone would like to watch Peacock TV on the web, go to peacocktv.com, and you can enjoy the unlimited shows.
Huge Library:
Peacock has good stuff that is 15,000 hours for the Premium Account, including films Bourne and Shrek. Friday Night Lights, highlights from Saturday Night Live, E.T. the Extra-Terrestrial are the additional free titles could watch on it.
Access Blockbuster Movies:
Blockbusters from Universal Pictures such as Jurassic Park, Fast & Furious, Goodbye, E.T. the Extra-Terrestrial, etc.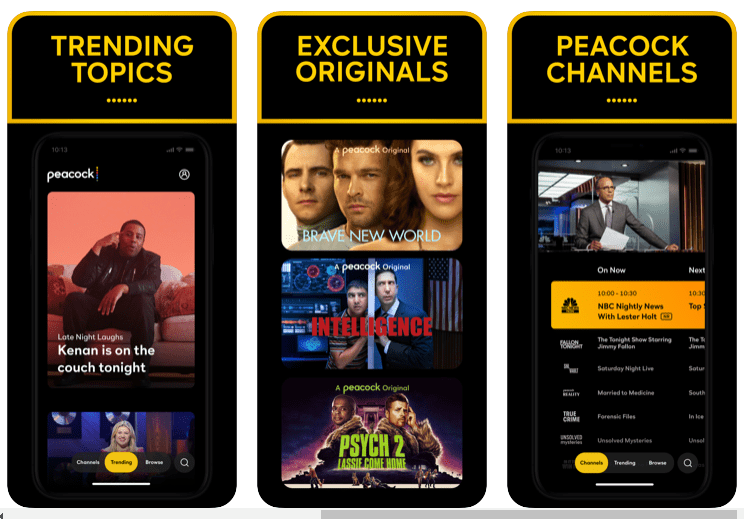 Offers WWE Programming:
NBC's Peacock provides 100 hours of WWE programming on its platform.
Animated Adventures:
NBC's Peacock animated adventure cleopatra takes the past into the future trends.
Available limited OTT platform:
NBC's Peacock is not available on popular ott platforms like on Roku, Amazon Fire TV.
Dale Jr. debuts 'Lost Speedways':
Dale Jr. debuts 'Lost Speedways' can stream on NBC's Peacock TV platform.
Stream Unlimited Sports Content:
NBC's Peacock OTT Service was designed and Kicked Off with the Sports Fans in mind.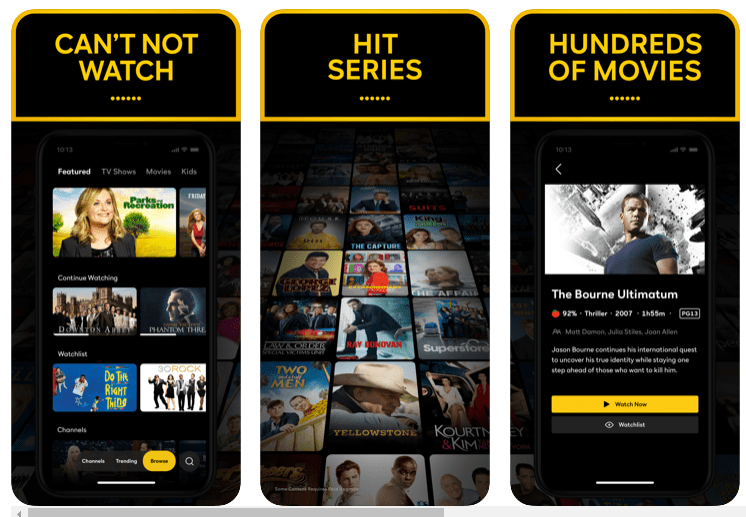 Free & Premium Plans:
NBC's Peacock TV launches with free and premium packages.Get the full catalog of 20,000 hours of streaming content, including every episode from its original series.
Free for First 3 Months:
Anyone can try this NBC's Peacock TV for free of cost, and you need not pay up to 3 months.
Free Horror Movies:
Peacock TV is streaming free horror movies and TV shows for free on its platform.
Introduced with iOS App:
NBC's Peacock Streaming service was launched its app on Apple TV, iPhone, and iPad.
Android Users:
NBC's Peacock launched its services to the Chromecast, Android, and Android TV with a maximum of three months free trails.
Premium Vs. Free:
Peacock TV Premium subscribers will able to watch many of NBC's shows the next day after they air. Peacock TV free users can able to watch that shows the next week.
Peacock TV Originals:
Peacock original includes the series such as Saved By the Bell and Brave New World and Battlestar Galactica.
Overall Films and Series:
Altogether, Peacock will offer more than 400 series and 600 films.
Competition with Crowded streaming space:
NBC said that they are expecting to reach 30 million to 35 million active signups by 2024 as compared to other crowded streaming space.
Live News and Sports:
The most significant advantage is it offers Live Tv news and streams the sports content for free of cost.
Familiar Navigation Experience:
Navigating on Peacock's homepage Browsing section is just the same as other streaming services. Thumbnails labeled Peacock Picks, Peacock Originals, Continue Watching, Featured Films, Comfort TV, Laugh Out Loud, and so on.
Peacock has a Kids page:
Peacock has a Kids page with few popular shows like Dragons: Riders of Berk and Curious George.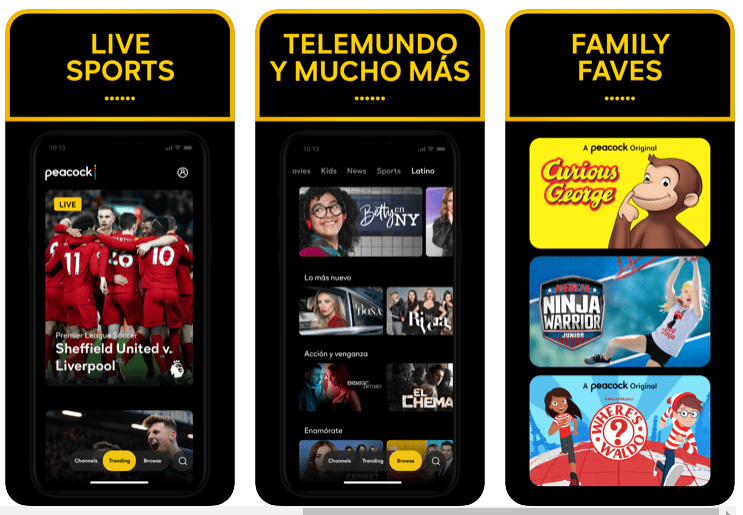 Create a PIN to keep away content from Kids:
Subscribers can create a PIN and set parental controls to keep kids from watching the wrong content.
Stream on 3 Devices with One Account:
You can stream the content simultaneously on three devices with one account.
Five Minutes Ads per One-hour Streaming:
NBC's Peacock says that its free and Premium tiers will have 5 min of ads per one hour of programming or less.
Find Familiar Stuff:
There was a lot of familiar stuff available to choose from peacock tv such as NBC TV series, old episodes of "Saturday Night Live," "Friday Night Lights" and "30 Rock."
Best for Interactive Ads:
NBCUniversal new peacock interactive ads make advertisers work easier, and it more comfortable to buy products being advertised.
Premier League games:
Peacock premium subscribers will get more sports content, notably 175 Premier League games such as English football.
Peacock Bundles:
Peacock Premium subscription will be bundled in with no extra cost for Comcast and Cox subscribers. For non-bundled customers, it will cost $4.99 per month.
Conclusion:
NBCUniversal was hoping to telecast of the 2020 Tokyo Olympics to help boost its use and attention for the new service. Due to the Coronavirus pandemic games to be postponed until next year. Peacock still has a solid slate of original shows available for free and premium users, have a glance on Peacock Tv features and enjoy during this coronavirus pandemic.