Live video streaming has outpaced other online equivalents, and it is safe to say that 2019, so far, is the year of Live Stream. Powered by some online video streaming software, this is one industry that is taking off. What was already over a $30 billion industry in 2016 is projected to become a more than $70 billion dollar industry by 2020.
The advent of the progressive live video streaming software has marked by a parallel decline in the number of TV subscriptions. This naturally opens up the discourse as to why some of the top live streaming software is gaining traction.
We shall take up a few of them in this article.
Facebook Live: The Live streaming Facilitator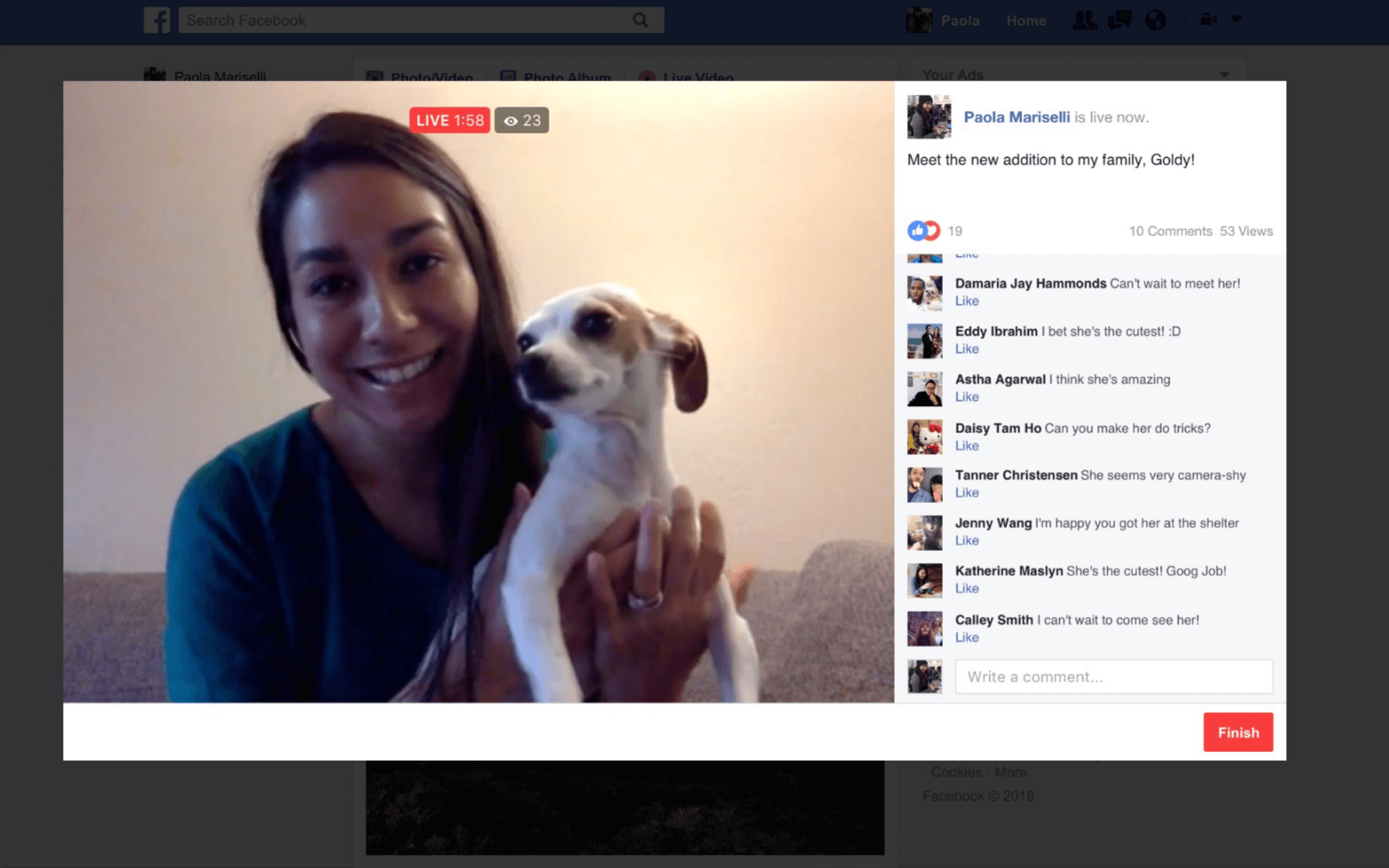 Leveraging the power of social media isn't new. But finding new ways to popularize your events online is certainly an art to master. With above 2 billion active users in a month, Facebook Live does just that for you.
As the name suggests, Facebook Live lets you update events to your profile as and when they are happening. Be it a live program, a popular event, or something as trivial as mundane events of your day-to-day life, and Facebook Live has got you covered.
The basic privilege of hosting pages aside, Facebook Live lets your fans and followers go live during that event and seamlessly share their experiences and opinions from multiple devices. A potential Live Stream option, Facebook Live allows you to-
Choose your audience
Receive real-time feedback
Track the number of viewers per event
Facebook Live is an ideal Live Stream platform for event planners as it is devoid of the unnecessary complexities of the conventional live-streaming platforms. Its easy-to-use features make it the first choice when it comes to live to stream.
Live: Feature-rich Live streaming App for Concurrent Streaming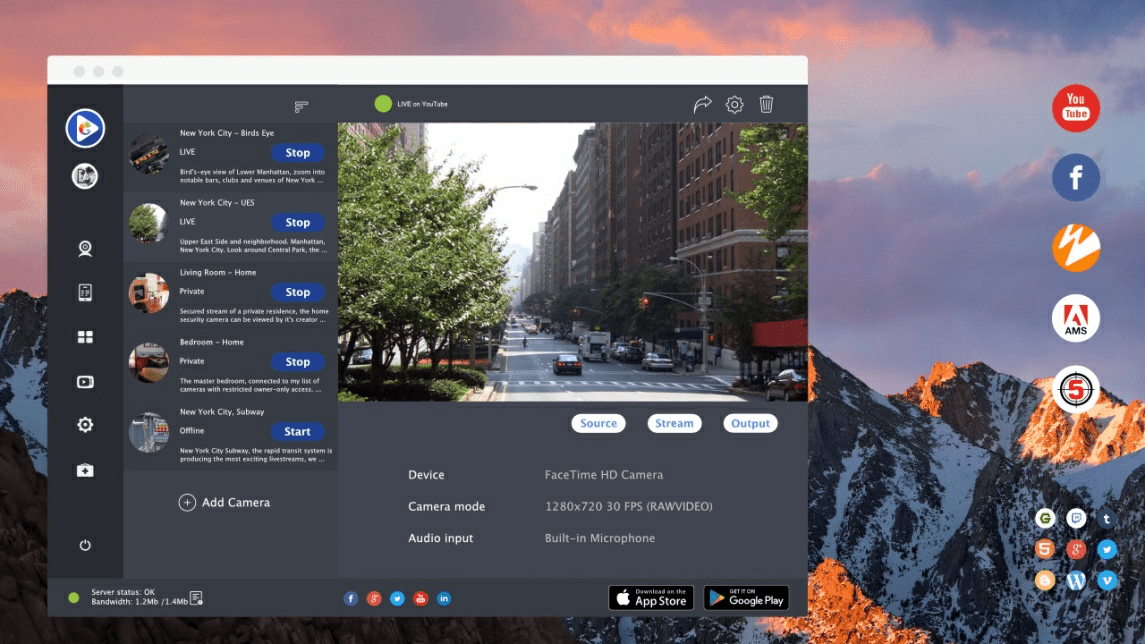 A widely used live video streaming application, Live lets users carry out simultaneous streaming sessions. For instance, you may stream on YouTube and host a Facebook Live session at the same time. It is generally done through a central dashboard and helps connect with multiple audiences simultaneously.
This Live video streaming app is operable on iOS devices, Windows and Mac computers and internet-compatible cameras. It is worth mentioning in this regard that the average time spent on mobile for Video On Demand (VOD) is 2.8 minutes, which is surpassed by live streaming (3.5 minutes).To avail Live's concurrent streaming feature and users charged a one-time amount of $9.99.
Live is extremely beneficial for businesses that prefer broadcasting their events through a single program over multiple channels, rather than managing some live streaming software at the same time.
Open Broadcaster Software (OBS): Open Source Live Video Streaming Software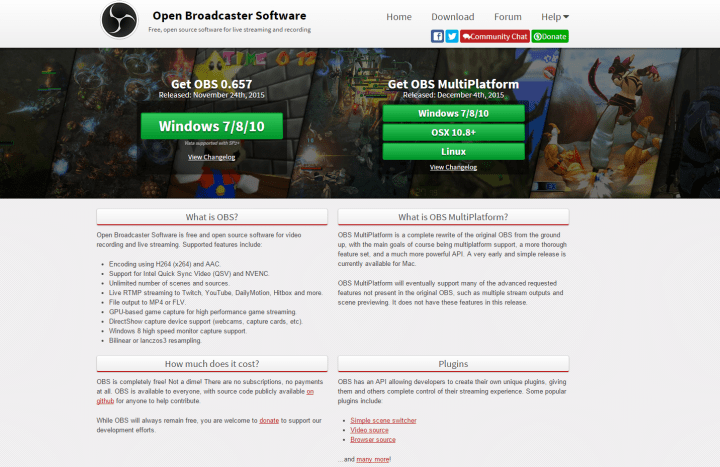 OBS an open source live streaming software is available for diverse platforms. It popularly used for live video streaming and recording. It creates the perfect marketing honeypot for online webcam broadcasters and gamemasters. It is available on-
Windows 7
Mac OSX 10.8 and higher
Windows 8
Linux
Windows 10
OBS is an attractive option for event planners in need of software flexibility. Being open-source software, it lets the end users alter the source code to serve their needs.
There are, however, two minor limitations of Open Broadcaster Software-
● Lack of proper technical support: Like any other open-source software, technical support while working with OBS can only seek from open community forums. This might hamper the live streaming processes.
● Technical knowledge: As mentioned earlier, the users might need to make modifications in the source code to make it fit their purpose. But this requires needing them to have minimal programming skills.
XSplit: Broadcasting Software for Live Streaming Videos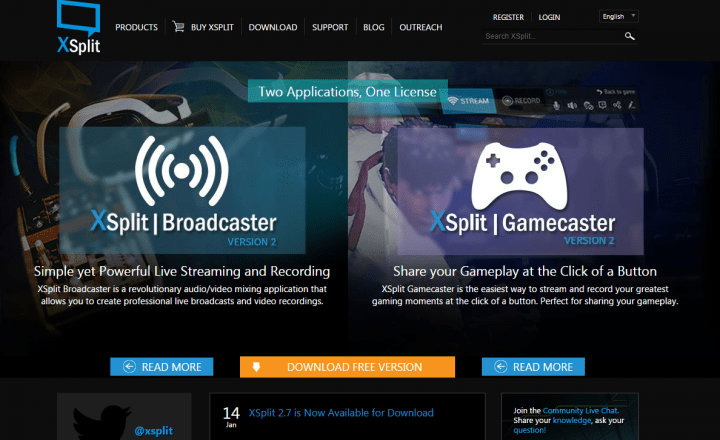 XSplit, a broadcasting software for live video streaming comes in two versions- the free version and the paid version. XSplit is the ideal broadcasting software for both video gameplay and live streaming video. This makes XSplit all the more compelling to consider as a broadcasting choice for your forthcoming events.
Let us have a quick look at the two versions-
XSplit Free: It offers all possible options to set up a live HD broadcast.
XSplit Paid: The paid options generally entail advanced features like custom script plugins and professional broadcasting tools. Personnel package is worth $4.95 per month, and the premium package costs $8.95 a month.
XSplit is a highly beneficial software primarily for the professional event planners and managers who are always on a lookout for plugins and tools to clean up the audios and videos of their previous Live Stream.
YouNow: Free Live streaming App for the Younger Generation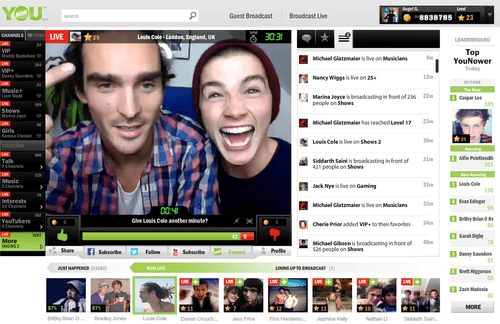 YouNow is a versatile video streaming app, intended to attract the youngsters? It has, in fact, picked up steam mainly because of this age group. This app can use for a vast range of devices like Android, Desktop, iPhone, and iPad. Lately, live streamers are being able to access it from vintage iPods as well.
Listed below are some of the compelling reasons you should befriend YouNow as your video streaming partner-
It is versatile and is compatible with a variety of devices
You can make use of handheld broadcasting features on your smartphone or tablet.
Users have ample options to personalize their live streams.
Going live on YouNow brings you closer to the younger crowd and popularizes your events manifold.
It is straightforward to create and broadcast live events on YouNow. You merely need to create a suitable hashtag, take a snapshot, hit share and finally click the "Go Live" button.
We can as well use this live video streaming app as "Video Twitter" that is readily deployable. YouNow is a tailored app for event professionals seeking natural search features with the hashtag system?
Future of Live streaming: Is it going to fade anytime soon?
The use of the Live video streaming software will show no signs of slowing down shortly. They will continue to reign supreme in the years to come. So that brings us to the end of today's discussion and the inevitable question-
Are you ready to Live Stream?