Biography
A group of British friends who make food as easy, fun and delicious as possible. Sorted Food has hundreds of video recipes, skills, tips & tricks on YouTube and their website. Based in London, but with a global community – Sorted are constantly learning new foods, staying on top of trends and getting everyone involved in their videos. The success strategy of SORTED Food YouTube Network has been explained here.
The Sorted Food channel on YouTube are the world's most engaged cooking channel on YouTube globally. A testament to how passionate the community is about food and learning new recipes – and no recipe is complete without the community's involvement in helping personalise it and make it as amazing as possible.
Sorted never want to stand up and say any food is right or wrong. food is personal to every member of the community – the hope is they provide a platform for people to have a conversation about their favourite ingredients/methods.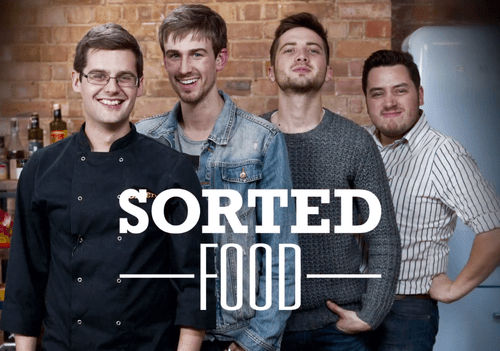 Sorted lives online… So social media is the only way they can communicate with their community. As well as just conversations, all the comments get used to creating the best recipes possible, with influences from all around the world.
The truth is that while you may only see four people on the screen a lot of the time, Sorted is built up of the most engaged community across all of YouTube's cooking channels… For instance, each recipe video has had suggestions made by the community added into them (with callouts made in each video to the person who suggested that tip
The guys from SORTED food started their Youtube channel back in 2010 becoming one of the first online cookery shows in the UK.
Today, they are the largest YouTube Channel in Europe! with 647,000 followers and 50 million views on their channel have more clout than celebrity chefs like Jamie's Olivier or Gordon Ramsay's, YouTube food channels are killing TV chefs! They were one of the first ones to create a dedicated food channel on YouTube at a time when it was mainly used just to post and watch random videos.
Sorted Food started building followers and likes, and without realising it they started to manage social media when most of the people were still trying to figure it out.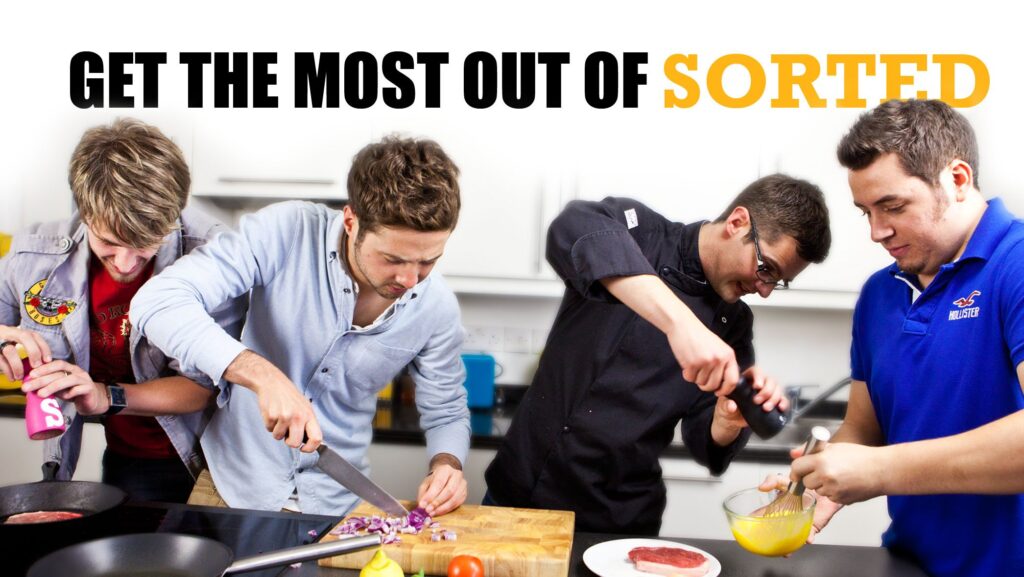 SORTED RECIPE FOR YOUTUBE SUCCESS
Short videos that engage with the audience
As we mentioned previously, the length of the videos matter. Audiences engage better with shorter videos. SORTED food videos are no more than 5 minutes long so people engage better rather than watching a 30-minute TV show.
Professional but not stuffy
YouTube is a very accessible platform for many people because you can make videos on the phone and upload it straight away. However, this doesn't mean that anybody can make a good video. The guys from SORTED use simple visuals, but their videos look professional.
Taylor and Hensley know the principles about photography and film production. They also work now with professional collaborators who help them produce and improve their videos.
Take YouTube seriously
YouTube was once seen as a platform where you could find any video you could think of. Nowadays is more a platform for video channels. SORTED food started having a program and schedule from early on. They always upload their videos at a certain time and on the same days to create engagement and keep followers looking forward to the next video.
Integrate YouTube with other social media
Their work doesn't finish when they post a video. They follow their audience feedback and comments on YouTube and Twitter. They reply, comment and collaborate with other YouTuber's, spreading their network.
In fact, their most popular video is the one featuring YouTube superstar Jenna Marbles.SORTED food has become a reference on YouTube, not only for the food community but for anyone who wants to know how to establish a good channel online.
In fact, they're so good that their channel is used as a reference for YouTube's Academy.
Conclusion
The strategies that have observed from the Sorted Food YouTube channel will drain more traffic and branding for your channel as they are gaining now. want to be the one in the list of top YouTuber just go on implementing at your channel.