In my living memory whenever you want to watch a video it has to be on VCR and DVD player, then moved over to cable networks and now this YouTube. Twenty-five years ago, streaming videos over the internet were pretty much toughest science fiction. Is and now this History of YouTube.
The YouTube phenomenon itself has been around for ten years, and it's ready to change the world.
Surprising History of YouTube
Considering the Size:
At first we consider the size, The 7 billion hours of video watched every month, it will take straight four days of watching, just a manual video uploaded in every 60 seconds. Regarding size on the web, YouTube is the third most visual size on the internet and the second largest search engine on the internet.
How did it happen:
In one way it all starts with Elon Reeve Musk, this guy is ready to send people on the mass.
He has his own Space X company and a car company called Tesla Motors.
Elon Reeve Musk is also a cofounder website called PayPal.
The Cofounders of YouTube was named as Chad Hurley, Jawed Karim, Steve Chen these three guys work with PayPal to make online transactions easy.
Chad did the PayPal logo with simplicity, jawed, and Steve is computer guys does code and complex systems. These three guys shot a friends video, but there is no easy way to share.
After that PayPal interested in Video dating website named as "Tune In Hook Up". Users could upload videos by themselves, they even paid people on craigslist to post videos, but they refused.
One day Janet Jackson function appear anywhere on the internet. Then realized the need of video sharing sites, the existing video site Tune In Hook Up is changed to YouTube.
About YouTube:
The website is found in February 14 ,2005 in California.
The first video was "Me at the Zoo" by Jawed uploaded on 23rd April 2005.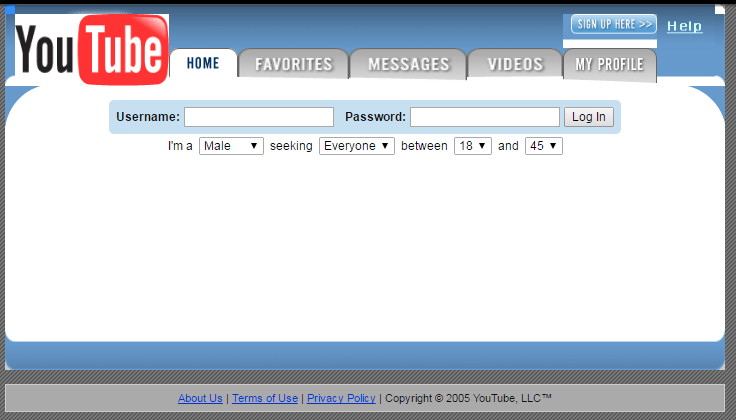 The video was on 2nd September 2005 it was a "Nike Ad" hit the first one million views.
It raises one of the first companies, YouTube's commercial potential.
By November 2005, YouTube gets 3.5 million dollar capital.
In June 2006 entered into traditional media company digital age.
YouTube has been purchased by Google at $1.65 billion.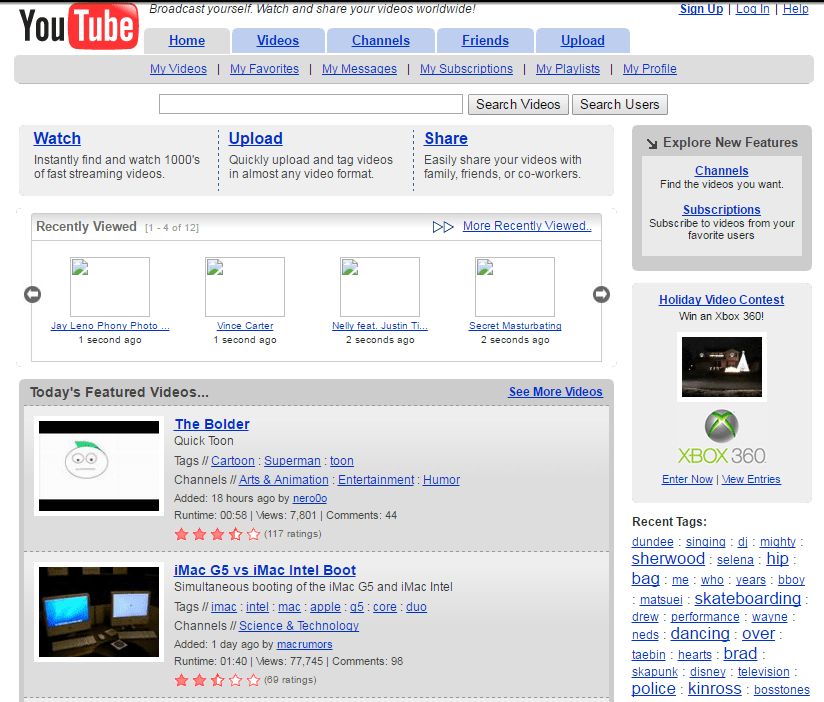 In October 2006 YouTube became community with Google.
The next step in the evolution of the internet with 65 employees.
Now YouTube has become one of the fastest-growing sites on the entire internet; the site has personal for more individuals around the world.
In May 2007 the YouTube partner program came into the picture. Then YouTube becomes everyday life their hobbies turned into a business. Nowadays people are getting six-figure income through YouTube.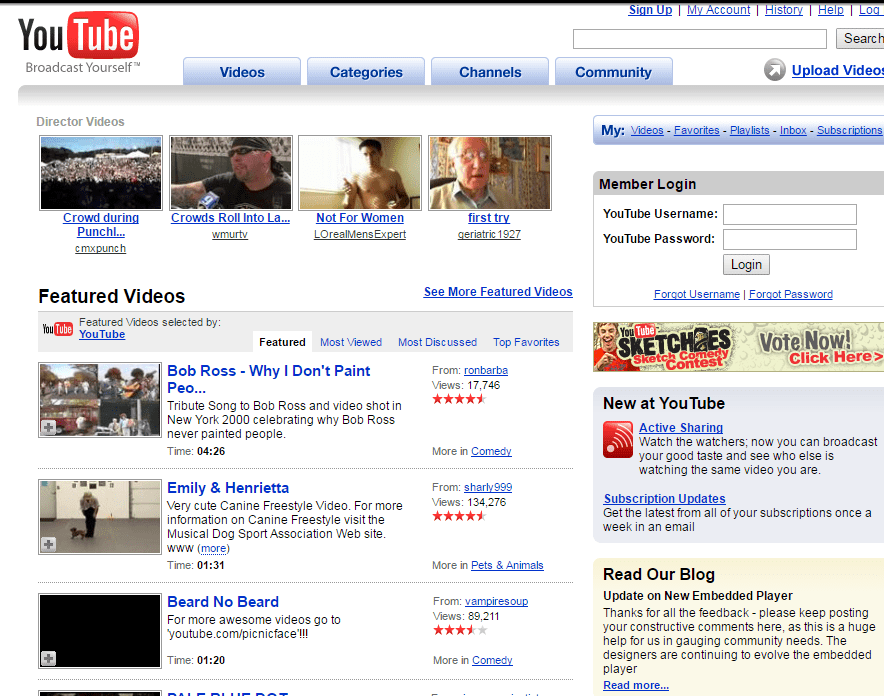 Nowadays people are getting six-figure income through YouTube.
First Campaign on YouTube:
In 2007 seven out of sixteen Presidents announced their campaigns on YouTube. The first time in the history user-generated video throughout the debate.
In August 2007, Google finally decided on making money and made advertisements.
In 2008 how YouTube website looks like.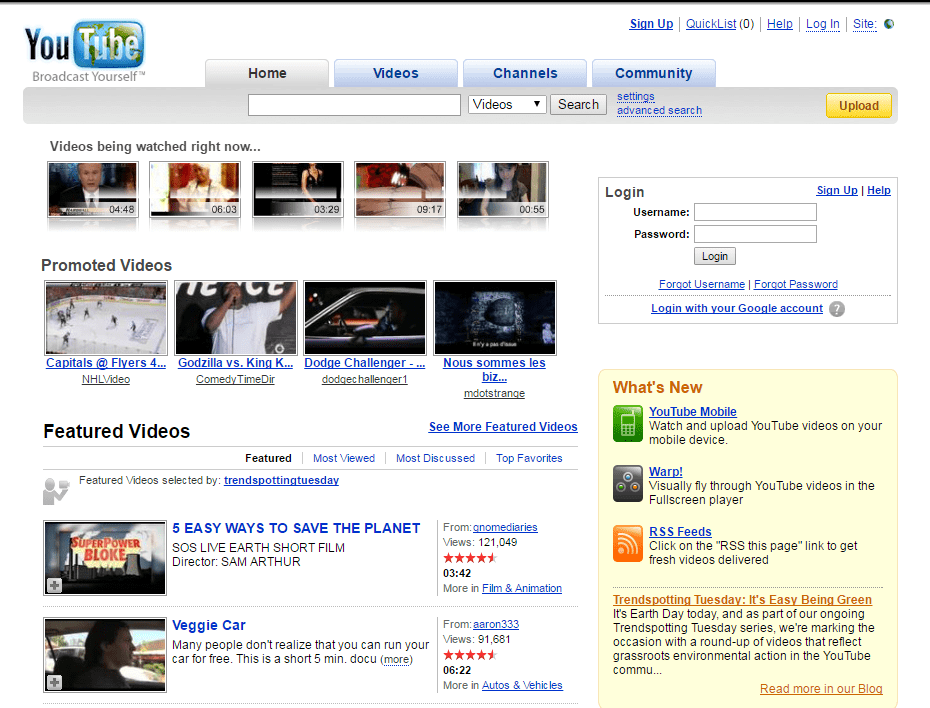 In 2009 Library of Congress launched a YouTube channel.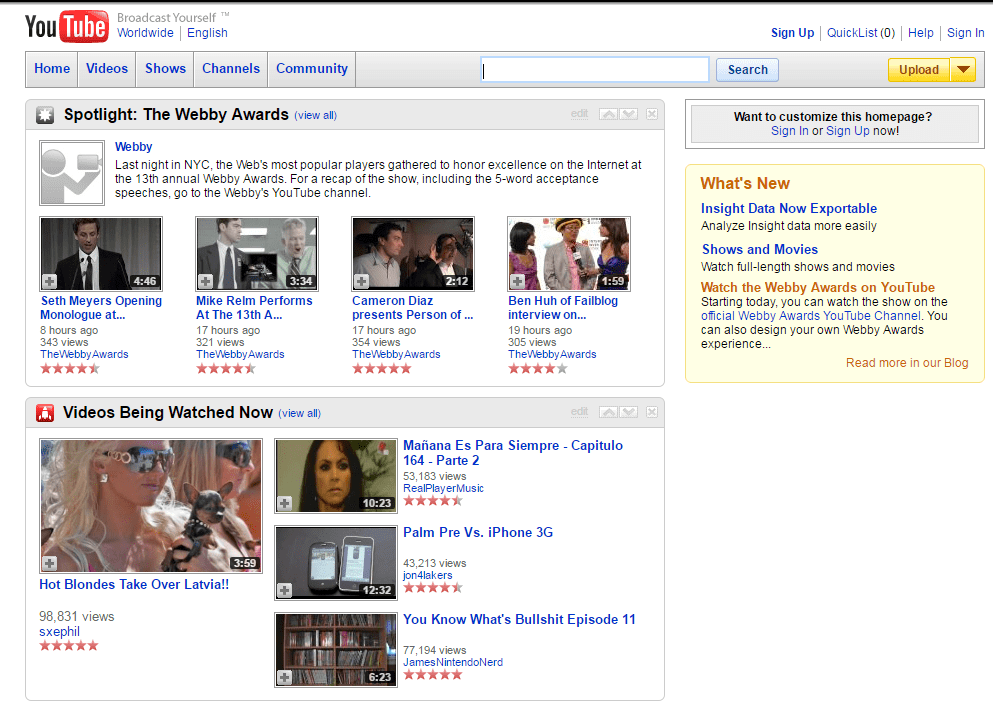 In 2010 all types of videos are uploaded in YouTube.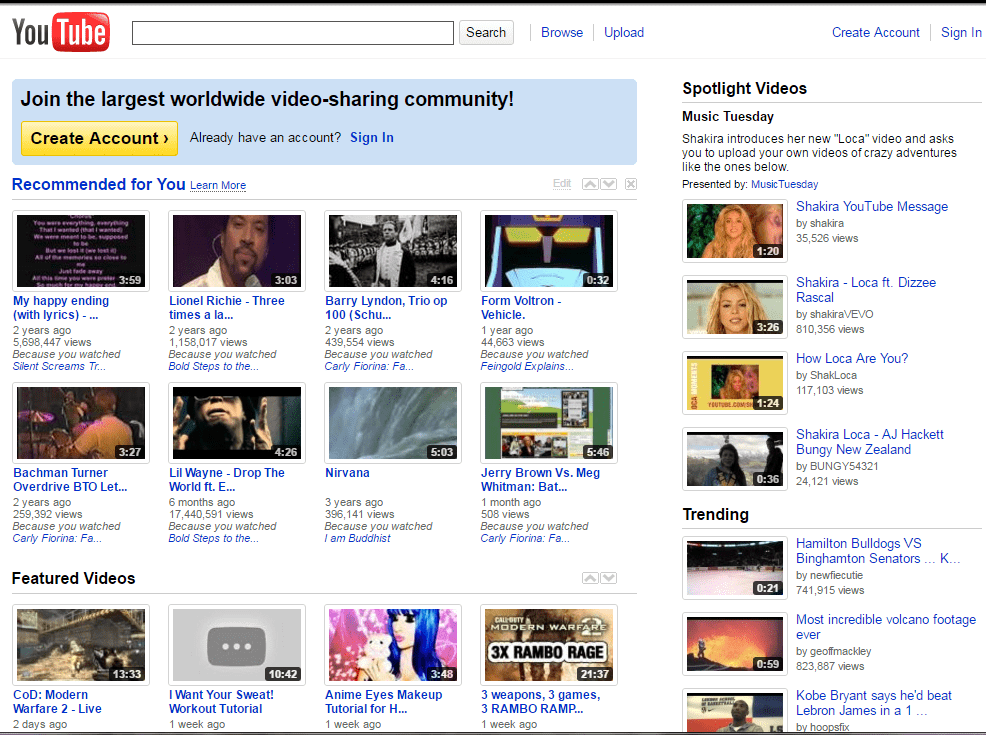 In 2011 this started the Live Streaming, real-time photography, Olympics, News coverage of anything all over the world.
It can do anything; it could influence world history.
It can do anything ,it could influence world history.
YouTube Turned to Music channel:
In the same year the channel Majestic Casual was founded, this channel was influenced the internet music culture. This channel uploads videos of all types of pop, hip-hop, indie, electronic music and more.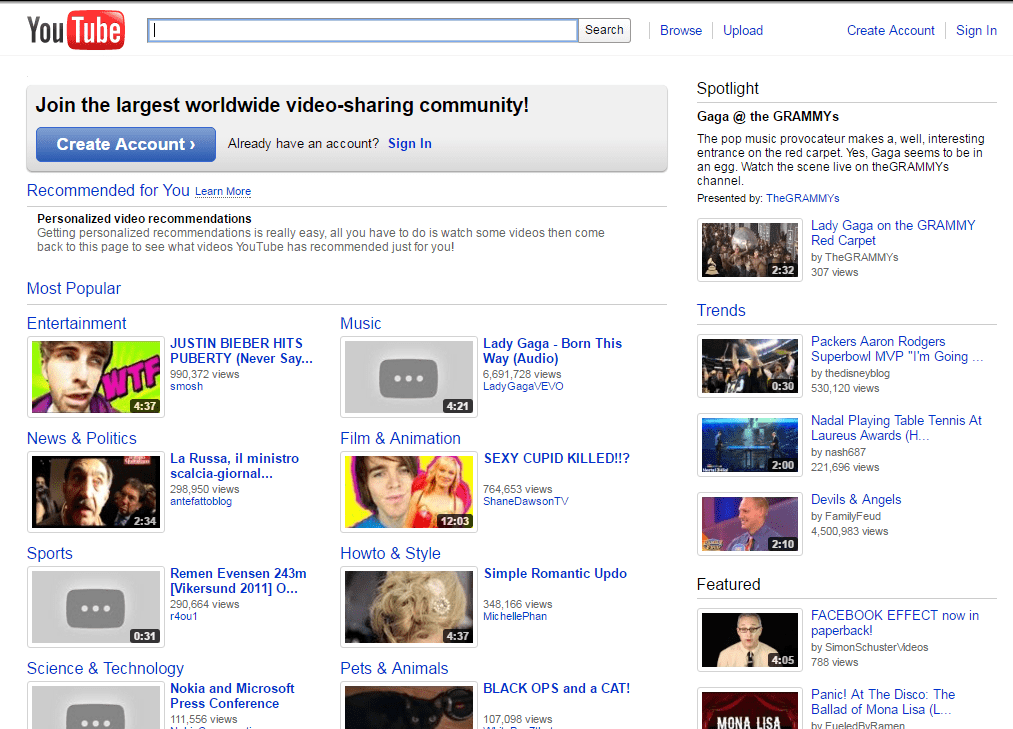 From 2012 onwards YouTube never looks back, over the years new features are added to the YouTube and it's become an everyday lifestyle.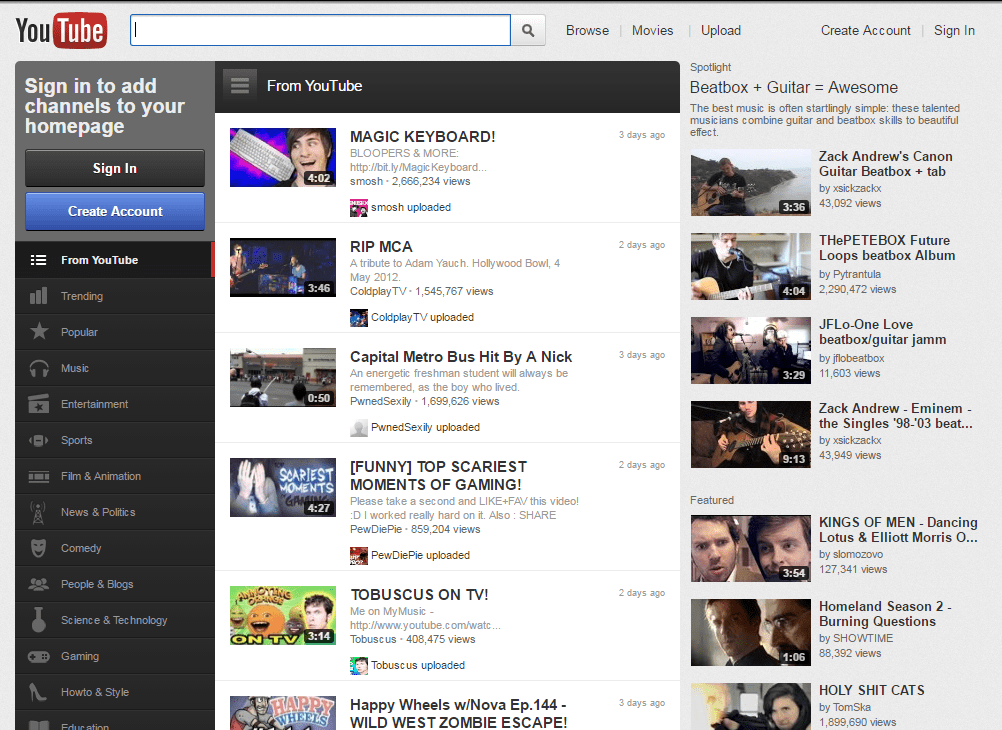 Interesting things about YouTube:
"YouTube is bigger than Television" according to Google Chief Executive Chairman Eric Schmidt.
YouTube replaces TV watching as a whole.
YouTube has past one billion Unique visitors every month. Two years ago YouTube get 6-7 billion unique visitors every month.
Everyone realizes how big YouTube is.
Web Layout of YouTube in 2013.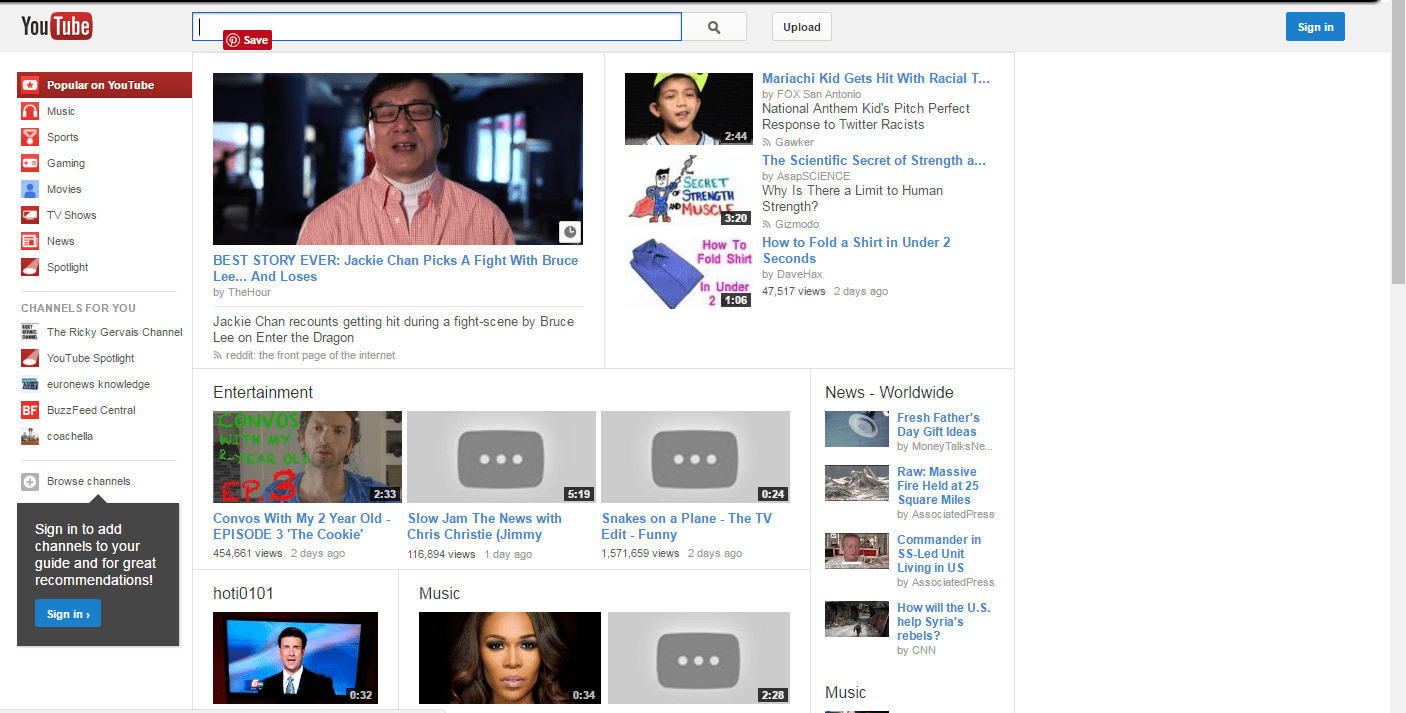 Everyone is realizing how big is YouTube. Now advertisers turn the TV to YouTube, the exclusive advertisers choose top 1 percent of youtubers get premium ads.
Mainly celebrities like Justin Bieber, shows like Broad City those are 2 million concept shows.
Another interesting thing about YouTube is people upload interesting things in real life and reel life.
Previously simply sitting in front of TV whole day watch movies, shows, games and everything.
In 2014 layout of YouTube.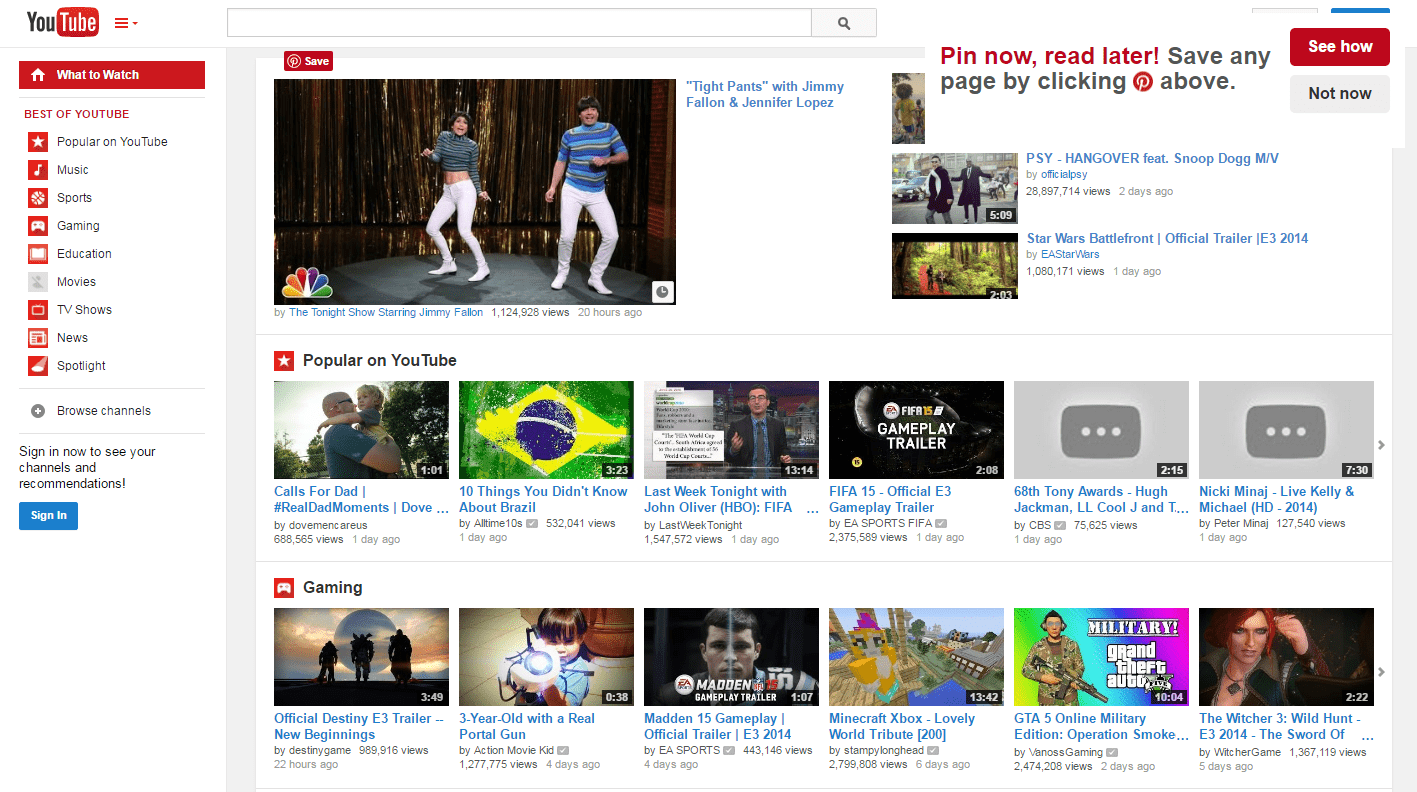 Now it's moved to YouTube specially the video accuracy, speed depends on internet.
Then you can enjoy movies, shows, Comedy, sports, talk shows, commercials, drama, games, fashion, crash courses what not everything on in a particular area on YouTube.
It has a vast community all over the world.
First uploaded video on YouTube:
Me at the Zoo:
This is the first ever unforgettable video of the YouTube, and it's done by Jawed Karim the co-founder of YouTube on 23rd April 2005.
In 19 seconds of this video Karim explains about elephant's long trunk at the San Diego Zoo and it has 34,763,229+ views.
Former channel tie-up with YouTube:
"SMOSH" is the first channel which is first started on YouTube and they provide the videos of animation, video games and sketches to get the attention of the US people by considering the days.
Initially, they started uploading the videos in 2003 but at that time they didn't get that much of response from the public as there is no YouTube.
When they launched their channel on YouTube, they got a massive reaction from the Public with 22,476,620+ subscribers and 6,089,745,586+ viewers which one can expect.
The most popular video on this channel is Beef' n Go with 102,065,461+ views.
Link for SMOSHTOBER Announcement
Income through YouTube:
The potential earning is $15,224,364 through this YouTube website and it has gained the 6th rank for the subscribers and 40th rank for the viewers which is unbelievable.
Richest Earner of YouTube Star:
Pew Die Pie:
Pew Die Pie was only YouTube channel that has 49,366,112+ subscribers and 13,825,381,159+ viewers which is the most unexpected miracle of video channels.
He uploads about 30 videos per month on YouTube and it started on 29th April, 2010.
Role of Pew Die Pie:
The main role of pew die pie was that he would make commentary and reactions to the game by playing and in the middle he creates fun by doing silly things.
The featured channels are:
Cinnamon Toast ken, kick the PJ, Jelly, Markiplier, emmablackery, Kwebbelkop, Marzia, Press heart to continue, Jacksepticeye and Cryaotic.
Due to this YouTube channel he earns about $12 million per year and this YouTube channel acquired 4th rank for the subscription and 1st rank for the views.
He made a stamped brand for his videos in the minds of Public and remained as the richest YouTube star till now.
YouTube Gaming:
This is introduced mainly for video games. In this they had a collection of various types and the most interesting one is that it has live streaming.
They are featuring news, reviews and PlayStation all together in one place.
It was produced by YouTube's invention system on 15th Dec, 2013 with 77,783,861+ subscribers
Link for YouTube gaming channel
The huge no. of gaming channels registered with this YouTube and some of them are Pew Die Pie, Vanoss Gaming, Vegetta, Markiplier, KSI, The Diamond Minecart, The Syndicate Project, Captainsparklez and so on.
For the last one month the video game having 12,724,146+ views are "I Waited 6 Years to play this".
Link for I Wanted 6 Years To Play This
In this, the guardian will do the adventures with the help of one creepy creature and finally wins the game, which is very curious and funny.
YouTube Music:
It started on 24th Sep 2013 to make the public much more pleasant by enjoying the feel of listening music.
For this they had gathered huge genre of albums from different channels, and in this, the most popular music channel was VEVO music.
Trendy Album:
The popular video in this is "The weekend- The Hills" with 958,084,246+ views. The theme of this song was to make the viewers understand the weird things are going behind the weekend as two girls appears in his room after accident though he left them in the car.
Link for The Weeknd – The Hills
YouTube Sports:
The main reason to launch this channel was to encourage the people to do some physical activities by getting some mind relaxation and fitness for the body to have a healthy life.
History of YouTube shows the competition between the two contestants by fixing some goal to reach the target to succeed one another one.
It started on 15th Dec 2013 with 75,796,988+ subscribers and too many channels have registered with this YouTube sports.
VR Video:
This recently launched by the YouTube on 26th Jan 2015 by producing more entertainment in realistic way which doesn't exist by other competitors.
The viewers who are watching the video can feel that things are happening in surrounding. The no. of subscribers is 1,899,113+ though it's very new to the users.
Presently it doesn't feature any channel and they provide about 5+ videos per month.
"2016 MKBHD Studio Tour in 360" is one of the best virtual reality video and in this we can visualize the whole room by dragging the options on the video provided."2016 MKBHD Studio Tour in 360" is one of the best virtual reality video and in this we can visualize the whole room by dragging the options on the video provided.
Unique feature of VR Video:
This channel was offering the 3-dimensional view of the videos which never seen before and to experience it to best must watch these videos on mobile devices, Google Cardboard and Daydream View by using headphones.
Link for 2016 MKBHD Studio Turn in 360 degrees
Link for 2016 MKBHD Studio Tour in 360 Degree
EMMI Award:
The YouTube has won the EMMI Award for its long lasting work on offering astounding entertainment in the social media which never done before with technical effort.
The creators, musicians, films, series and sports are added into the list of YouTube to attain that award.
To encourage the people who are responsible for the victory of the YouTube channel between worldwide they are announcing the awards for their success.
To telecast these winners, they had established the Emmi awards YouTube channel, and in this, the best video is "Oprah Winfrey Acceptance Speech."
Academy of Television Arts and Sciences will honor the people with this award, and in this, we can watch the interviews of television legends and their personal experience.
Link for Oprah Winfrey Acceptance speech -1998
You Tube mobile:
YouTube mobile was launched in June 2007 using RTSP (Real time streaming protocol) streaming for the video.
Initially, YouTube videos can be viewed on iPhone, iPad touch and Apple but now most of the latest smartphones (Android, iOS) are capable of accessing YouTube videos either through an application or through the website.
All YouTube videos were not available on the mobile version of the site.
Since 2007, YouTube videos were available to view on Apple products. For this YouTube's content had to be transcoded into Apple's preferred video format, H.264.
In July 2010, the mobile version of the site was relaunched based on HTML5, avoiding the need to use adobe flash player and optimized to use with touchscreen controls. The mobile version is also available as an app for the Android platform.
In July 2010, the mobile version of the site was relaunched based on HTML5, avoiding the need to use adobe flash player and optimized to use with touchscreen controls. The mobile version is also available as an app for the Android platform.
YouTube was used by 35% of smartphone users between April and June 2013, making it the third most-used apps. It allows videos to be uploaded from mobile phones in different formats such as as.AVI, .MKV.MOV, MP4, DivX, FLV,.Aug. These include video formats such as MPEG-4, MPEG, VOB, and.WMV. It also supports 3GP.
To open YouTube for mobile web, go to m.youtube.com in your device's browser, such as chrome or safari. YouTube is also available as an app for android and IOS devices. Download YouTube for iOS or download YouTube for Android in Google Play.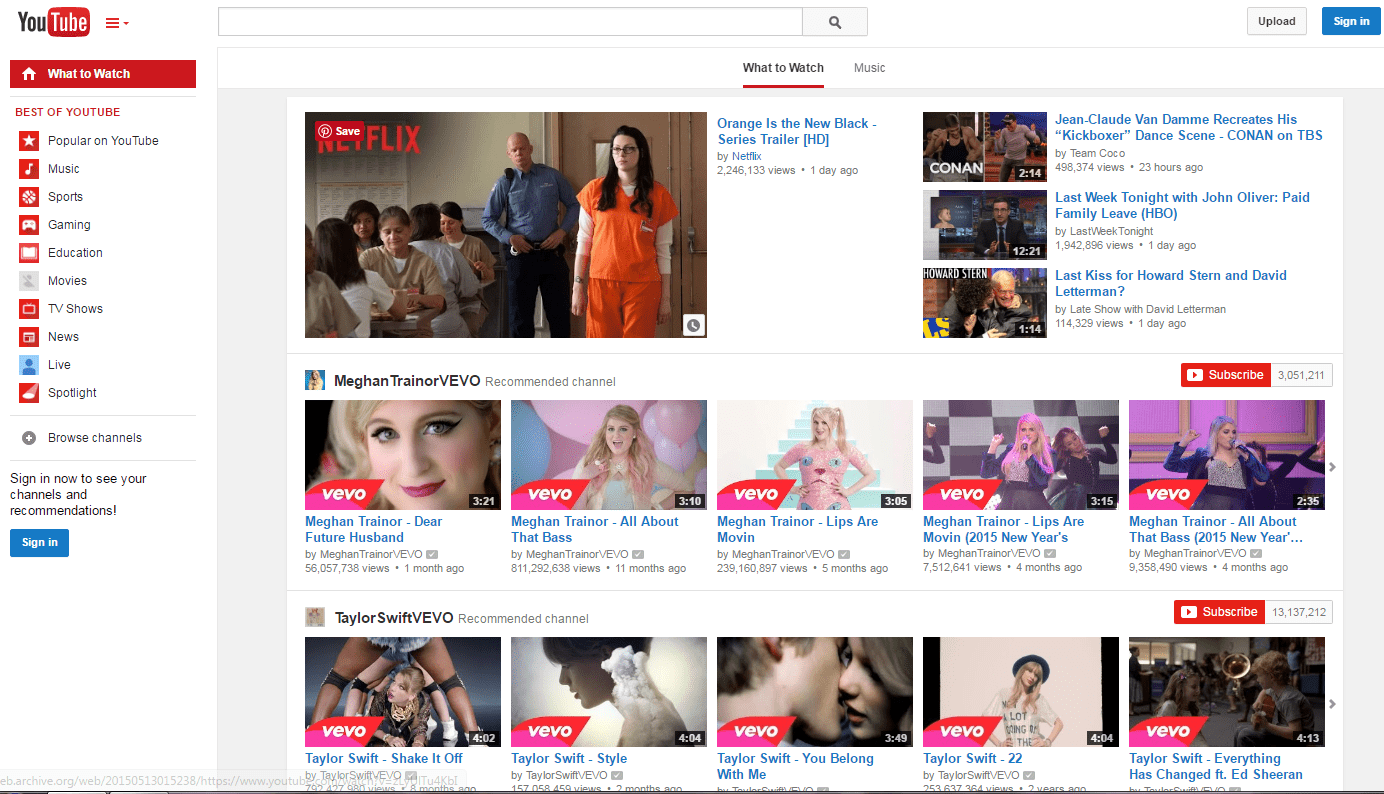 The YouTube popularity of mobile devices is well documented, and even though it uses more data when streaming tracks and music videos, it's cross-platform nature and familiarity are likely to make it the first place smartphone users look to.
According to a History of YouTube, viewers watch more music and comedy, followed by movie trailers, how-to videos, and sports clips make up some of the most-watched video content on smartphones.
YouTube CEO Susan Wojcicki has confirmed that more than half of YouTube views come from mobile devices. More and more of us are watching video content on the site via smartphones and tablets, a trend that is also contributing to the 50% increase in watch time the site is experiencing per year.
She also acknowledged that the YouTube app, available via Google Play and Apple's App Store, had contributed to the increase in mobile views.
Here's the link where Susan Wojcicki, Chief Executive Officer, YouTube talks about the importance of mobile video:
Link for Susan Wojcicki, YouTube on Mobiles
YouTube Statistics: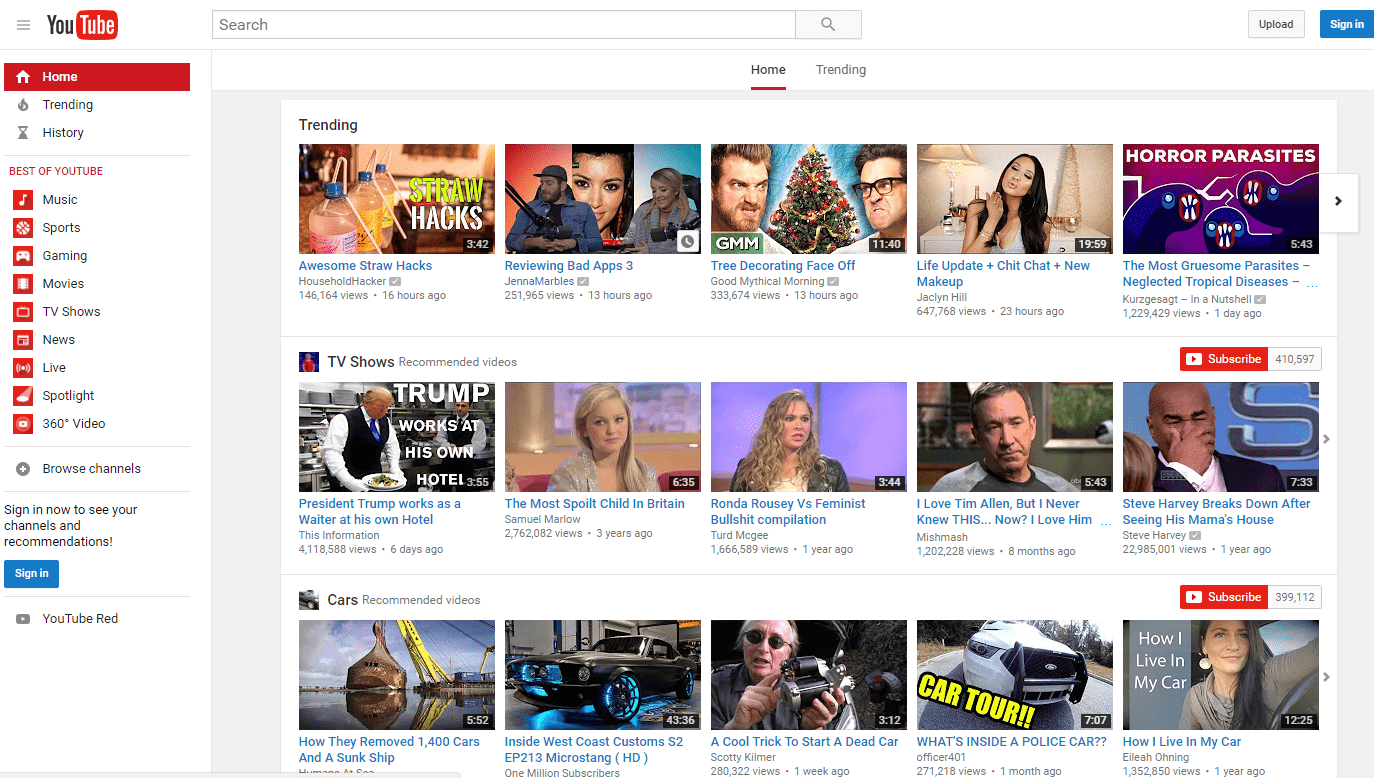 Total number of users who use YouTube –1,325,000,000+ users.
5 billion YouTube videos watched per every single day.
On YouTube for one minute 300 hours of videos are uploaded.
3.25 billion number of hours of videos watched on YouTube every month.
Total number of videos that generated 1 billion views are 10,113.
In an average month 8 out of 10,19 – 49 years old people watch YouTube.
YouTube video views on mobile per day — 1,000,000,000.
Total number of languages YouTube can broadcast are 54.
Average time spent mobile users on YouTube –40 minutes.
On YouTube 38% of Female users and 62% of Male users use.
More than half of the YouTube videos come from the mobile devices.
Highest views on user submitted video is "Charlie bit my finger", number of views for this video 829,000,000+
Number of videos watched per month on YouTube are 6 billion.
Number of hours that Virtual Reality watched 350,000 hours.
42 countries with localized version of YouTube.
Interview with Susan Wojcicki says about the future of YouTube:
The Chief Executive officer of YouTube Susan Wojcicki speaks about the future of YouTube on video sharing websites has a lot of projects to move the company forward. They have a billion users globally very significant with YouTube, the watch time also growing 50% year by year. The watch time for YouTube is about hundreds of millions; it's very encouraging to them to grow more. Link for complete interview
Link for Susan Wojcicki Interview
How YouTube is using Artificial Intelligence
Google is finding all it's best possible ways to make sure that YouTube content is safe for all brands through the implementation machine learning that better identifies the content which estimated as offensive for the audience and advertisers.
We can observe YouTube transformation from the day it launched to till now. Through the launch of experiments and user intended redesigns in the field of artificial intelligence elevating the best capability of YouTube as the #1 entertaining video platform. By comparing with the past activity of YouTube now, it's predicting and featuring the user interested content for which the audience is looking for.
YouTube also stated that machines flagged above 83% of now-deleted videos to review rather than humans.
Above three-quarters of videos taken down before they were getting views, and most of them are related to spam or porn.
Without human involvement, artificial intelligence technology lets them train algorithms on data which can be used to spot the objectionable videos and take actions.
YouTube Recommendation Algorithm
Google Brain drives YouTube recommendations, which is opensource TensorFlow. With the help of this, one can conduct experiments on multiple deep neural network architectures with distributed training.
This system works on two neural networks in that one is a candidate generation in which it takes the audience to watch history and filters videos in hundreds.
For the performance of the recommendation algorithm, Google uses offline metrics and then conducts A/B testing between the best performing algorithms to get the final decision.
The only intention of developing this recommendation algorithm is to serve the audience what they want to watch and improve the long-term engagement of the viewers.
The YouTube recommendation algorithm affects 'in search results, in trending streams, in notifications, in the recommended streams, in channel subscriptions, and on the YouTube homepage.'
YouTube Spam Video Cleaning and Comments Cleaning
YouTube is cleaning the offensive videos, unsolicited bulk subscriptions, and spam comments on the platform. Due to this, most of the YouTube creators have a rapid drop in subscribers count. YouTube has given a clear and clever explanation about the efforts and effects of it to the creators.
YouTube stated that they verify the legality of YouTube accounts and actions on your channel.
YouTube sorted the most recent posts in removing the comments. The cleaning of spam videos, subscribers, and comments building the fidelity of YouTube towards the audience and creators as well.
Creating Mix Playlists using the User Search Query
Depending on the audience watch history, the YouTube Mix provides playlist automatically.
YouTube Mix Playlists can be created randomly and automatically or by calling the same playlists through bookmark or link.
This never leads to the same video result again. The user can find YouTube Mixes 'in search results, on music cards, on the home page, and in the suggested sections.'
Cracking Down Extremist Video Content
YouTube cracks down on the extremist videos that promote neo-Nazi, white supremacy, and other types of hate speech.
The expansion of this takedown policy will affect the video content who feature the violent content or hate speech projecting the groups or individual.
The implementation of machine learning technology helps YouTube to identify and delete the offensive extremism and terrorism relevant video content.
By the execution of machine learning technology, YouTube removes 75% of offensive videos before flagged by anyone. The accurate flagging of videos has been observed than compared to a human.
Conclusion
YouTube is making the best use of artificial intelligence to monitor and manage user activity in all possible ways. The above discussed are the unique ways that YouTube implements artificial intelligence that ultimately makes it be as the top user-friendly platform in the world.