We all know that, how difficult for video creators to face when their efforts are not noticed.
Imagine if your videos are getting high subscribers and viewer rate…
Imagine if your video content can skyrocket your sales conversions…
Imagine if your video went as a viral hit…
Feeling great!!! Isn't it?
Yes, you can make all your imaginations to real using the skyscraper technique.
Guide to YouTube Skyscraper technique
THE SKYSCRAPER TECHNIQUE!!!!
Skyscraper technique can be built by using three valuable bricks.
1.Brick One, find
2.Brick Two, creation of the best from the top
3.Brick Three, linking the content to the people
Let's build the bricks with strong base to construct a good skyscraper…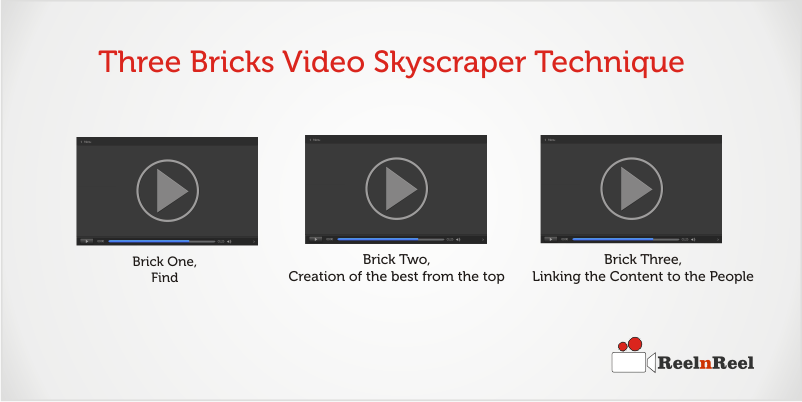 What you have to know about skyscraper technique before jumping into construction site?
The first thing you have to know about the skyscraper technique is, it is not a complete SEO thing.
The second one is it does not indicate that it include any kind of stealing license or permission of other's work or content.
So, let's peep into the main story now!!!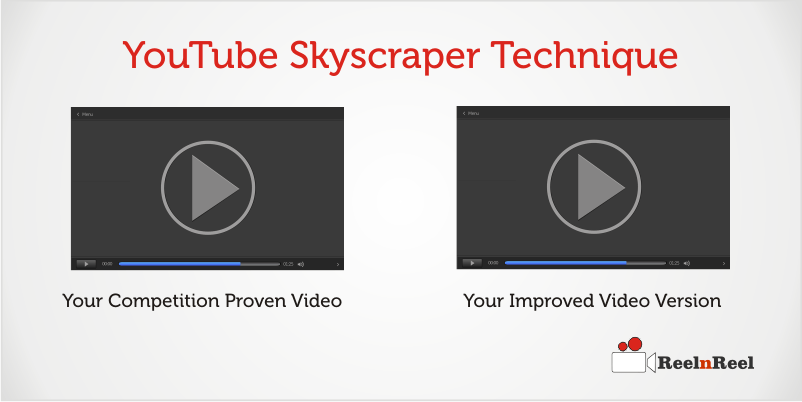 How can you use Skyscraper technique for your YouTube videos?
Go through the top three # bricks.
Go Brick 1
Well, the first thing you have to do is to search, find the top content across the YouTube platform.
Search for the top shareable, most liked and subscribed videos on the platform using different keywords on search engines.
for example try "top 50 YouTube videos 2016" like wise. This can help you to find the top videos list on YouTube platform.
You can also know about the viral videos and viral video trends after searching the same on web.
List out the top viral and trending video content across the web and get a final list.
Finally, building of brick one was accomplished.
Go Brick 2
Before going to place your second brick on your first one, make sure you have done well. Means you have to get a clear idea about why the videos listed in the top and what are the reasons behind it.
So, come to the next brick setup. Everyone has their different view towards specific things. Sometimes you may find the top content can achieve more than what it had achieved, if there are some things you think must be added to that content to make it viral across the web.
Yes, exactly. Contemplate your mind!!!
Draw different ideas about how can you create the content on the trending topics without copying or stealing one's license.
This process plays an important role in your skyscraper construction. It is not that much easy as well as not too difficult if you dedicate on things.
So, create the best video in your own way of ideas, thoughts and creative inclination.
The essence behind the building of skyscraper strategy is to learn how to find the top content and how to create the best out of the box from top valued content.
Go Brick 3
Your final brick to complete the construction of skyscraper is to connect the content to people across the web.
It is not too easy to connect the content to the right audience. Try different keywords on blog posts to know who shared a similar type of content in your niche.
Go for email campaign by linking your video content in email. Target the people who like your niche of content. Personalize the campaign in a better way by writing an attractive title and subject line in your email campaigns to raise the interest in audience.
So, do follow the audience based on their interest and let them connected with your content. To create link-worthy video content to get good traffic. Make your video relevant, unique and interesting by using the skyscraper technique.
Advantages of using skyscraper technique for video creators
Creators can efficiently build useful content for the readers. It increases the video exposure and social sharing and boosts overall traffic for your videos on YouTube.
The technique helps you to build better relationship with fellow vloggers on YouTube platform.
Therefore, Skyscraper technique is the best one for beginners which helps the creators to boost from zero level to higher in rankings and views.
So start this technique to boost the rankings and traffic towards your video content on YouTube platform.
YouTube Skyscraper Technique to Boost your Video Traffic
The prominent, so-called "Skyscraper Technique" is as helpful for the online video creator as it is for different sorts of digital content creators, for example, YouTube, Dailymotion, etc. The Skyscraper Technique is about distributed content in light of a PROVEN system. At the end of the day: Find old content that did well. And smash it with something far superior, if not all the more so. Nobody strolls past a small building and is stunned at how incredible it is. It is human instinct to need the best and to assemble ever more elevated.
The three stage Skyscraper Technique:
Find a "Skyscraper" – or content that as of now has an extensive, set up measure of back connections and social shares.
Build it greater – make your own variant of the content that is better all around.
Connect with the right individuals – the site proprietors who have effectively connected to the past content.
YouTube video results are overwhelming Google's first page. Also, considering that Google possesses the mainstream video site, it's a pattern that is not prone to change at any point in the near future.
Here's the best part:
There's a dead-straightforward Technique that can get your YouTube videos to rank for aggressive watchwords in both YouTube and Google?
Well there is: compose 200+ word video descriptions.
Things that can add plus point for your content to go viral:
Keep Things Simple
Interesting Content
Add Music!
Scary Videos Can Go Viral
Be Funny!
Shoot a Reaction Video
Connect Your Video to one that is Already Viral
Stunt Videos
Connect Your Video to a Hot Pop Culture Phenomenon
Include an Animal
Create your own version of that viral video with something better
A viral video is an incredible approach to convey regard for your business or hotshot your video-making abilities. Keeping in mind it's practically difficult to foresee what will turn into a viral; there are sure things that you can incorporate into your videos to expand the chances that you'll have a raving success Internet hit staring you in the face. A viral video is any video that gets to be prevalent by being passed from individual to individual by means of the Web. (It's very like an "image," which alludes to any content that is passed along in the same way.)
It's anything but difficult to lose control of a viral video once it's out on the Internet. Your video may turn out to be wonderfully prevalent; however what great does that do you on the off chance that you don't get any acknowledgment for making it? Many people go along videos without trying to incorporate any credit to the source, so don't feel that since you put the video all alone site page or YouTube channel that everybody will know it's yours.
Upload your video at right time with best optimization techniques
Before you upload your video and advance it concentrate on what time you have to distribute your content, you can't exclusively depend just on watchwords with regards to YouTube improvement. There are different zones that YouTube pulls over, yet there is no exact progression like this. Here are a couple of territories you could concentrate on while advancing your video.
Attention YouTube content creators: If you need to expand audiences, take a sign from primetime TV. Viewership tends to be at the top on the site amid weekday evenings, as indicated by another study by the New York-based multichannel network.
To this end, posting on weekday evenings gives YouTube sufficient time to list videos and convey them to subscriber feed. Federation exhorts post times between 2 p.m. also, 4 p.m. on Monday, Tuesday, and Wednesday, and between midnight, what's more, 3 p.m. on Thursday and Friday. (Mostly EST.)
Find Influencers in your Niche who can share the video
Whether you offer wellness and wellbeing items, visit bundles or home administrations – a single confident suggestion from a trusted source can trump even your most perfectly composed duplicate or most captivating video showing. It depends on the reason for discovering influencers in your specialty to make an appropriate significant video and offer it in a bona fide and straightforward way. Whatever your specialty, you can draw in with bloggers to make the quality, genuine substance their gathering of people expects while partner your image with that substance.
Make it Viral again with Skyscraper Technique
So you have marvelous content. Why isn't everybody remarking on it and sharing it? Why isn't it topping off Facebook encourages the content of Buzzfeed, Villanova, and Upworthy? What are you doing incorrectly? Why isn't your wonderful content turning into a viral? Picture source Truth be told, turning into a viral, getting the Internet by storm. That is something that each content creator needs to accomplish. But that we know it is not that simple. Here and there, a blog entry that you have high trusts in recently don't appear to cut it.
As should be obvious, written work content that you know will perform well can be a great deal superior to anything composing content you trust will perform well. For whatever length of time that you're conveying increased the value of what's effectively out there, your perusers will remunerate you for it All the best for the creators who are trying to make big in the digital network.