Google's internal incubator, Area 120, opened an app called " Uptime" to watch YouTube videos as a group to get more socialized.
Uptime app allows all friends can watch same YouTube video at a time through this app, even if they are not stuck in front of the same screen. If you are working with Laptop, tablet or phones sharing of a video that you have seen is not an easy task, but remember one app that can give you an experience of Watch together with Uptime app.
Uptime watch videos together:
Uptime lets you watch videos together with friends and responds with chat, emojis, and hearts.
You can see an icon which is moving on the screen which signifies there is progress in the video.
Google invited their employees to develop the app. It is a simple process to work on Uptime environment just need the Google Account. Like Snapchat you can directly communicate with your friends and share and watch YouTube videos.
Uptime app launches only for iOS users hitting the App Stores now, this app adopted many features from the social video streaming apps video features and applies to the YouTube videos too.
While watching the videos you can add stickers, emojis, comments taggings your friends.
It is a process to get the app.
Go To App Store, search for Uptime Watch together app download it to your iPhone.
Next Sign into Google Accounts, you will get a sample tutorial how to work with this Uptime environment.
Next, Watch and share your YouTube Videos with friends, your profile picture moves on progress bar with a profile image in a rounded bubble as the same way your friends profile who is watching the same video.
You can also tap on the search bar at the bottom of the screen for YouTube videos as based on the YouTube subscription and related videos as per viewing history.
Videos are publicly viewable to other friends who joined in your group they can also join to watch a video. Another feature is you can directly send videos to friends or you can send a link through Inviting them in app or iOS share sheet.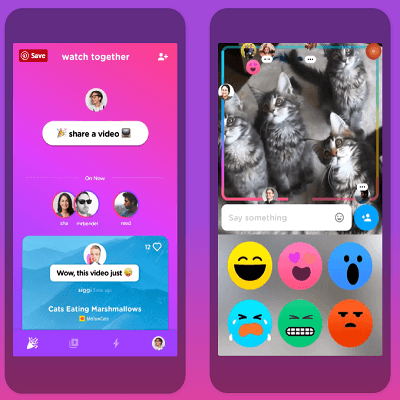 Uptime app has six built-in reactions like drag and drops with the finger it will create sparkles effect on an avatar, Emoji, Portrait, and Landscape video view capability while video playing.
The main reason to develop this app to watch and enjoy the YouTube video if your friends are not in the same room to share a single screen.
Unfortunately, this app is currently available only for iOS user, But in future, we hope for Android users also. Currently, Uptime app needs the invitation code to access the app.
Here You can watch only YouTube videos there is no option for recording and creating your videos. Only you can watch and share YouTube videos.
Conclusion:
This the best app for those who love to watch YouTube Videos along with friends as a group without gathering in one place. They can share and watch YouTube Videos through this Uptime social media app. Use this guide to know more about Uptime iOS app.