Subscribers play the main role and critical issue for the Success of YouTube channel. They spend more time on YouTube channel videos of a particular, subscripted channel; moreover, they wait for new updated coming from your channel.
Some people hide the subscription count from publicly posting if you would like to check real-time subscriber of YouTube channel we have some tools to test. There are some tools to monitor the Real-time YouTube Subscribers Count. Here are the Top 10 Real-Time YouTube Subscriber Count Tools.
Live YouTube Subscriber Count With APK:
This app allows you to get accurate results of Live YouTube Subscriber Count, at the same time it shows other data like a number of videos uploaded, comments, a total number of channel views and more. The main goal of this app is to track real time subscribers every second, results are taken directly from Google's service. You can search for the favourite channel with the keyword search, channels are shown on the main page after opening the app. The app designed by supporting portrait and landscape screen mode.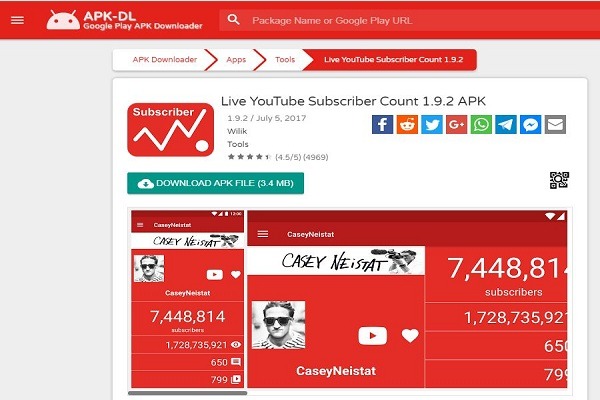 Subscribe:
This is a real time Subscriber counter app which allows updated for every two seconds. This app has more advanced real time features but the main advantage is grabbed subscribers count for every 2 seconds. You can save the all favourite channels in the app just open the app you will real time subscriber count of all channels. The technique is quite easy just enter the ID of the channel after opening the app or copy paste the URL of the channel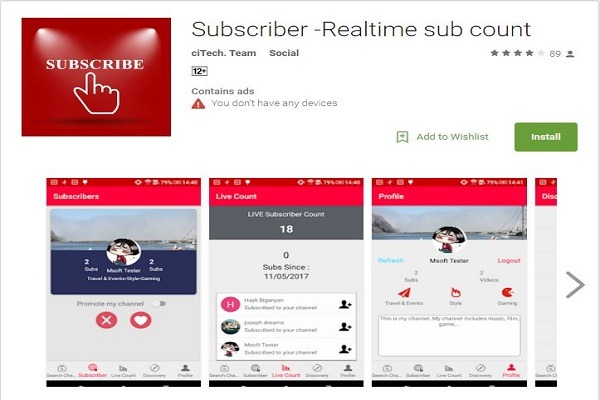 Subscriber's Pro:
This app allows you to find out real time Subscriber count of a YouTube channel at the same time you can check YouTube channel earning, Views, Videos count, popularity and latest updates. The key features of Subscribers Pro are no need to login to google accounts, easy to use, shows in graphs, advanced search, friendly designs, latest updates by a single click and use in offline and online modes.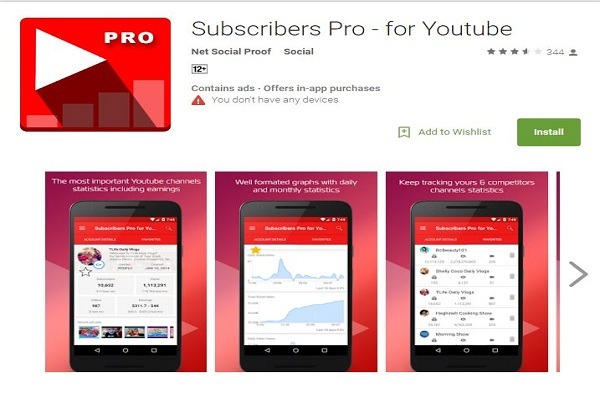 Livecounts:
The Livecounts app tells you how many numbers of Subscribers for YouTube channel in real time. The main feature is you can track count in two seconds, share the results on Twitter with your friends. You should enter channel URL or Channel ID for easy search of YouTube channel instead of mentioning channel names. Get push notifications for every update and save favourite channel so no need to search for every time on the app.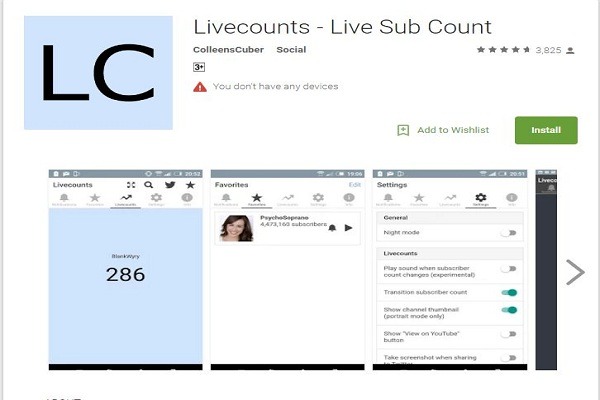 Subscriber Count:
Subscriber Count is an official French application which allows you to take beautiful screenshots in full-screen mode. Track the real time subscriber count in full-screen screen shots within two seconds of a span. You can add favourite channels for later use and share on Facebook and Twitter.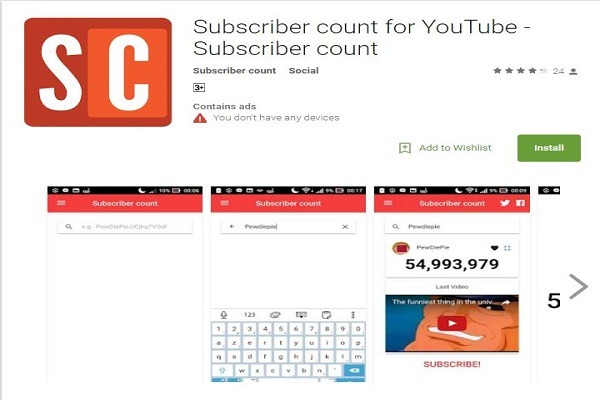 YT Count:
YT Count shows a genuine way of tracking YouTube Subscribers count, this is the oldest app but still is on the top. The Live count option gives you to track real time progress at the same time to check multiple channels at a time. YT Count has the mobile app and web version too gives continuous updates for your demanded channels. You can track statistics at real-time and past data of multiple channels of competitors and friends to compare.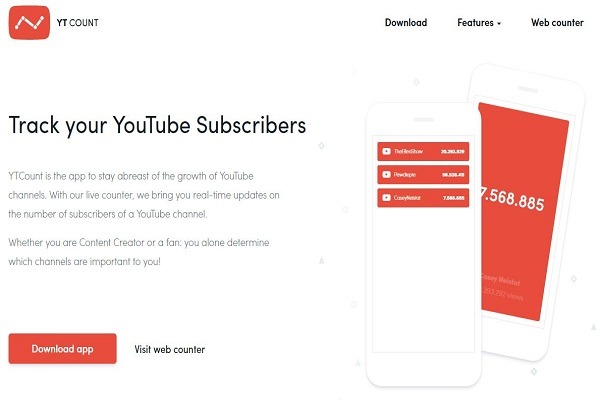 Live Sub Count:
Live Sub Count is from social blade android app. It doesn't take much time to get the number of a count from the YouTube channel. It shows results with in fraction of seconds, accurate and powerful app. Click on the heart symbol to add it to favourites, from their you will get continuous updates from YouTubers. It shows results in a progression graph bar formats and shares it with friends by clicking on top right corner.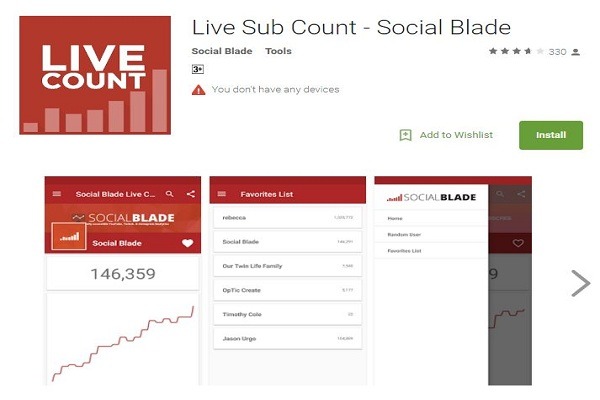 Real Time Subscriber Count:
Real Time Subscriber count is an official app to find real time YouTube subscribers count. Real Time Subscriber count has many advanced features but the main stream is tracked real time subscribers count. Easy to use and best popular app for the counterpart to get for many favorite channels. It does not need search engine help to track count, it directly displays in the app once if you installed, the feature is compatible with some websites.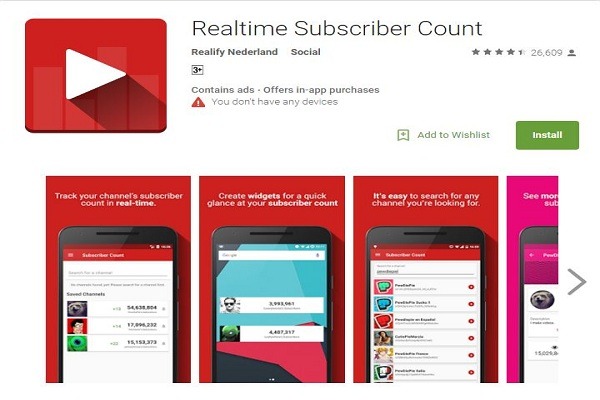 Live YouTube Subscriber Count Tools:
This app allows users to count the real time YouTube subscribers of a particular YouTube channel. Android user can download this free YouTube statistics app. Live YouTube Subscriber Count is accurate and fast because of YouTube API's. Just hold your finger on Home screen and press the widgets to add one. It gives advanced, customizable search in multiple languages.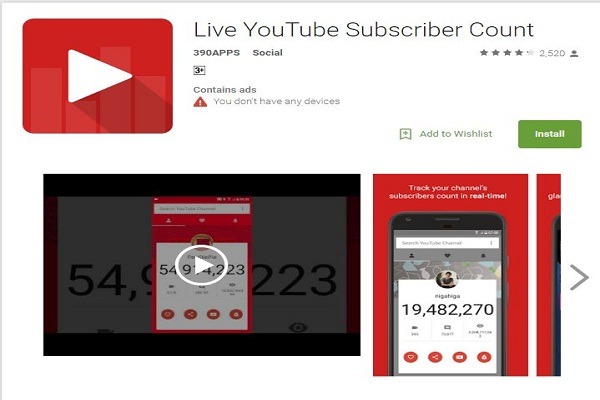 Subscriber Count YouTube SubUp:
This is accurate, fastest YouTube Subscriber count app shows live YouTube count in real time. You can track 5 instance widgets you can get real time subscription count. Once if you click on the Widget you will get YouTube subscription count in live. This app provides minimized fastest real-time live views so you need not wait for delays. It supports multi granular, most effective, search suggests and support from Google.
Conclusion:
People use a number of apps to find the real time Subscriber Count for a YouTube channel. But choosing the right one gives you accurate results. The above are the Top 10 Real Time YouTube Subscriber Count tools for YouTube channels.