Demand for Video Content increased drastically worldwide. Video Marketing Statistics alone reveal that videos are getting popular for time pass. Browsing and watching videos on any social media platform is trending in the digital world, either it may be YouTube Videos or Instagram Videos.
The video seems the most challenging medium for all the businesses, as it is the most potent sales-driving funnel. The supremacy of video can be seen from the present trending social media platforms like YouTube, Facebook, Twitter, TikTok, and Twitter. The video and social media platforms are proportional to each other when there is no one; then, there will be no other one that we can't say. But the combination of both video and social media has shown a huge impact on businesses where the term video marketing plays a vital role.
33% of Internet consumers are only consuming video content.
28% of mobile users used to watch the videos from their smartphone itself.
55% of the audience watch videos online every day, and 78% of the audience watch video content every week.
6 out of 10 audiences prefer to watch online live streaming videos than watching on Television.
Live TV is the most exciting source for 59% of the audience to watch live video streaming.
While comparing with the textual content and links the video-sharing takes 1200% more.
83% of the audience after watching the video are sharing, which is most enjoyed.
Each year the mobile video consumption rises to 100%.
Every day the mobile users watch 40 minutes of video content from their mobile itself.
25% of companies are publishing video content every week.
81% of business brands are using the video as the only marketing tool.
In 2018 73% of marketers created the least two videos, especially for social media marketing.
In the U.S digital video marketing the $ 135 Billion industry.
80% of the conversion rate increased by adding the video content on the landing page of any business.
The marketers can find 49% more business revenue growth with the insertion of video content for promotion.
81% of marketers can find more potential leads through video marketing strategy.
90% of consumers are making product buying decision after watching the video.
90% of Twitter video's views occur only on mobile devices.
135% of more organic reach observed by video posts on Facebook than compared images and texts.
eCommerce sites are finding the increase of online orders at least 50% by adding videos on their landing page.
85% of consumers are intended to watch more video content from business brands.
By 2021 the video is expected to add 82% more internet traffic.
By 2023 the global digital video marketing will reach $52Billion.
The global mobile internet data traffic will be video by 2021.
The email with the attachment of video or video links will attract 50% more customers to reach the mail.
68% of customers are choosing to buy the products or services by watching the short form of videos.
Social video, webinars, and demos are the most trending business videos.
84% of marketers consider video creation as the primary skill while hiring video marketers.

All business brands, on average, have 377 videos in their library.
YouTube, Instagram, and Facebook are the top 3 social media platforms for marketers to promote their video content.
The websites having video content are reaching 53 times more on the 1st page of Google.
157% of organic website traffic increased only through video content.
After watching the video ad, 46% of users act.
Over 54% of the Consumers are eagerly waiting to see the product videos content form the brands they support. Because of the increase in video content demand, more businesses and influencers are targeting on Video content to advertise. We can expect it will rise to 80% by 2022.
83% of the marketers reveal that Video content gives Significant ROI; it was raised from the past three years. Marketers predict that it will increase by 78% to 90% in the future.
Online Video ads convert more sales to brands. Considering reports from the biggest brands in marketplace such as Flipkart and Amazon, adding video content to their product video ads lead 35% more sales to that particular product.
Nearly 60% of the marketers fail in using the proper tools and measuring the data of digital Videos ads.
Over 70% of marketers fail in targeting video ads by consumers' behavioral data. Proper use of Video campaign ads by targeting people's behaviors leads to 35% of the rise in sales.
Viewability and brand lift are the two most influenced video advertising tactics that the world leads 75% response from the consumers listed in video advertising metrics.
While measuring digital video ads, more than 80% of the metrics depend on impressions and clicks.
When it comes to B2B prospects, 92% of the audience watch online video ads.
Brands followers watch more videos content; over 4 billion videos viewed on YouTube every day.
Among 100% of shoppers, one-third of the shoppers buy the goods after watching the product description video ads.
Consumers love to watch brand videos on their favorite social media channels.
73% of the consumers say that after watching brand videos, they influenced to make a purchase decision on a particular product.
Among all social media channels, Instagram has become one of the most influenced B2B channels with its extraordinary Instagram stories and Instagram IGVT videos.
It is a prediction that by 2022, 82% of the global internet traffic comes from downloads and video streaming.
Video sharing and downloading of traffic rise from 73% to 88% end of 2019.
More than 90% of the Americans relays that 360-degree video advertising content is producing better results than traditional video content.
Over 53% of the consumers respond to the brands after watching the Product video ads.
2 out of 5 all video ads come from the new marketers who are new to the Advertising industry.
68% of Video advertising is from major industries like automotive, consumer package goods, retails, and technology-related.
75% of people are more engaged in skippable ads compared to the standard pre-rolled ads.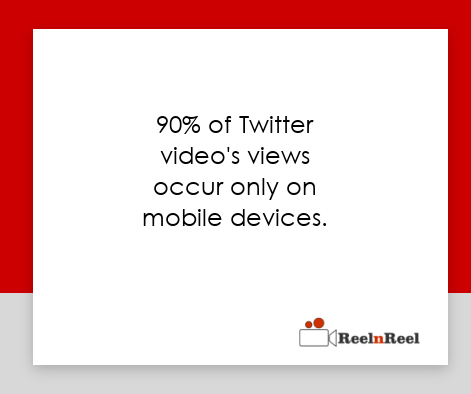 Conclusion:
Instead of thinking about pushing massive videos to the audience, launch effective videos that add brand reputation to your business. We can say that one video is just enough to find the business miracles within seconds. Effective communication can be delivered only through video. Disclosing the stories of customers through video is more important than one's business videos.