More people stay at home in Self-isolation and quarantine measures that could increase video consumption at home. The Coronavirus outbreak has led to growth in the use of entertainment services, Video-on-demand, Gaming, and Media consumption worldwide. Corona Virus impact 2020 changes the fate, growth, and amount of time spent on video streaming on TV and video consumption worldwide increased drastically.
50 Statistics on How Coronavirus Is Impacting Video Streaming Industry
Time spending on TV streaming increased by 40% in Spain and Australia.
The average time spending on TV streaming and video industry in Germany increased by 32% due to lockdown.
Global Film Industry predicted that it's Corona Virus outbreak could cause more than $5 billion loss to the Global Film Industry.
In China, Video Gaming app downloads on IOS devices have risen to 80% in February 2020.
In China, a 40% growth rate identified for video streaming apps downloads within two weeks after lockdown.
Sports networks with sports coverage viewership declines ranging from 9% to 25%.
According to Nielsen, video consumption in the US increased to 60% after lockdown.
PayTV digital video subscription in the US estimated to be 80.5 million households by 2020.
After lockdown in NewYork areas, 45% of the Live TV viewing increased.
Video streaming platforms spike increased to 61% of TV shows and movies in New York.

Amazon stated that the first quarter of 2020 generated $4.2 billion for video and music streaming after quarantine.
Nielsen predicts that the broadcast TV and SVOD viewing is higher by 60% of ratings.
Due to lockdown, Netflix agrees to reduce the video bitrate from 1080p to 480p in the European countries for 30 days.
In New York area TV viewing on weekends during this month increased by 49% compared to the previous weekends.
Netflix is going to reduce its traffic on European networks by 25% for at least one month.
The American household growth rate of Connected TV increased to 29% by March 2020.
OTT streaming hours over Connected TV increased to 24% in the US.
In the US, OTTstreaming users via streaming box/sticks increased by 43% by March 2020.
In the US, The OTT streaming hours via streaming box/ sticks rise to 16% by the end of March 2020.
The streaming boxes and sticks make up by 56% and total streaming hours in March account by 32%.

The Zoom app's daily active users were up to 368% because everyone working from home.
Monthly active users were up to 186% for the Zoom video streaming App.
Due to COVID 19 impact, YouTube restricted it's streaming quality to 480p for both the iOS and Android users.
The streaming platforms such as Netflix, Hotstar, Disney+, and amazon prime video also reduced their streaming quality in various parts of the world.
Disney+ is temporarily reducing its bandwidth utilization to 25% for one month.
According to the marketers messaging and video calling apps like Facebook, WhatsApp, Instagram increased usage to 50% compared to past years.
According to lockdowns reports, people are spending 20% more time on video calling apps.
Zoom video streaming app is now the top-rated business app on IOS among 141 markets.
Facebook is now downgrading its video quality on its platform in Europe due to lockdown.
By Sandvine's report, online video consumption growth accounted for 60% globally.
Due to lockdown WhatsApp status video is limited to 15 seconds.
Lockdown increased Twitch streaming platform usage to 24%.
Dr. Disrespect top twitch streamer said that his channel rises to 120% in March 2020.
Twitter viewership increased between 30-50% in Western Countries (Italy, Spain, and France).
Twitch music viewers doubled its counts on weekends reached 25,000 viewers.
According to Twitch analysis site Sully Gnome, twitch jumped its new channel subscriber count by 3.3% in March.
Nearly 600,000 people downloaded the Zoom Video calling IOS app in March 2020 and worth of $29 billion.

Online streaming apps such as Amazon prime, Tiktok, and Hotstar suspended it's transmissions to High definition to ultra-high defining on mobile networks during 21 days lockdown.
In Spain, 187% is noticed as the users searching for the content over the OTT streaming platforms.
In India, 60% of traffic increased for the OTT streaming platforms by searching web series and Films.
81% more streaming noticed in the United States on Amazon Prime, Netflix by Just Watch statistics.
Americans consumed 37% of Netflix streaming hours over connected TV and 21% by the streaming sticks/boxes.
American's OTT streaming time on YouTube notifies as 21% through Connected TV and 16% via streaming boxes/sticks.
Instagram said that its live video users are increased by more than 60% during this lockdown period.
Facebook Says that a 70% increase in the group video calling during Quarantine.

Amazon Prime OTT streaming hours on the US via Connected TV was 16% and via streaming boxes/sticks noticed as 14%.
75% of the video gaming traffic increased via video streaming platforms in the lockdown period.
Live streaming is more demanding these days than video streaming. Live streaming consumption increased to 80% during Quarantine.
Employees working from home the downloads for the video conferencing platforms raised to 100%.
Skype and Zoom video conferencing platforms stood top among the all video conferencing platform during the lockdown period.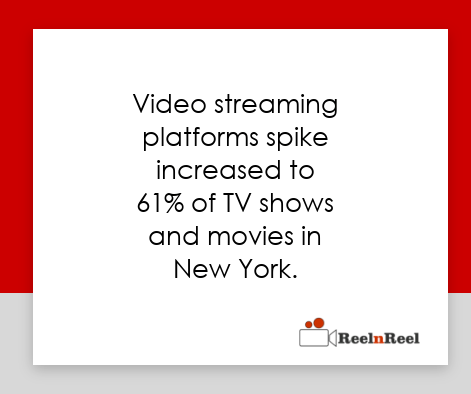 Conclusion:
The current pandemic is going by the name of COVID 19 and a lot of negative impacts on economic conditions in various industries. But surprisingly, it provided an excellent opportunity for video streaming platforms to hike their revenue and sales. These statistics give you a picture of How Coronavirus is impacting the Video Streaming Industry.