Virtual Event software is a tool that allows users to create a long-form virtual online event experience with recorded or live sessions. Virtual event tools offer the ability to interact with other attendees virtually. The goal of helping expand the reach of events and making remote events as experimental as in-person alternatives. Here we are going to explore some of the best Virtual Event Technology Tools for organizing the Virtual events and webinar marketing platforms.
50 Virtual Event Tools For Hosting A Virtual Event:
Join.me:
Join.me allows up to 10 individual persons to be online and interact on the screen at the same time. It is fostering collaboration for idea generation and sales demos and presentations tools.
On24:
On24 is a comprehensive webinar platform tool allowing event organizers to create a live conference and always-on, personalized digital experience for virtual event attendees.
GoToWebinar:
It helps event organizers easy to create large scale live and recorded webinars. GoToWebinar is fully packed with valuable features, including registration page, custom webinar invitations, automated email reminders, registration page, and analytics.
Glisser:
Glisser is an active audience engagement tool that is allowing event organizers to manage audiences with Q&A, slide sharing, live polling, quizzes, and analytics.
Brella:
Brella is the world's first intent-based matchmaking algorithm using AI technology on its platform.
Bizzabo's Virtual Experience Solution:
It is a hybrid event management system, and Virtual Experience Solution delivers significant, engaging event experiences.
NetworkTables Virtual:
It helps the event organizers to arrange to sit for large scale events, and it also helps to personalize attendee schedules irrespective of their timezone confidently.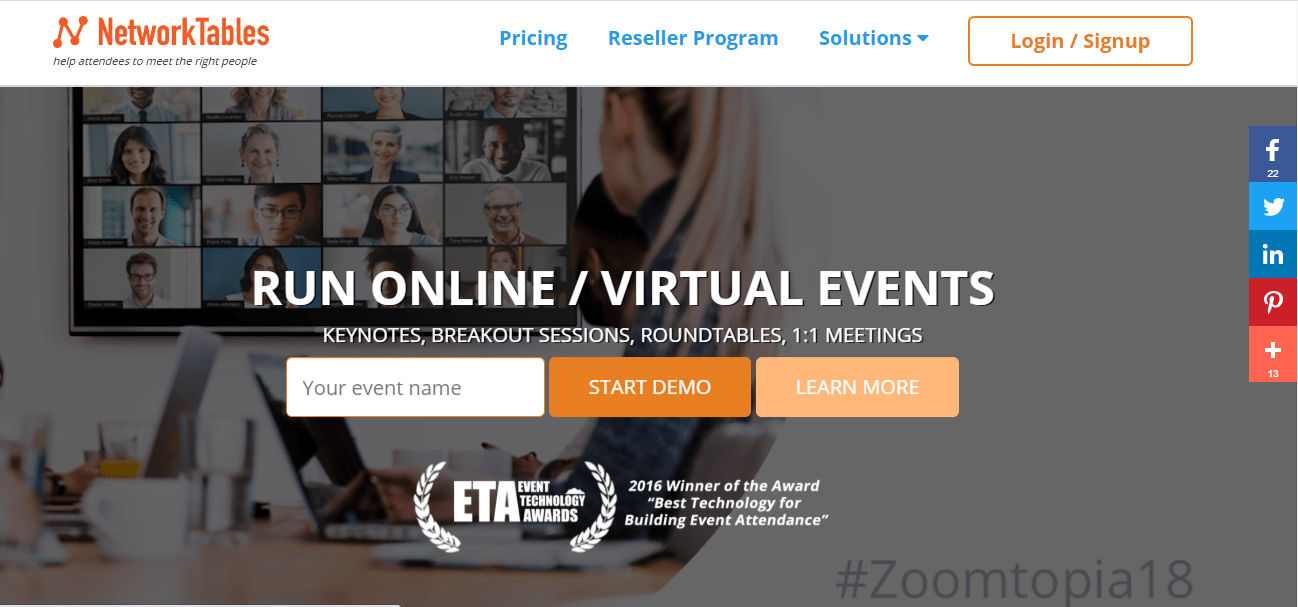 Wistia:
Wistia allows organizers to create highly engaging video content, split-screen views, screencasts and gives you the option to customize your attendee's thumbnail and color to make video recordings easy for anyone on your team.
Zoom:
Zoom is a popular video conferencing tool and offers high-quality video streaming on your Virtual meetings.
Microsoft Teams:
It is a great collaboration tool for virtual event organizers and who are working remotely. It offers excellent features like one-to-one messaging, group chat, video conferencing, PowerPoint, and more.
BigMarker:
BigMarker is the best virtual conference, video platform for webinars and summits. The full virtual event software is requiring some information for the sales.
Workcast:
Workcast is a webinar platform for organizing the virtual events that including managing, monitoring the events.
INXPO:
It is a complete enterprise video platform to build a reliable, scalable, and secure event organizing platform to organize the thousands of events that touched millions of viewers.
vFairs:
vFairs is a fully transparent platform that researches in vetting process. The best tool for managing virtual events.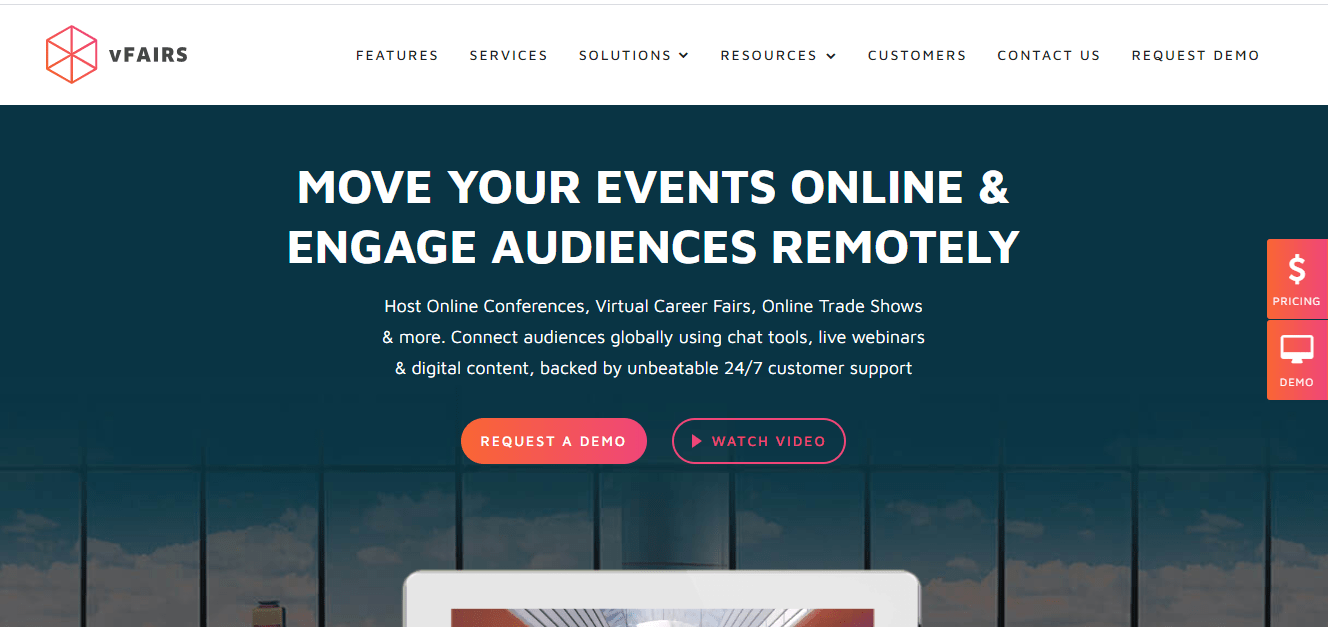 Slack:
Slack tool is best for the Team conversations that can be organized into private channels or open for particular projects. The slack app can be loaded onto both mobiles and computer devices. It is best integrates with file-sharing Dropbox and all social media platforms.
FaceTime:
FaceTime is a video chatting tool specially designed for iOS users. With a simple Tap, users can easily make video calls and Group calls.
Skype:
Skype is a free HD video calling tool that can be made and broadcast to groups of up to 25 persons anywhere in the world. It can also be used for group chats, file sharing that depends on the hosting plan.
Periscope:
Periscope the old and simplified live streaming app for both the iOS and Android users. Anyone could broadcast live video from their smart devices if they integrated with the app in real-time.
WebEx:
WebEx is a leader in Virtual events organizing that is used by the fortune 500 companies. The company states more than 51 million people per month attend a WebEx meeting. It offers a free version to the regular users.
Demio:
one of the best webinar platforms available for the users. Demio offers a modern and robust platform with virtual events technologies.
Webinor Ninja:
Webinor Ninja platform designed well for paid event organizing. It offers features of ad tracking, multiple presenters, and analytics platform.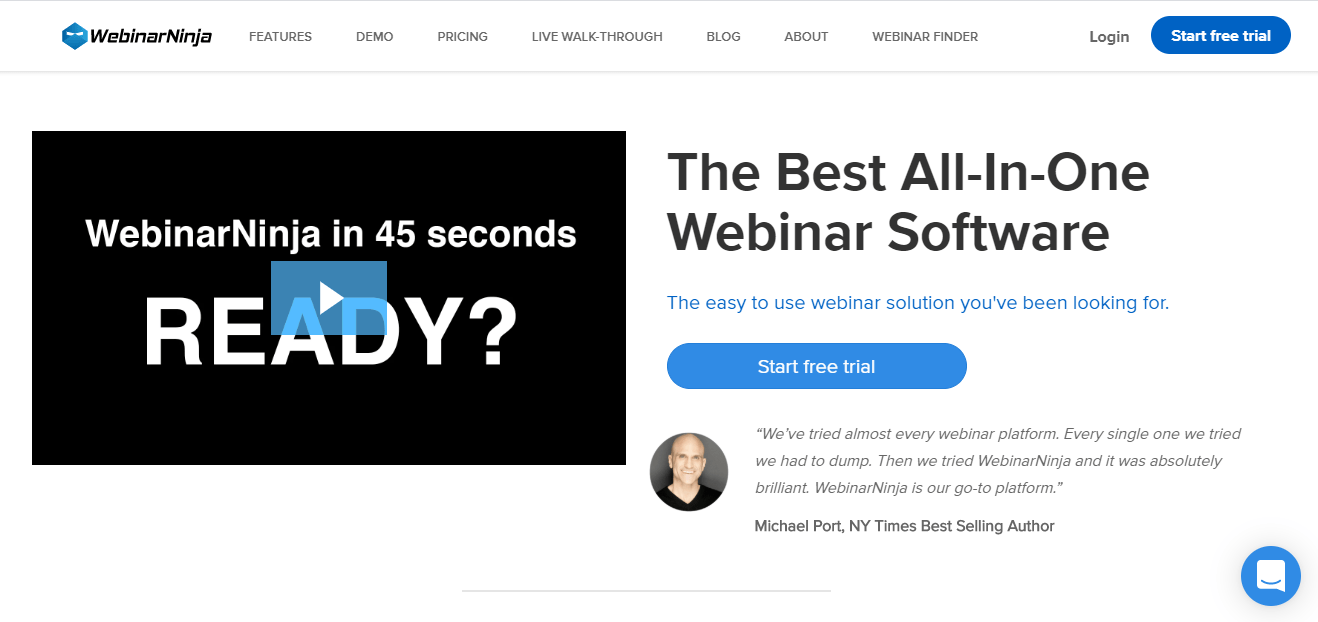 Jet Webinors:
JetWebinar is the best new option for hosting virtual Events and webinars conference. It offers features like automotive webinars, free training, and analytics.
Get Response:
It is the best webinar marketing platform with the best features like YouTube integration, analytics, recording webinars, and it also offers security.
Click Meeting:
ClickMeeting is a Serious webinar marketer that should take a look at it. You can create subaccounts, analytics, recordings, and events organizing tool.
Livestream:
Livestream is a high-end production platform, and it also offers advanced editing, social media integration, and analytics tool.
Webinars on Air:
Webinars On Air itself is a tool that provides all the webinar features you need from platform Tracking pixels, engagement poll and also offers an automated webinar platform.
WebinarJam:
The best webinar software is currently available with technical knowledge need to set up a webinar. It is an easy-to-use webinar platform, and perfect want to host webinars in an automated fashion to a large audience.
Livestorm:
Livestorm is best platform for arranging Live demos and Live training. It is built strongly for effective communication.
BigMarket:
BigMarket is a well-known Video platform organizing for summits, webinars, and virtual conferences. You can engage up to 10,000 people at once and create interactive engagement.
Easy Webinar:
User-friendly software for the business, to have a successful and managed to integrate webinar technology with marketing strategies.
EverWebinar:
The most powerful automated webinar platform to built with direct integration to WebinarJam. And it is the parent company sells them separately in a bundle.
Adobe Connect:
Adobe Connect tool is for the more significant marketing agencies to arrange the virtual events. It offers various templates to arrange a virtual background.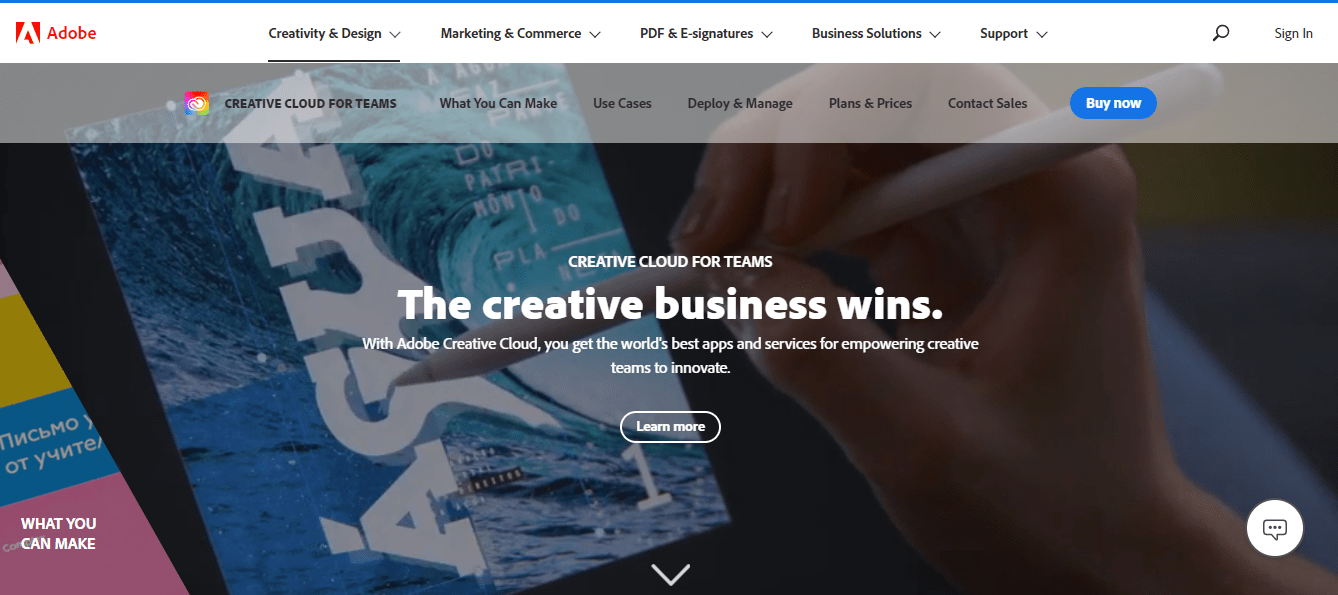 Google Hangouts:
Google Hangouts is an ultimate tool for virtual meetings. Better for big organizations and agencies for business promotions.
AnyMeeting:
Perfect for small organizations, educational institutes, startups. It offers essential tools to host your webinars, file sharing, video communication, and more.
DaCast:
DaCast is an excellent webinar software platform to set up your online video conferencing within minutes. It offers impressive broadcasting features such as monetize, manage and analyze your online video.
6Connex:
It offers a robust VR trade show floor that allows customization of booths, and it is a place to showcase products and services. It provides great Metrics and analytics dashboard.
Accelevents:
Accelevents is the full conference agenda management and registration platform. It offers social media sharing and custom branding, helps to promote and sell conference more organically.
Communique Conferencing:
Communique Conferencing tool offers an incredible customizable 3D conferencing platform. You can use live polls and live Q&A sessions to offers participants face-to-face experience on online events.
Engagez:
It offers lobbies for your attendees and virtual booth attendees as well as chat functionality. Best of the Networking events, single-stream webinars.
Hopin:
Hopin is the best Virtual events tool for arranging Hybrid events, and it is quick to set up and manage the events.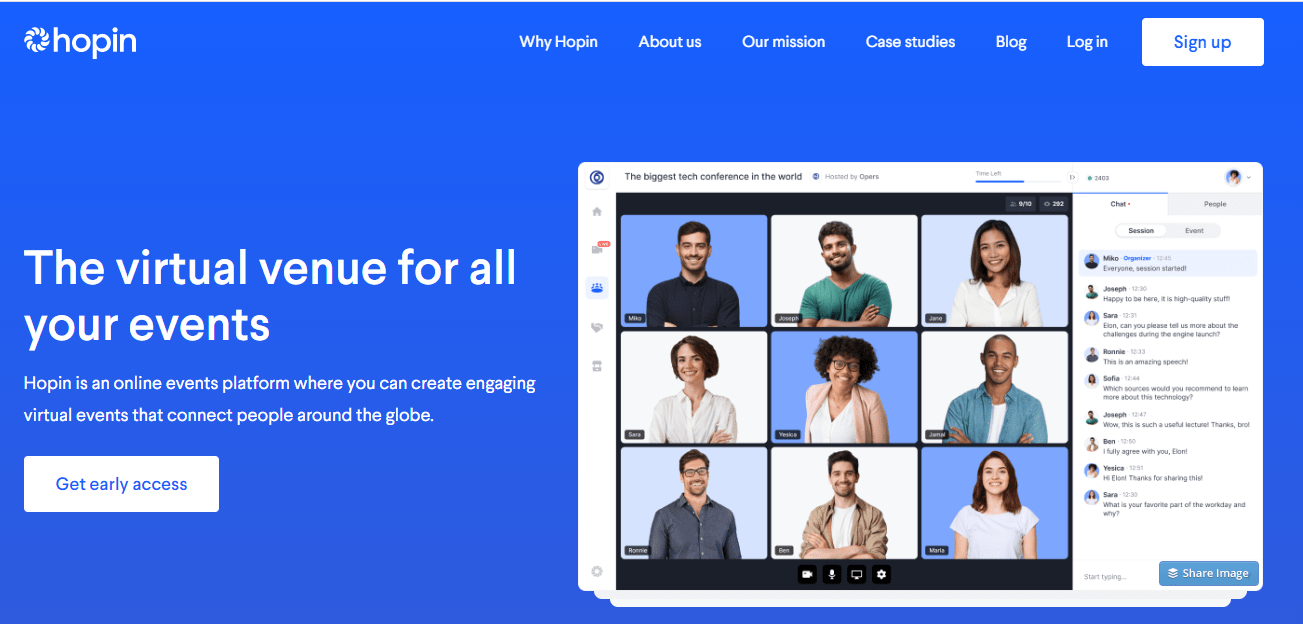 Localist:
It is a virtual event marketing software best fir event planning and promotion. You can keep your community engaged with dedicated social media posts, landing pages, and email.
Pathable:
Pathable is a great tool for training and Live webinars. It also offers easy to set up a platform and can arrange large budget events.
RunTheWorld:
RunTheWorld is a platform that boasts an incredibly easy setup and simple interface. Everyone can run events easily. Best For the interactive events, Networking events, and new event hosts.
SpotMe:
SpotMe is the best platform that offers guest interaction through engagement features like text chat, polls/surveys, live video, Q&A sessions, & polls/surveys, and easily engaging platforms.
Virtual Summits Software:
It offers 24×7 customer support, live training, and also ultimate for free time event hosting.
Sponseasy:
A professional video conferencing platform to arrange the online webinars. It is built with easy to customize your desktop and can focus on closing events.
RingCentral:
RingCentral is a reliable and best video conference service you can depend on for your business. Easy to set up a network for the best possible results with Quality of Service feature.
LyteSpark:
Lytespark is the best video conference tool that can easy to use for users. It allows users to host your online meetings in your personalized rooms and brand purpose.
Fuze:
It is a web-conference platform that provides a great way to collaborate with up to 25 participants at a time for running the small business on a low budget.
Polycom:
Polycom is an Ideal tool for in-class meetings where both institutions have Polycom systems. It allows us to connect a DePaul classroom with a non-DePaul class. It is a bit challenging for beginners.
Conclusion:
If you are looking to host your next virtual event, you must consider investing in this Virtual Event tools to deliver quality audio and visual experience. Virtual Event Technologies also help attendee engagement options throughout the virtual event. You can also combine your virtual event tools with your event management platform to tackle the virtual world for a good experience.