YouTube Content Strategy is essential for Building a YouTube Brand. We all know how brands and marketers give prior importance to the YouTube platform in marketing and advertising. Because YouTube can boost the search results and improve the rankings and thus develop the business with excellent exposure to the right audience.
However, still, many marketers are failed to reach their potential audience though they have included YouTube marketing in their strategy. It is because of the lack of a solid YouTube strategy that fits your marketing ecosystem. So, here is the best guide for a YouTube content strategy which can help you to increase traffic by 200%.
Brainstorm before entering your YouTube strategy
Brainstorm and plan ahead your YouTube strategic plan by focusing on your primary objective behind the YouTube advertising and marketing. Always focus on your key requirements that are essential for your business or promotion of your brand.
There is a lot to do in YouTube advertising and marketing, and everything must be there in your content strategy to boost your traffic.
Your content strategy must cover from the YouTube channel design to optimization of your channel across the platform. Every step must be placed in your plan and have to execute in a better way that fit your idea.
Follow these ways to boost your YouTube content strategy
Content plays a significant role in your overall success as it is the key element that can fetch you success and encourage your audience towards your content. Content can help you to reach the right audience and convey the message you want to share. It is the key element that can bring your business conversions by improving the conversation between the brand and audience.
Add your topics also
Producing specific issues plays a crucial role in YouTube content marketing. Your topics must be trendy, catchy, and useful to everyone. Then only your channel can fetch good results.
Apart from getting the topics by researching the web, you can also create your topics that are trending and interesting to the audience.
Before creating your topics, do not forget to be and think like an audience. If you can think like audience then only you can get the best topics which can keep your audience more interesting to watch your videos on YouTube.
So, create your topics instead of choosing some regular trending topics and topics from the topic generators. By following this, you can get closer to your audience.
Quality Content
Quality is everything here in success. For example, if you searched for a video and clicked on another one as you think, it was something interesting by seeing its title. However, after playing the same video, you might cut your interest if it shot with a cheap camera and low-quality audio.
So, you need good quality equipment while you decide to produce the best video content on your purpose. Then the only audience can get connected with your videos and will become potential followers to your channel.
Produce the best quality unique content to stay out of the millions of videos on the platform. Make your mark with creativity in approaching the audience.
Engaging content
Before producing the videos in your niche, you must do some research on your audience on their viewing habits and interests. Basing on their interest in a particular category or area, you must produce something different and engaging to the audience. Engaging content is nothing but a content which can raise interest in the audience to watch and follow regularly.
So, to deliver such type of content, you need good in-depth research on audience interests and ability to produce unique content.
Using Trending Keywords
If something went viral across the web, we all used to search for similar topics and things in a search engine to find out new and more on the same thing. It is the general human behavior, so utilize the same to boost your traffic.
Use the trending keywords that match your niche and content and place them well in your video description and titles. So, that while people are searching for the relevant content, your video can have more chances to exposé at the top results. So you can boost the traffic towards your channel.
You can also utilize the keyword optimization services for better optimizing across search engines to improve the visibility and ranking.
Social signals and Shareable content
Your content must be shareable across the social media platforms, and you need to provide an ease of sharing your content for your audience. People love to share the best of the content they gen rally watch on YouTube, so why not your content can be the most shareable one. Yes, so get an active social signal and specialize with the people.
Make a good online presence on different social networks and engage with the audience with your content. Cross-promote your content on a different platform where your fans are sharing your content. Don't leave them alone on multiple platforms.
Maintain official accounts on Facebook, Twitter, Instagram, Pinterest, etc. and interact with the audience by conducting audience polls and take their suggestions using the live sessions.
Latest and fresh content
Your content must not be boring one to the audience. For example, if there are some thousand of videos on how to make a tea, you must fetch something different in making a tea which can create more interest in your audience instead of only make a cup of tea.
That is called storytelling; the way of storytelling can enhance your traffic towards your channel. So, always make your audience at the centre of your storytelling and let them know how important they are to your channel. Your content must deliver a feel for the fresh content and the content, which is new and different. That impact must be delivered to your audience.
It helps you to fetch good results.
YouTube Content Curation Tools
There are significant numbers of internet users all over the world, and the number is keeping increasing rapidly. The Internet is being used for different things such as writing and publishing blog posts, browsing Facebook feeds, chatting with friends, streaming movies, and also for online shopping.YouTube Content Curation is the best tool and is a new concept for Content creators.
Many users create content to share with others and to engage the viewers. This could be to promote themselves or to promote their business. Users could see a high volume of content on the internet at all times. However, users demand more and more exciting and unique content every day. Content creators may find it challenging to create new content regularly, especially for their business users to meet the demands of the users. Sometimes the content creators may be busy or out of ideas. What can they do in such situations? The answer is content curation.
What is Content Curation?
Content curation is not a new concept. Content from various sources reviewed, information gathered, and own commentary added to the content. Such content is published along with the links of the sources in a single location. This is the definition of content curation. Content curation can be a helpful way to increase online presence and to promote growth.
Why is YouTube Content Curation needed?
Content creation requires the investment of time and other resources. If proper tools used, content curation will take very less time. A whole new piece will not be needed to create, and this saves time and effort. Content curation might be required when the audience wants more information on a specific topic or information needs to be updated.
There is a lot of content available on YouTube. The well-created videos can be curated and use them as subjects for articles to be published on blogs. The videos can be embedded on the websites. This saves time as there is no need to do the entire search and compile resources.
YouTube Video Curation Tips
After understanding the need to curate the YouTube videos, check what the audience of your channel will want and provide them valuable content that is worth engaging with.
One should understand the preferences and needs of their viewers. The audience may wish for more and more information on specific topics. Identify the audience and identify the issues that will engage them and then target them effectively.
Curate only high-quality content. Focus on relevant and trustworthy sources. Find the topics that are related to your niche. When curating content, focus on quality rather than on quantity. Use SEO terms in the description, title and tags of the curated YouTube videos.
Choose the videos that have the highest video count because it shows that people are interested in them. Rewrite the title with search engine friendly keywords. YouTube curation helps to create new content without sitting there are coming up with new ideas and spend hours on building it.
YouTube Video curation platforms
Video curation, when done by a professional, gives better results. Handling the work is better given to a professional as they can collect the most relevant videos and organize them. Another advantage is that the platforms also provide the metrics of curated content. Content curation tools are available for beginners, intermediates and advanced users.
Curation Traffic:
Curation Traffic is a content curation solution which is WordPress based. This is very easy to use the tool. The platform provides all the tools and strategies to curate the videos.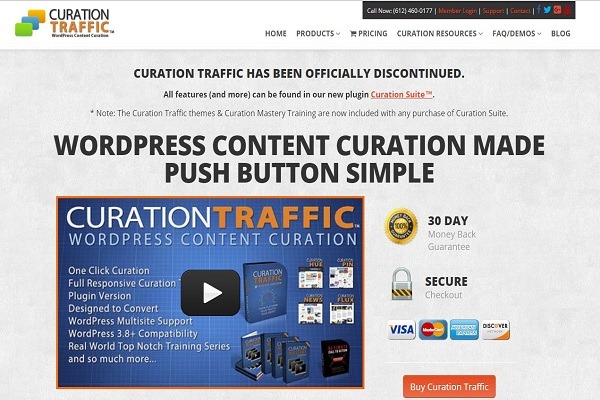 Pocket:
Browse for the most relevant videos for your niche and accrue to save and share them later using the Pocket app. It also integrates with other useful apps.
Curata:
Curata is another most popular content marketing tool. It allows receiving relevant content from different sources.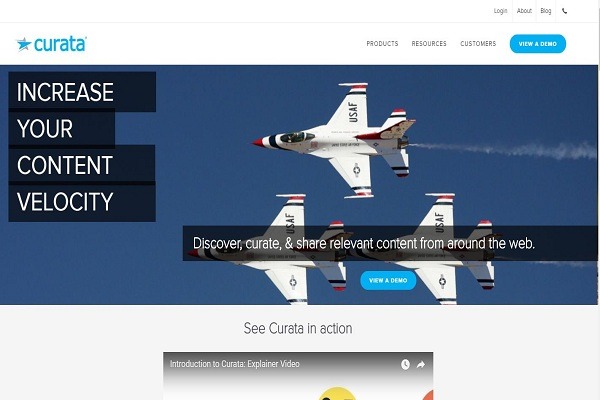 ContentGems:
ContentGems allows scanning through best online sources. Valuable content can be finding and sharing with this tool. Free and paid subscriptions are available.
LinkedIn:
LinkedIn is another most popular content curation tool. It is possible to save, share and curate videos and other visual content with this tool. This can use free of cost.
Pinterest :
Pinterest allows bookmarking a sharing the images and use them in videos.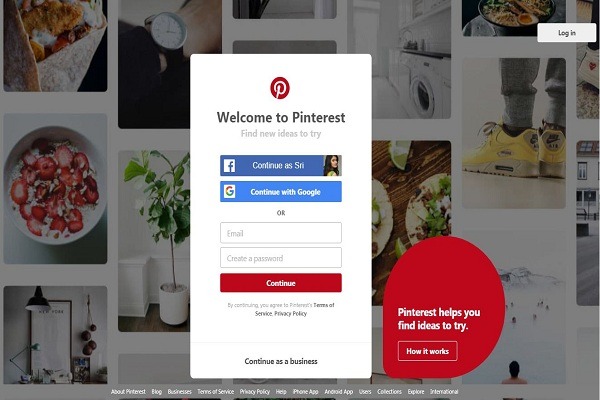 CurationSoft:
With CurationSoft the users can gather and publish content. It allows searching the blogs, Twitter or YouTube for content that is relevant to the niche and the audience. Best video content on YouTube can be searched and collected with this tool.
Before choosing the best content curation tool, understand the role of curation and how the platform will help save money. Find the perfect tool to match the needs. Content curation should make a part of content marketing strategy. Use the right tools and provide valuable content to your audience who keep coming back to you for updated information.
For any marketing strategy, content curation is a vital component. YouTube content curation helps in brand building, customer education, retention, and acquisition. Marketers do the video content curation in different ways such as embedding the videos on their blogs or sites, send daily weekly news to their followers, subscribers, customers, etc.
Content curation can help reach the goals quickly. Using the best content curation tools will help the creators to curate, publish and share the YouTube video content.
Best Practices for Creating YouTube User-Friendly Content
YouTube updated its rules and notified the creators of the content about inappropriate content. YouTube will be sending emails notified which of their videos demonetized. According to YouTube, the content which is appropriate for the audience will be considered by YouTube as advertiser-friendly. The video, thumbnail, or the metadata should contain mature or inappropriate content. Even if a video contains mature or inappropriate content, it should not offend or shock the audience, and the content should be comedic or newsworthy.
Let us now see what content is considered not advertiser-friendly by YouTube.
• Nudity – even if partially and the video that contains sexual humor
• The content should not display violence and violent extremism
• It should not use any vulgar and inappropriate language
• The video content in no way should promote drugs, sell, use or abuse such items
• The topics related to political conflicts, war. Tragedies and natural disasters and other controversial subjects
If YouTube finds any of the videos on its platform containing the above, it will inform to the content creators and the video will be demonetized. Even it's monetization is approved, it cannot use all the ad formats. YouTube completely reserve the right about monetizing or demonetizing the videos and if a channel keeps on submitting such videos, it can be suspended.
Here are the best practices for making YouTube advertiser-friendly
• See that the video has graphic material
• Follow the rules of YouTube policy guidelines strictly
• The title and thumbnail of the video should tell what is the content of the video
• Increase the chance of your content being found by the advertiser and sponsors
• Do not use explicit language in the thumbnail or title of the video. Don't promote your own sponsors in the video as this can create advertiser conflict.
Finally, follow these above simple ideas to make a better YouTube content marketing strategy and fetch good traffic to your YouTube channel by 200%.