ZEE5 is the digital video streaming platform from the ZEE Group. ZEE5, the only platform in the country which is consistently delivering Originals in various languages to satisfy all audience groups. ZEE5 launched in 12 regional languages and created a milestone in Indian OTT. Do You Want to know more about Indi's largest OTT platform, ZEE5? Here are the 50 Amazing ZEE5 OTT Statistics And Facts.
50 Significant ZEE5 OTT Statistics:
As of September 2019, ZEE5 has around 8.9 million daily active audiences.
ZEE5 video streaming is available in 12 different languages.
ZEE5 offering it's video streaming services over 190 countries.
30+ prestigious awards added in the account of ZEE5 video streaming service performance.
ZEE5 released more than 25 blockbuster premiers and delivered 125,000+ hours of video content.
ZEE5 collaborates with 30+ global tech partners.
90+ million ZEE5 app downloads occurred, and it launched 84+ originals.
The worldwide users of ZEE5 are 76.4 million.
ZEE5 OTT service launched on 14th February 2018.
The ZEE5 audience spends watching videos more than 31 minutes on an average.
Since starting to June 2019, the ZEE5 video streaming platform growth raised 4.5 times.
The share value of ZEE5 reached to 3.6% at Rs259.75 profit on BSE.

The mobile viewing of ZEE5 is accumulated at above 85%.
ZEE5 library has 4,100 movies, 1,000+ music videos, 800 shows, and 90+ live channels along with 25 news channels.
The domestic advertising revenue of ZEE5 Rs 1372 crore, which was increased by 21%.
29% of the increase in domestic subscription revenue can be found, which is Rs 519 crores.
Series like "the final call" and "Kumkum Bhagya," "Sembaruthi" TV shows more popular on ZEE5.
The subscription cost of ZEE5 ranges from $2 to 10.
The over click-through rate of ZEE5 increased by 35% by using the Minute.ly AI tool.
It starts its streaming service each month with at least 6 original titles.
The audience can subscribe to the ZEE5 video streaming platform by paying Rs 99 per month.
ZEE5 video operational cost incurred at Rs 500 to 700 million.
The net profit of the ZEE5 video streaming platform is Rs 412 crore, which raised by 6.7%.
The global rank of ZEE5 under the category of Arts and Entertainment is 275 and 42 in India.
ZEE5 YouTube channel drives 73.96 Social traffic comparing with all other sources.
ZEE5 programming head Aparna Acharekar says that 2019 is a fantastic year for them; they have launched 100+ originals across all Indian languages.
Altogether 400 employees worked for the ZEE5 Ott platform.
In 2018, the ZEE5 ott platform launched with 4 original series in 3 languages.
One of the first series started in the ZEE5 ott platform is "Karenjit Kaur"The Untold Story Of Sunny Leone."
ZEE5 has altogether 100+ Original series in regional languages apart from English and Hindi.
ZEE5 introduced its Original Shows and web series in 12 regional languages,
Over 80 million monthly active users for the ZEE5 Platform by 2019.

8 million daily active users for the ZEE5 video on demand platform in the first quoter of 2019.
It's is a prediction that the ZEE5 OTT platform will reach 100 million monthly active users by 2020.
The marketing team from ZEE5 expected that it would reach 15 million daily active users by 2020.
Among 30 OTT players in India, ZEE5 considered as giant OTT Platform in India along with Netflix and Amazon.
ZEE5 increased its monthly active users to 21.7 million in the first quarter after its launch in 2018.
ZEE5 OTT platform reached 76.4 million monthly active consumers in the first quarter of 2019.
"ZSF(ZEE5 Super Family)" is the first gaming and frictional kind of content introduced for its viewers.
In 2019, ZEE5 introduced 60+ Original Hindi series for it's ott streaming consumers.
ZEE5 ott platform offers 100,000+ hours of streaming content.
Apart from the TV shows and exclusive Originals, ZEE5 offers 2000+ movies on its platform.
ZEE5 ott provides TV shows and more content in 17 languages, including Hindi, Tamil, Malayalam, Marathi, and Bengali.
ZEE5 recently introduced a premium pricing model with 60+ Live TV channels integrating Entertainment in 2020.
By 2019, Over1 lakh hour of content in 12 languages, clipping at 4.5 times in 12 months.
Katial Says that over 4,100+ Movies in ZEE5 media gallery with 90 original and 800 shows content exists.
ZEE5 ott platform has over 1,000+ music videos in its library.
Over 85% of views for the ZEE5 Ott platform are from mobile devices.
In 2020, Jiofiber has added its support to the ZEE5 ott platform.
Recently Airtel is also offering a free subscription to the ZEE5 platform.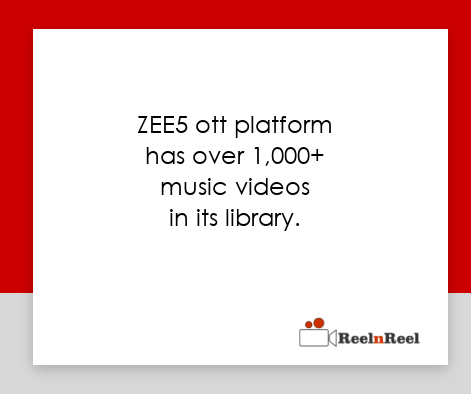 Conclusion:
The OTT streaming platforms, especially in the country like India, are soaring heights in generating huge income. As the audience looking for fresh and interesting video content, platforms like ZEE5 are pertaining to the audience with the delivery of creative content.